Transit of Venus, Rick Waltonsmith's Corsair 37 trimaran was abandoned Thursday on her way back to the Bay Area from Hawaii following a severe impact with an unknown object last Wednesday. Her crew was picked up by a bulk carrier vessel the next day. They are now safe and on their way to Panama, with expected arrival October 8. The following is an edited report from crewman 'Arnie':
"Yesterday literally started with a loud bang. We were sailing between 8 and 12 knots under autopilot with Tom [no last name] on watch. Capt Marc Gounard and I were resting when an impact at 0115 caused me to slide forward and bang my head into a cushion, while Tom was thrown forward and knocked off his feet."
They immediately began damage assessment.
"Whatever we hit had destroyed the front of our starboard ama. The unknown object then apparently became airborne and slammed into the starboard side of the main cabin with sufficient force to detach two cabin lights and knock much of the lining off the inside of the hull. We also noticed a 3-foot hairline crack that was dripping water by the V-berth. Two of the starboard windows were damaged, presumably from the flexing of the hull. The forward starboard tramp and forward starboard rigging were dragging in the water. The force of the impact even managed to dislodge the radar unit mounted several feet above the waterline aft of everything. Whatever we hit must have gotten at least 10 feet in the air and flown 20 feet back.
"Following a mostly sleepless night, we decided to try and make six knots toward home. Capt Marc attempted to patch the water leak in the starboard ama, and we emptied the spare water jugs into the main tank and took them, and the empty gas cans, and stuffed them in the starboard ama, attempting to displace as much sea water as possible and gain flotation. After a brief trial, it became apparent that our attempt at creating buoyancy in the ama failed. The result was that we couldn't sail more than three knots without submerging the starboard ama and listing the boat dangerously.
"At mid-morning we used the satphone to call the owner Rick Waltonsmith and advise him that it would be very difficult to sail the boat the 625 miles back to home port at three knots — even under ideal circumstances.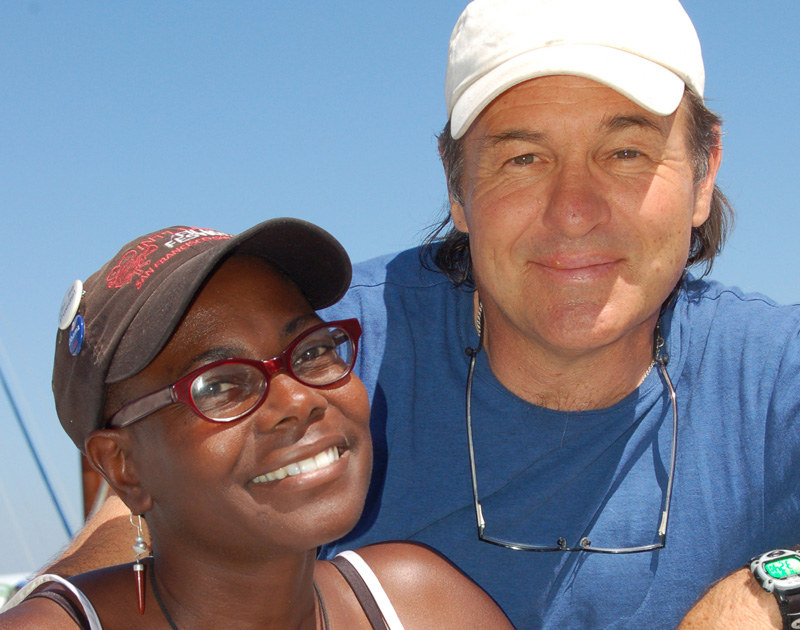 "Although Capt Marc was reluctant to abandon the delivery, by 1300 it became obvious it wouldn't be possible to make the coast with a severely disabled trimaran, as choppy conditions and big seas were forecast. After another conference with the owner, we decided to abandon ship. This was a very hard decision for Capt Marc to agree to, as he'd never needed outside assistance before. Fortunately, he saw the light after some encouragement from Tom and me. It was also fortunate that the owner agreed that our safety was paramount, and that his insured boat was replaceable."
An hour or so after a call was placed to the Coast Guard, a plane overhead contacted the crew on VHF. The Coasties advised the crew to switch on their EPIRB, and that as a Panama-bound ship was only 15 miles away. The Transit of Venus crew had time "to make a little lunch of grilled cheese sandwiches and leftover pasta from the night before, and polished off the last little bit of red wine we had been saving for a 'special occasion'."
"The ship's captain decided to approach us from our windward side, and the 'mountain' of a ship created a nice wind shadow that really smoothed out the waves. It also stole our wind, so the ship was motoring faster than we were sailing. We fired up our motor, and with Marc on tiller and me manually steering the outboard motor — because the linkage between tiller and motor had broken off several days before — we motored alongside the ship. Ever play 'chicken' with a cargo ship? It's f-ing scary.
"Alongside the cargo ship, we could see the excited and friendly faces 20 meters above, lowering mooring lines, life rings and baggage lines. We tied Transit of Venus to the ship so we wouldn't drift away, and attached our bags to the cargo lines. Luckily there would be no need to jettison the bags into the sea and retrieve them later.
"Once the crew hoisted our bags to safety, it was time to take the leap of faith into the cold ocean. Capt Marc has knee problems, and was fearful that the cold water would seize up his knee and make it impossible for him to climb the rope ladder. Crewman Tom wanted absolutely nothing to do with jumping in the water, but had no options. I was somewhat concerned with the prospect of getting crushed between Venus and the cargo ship, but otherwise looked forward to a refreshing dip in the sea.
"We had to make that leap, so we pulled the inflater handles on our PFDs and jumped in. An inflatable PFD constricts your neck when inflated, and it's hard to swim. Fortunately, I had only about 20 meters to swim from the stern of our boat to the ladder, and with the cargo ship's movement, it meant that I pretty much just floated to the ladder. I grabbed a rung and waited for the ship to roll to port, then stepped on to the lowest rung. As the ship rolled to starboard, I popped out of the water and began climbing the rope ladder up the side of the hull. Halfway up the rope ladder, I reached the bottom of the gangway, basically a staircase leading to the deck. What had looked scary as hell was pretty much a piece of cake, and the water was probably at least 5 degrees warmer than the Bay water I swim in all the time.
"Once we were all aboard the Japanese ship, the hospitable Filipino crew served us hot coffee and showed us to the showers. Hot showers for the first time in two weeks. Yeah baby! The crew has been nothing short of wonderful to us, and we have individual cabins with desks, seating areas and a private bath. We're on our way to Panama."
Large-size debris has, of course, become a huge problem for boats sailing between California and Hawaii. It appears that Transit of Venus was not scuttled. Details to come.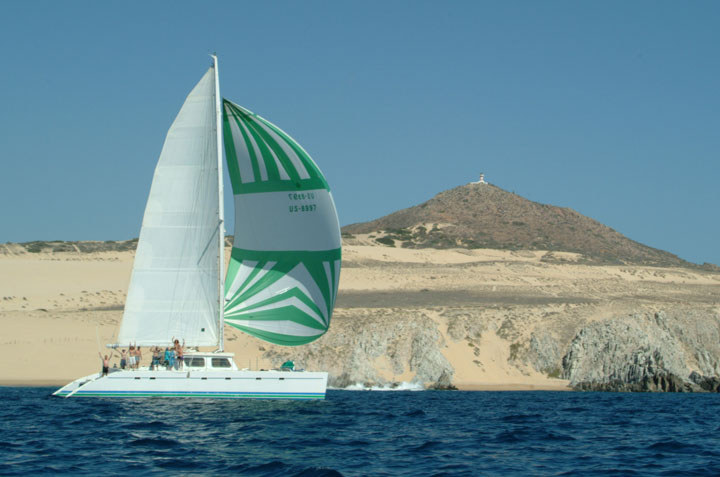 Almost everybody who does the Baja Ha-Ha aboard the 63-ft catamaran mothership Profligate is a repeat, but this year one cabin has opened up. If you're a fun-loving but responsible couple, or two people willing to share a cabin, and want to be in the center of all the Ha-Ha action with a great bunch of other people, email Doña de Mallorca. At least one of the two must be an experienced sailor. This is a shared-expense situation, and everybody on Profligate helps out with all the Ha-Ha tasks that need to be taken care of. This is not a situation for someone with a 'here I am, make me happy' attitude. The Ha-Ha Kick-Off Party is October 26, we depart San Diego on October 27, and we arrive in Cabo on November 6.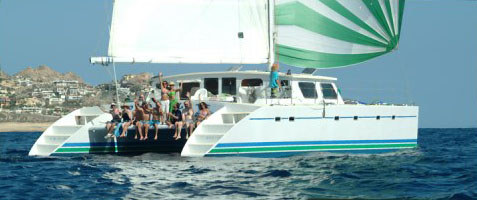 So you're preparing to head down the coast to Mexico and are planning several stops along the way to refuel, rewater and reprovision. The first two are generally pretty easy for boaters, but the last chore can be problematic. Even if you have bicycles aboard, large provisioning runs are out of the question. Ditto if you need to hit up a West Marine for anything larger than a winch handle.
In years past, cruisers were forced to figure out local bus schedules or call a pricey cab to make such trips, but now they have more options than ever. Ride-sharing companies have become extremely popular in many large U.S. cities because of their low prices and ease of use, which makes them a great alternative for anyone needing to schlep around a bunch of bags or boxes.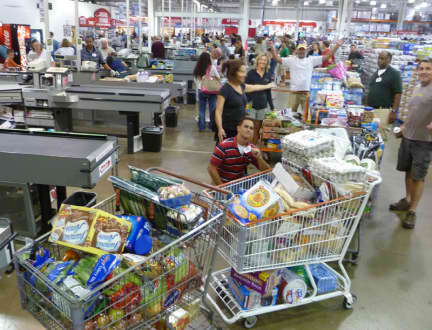 The two biggies in the biz are Lyft and Uber. Both are basically interchangeable in terms of quality and how they work. You download their app to your smartphone, enter your information (including a credit card), and then request a ride. Rates vary depending on which city you're in, and some areas are serviced by only one (or none), but the cost is generally much lower — in a much nicer car — than a taxi. A two-mile ride to a grocery store in Marina del Rey, for example, cost $4 each way (not including tips), and both drivers were an absolute delight.
The companies vet their drivers pretty well, and the app even shows you a photo of the car and driver who is on his or her way to pick you up. When the ride is over, you just tap a few buttons on your phone and the driver is paid — no need to carry cash! According to one driver we had, they live and die by their reviews so don't skip that screen.
The cruising life is all about freedom, and with ride sharing as an option for ground transportation, cruisers now have more freedom than ever.
Receive emails when 'Lectronic Latitude is updated.
SUBSCRIBE