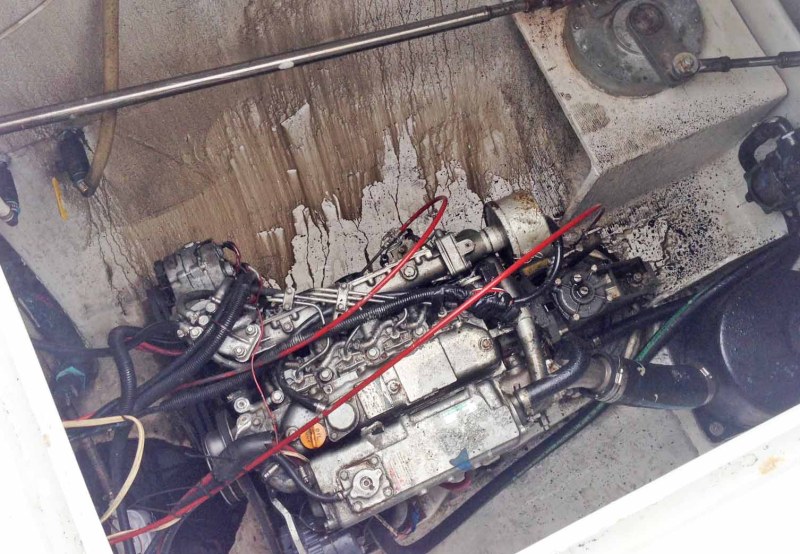 There is never a good time to hear the engine alarm go off. But this time was worse than most. It was about 3:30 p.m. yesterday afternoon off San Diego's Ocean Beach, as the Wanderer and Doña de Mallorca were charging north toward Santa Barbara aboard our cat Profligate to get ready to host Sunday's start of the 45-boat SoCal Ta-Ta.
Mental states are important when responding to emergency situations, and neither of our brains was ready for trouble. We'd both been on a mad-dash nautical-research mission to London, Amsterdam and Paris, and less than 24 hours before had gotten off the flight from Paris to San Diego. Jet-lagged, exhausted, and in a deep sleep, the Wanderer wasn't happy to hear that engine alarm go off.
He was less happy when he lifted the hatch off the port engine compartment to find there was oil sprayed everywhere, but particularly off to the starboard side of the engine. Hot, black, dripping oil. "This doesn't look normal," he thought to himself.
De Mallorca shut the engine down while the Wanderer mentally ran through the worst-case scenarios: 1) Not being able to lead the Ta-Ta. 2) Not being able to lead late October's Ha-Ha. 3) Spending stacks of hundred dollar bills.
It was all but impossible to stand on the oil-covered sole of the engine room, making it very challenging to lean around the engine searching for the source of the spewing oil. Figuring we had nothing to lose, the Wanderer asked de Mallorca to fire the engine up. She did. Wonder of wonders, it ran sweetly, as if quarts of oil hadn't spewed out. We quickly shut the engine down again, but it was a good sign. A very good sign.
Returning to San Diego wasn't an option, as Profligate had to get to Santa Barbara for the Ta-Ta. Fortunately, Profligate has two engines. As we write this, it's 9:20 a.m., we've both gotten a few hours of decent sleep, and are now less than an hour from Channel Islands Harbor, where we'll go into diagnosis mode. As best we can figure, there could only be two sources of the fountain of oil — the oil filter or its gasket, or the oil-pressure sensor fitting. But before anything can be done, there is hours of nasty clean up that has to be done.
But it's times like this when de Mallorca demonstrates what a great crew she is, and how there is no 'I' in 'Team'.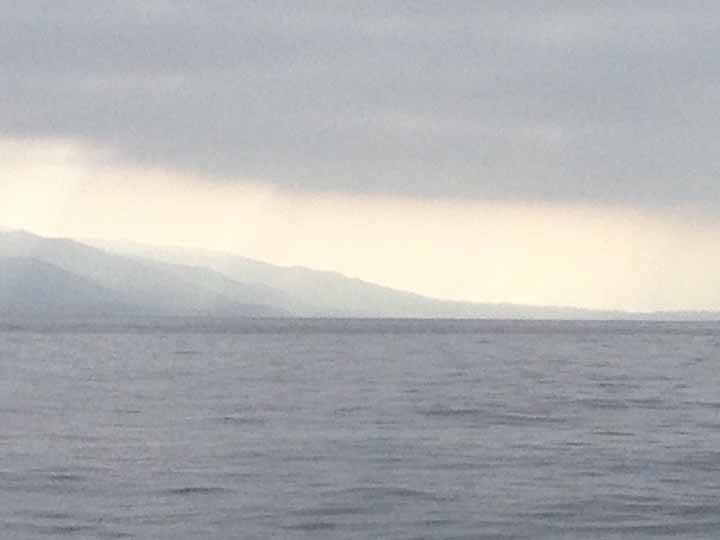 "As soon as we get to Channel Islands," she said enthusiastically, "I'll put on an old bikini, and you can hold me upside down by the ankles, allowing me to clean up all the oil, especially in all the hard-to-get-to nooks and crannies on the engine itself."
"What a wonderful offer," the Wanderer responded, "but I couldn't ask you to do that."
"No, I really want to," de Mallorca responded. "It means we can get all the oil cleaned up without having to step in it. And if we run out of paper towels, I can clean up the last of it with my hair."
That conversation really did take place, but only in a deranged dream the Wanderer had while motoring past Avalon.
Wish us luck. And if you're in the Ta-Ta, we'll see you in Santa Barbara on Sunday.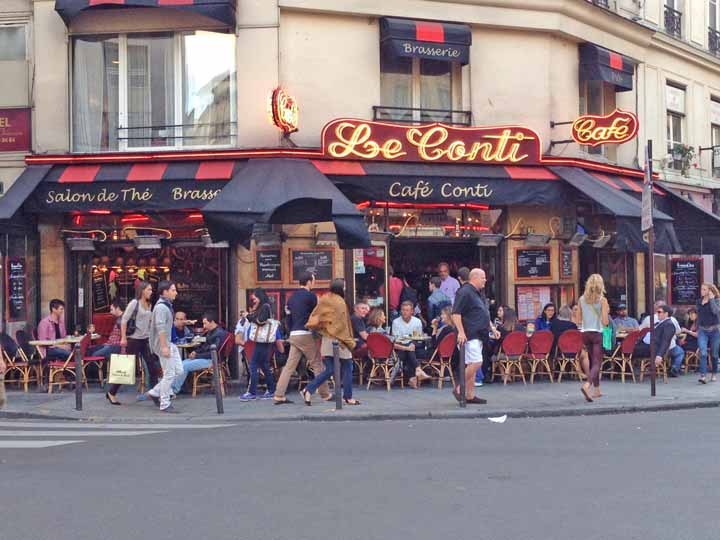 Receive emails when 'Lectronic Latitude is updated.
SUBSCRIBE