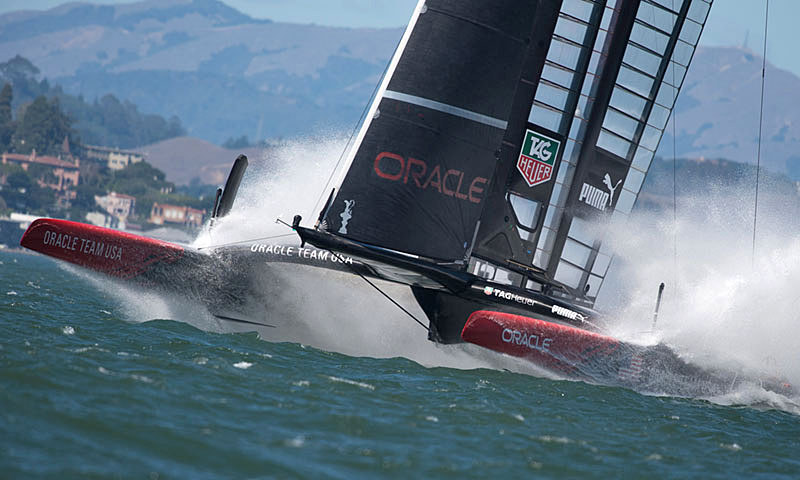 San Francisco officials may not have much interest in hosting the next America's Cup, but San Diego elected officials are going on record to say they would be happy to see 'America's Finest City' fill that role. Yesterday the San Diego County Board of Supervisors unanimously approved a resolution backing the Port of San Diego's bid to host the 2017 America's Cup races within the confines of San Diego Bay. The San Diego City Council has called a special meeting for Thursday to consider a similar resolution.
Oracle's Russell Coutts might have gotten teary-eyed to learn that some city really did want to host the Cup.
The 1988, 1992 and 1995 America's Cups were all based out of San Diego, but the actual racing was held halfway to Hawaii, figuratively speaking, so nobody could see it. In 2017, the races would be held on San Diego Bay, which would offer many excellent viewing opportunities.
The downside with the San Diego venue is that the wind rarely blows in the high teens let alone 20+ knots, which would preclude the fabulous 40+ knot speeds that the Kiwi and Oracle cats hit on windy San Francisco Bay. Even worse, San Diego is not immune from days with very light wind. There was one light-air race on San Francisco Bay, the one where the Kiwis would have won the Cup if they could have only finished within the time limit. It was a real snooze-fest.
"The economic impact [of the America's Cup] for our region would be tremendous," said Supervisor Dave Roberts, who noted that San Diego wouldn't have to build a stadium.
According to the America's Cup organizers, San Diego's only competition for the Cup is Bermuda.
Jetskis account for a disproportionately large number of watercraft injuries and deaths. Why? Because of speed. Check out the accompanying video for proof:
Video courtesy MediaEntertainmentTV
Sailboats, particularly those over 25 feet, account for a very proportionately small number of watercraft injuries and deaths. Why? Because of a lack of speed. Want proof? Check out the following video that appeared in SoCal Sailing News.
Video courtesy Celebrity.
The video was taken during last month's Santa Barbara to King Harbor Race, and shows impact between Gary Green's Beneteau 44.7 Green Dragon, which without greater context would appear to be the overtaking boat, and Jerry Finnegan's Cal 40 Celebrity, the boat from which the video was taken. Nobody was hurt because it was a low-speed impact, relatively speaking, as are most collisions between sailboats.
A reminder to everyone: In cases of collisions between two boats where there is damage of $500 or more — meaning almost every collision — state law requires that a written accident report be filed with the California State Parks Division of Boating and Waterways. Not that many sailors know the law — or in cases between friendly competitors — bother with it.
One of the most impressive nonprofit sailing organizations in Northern California is the Bay Area Association of Disabled Sailors, whose staff works tirelessly to share the joys of sailing with folks who have a wide range of disabilities.
We're spotlighting them here because their keelboat fleet is in dire need of some new — or at least better — sails. "Our current sails are in very bad shape and need to be replaced, but we do not have the funds to buy new or even used sails," says a spokesman. If our memories serve us correctly, BAADS has a Catalina 30, some Sonar race boats, and couple of Islander 36s in their keelboat program, plus some Access dinghies.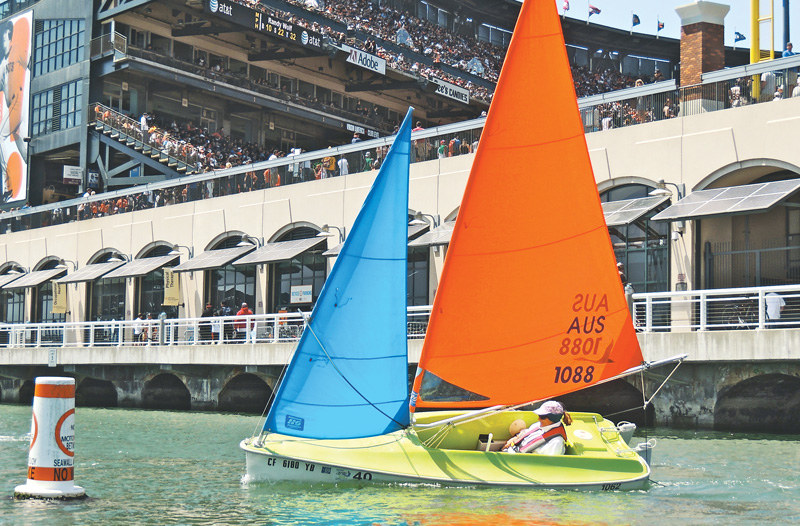 BAADS members plan to speak with local sailmakers for possible donations, but in the short term we'd be willing to bet that some local Islander 36 owners have serviceable sails taking up space in their garages or storage units.
If you can help, please contact Alex, Tom and Nina at 415-281-0212 or visit the donation site here.
Receive emails when 'Lectronic Latitude is updated.
SUBSCRIBE