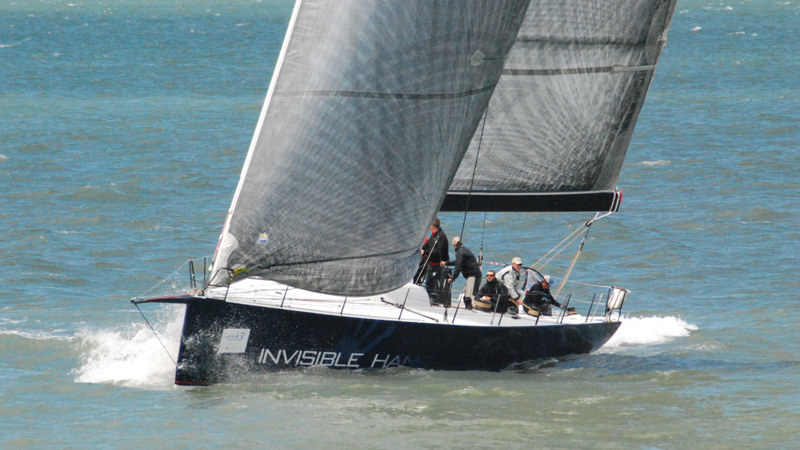 It's good to be Roy Patrick Disney and the all-star crew — Torben Grael, Scott Easom, Mark Callahan, Gary Weisman, Ben Mitchell, Robbie Haines, Hogan Beattie, et al. — aboard the Andrews 68 Pyewacket. In fact, it's good to be any boat in the Latitude 38 Big Boat Division of this year's Pacific Cup, as the five entries in that division hold all five top spots overall.
The night before their start last Friday, it looked as though these Latitude 38 Big Boat Division boats would struggle with light headwinds to get away from the coast. We're not sure what conditions they did have, but these big, light boats can make the best of anything, and did manage to get away reasonably well. Frank Slootman's R/P Invisible Hand took the early lead in the division as navigator Patrick Whitemarsh and watch captains Norman Davant, William Colombo and Jay Crum took the boat south and found more wind. While still leading boat-for-boat, the Hand has now been overtaken on corrected time by Pyewacket, which has been sailing a more direct route and thus fewer miles.
Although the Hand is five feet shorter than Pyewacket, she's more powerful, and is projected to be the first boat to finish, late on July 19. That would give her an elapsed time of just under eight days. As of Monday morning she was moving along at just over 11 knots. Currently her only threat for line honors is Michael Chobotov's Jeanneau 49 Venture in the Holo Holo Cruising Division, which has managed to maintain good boat speed throughout the race thus far, on a relatively direct course. But barring a complete loss of wind, in races to Hawaii the fast boats just get faster. Bet on the Hand.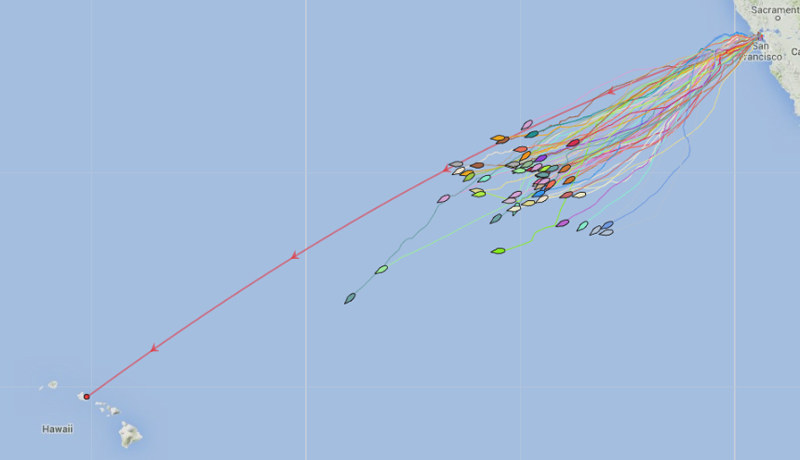 How the fortunes have changed for the Monday starters! Three venerable Cal 40s, Jim Quanci and Mary Lovely's doublehanded Green Buffalo, Rodney Pimentel's Azure and Victoria Lessley's California Girl in PHRF A had been at or near the top of the overall standings for most of the first week. Then the wind fates, which had been so kind the first couple of days, turned on them. As of yesterday, all three of the boats had dropped to a two-day VMG of under three knots! That Azure, still leading PHRF A after two days of averaging 50 miles a day, could have only dropped to 13th in the 52-boat fleet speaks to how blessed they'd been with the wind in the early going. The Iwi Doublehanded division is now being led by Ward Naviaux's Santa Cruz 27 Blade Runner. When the wind gets light, the ultralight boats beat those with longer waterlines.
A couple of Los Angeles-to-Honolulu Transpacs ago, you had to have started on Tuesday to do well. Well, things average out. In this year's Pacific Cup if you were a Tuesday starter in the Kolea Doublehanded, Weems & Plath PHRF B, or Matson PHRF C divisions, you got hosed. The fact that doublehanders Melinda and Bill Erkelens on the Donovan 30 Wolfpack, and Buzz Blackett and Jim Antrim on the Antrim 40 California Condor (currently first and second in division), have managed to hang on to 17th and 22nd in fleet respectively, is a testament to how good those sailors and boats are. The Erkelens, you'll remember, previously won overall honors in a Pacific Cup with a Dogpatch 26. Wolfpack has been sailing a more direct course, while Condor had gone farther south hunting for wind. The wind is expected to fill in during the next several days, and we expect both of these boats to surf up in fleet standings.
Dean Treadway's long-in-the-tooth Farr 36 Sweet Okole is continuing to maintain a comfortable lead in PHRF B, despite having averaged only 4.3 knots over the last two days. She's 23rd in fleet, running about 18 hours ahead of Don Ahrens' Farr 36 Red Cloud.
John Denny's Hobie 33 Por Favor holds a similarly comfortable lead in Matson PHRF C, despite the fact that based on her speed to date, it will take her nearly 18 days to arrive at Kaneohe Bay. No way did they, or a lot of other Pacific Cup entries, bring enough food for 19 days, so we hope they have fish hooks.
PHOTO
Sebastian de Halleux's Swan 45 Swazik leads the Sonnen BMW PHRF D, having turned in a nice day's run of 189 miles. If a Swan 45 can turn in a day's run equal to those of Santa Cruz 50s and previous overall Transpac winner J/125 Reinrag, she deserves to be in first. Swazik is currently 6th in fleet. Very well done!
There are only two boats in the Hokulea multihull division, and you've got to feel sorry for them. Multihulls don't like light air, but up until recently light air is all they've seen. At least the breeze picked up a bit, as the Walstonsmiths' Farrier 36 Transit of Venus did 207 miles on Saturday. Although currently 41st in fleet, she could move up considerably in surfing conditions.
So how are Oahu-based Vietnamese psychic Lo Von Kailua's picks for Latitude doing? Not bad at all, as five of her nine division picks are leading.
If you haven't checked out the Pacific Cup website you should, particularly the Yellowbrick tracking feature. Not only does it show the tracks of all the boats, but you can also do an overlay of the weather. It's really a lot of fun following your favorites. Furthermore, it provides the latest on positions and standings. Because our 'Lectronic deadline is before the day's results come out, our information is necessarily a little dated. Mahalo.
"Life Is F–king Great!" Such is the sentiment of Peter Heiberg, who yesterday was first of the 14 competitors across the Singlehanded TransPac finish line at Hanalei Bay, Kauai, with his Palmer/Johnson 49 Scaramouche. Curiously enough, the hardest part of the race for him was the first few miles, as he reported in a Facebook posting.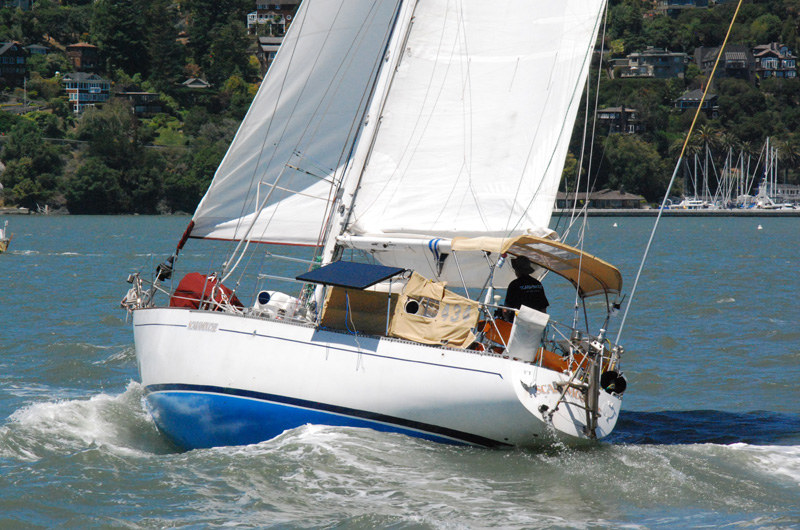 "My biggest fear, a real wake-in-the-night, adrenaline fear, was just getting out of San Francisco Bay. My roller-furling jib is more than I can handle in a short-tacking situation, and the fact that we were starting against a strong flood tide in the usual 20 knots or so of wind, plus the expected fog, made for a very scary start. But like most fears, the anticipation was worse than the reality. It was a real battle, as I had to make something like 22 tacks, but there was no fog, so that removed the fear-of-death-by-deep-sea-ship under the Gate."
That wasn't the end of the Vancouver, BC sailor's early challenges.
"Then I had an hour or two of decent sailing before getting clobbered by a brisk northwesterly. It blew in the low 30s for a few days, and it was really something to try and sleep while the waves smashed into the hull, making an unbelievable racket. When I went into the cockpit on the morning of the second day, there was a fish there, so I guess he had it worse than I. But I really felt for the guys in the smaller boats, many of whose boats sustained at least a little damage. Those guys are a lot tougher than I am."
Heiberg says that the rest of the race was "just pleasant sailing."
"Once I managed to get the spinny pole up on port to wing out the headsail, it stayed up the whole race while I read. I took it down once to correct a chafe problem, but other than that I basically read for 1,500 miles. I could furl the jib with the pole up and so when the wind got silly — there were many more squalls than I'm used to — I would put a reef or two in the main, roll up a bit of jib, and go back to reading. I never jibed; never did much of anything but read eight or so books."
What do you mean I'm in front of the fleet?
"About halfway through the race, someone pointed out to me on the radio that I was in front of the fleet. Naturally I jumped up and ran around trying to make the boat go faster, but couldn't really think of much to do, so I went back to reading. I did get my towing generator out of the water, but running the engine was such a hassle that I soon put it back in."
Then came the finish.
"I had to interrupt Nelson Mandela's autobiography for the finish, which was pretty amazing, with a Hawaiian canoe full of paddlers cheering me on. The race committee climbed onboard and took over, furling sails, anchoring, and so forth. Meanwhile, I drank. I was greeted by family. I don't say this often, but for just a few minutes life is fucking great!"
As of this posting, six of the 14 boats have crossed the line at Hanalei Bay. Al Germain's Wyliecat 30 Bandicoot finished yesterday, followed five hours later by Rick Elkins' Custom Wylie 39 Lightspeed. Next to finish was Joe Balderrama's Express 27 Archimedes.
Just before midnight on Sunday, Daniel Willey, having been at sea for more than 15 days, crossed the line on his Nautical 44 Galaxsea. He remembered perhaps the most exciting moment:
"I awoke to my autopilot blaring, and I went from sound asleep to charging into the wheelhouse filled with adrenaline in about two seconds. I'd been hit by a massive squall at 2 a.m. and had my big kite up. Water was pouring into my cabin as the entire starboard rail was underwater. Getting the kite down in those conditions was incredibly hard, and made me think twice before hoisting it again."
Four more singlehanders are expected to arrive before noon today, Kauai time: Przemyslaw Karwasiecki on the Mini 6.5m Libra, Nathalie Criou on the Express 27 Elise, Ken 'The General' Roper on his Finn Flyer 31 Harrier, and Gary Burton on the Westsail 32 Elizabeth Ann.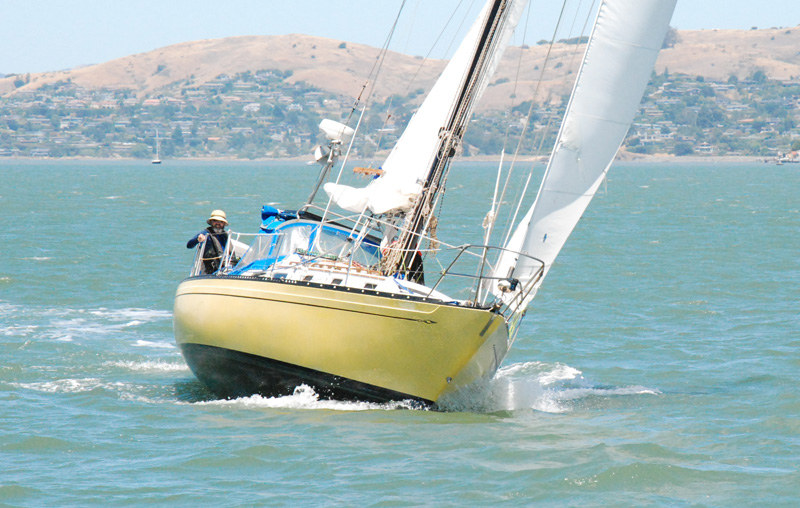 Line honors and corrected time honors are, of course, very different things. Currently Steve Hodges is the overall leader with his Islander 36 Frolic, followed by Al Germain on Bandicoot and Joe Balderrama on Archimedes.
There are currently 87 boats signed up for the 21st Annual Baja Ha-Ha cruisers rally, which departs San Diego on October 27. If you're thinking about signing up, why should you do it now?
There are two main reasons. The first, as repeatedly told to us by Ha-Ha vets, is that signing up for the Ha-Ha gives a firm departure date to shoot for. Many cruisers have told us that without that firm starting date they would have postponed casting off for months if not years.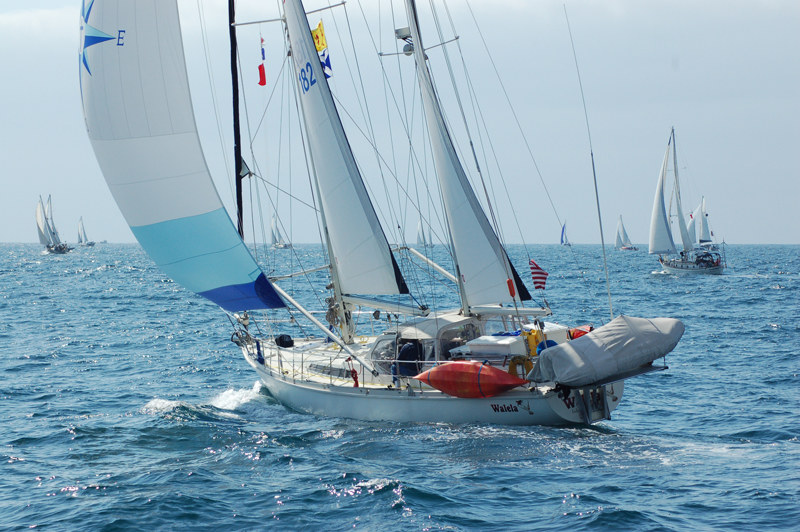 The second reason is that berth assignments in Cabo are based on the order in which boats signed up for the Ha-Ha. While we can't make any guarantees, if your boat is one of the first 100 boats signed up, you can usually get a berth in Cabo right away. If you're entry #150, it might take a couple of days. That may not seem like a big thing now, but when you've been at sea and/or on the hook for nine days, a night or two in a berth upon arrival seems mighty appealing.
It's always fun to look at the fleet so far to see what kind of boats have signed up. As has been true for almost the entire history of the Ha-Ha, the average-sized boat is in the mid-40-ft range. But there are some smaller ones, such as Garrett and Ruth Jolly's Morro Bay-based Rawson 30 Scout; Dane Faber's Sausalito-based Rhodes Annapolis 30 Petrel; Rick and Cindy Patrinelli's Sausalito-based Pacific Seacraft 31 Cool Change; Jeff and Breezy Delaney's Channel Islands-based Islander 32 Starfire; Richard Crumley's Bodega Bay-based Ranger 33 Entropy II; Brian & Marya Lipiec's Camp Pendleton-based Pacific Seacraft 34 Indigo; Bruce Brown and Sandy Zeng's Portland-based Hans Christian 33 Korbut Rose; and Chris and Doug Rockne's Portland-based Hunter 336 Impulse.
What about the biggest boats? We'll tell you about those in an upcoming 'Lectronic. One unusual thing we noticed is that so far there are more motor yachts signed up (three) than multihulls (two). We expect that to change, however.
Doing a Ha-Ha with sisterships is always fun. To date, seven Catalina 42s have signed up: Michael Pernitzke and Ina Tabak's Alameda-based Nova; Bill and Kathi Gaffaney's Long Beach-based Wayward Wind; Dan Lawler's Holladay, Utah-based Seaduction; Barney and Paula McCloskey's Alameda-based Pantera; Jim and Betty Adams' Discovery Bay-based Flibbertigibbet and Bob Bahlman and Margie Hewes' Incline Village, Nevada-based Blessed Life.
Three Island Packet 485s have signed up: Charlie McCullough's San Francisco-based A Good Day; Rusty Frantz's Annapolis-based Kailani; and Richard and Jenny Freeman's San Diego-based Plan Sea.
There are two Hunter 46s: Patrick Magers' Newport Beach-based Misjudged II, and Phil Helman and Desley Oliphant's Pleasanton-based Wind Dancer.
Details on the Ha-Ha and how to enter can be found here.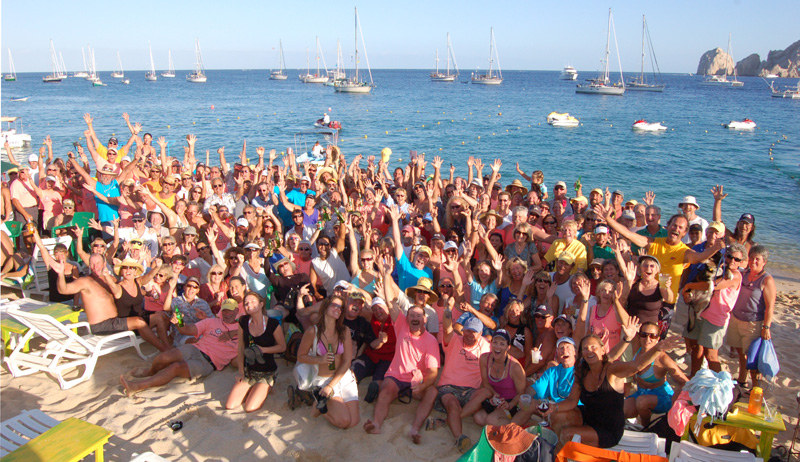 Here's the 2014 fleet so far:
Talion / Gulfstar 50 / Patsy Verhoeven / La Paz, MEX
Arluk III / Cabot 36 / Wayne Peters / Vancouver, BC
Quest / Golden Wave 42 / Michael Thirkill & Cybele Abbett / Brookings, OR
Family Circus / Lagoon 470 / Chris & Heather Tzortzis / San Francisco
Champagne / Hunter 456 / Tom & Kim Junod / Newport Beach
Cavale / Cheoy Lee 44 / Michael & Mary Tutty / Seattle, WA
Long Windid / Jeanneau SO 42 CC / Daniel & Marla Slattery / Chula Vista
Wind Dancer / Hunter 466 / Phil Helman & Desley Oliphant / Pleasanton
Abby Normal / Island Packet 41 / Brad & Gay Gibson / Seattle, WA
Third Wish / Norseman 447 / Jeff Goldfarb & Carolyn Lambert / Long Beach
Penelope / Hans Christian 38 / Karl & Susan Gierga / Scappoose, OR
Kandu / Tayana V42 CC / Eric & Leslie Rigney / Ventura
Cool Change / Pacific Seacraft 31 / Rick & Cindy Patrinellis / Sausalito
Optimus Prime / Beneteau 49 / Keith & Dana Jensen / Cameron Park
Plan Sea / Island Packet 45 / Richard & Jenny Freeman / San Diego
VikingMor2 / Morgan OI 41 / Kenneth & Lori Lillo / San Diego
Impulse / Hunter 336 / Chris & Doug Rockne / Portland, OR
Freya / Cal 2-46 / Steven Straitiff / San Diego
Starshine / Outbound 44 / Patrick & Melodie Williams / San Francisco
Starfire / Islander 32 / Jeff & Breezy Delaney / Channel Islands
Nova / Catalina 42 / Michael Pernitzke & Ina Tabak / Alameda
Sisu III / Kadey Krogen 48 trawler / Ron & Janet Inberg / Seattle, WA
Mana / Cape George 36 / David & Holli Swanson / Ventura
Pelagic / Hallberg Rassy 42 / Michael & Amy Bradford / Portland, OR
Petrel / Rhodes Annapolis 30 / Dane Faber / Sausalito
Miss Lorelei / Beneteau Oceanis 361 / Michael Niggli / San Diego
Destiny / Island Packet 38 / Roberto Anima / Redwood City
Indigo / Pacific Seacraft 34 / Brian & Marya Lipiec / Camp Pendleton
Scoots / Able Apogee 50 / Eric & Vandy Shrader / San Francisco
Papillon II / Pacific Seacraft 37 / David Boyer / Vancouver, BC
Between da Sheets / Beneteau 42s7 / Rick & Sharon Seeber / Seattle, WA
Double Docs / Pacific Seacraft 37 / Thomas Balgooyen & Lucie Merkle-Balgooyen / San Francisco
Cockpit / Beneteau Oceanis 440 / Renald Bouchard / Vancouver, BC
Saturna Spirit / Beneteau 411 / Katherine Blade / Vancouver, BC
Impulsive / Outbound 44 / Morris & Debra Adams / Seattle, WA
Opportunity 44 / CatalinaMorgan 440 / Miguel & Barbara Ramirez-Williams / San Diego
Lea Scotia / Taswell 43 / Bucky Jordan & Michelle Walker / Seattle, WA
Misjudged II / Hunter 460 / Patrick Magers / Newport Beach
Wayward Wind / Catalina 42 / Bill & Kathi Gaffaney / Long Beach
Iolani / Hughes 48 / Barry & Sylvia Stompe / Sausalito
Endeavour / Tatoosh 51 / John Stephens & Tara Travers / Redwood City
Intuition / Tartan 3500 / Donald & Laura McLennan / Long Beach
III-in-I / Cheoy Lee 43 / MS Robert Taylor / Ventura
Entropy II / Ranger 33 / Richard Crumley / Bodega Bay
Sea-Esta / Acapulco Bluewater 40 trawler / Robert & Sally Reynolds / Ventura
Choisi / Kadey Krogen 55 trawler / Sara & Peter Gebhard / Dartmouth, MA
Sparx / O'Day 37 / Bob & Greta Huntsman / Long Beach
Seaduction / Catalina 42 MkII / Dan Lawler / Holladay, UT
Northern Lights / J/42 / Roderic & Mary Deyo / Seattle, WA
Pantera / Catalina 42 MkII / Barney & Paula McCloskey / Alameda
Desire / Cavalier 39 / Tom & Britta Hamilton / San Pedro, CA
Que Serå / Horizon Nemo 39 / Heidy Gross & Sean Hall / Marina del Rey
Vixen / Ericson 39 / Dan Dennis & Judy Burch / Redondo Beach
Moonshadow / Deerfoot 2-62 / John & Deb Rogers / San Diego
Moana Makani / Ta Shing Baba 35 / Calvin & Lori Hastings / San Diego
Penn Station / Hylas 44 / Steve Felton / Tacoma, WA
My Bonnie Karen / Downeaster 38 / Chris Jernigan / Oceanside
Mabrouka / CT-41 / Roy Neyman / Seattle, WA
A Good Day / Island Packet 485 / Charlie McCullough / San Francisco
Kailani / Island Packet 485 / Rusty Frantz / Annapolis, MD
Korbut Rose / Hans Christian 33 / Bruce Brown & Sandy Zeng / Portland, OR
Footloose / C&C Landfall 48 / Raymond Macary & Lydia Leyba / Salmon, ID
Dream Catcher / Roberts V495 / Norm & Will Facey / Vancouver, BC
Tranquilo / Catalina C445 / Lloyd & Colleen Clauss / Huntington Beach
Fainche / Catalina 34 / Robert Frost / Alameda
Northern Winds / Beneteau 50 / Carmine Pertriccione & Gail Scarlett / Coronado
Speakeasy / Manta 42 / Mark & Deanna Roozendaal / Victoria, BC
Serenity / Hunter Passage 42 / Greg & Carma Foulger / Mesa, AZ
Myzella / Beneteau Oceanis 37 / Glenn Smith / Chula Vista
Blue Peter / Tosca 39 Jim & Leigh Terbush / Marina del Rey
Scout / Rawson 30 / Garrett & Ruth Jolly / Morro Bay
Spring Fever / Morgan 382 / Sherri Wilkinson & Don Scott / Santa Rosa
Fast Reorrg / Hunter HC 50 / Ron Orr / Marina del Rey
Touchstone / Valiant 40 / Gordon Wedman / Vancouver, BC
Sereno II / Hunter 41 / Gary & Cindy Cairns / San Diego
Dulcinea / Hinckley 42 / Scott & Kathleen Clapp / San Francisco
Blessed Life / Catalina 42 MkII / Bob Bahlman & Margie Hewes / Incline Village, NV
Destiny / DeFever 49 / Kyle & Christine Hunter / Newport Beach
Serenity / Catalina 42 MkII / David Albert / Oceanside
Dragon's Toy Island / Packet 37 / Tom Kohrs & Cary Purvis / Freeport
Poetry / Blue Jacket 40 / Bobby Pryor / San Diego, TX
Aesclepius / Bruce Roberts 50 / Donna & Cliff Carter / Edmonton, AB
Mariah / Seawind 1000 / Guillermo Stein & Fernando Gutierrez / Puerto Vallarta, MEX
Flibbertigibbet / Catalina 42 MkII / Jim & Betty Adams / Discovery Bay
Spirit of Adventure / Islander 34 / Don Stoutenger / Long Beach
Joyride / J/109 / James & Jennifer Vickers / San Jose
Stochastic / Panda 40 / Tom & Kelly Miller / Alameda
Receive emails when 'Lectronic Latitude is updated.
SUBSCRIBE