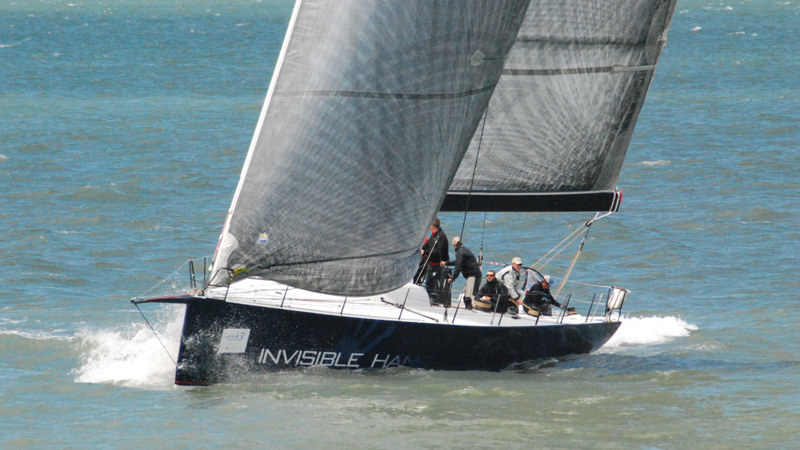 It's good to be Roy Patrick Disney and the all-star crew — Torben Grael, Scott Easom, Mark Callahan, Gary Weisman, Ben Mitchell, Robbie Haines, Hogan Beattie, et al. — aboard the Andrews 68 Pyewacket. In fact, it's good to be any boat in the Latitude 38 Big Boat Division of this year's Pacific Cup, as the five entries in that division hold all five top spots overall.
The night before their start last Friday, it looked as though these Latitude 38 Big Boat Division boats would struggle with light headwinds to get away from the coast. We're not sure what conditions they did have, but these big, light boats can make the best of anything, and did manage to get away reasonably well. Frank Slootman's R/P Invisible Hand took the early lead in the division as navigator Patrick Whitemarsh and watch captains Norman Davant, William Colombo and Jay Crum took the boat south and found more wind. While still leading boat-for-boat, the Hand has now been overtaken on corrected time by Pyewacket, which has been sailing a more direct route and thus fewer miles.
Although the Hand is five feet shorter than Pyewacket, she's more powerful, and is projected to be the first boat to finish, late on July 19. That would give her an elapsed time of just under eight days. As of Monday morning she was moving along at just over 11 knots. Currently her only threat for line honors is Michael Chobotov's Jeanneau 49 Venture in the Holo Holo Cruising Division, which has managed to maintain good boat speed throughout the race thus far, on a relatively direct course. But barring a complete loss of wind, in races to Hawaii the fast boats just get faster. Bet on the Hand.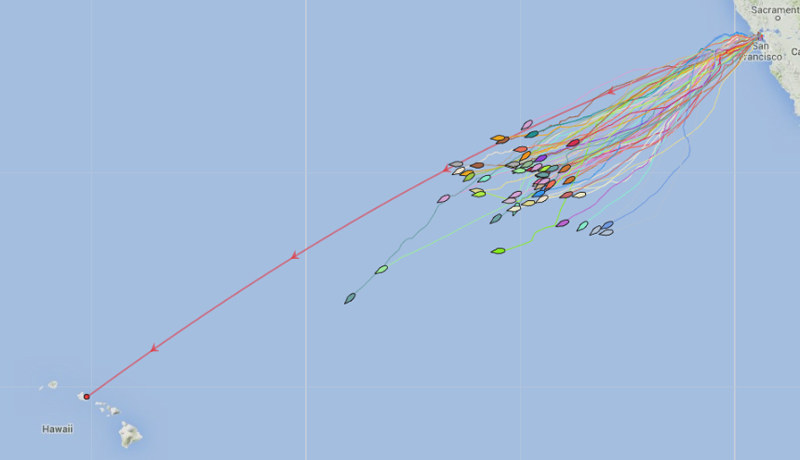 How the fortunes have changed for the Monday starters! Three venerable Cal 40s, Jim Quanci and Mary Lovely's doublehanded Green Buffalo, Rodney Pimentel's Azure and Victoria Lessley's California Girl in PHRF A had been at or near the top of the overall standings for most of the first week. Then the wind fates, which had been so kind the first couple of days, turned on them. As of yesterday, all three of the boats had dropped to a two-day VMG of under three knots! That Azure, still leading PHRF A after two days of averaging 50 miles a day, could have only dropped to 13th in the 52-boat fleet speaks to how blessed they'd been with the wind in the early going. The Iwi Doublehanded division is now being led by Ward Naviaux's Santa Cruz 27 Blade Runner. When the wind gets light, the ultralight boats beat those with longer waterlines.
A couple of Los Angeles-to-Honolulu Transpacs ago, you had to have started on Tuesday to do well. Well, things average out. In this year's Pacific Cup if you were a Tuesday starter in the Kolea Doublehanded, Weems & Plath PHRF B, or Matson PHRF C divisions, you got hosed. The fact that doublehanders Melinda and Bill Erkelens on the Donovan 30 Wolfpack, and Buzz Blackett and Jim Antrim on the Antrim 40 California Condor (currently first and second in division), have managed to hang on to 17th and 22nd in fleet respectively, is a testament to how good those sailors and boats are. The Erkelens, you'll remember, previously won overall honors in a Pacific Cup with a Dogpatch 26. Wolfpack has been sailing a more direct course, while Condor had gone farther south hunting for wind. The wind is expected to fill in during the next several days, and we expect both of these boats to surf up in fleet standings.
Dean Treadway's long-in-the-tooth Farr 36 Sweet Okole is continuing to maintain a comfortable lead in PHRF B, despite having averaged only 4.3 knots over the last two days. She's 23rd in fleet, running about 18 hours ahead of Don Ahrens' Farr 36 Red Cloud.
John Denny's Hobie 33 Por Favor holds a similarly comfortable lead in Matson PHRF C, despite the fact that based on her speed to date, it will take her nearly 18 days to arrive at Kaneohe Bay. No way did they, or a lot of other Pacific Cup entries, bring enough food for 19 days, so we hope they have fish hooks.
PHOTO
Sebastian de Halleux's Swan 45 Swazik leads the Sonnen BMW PHRF D, having turned in a nice day's run of 189 miles. If a Swan 45 can turn in a day's run equal to those of Santa Cruz 50s and previous overall Transpac winner J/125 Reinrag, she deserves to be in first. Swazik is currently 6th in fleet. Very well done!
There are only two boats in the Hokulea multihull division, and you've got to feel sorry for them. Multihulls don't like light air, but up until recently light air is all they've seen. At least the breeze picked up a bit, as the Walstonsmiths' Farrier 36 Transit of Venus did 207 miles on Saturday. Although currently 41st in fleet, she could move up considerably in surfing conditions.
So how are Oahu-based Vietnamese psychic Lo Von Kailua's picks for Latitude doing? Not bad at all, as five of her nine division picks are leading.
If you haven't checked out the Pacific Cup website you should, particularly the Yellowbrick tracking feature. Not only does it show the tracks of all the boats, but you can also do an overlay of the weather. It's really a lot of fun following your favorites. Furthermore, it provides the latest on positions and standings. Because our 'Lectronic deadline is before the day's results come out, our information is necessarily a little dated. Mahalo.
Receive emails when 'Lectronic Latitude is updated.
SUBSCRIBE