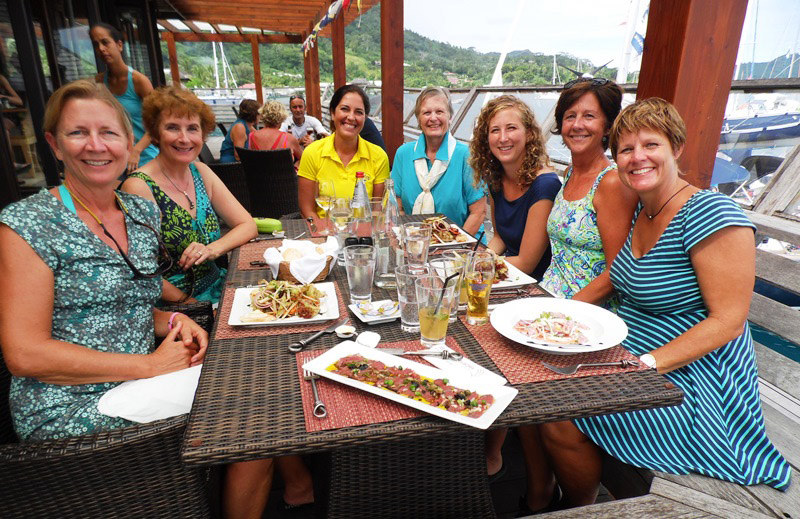 Charlie and Cathy Simon of Spokane and Nuevo Vallarta are currently in Fiji in the process of doing a 14-month, 26,000-mile circumnavigation as part of the World Cruising Club's World ARC 2014. Their Taswell 58 Celebrate is one of 15 boats that will be sailing around the world.
While the fleet was in Bora Bora, French Polynesia, Cathy thought it would be fun to have a luncheon with all the ladies who will be doing the entire trip. There were 10 such women. Unfortunately, only seven are in the accompanying photograph. Nonetheless, we suspect the photo will jolt a lot of notions about what circumnavigators look like.
The World ARC is a somewhat unusual sailing event in that participants don't have to do the entire event. As a result, there are actually 47 boats, nine of them from the United States, participating in the WARC 2014, which ends next April in St. Lucia. Seventeen of them, two more than will be going all the way around, will be either dropping out in Australia or pausing there and rejoining a subsequent WARC. There are already a considerable number of boats signed up for WARC 2015.
How are the Simons liking the adventure so far? "Charlie and I are having the time of our lives!" says Cathy. "We're enjoying some spectacular sailing and great sights." And no doubt making lots of great friends.
Receive emails when 'Lectronic Latitude is updated.
SUBSCRIBE