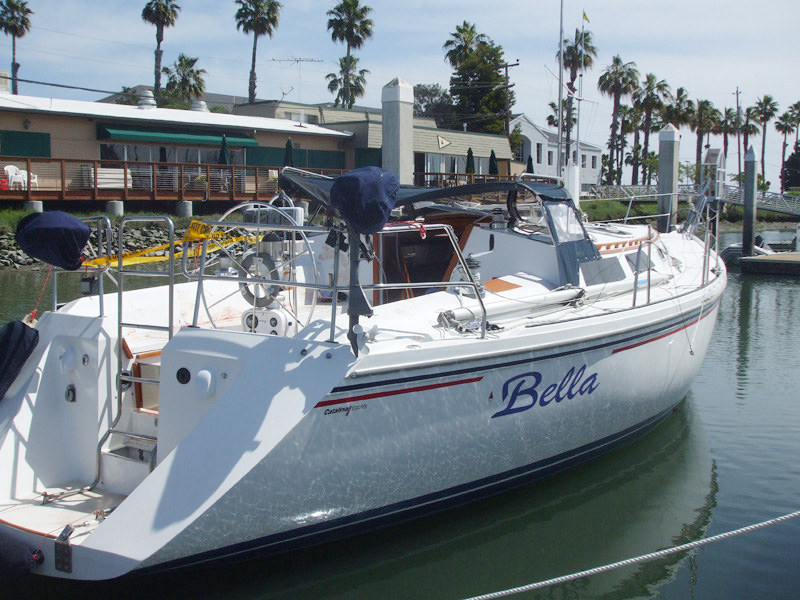 Two sailors were injured, one fatally, when the Catalina 42 Bella became entangled with a day mark during the first race of the Sequoia Yacht Club's popular Wednesday night race series. A racer aboard another boat reported that Bella was sailing upwind on port tack in 15 knots of wind when a sail or shroud wrapped around the number 5 day mark, causing the forestay to snap and the mast to collapse into the cockpit.
Although other boats that were racing stopped to offer assistance, shallow waters around the day mark prevented them from being able to reach the stricken vessel. Both of the injured sailors were ferried ashore by a US Geologic Service survey vessel, however, crewman Yong Son, 39, of Burlingame did not survive the accident. The other injured sailor, whose name has not been released, is hospitalized at Stanford Hospital. There were five sailors total aboard Bella during the race.
An eyewitnesses reported that the crew was preparing to tack when the boat or its gear struck the mark, and that a strong ebb current may have caused the crew to misjudge the speed with which they were closing on the mark. Police sources confirmed that Bella's skipper, Ted Eberle, passed a sobriety test after the accident.
According to Winston Bumpus, Commodore of the Sequoia YC, Eberle is a very accomplished sailor who is meticulous in his preparations and attention to maintenance. "We are all in shock," he said, noting that this was the first racing fatality in the club's 75-year history. Sequoia YC has suspended racing for at least the next three weeks.
"The Sequoia Yacht Club is a family," added Bumpus. "Our thoughts and prayers go out to all of those who are affected by this tragedy."
Ad: Open House at Club Nautique
How much do professional yacht racers get paid? It's a question weekend sailors often ask, but is rarely answered. However, a recent Associated Press item gives us some insights into the question. It states that Oracle Team USA America's Cup 34 team member Dirk de Ridder is on the verge of being suspended by the International Sailing Federation from ISAF-sanctioned events for five years. It's been reported that "not only is de Ridder banned from the 2017 America's Cup, he'll be unable to accept a $500,000 contract to sail in the Volvo (around the world) Ocean Race, which starts later this year. De Ridder, 41, who is Dutch, was found guilty of having illegally modified OTUSA's AC45s. He can still appeal the decision from a review board or the Court of Arbitration for Sport.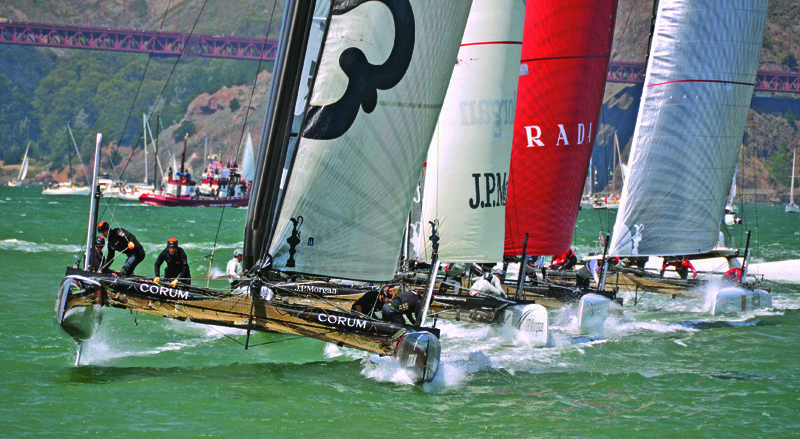 We don't have any problem with crew for a Volvo getting paid half a mil. After all, it's an extreme event, takes lots of skill, and is far more dangerous than the majority of sailors, let alone non-sailors, appreciate.
What do helmsmen get paid for driving in the St. Francis Big Boat Series? What do crew get paid for the TransPac? Certainly it varies depending on the sailors and the owners and the event, but we really don't have a clue.
Receive emails when 'Lectronic Latitude is updated.
SUBSCRIBE