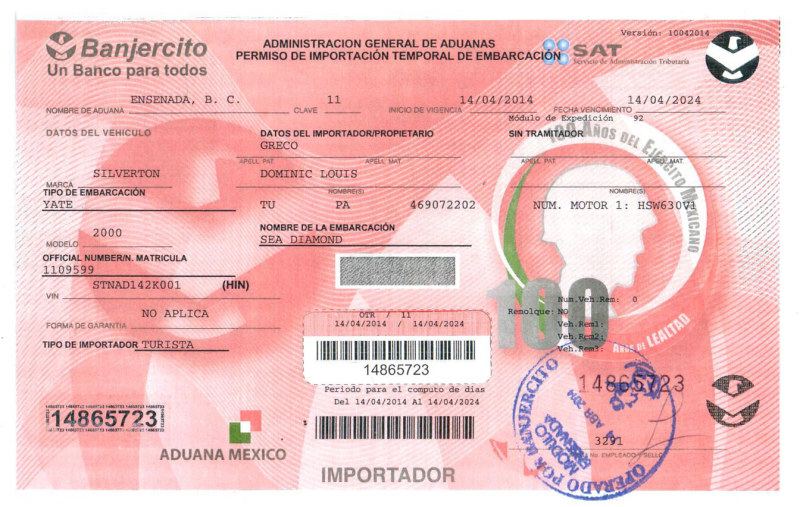 The photo above is a copy of Mexico's latest Temporary Import Permit form for boats, sent to us by Tere Grossman, President of the Mexican Marina Owners Association. We like the new forms, as they would seem to address a lot of problems inherent in the older ones, problems that got boats impounded that never should have been impounded.
"Banjercito has started to use the new form, which now has the name of the boat and other small changes," wrote Grossman. "I am going to insist that Banjercito, which issues the Temporary Import Permits, also issue decals showing the year of expiration, similar to how it's done in the United States." Grossman is influential enough in Mexican government that there is a good chance they'll agree to her suggestion.
Here's what we like about the latest form, as compared to the form for the 20-Year Import Permit we got 17 years ago: 1) Unlike the still-good 20-Year Permit form, this one looks like an official document. AGACE officials impounded a number of boats because they didn't know what to make of the unofficial-looking 20-Year TIPs. 2) The new form includes spaces for the boat's document number and for her hull identification number — assuming she has the latter. AGACE agents often mistook one for the other, again leading to boats being impounded for no reason. 3) The new form has a bar code, which presumably will allow Mexican officials to check on the status and validity of the TIP in hours instead of literally months.
We were so taken with the new form that we wrote Grossman and told her that we thought we'd replace our old TIP with a new one, even though our current one is still good for several more years. "No, you don't have to do that," she replied. But we might do it anyway. Especially if we get a decal to go with it. Just to remind everyone, TIPs only cost about $50. In the world of cruising, that's dirt cheap.
Something else that might make foreign boat owners more confident about going to Mexico is a letter to appear in the May issue by Carol Parker of the San Diego-based Dashew 64 motor yacht Avatar. Parker and her husband are understandably very unhappy with Mexico, because SAT impounded their boat for four months after — as you'll read — the AGACE agents couldn't find the boat's HIN number even though it was right where it was supposed to be. They didn't even ask the captain, who was right there with them, where it was.
Although Parker says that the impounding ruined their cruising plans, which included visiting their grandkids on the East Coast, and they'll never take their boat to, or spend money in, Mexico ever again, she did make one very interesting point: She said that she and her husband didn't have to pay any fines, levies, fees or anything like that, nor did anyone ever put their hand out or suggest that a bribe would help. This lends credence to our belief that this entire nonsense wasn't a case of the PRI party getting in power and trying to extract money from Americans in any way they could, but suggests it was merely a case of a well-meaning bureaucracy coming up with and executing a really, really stupid plan, with agents who didn't know what they were doing.
Further complicating the problem was the fact that when a 'file' is opened up on a boat in Mexico, it has to be 'closed' via some complicated and time-consuming process. That's the 'procedure', and in Mexico, procedures have to be followed. The files just can't be thrown out the window.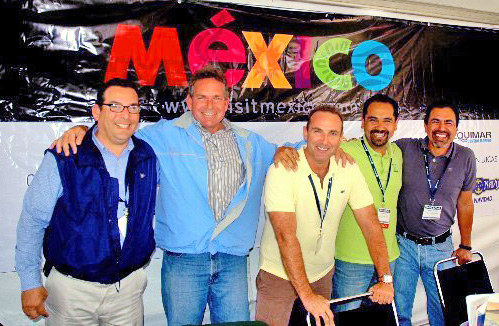 Two last things that give us confidence. First, all the harbormasters of the marinas that got 'raided' have become very tight friends with harbormasters at marinas that didn't get raided, and have thus shared information about what AGACE seemed to want and need. So as you'll read in another May issue letter, Mexican harbormasters now feel much better prepared for any future visits by AGACE. Similarly, AGACE agents clearly had no idea what they were doing in the first raids, to the extent that they even had to be given diagrams showing where the bow of a boat was. Because of all the problems and terrible publicity, the AGACE administrators and agents have gotten an education. Because of "procedures," they weren't able to resolve a lot of boat problems in days instead of months, but we doubt they are going to make those same mistakes in the future.
The bottom line for us at Latitude is that we now feel more confident than we have since the AGACE raids in late November in Americans' ability to bring their boats to Mexico and, assuming they have all the necessary documents, not have any problems. Just like the good old days of pre-November.
Receive emails when 'Lectronic Latitude is updated.
SUBSCRIBE