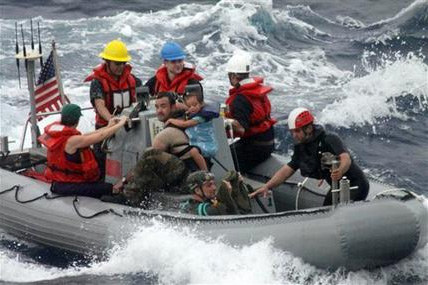 In the aftermath of a dramatic offshore rescue yesterday morning, the Kaufman family is currently steaming ever closer to advanced medical care in San Diego aboard the USS Vandegrift. But as the health of one-year-old Lyra improves in the sick bay of the 453-ft warship, parents Eric and Charlotte, 35 and 34, find themselves the subject of both heartfelt sympathy and stern criticism for taking such small children on a 3,000-mile passage to French Polynesia.
According to press reports, prior to departing Mexico March 21 aboard their San Diego-based Hans Christian 36 Rebel Heart, Lyra had been treated by Mexican medical personnel for salmonella poisoning, but had been cleared by a local physician to travel. It is unclear if the baby's current illness is related. Late last week she developed a fever and a rash covering most of her body, and wasn't responding to medications. When the boat lost steering and radio communications last Thursday, roughly 900 miles southwest of Cabo San Lucas, the situation became a bona fide emergency. Eric, a former US Navy corpsman who holds a US Coast Guard Master's License, called rescue authorities on his sat phone — luckily he and Charlotte had the foresight to bring one along.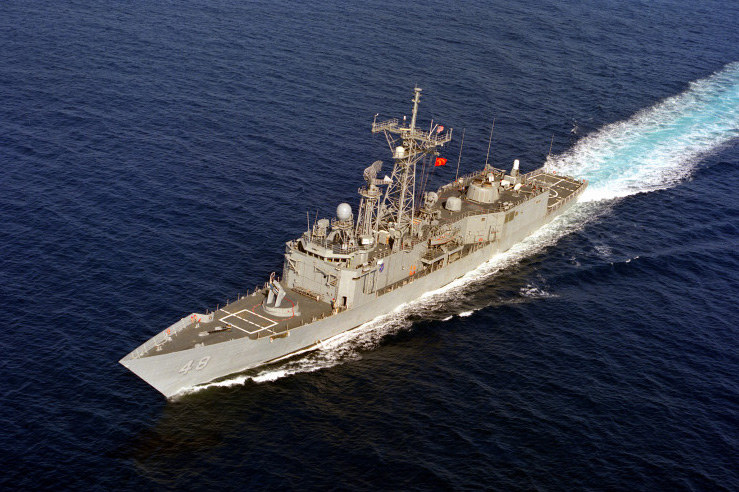 As reported Friday, an aircraft from the 129th Rescue Wing of the Air National Guard was scrambled from Moffett Field with four elite Pararescuemen (PJs) aboard. After arriving near the sailboat, they deployed canisters of medical supplies an an inflatable boat from their aircraft's cargo bay, then parachuted onto the scene after them. Once aboard the 36-ft cutter, the PJs were able to stabilize little Lyra's condition. But they and their hosts had to wait until first light Sunday morning before they could safely be transferred to the Vandegrift. The sailboat was taking on water at the time, and was left to sink.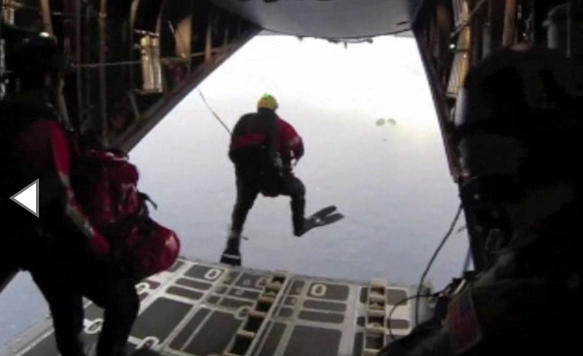 As the story has gained momentum in the mainstream press, some news commentators and citizen bloggers have questioned the wisdom of taking an infant offshore, while others ask whether sailors rescued at sea should bear the cost of such elaborate and costly exercises.
In a statement released yesterday, the Kaufmans addressed charges of reckless parenting: "We understand there are those who question our decision to sail with our family, but please know that this is how our family has lived for seven years, and when we departed on this journey more than a year ago, we were then and remain today confident that we prepared as well as any sailing crew could. The ocean is one of the greatest forces of nature, and it always has the potential to overcome those who live on or near it. We are proud of our choices and our preparation."
If you have a strong opinion about taking young children offshore or who should bear the cost of rescues, we welcome you to share it
here
.
PHOTO
One thing there should be no debate about is how awesome the PJs are. A special forces component originally formed to rescue downed pilots behind enemy lines, their training combines Navy Seal-like combat readiness with highly advanced medical training. They stand by 24/7 to risk their lives rescuing their brothers-in-arms, as well as regular citizens who find themselves in peril on the ocean. We certainly hope we never need their services, but we are very glad to know they — and the similarly studly rescue swimmers of the US Coast Guard — are always ready and willing to come to the aid of sailors in distress.
We send the Kaufman family our sincere best wishes for Lyra's speedy recovery, and we hope they can eventually reactivate their cruising dreams.
Receive emails when 'Lectronic Latitude is updated.
SUBSCRIBE