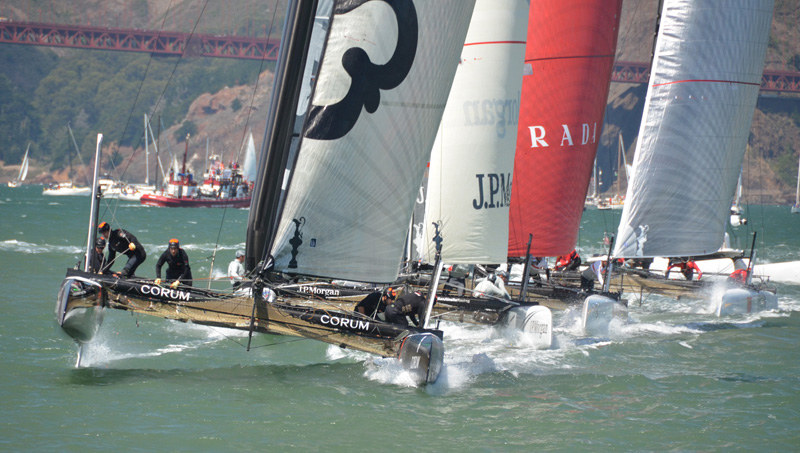 Although precise plans for the 35th America's Cup are far from being set in stone, Larry Ellison, backer of the current defending champion Oracle Team USA, has revealed his grand vision for the next Cup competition and the battery of preliminary races that will lead up to it.
In today's San Francisco Chronicle, reporter Julian Guthrie (author of the best-selling Ellison profile The Billionaire and the Mechanic) laid out the three-year chronology of the new plan. Currently, it does not name San Francisco as the ultimate AC 35 battleground. However, negotiations toward that end are ongoing.
Building on his AC 34 goal of making high-end yacht racing appealing to millions of non-sailing sports fans around the world (in addition to sailors of all stripes), Ellison proposes a series of AC45 competitions beginning next year, staged in every country that fields a team — 10 or more destinations. The top two teams from both the Atlantic and Pacific divisions would compete in division championships in the spring of 2017, potentially in Rome and Shanghai (respectively).
That summer, division champs would race in AC60s — the new America's Cup cat class — in the Louis Vuitton Cup in Honolulu. The America's Cup finals would follow in the same venue.
Why Honolulu? Again, negotiations are ongoing with the City of San Francisco and perhaps also Newport, RI. But Ellison has long had a strong affinity for Hawaii, evidenced by the fact that he bought the island of Lanai in 2012 for $300 million.
While we applaud the plan as being more creative and inclusive (in terms of multiple race venues) than ever before, two questions immediately come to mind: 1) If the AC45 finals will happen in the spring of 2017, only then deciding contenders for the LVC that same summer, how will potential contenders know whether (and when) to build an AC60? 2) If San Francisco's typical summer winds were sometimes too strong for AC72s, won't Hawaii's equally strong breezes be too much for AC60s?
In any case, we wish Ellison the best of luck in pulling off this ambitious game plan, and realizing his ultimate goal of making sailboat racing popular with mainstream audiences. He told Guthrie, "We want to create a 21st-century sports business that will support sailing professionals and their families. Businesses that don't make money are not sustainable. Sports that don't make money are just hobbies for rich guys." He certainly ought to know.
Receive emails when 'Lectronic Latitude is updated.
SUBSCRIBE