Oracle Team USA's CEO, Russell Coutts told the Associated Press last Saturday that sailing officials are still in talks with other venues about hosting the 35th America's Cup in August, 2017.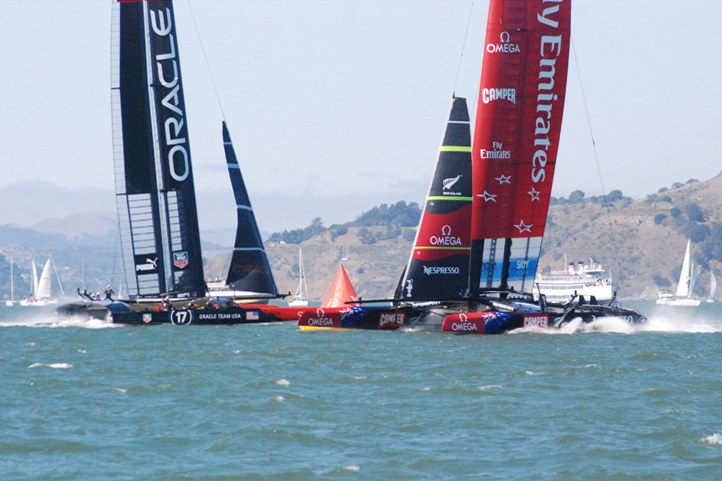 Coutts explained that San Francisco officials have not offered the same terms and conditions as they did in 2013 and although he won't rule out the City as a venue, he didn't sound very optimistic either, "They might have a change of heart. I don't think they will but they might."
Other possible venues for AC35 include: San Diego, Newport, R.I., and Hawaii. Since Larry Ellison's 2012 purchase of 98% of the Hawaiian island of Lanai, he's made significant investments in two of its resorts and has plans to develop the island further — leading many to speculate that the Cup, or a portion of it will be held in Hawaii.
Such talk has been fueled in part by Ellison's good working relationship with Hawaii's Governor, Neil Abercrombie. "I can't think of anything that I've been involved with in decades, on a magnitude of this nature, that has been more pleasant and productive and cooperative than the relationship that at least we in the state have had with Mr. Ellison and his people," said Abercrombie at a press conference last summer. And when Coutt's was asked directly if Ellison had spoken to Abercrombie about the America's Cup, he said, "Yes, I expect that Larry has had a discussion."
"It's safe to say I'm not happy," say's Coutts. "It was a fantastic event in San Francisco. I don't think anyone disputes that. The TV images were great. But we could go to another venue and have great racing. As we've gone into the process, it's pretty evident there are some really strong venues. They might end up being better than San Francisco. Not by any means am I saying this is a bad result. This actually could turn out to be a good thing for the America's Cup."
Receive emails when 'Lectronic Latitude is updated.
SUBSCRIBE