The inaugural Audi Melges 20 Worlds concluded Saturday in Key Largo, Florida after four days of intense racing and picture-perfect conditions. What's more, the top two winners included a boat that had never won a race in the fleet and another that was fully corinthian-crewed.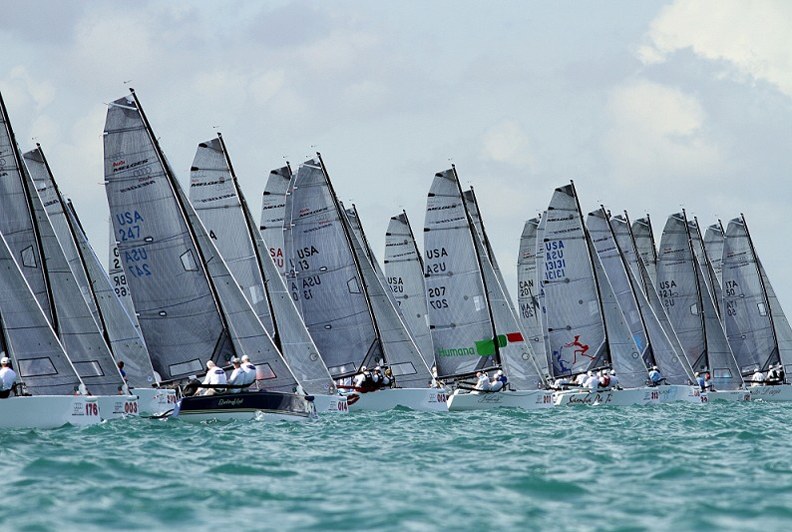 John Taylor with tactician Bill Hardesty and bowman Joey Mello racked up 48 points after 10 races, putting them solidly in first place. This was Taylor's first win aboard Ninkasi and his first win skippering any boat. "I guess if I'm going to win one, this was the one to win," he said on the podium. "I am honored to be in the presence of so many great owners and fellow sailboat racers. This is by far the best class, with the best owners in the world."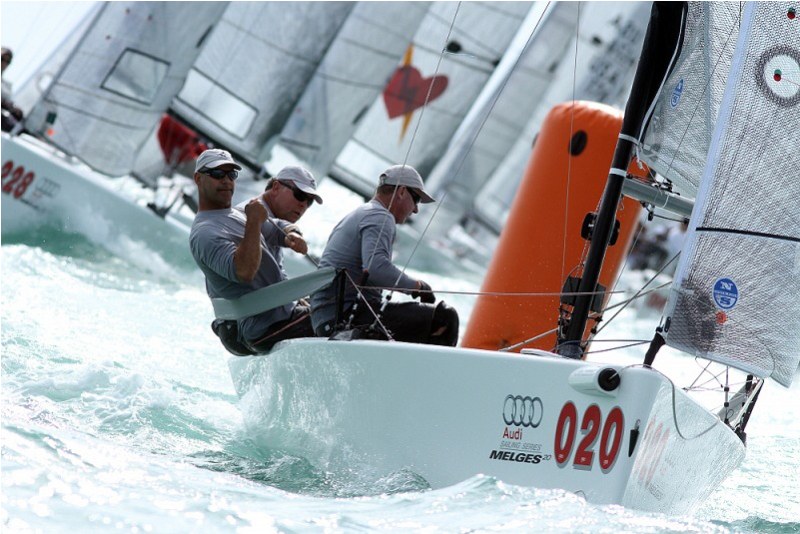 Of the 52 boats competing, only five were in the Corinthian class. Skipper Marcus Eagan, his father Marc on tactics and brother Andrew on headsail trim, came in second place, eight points behind Ninkasi. Cajun Underwriting's performance stuttered early on but they placed in the top 11 for the next six races, keeping them in the hunt for the podium.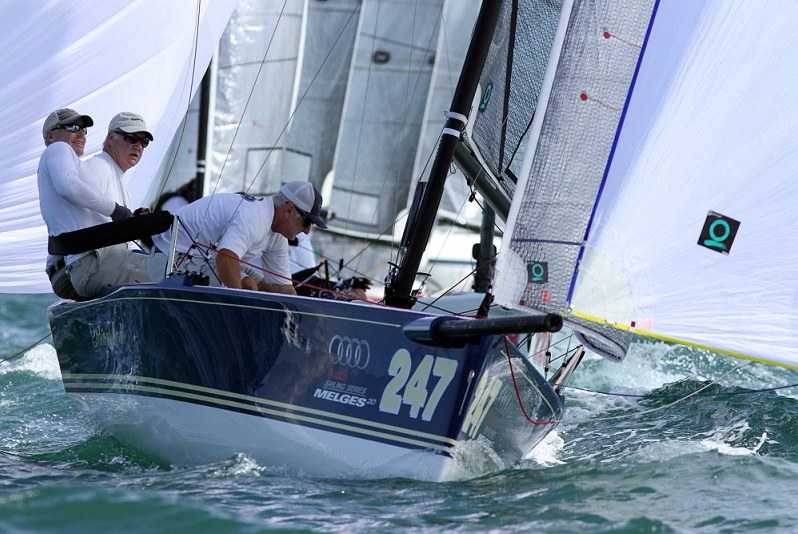 Third place went to Travis Weisleder on Lucky Dog/Gill Race Team. This team performed remarkably well early on but they faltered in race nine, placing 25th and losing their first place standing from the day before.
The owner/driver class was filled to the brim with well-known Olympians and professional racers alike. Bay Area notables included seventh-place finisher, John Kostecki on Jeff Ecklund's Star, John Kilroy's San Francisco-based Samba Pa Ti placed eighth, and Terry Hutchinson on James Richardson's Barking Mad came in ninth.
Full results can be found here.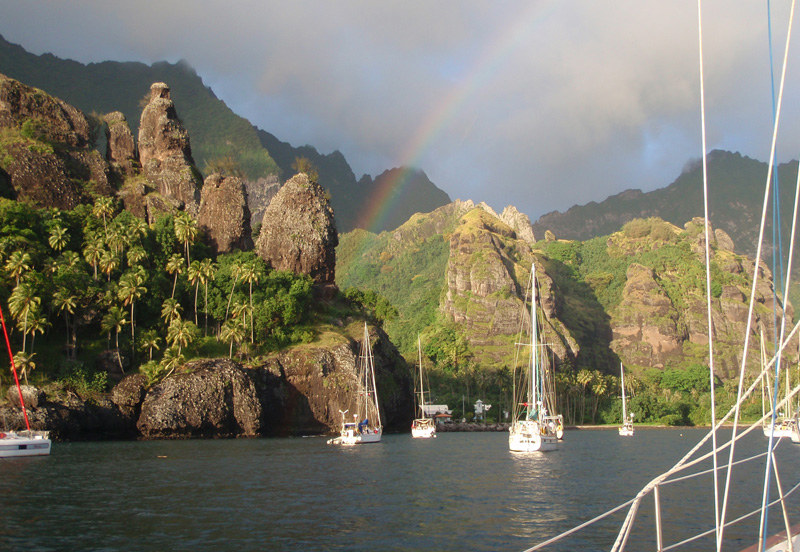 Without a doubt, the islands and atolls of French Polynesia comprise one of the most spectacularly beautiful cruising grounds in the world, making it high on the must-see lists of many cruising sailors. In addition, its people are generally warm and welcoming. But there's one factor in cruising there that most sailors find annoying: the requirement that all visiting (non-EU) sailors post a 'repatriation bond'.
That is, upon arrival all non-EU citizens must deposit in a Tahitian bank the cash equivalent of an air ticket to their home country. Even though such deposits are refundable in French Polynesian francs the day you clear out, this requirement has long been seen as a pain in the neck — and wallet. Not only do you have to tie up large sums of cash during your stay, but you often lose money on the currency exchange.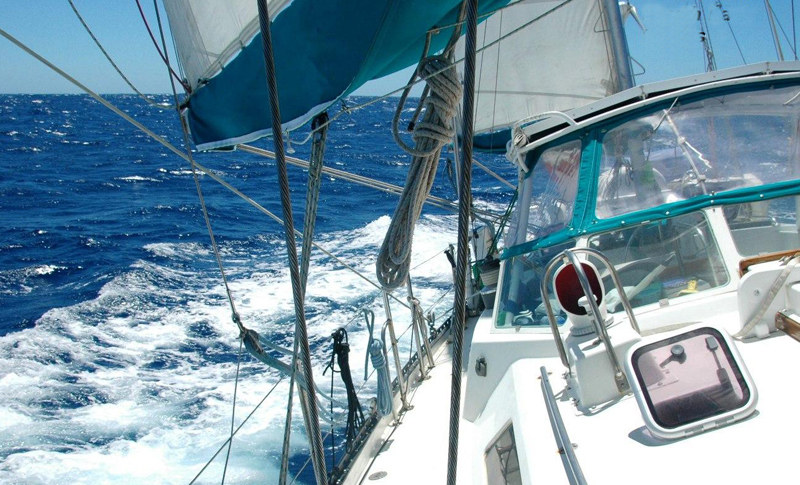 It's ironic that a territory so welcoming would have such a requirement — to our knowledge it's the only place in the world that has such a practice. But for French Polynesian authorities, the bond requirement serves as sort of an insurance policy, which could be utilized if you have a major medical emergency, get in trouble with the law, etc.
Thankfully, due to Latitude 38's long association with the annual Pacific Puddle Jump migration, we have worked out a bond-exemption package again this year at a very reasonable rate:
The Papeete-based agency Tahiti Crew Company is offering registered Puddle Jumpers a special package that includes clearance in and out of French Polynesia, the ability to purchase duty-free fuel beginning in the Marquesas, and repatriation bond exemptions for crew. (Again, EU citizens do not need bond exemptions.)
At current exchange rates, the package, including taxes, is $244 for two crew or $288 for four crew. (Registered boats are under no obligation to purchase this package of services.)
Latitude 38 Publishing simply facilitates the bond exemption deal. We are not in partnership with the Tahiti Crew Company, and we make no money from our efforts to facilitate this service. If you're curious, the 'payoff' for all that Latitude does for Puddle Jumpers — including facilitating such services and throwing send-off parties in Mexico and Panama (dates TBA soon) — comes from expanding our network of cruising friends, many of whom eventually send us reports and photos from cruising grounds all over the globe.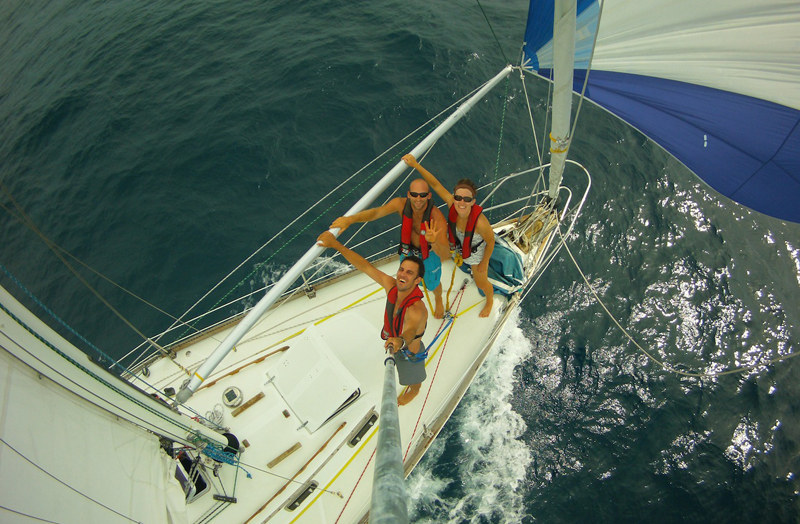 Look for lots of 2014 Pacific Puddle Jump coverage this spring and summer in the pages of Latitude 38.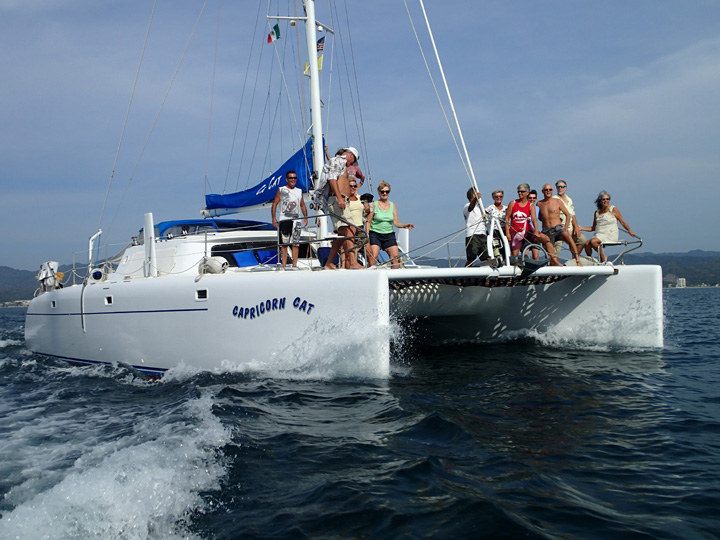 The cruising season moved into higher gear on Friday the 13th, as the Riviera Nayarit Tourism Board, plus the Marina Riviera Nayarit and Latitude 38, threw a Riviera Nayarit Welcome Splash for veterans of the this year's and previous Baja Ha-Ha's — plus anybody else who happened to be around and likes sailing.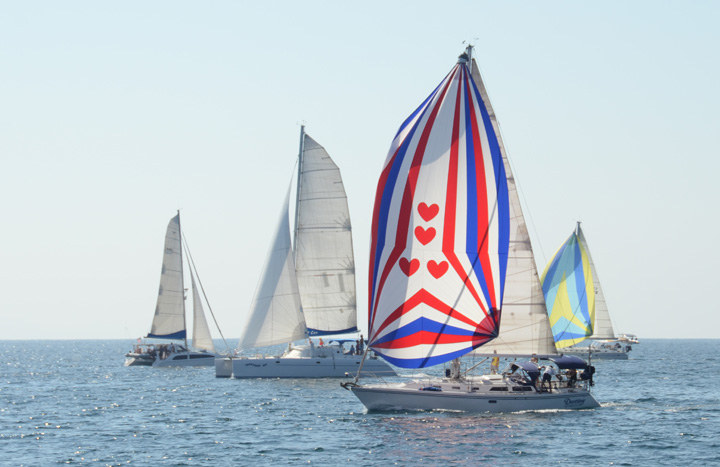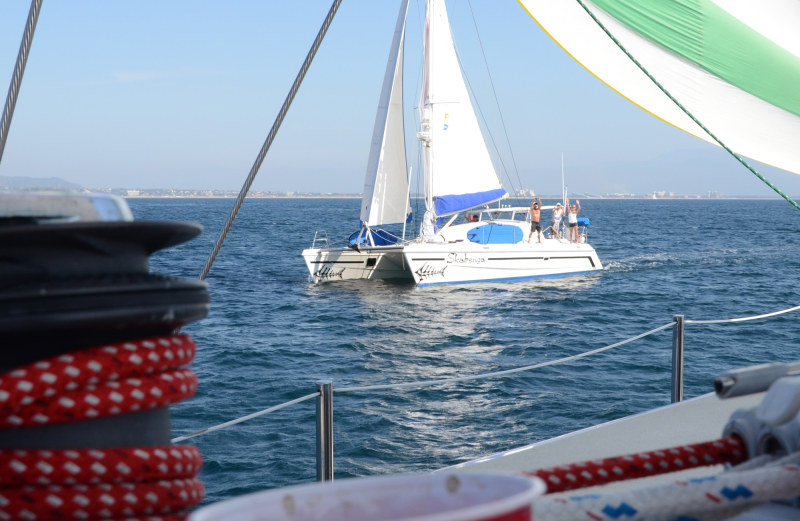 The festivities started off with two cats taking a group of about 60 participants over to the Vallarta YC at Paradise Marina in Nuevo Vallarta, which is also the Riviera Nayarit. Harbormaster Dick Markie was off in Antigua attracting more megayachts, but everyone still had a good time. That's because the Vallarta YC welcomed everybody with a free breakfast and a tour of the facilities. Some of the more intrepid visitors even slid down the croc's mouth and into the pool at the Paradise resort. Needless to say, the weather was fabulous, at about 85 degrees and blue skies. And whales were tickling the cats as they travelled between Paradise and La Cruz.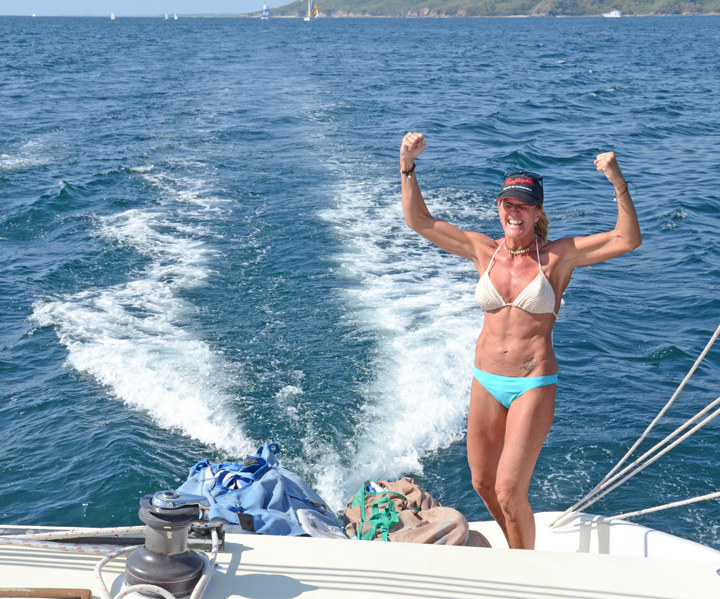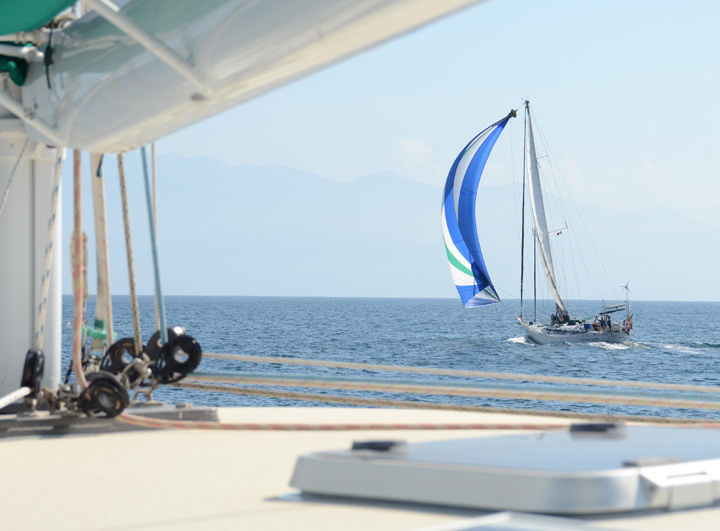 After the obligatory and refreshing round of swimming pool volleyball back at the Marina Riviera Nayarit's Junior Olympic-size pool, everyone retired to the Tourism board's welcome party. There was free tequila, free tacos and free music for all. Oh yeah, free sailing shirts and hats for all, too.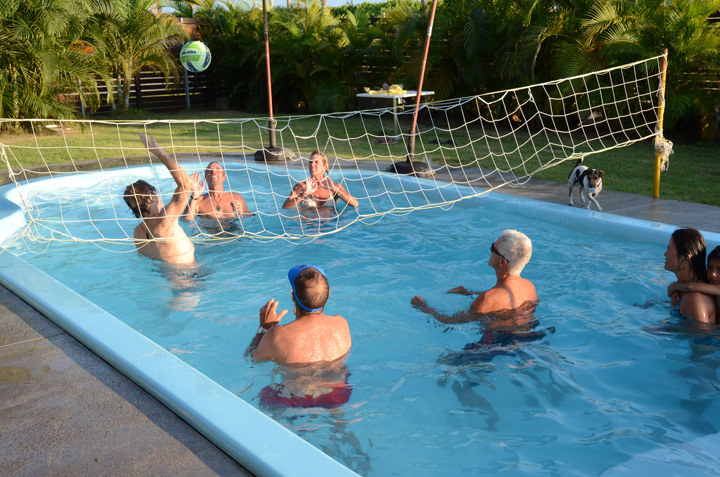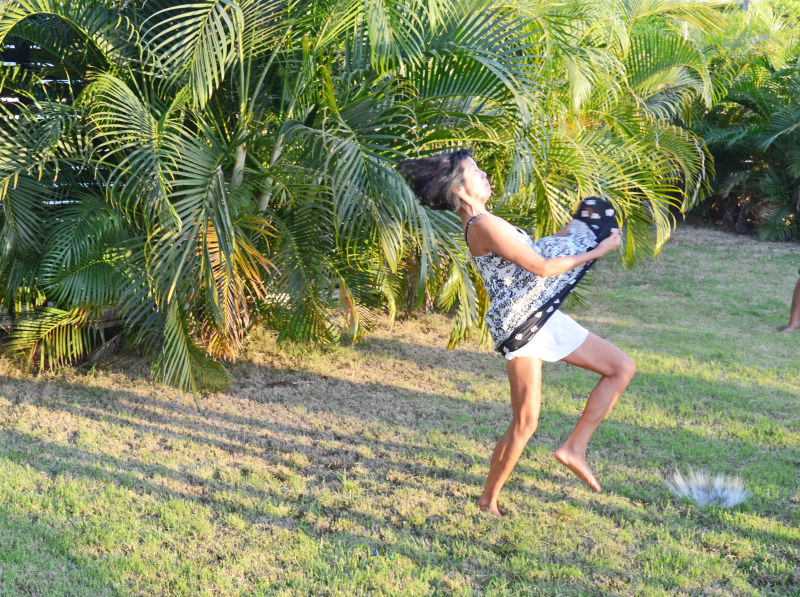 On Sunday, after a Saturday lay day, the absolutely-nothing-serious racing started with a 14-miler off La Cruz. For added safety and fun, it was pursuit racing. Once again, the weather was fabulous, with 8 to 14 knots of wind, flat water and warm temperatures. Pleasure sailing is what it was. And once again the whales were nice enough to say at least 15 feet away from all boats. While everyone who participated felt like a winner, Rob and Nancy Novak of the San Francisco-based Oyster 485 Shindig, vets of the 2012 Ha-Ha, had the fastest time.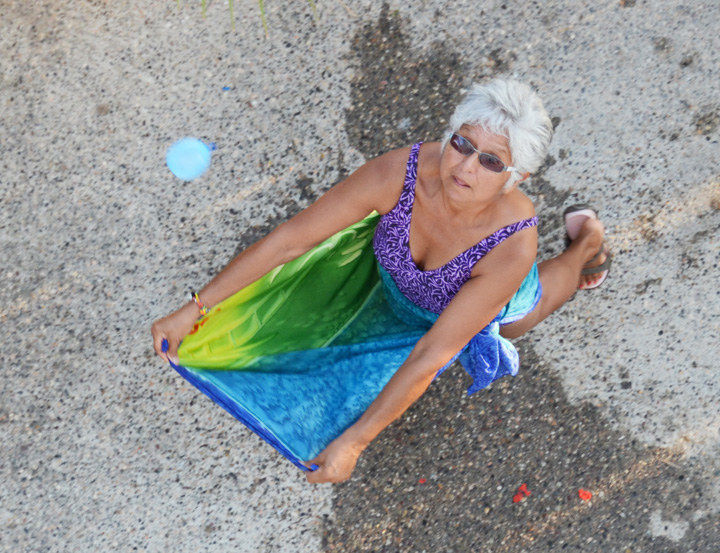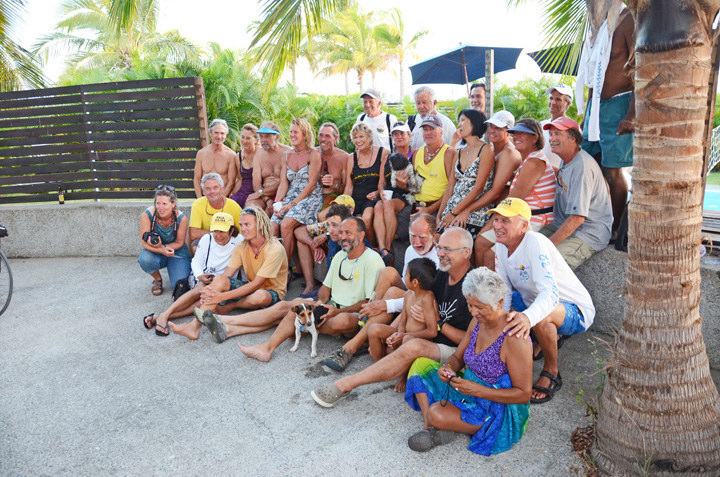 What do you do after a great race? Back to the Junior Olympic pool for more volleyball, followed by water-balloon catching for free dinners, then music and a slideshow of the day's activities at Philo's. Phwew, we're almost too tired for today's Punta Mita race and the opening of the Punta Mita Yacht & Surf Club, following on Tuesday by the Pirates for Pupils Spinnaker Run for Charity back to Paradise Marina.
Great folks, great sailing conditions, all we can say is that we wish you were here.
PHOTO
Receive emails when 'Lectronic Latitude is updated.
SUBSCRIBE