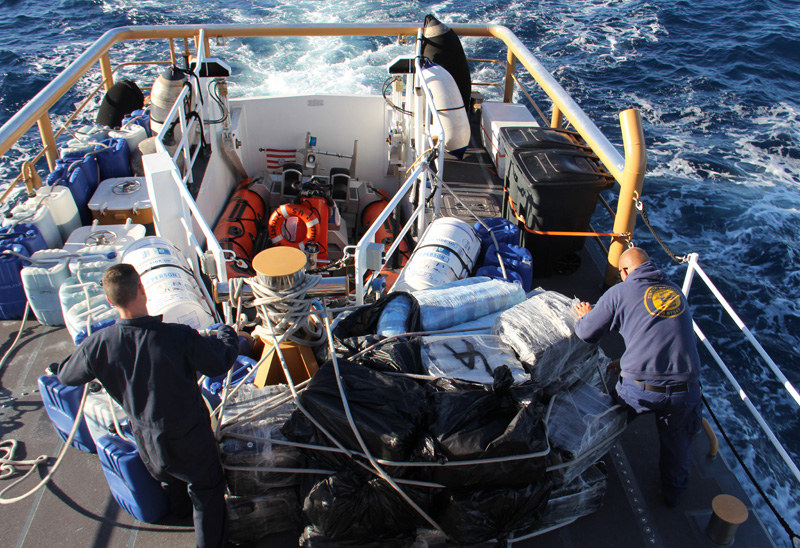 For decades we've read about the many inventive ways that drugs are smuggled, but lately some crime organizations have been undeniably brazen in their efforts to bring dope to market in the US. In several recent incidents, large, open pangas — built in Mexico for offshore fishing — have been intercepted off the Northern California coast by Coast Guard assets. Apparently the trend is growing, despite the overt nature of the technique — basically, they barrel north at high speeds with the illicit cargo simply piled to the pangas' gunwales.
As these alleged smugglers learned, once the Coast Guard has you in their sights, it's tough to outrun or outgun them.
In addition to the seizure pictured above, an abandoned panga believed to have been used for smuggling was recently found in Monterey Bay after a failed attempt to scuttle it. And as we were reminded by a recent CG press release: "In December 2012, a Coast Guardsman was killed by suspected smugglers when they rammed a CG vessel with their panga. In addition, the pangas often carry large amounts of fuel for their transit up the coast and, once the smugglers complete their transit, they abandoned the vessels, leaving the remaining fuel to the mercy of the environment, needlessly exposing the community to dangerous health risks." The release also pointed out that, "The money earned from smuggling, and the illegal activities related to it, have been cited as a destabilizing influence in Mexico and causes tremendous harm to communities on both sides of the border."
To augment their own surveillance efforts, the Coast Guard is asking boaters and coastal residents to "remain vigilant and to immediately notify authorities if they observe any suspicious vessels or activities along the coast, in port, or at sea." Suspicious maritime activity can be reported by calling 911. Or call the Department of Homeland Security Tip Line at (415) 426-8815. These calls are confidential, and tipsters can remain anonymous if they choose.
"Everyone says Sausalito is a boating community, but I had no idea how much until the other day," said a librarian friend who was working at the Sausalito Library recently. "A woman called wondering about the legality of burial at sea."
"Oh, there are loads of charter boats that will take families out to spread ashes," I responded.
"I know, but I couldn't find a single one that would take a whole body, plus she wanted to do it on her own boat."
That's when I clicked on my recorder.
As a research librarian, it's my friend's job to dig deeper than the average person can, but as it turns out, there's simply not much information available on how to properly dispose of a body (not ashes) at sea.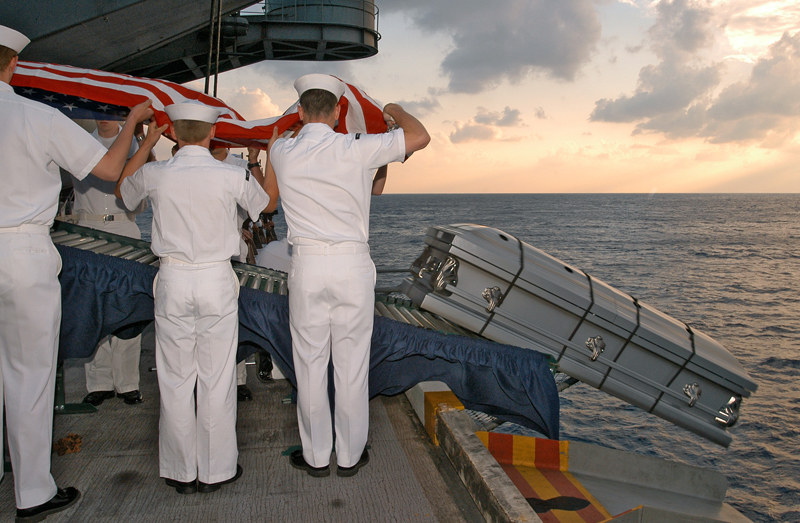 "The EPA doesn't require a permit unless ashes are to be spread on an inland waterway," my friend noted, "but they do have rules [which can be found here]." Non-cremated remains must be buried at least three miles from land in water at least 600 feet deep, and measures must be taken to ensure the body sinks fast and permanently. They make no suggestions on exactly how to do that.
The EPA also requires to be notified in writing of such a burial within 30 days, preferably using the Burial at Sea Form from their site, and sent to the appropriate regional contacts (California's is located in San Francisco).
As hard as she tried, our friend couldn't find any specific California state rules or requirements for non-cremated remains. Permits must be obtained to take possession of any kind of remains, but rules pertaining to burial at sea only refer to "cremated remains." Of course, the Navy has a burial at sea program for its personnel, but the questions remains: Can a civilian legally commit the intact remains of a loved one to the sea from his/her own boat?
If anyone has insight into or personal experience with burying non-cremated remains at sea, we'd love to hear about it and pass on the information to our librarian friend.
Receive emails when 'Lectronic Latitude is updated.
SUBSCRIBE