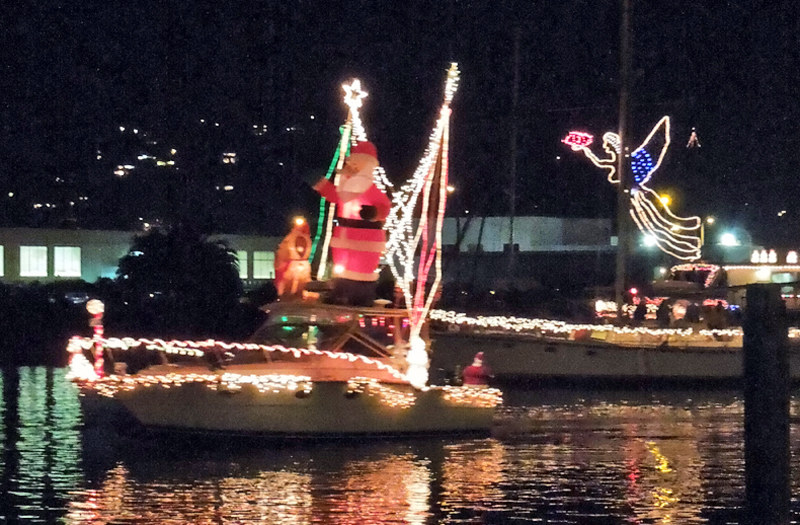 It's that time of year again, folks! Time to invite your besties to one of the Bay Area's many lighted boat parades. Whether you're watching from the clubhouse or you manage to string up some lights and join in, these parades are a delightful — if chilly — way to ring in the holiday season.
The bulk of this year's parades run this weekend, and tomorrow's forecast is looking anything but delightful. Hopefully the predictions of morning rain and high winds, easing in the afternoon, hold true. Sunday will be clear and cold, so pack up some extra mittens and rum to keep your crew warm (skippers should enjoy virgin toddies till the boat's safely back at the dock!).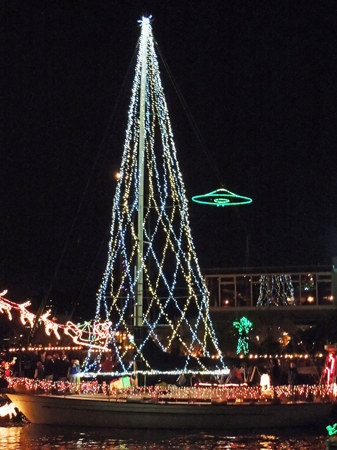 Here's a list of all the Bay Area lighted boat parades we know about. If you know of one not listed, shoot LaDonna an email and it'll be added right away.
December 7 — 37th Annual Lighted Yacht Parade on the Oakland/Alameda Estuary. Starts at 5:30 p.m. Presented by Encinal YC, Oakland YC and Marina Village Yacht Harbor. This year's theme is 'Global Holidays'. Find out more and enter your boat at www.lightedyachtparade.com.
December 7 — Stockton SC Lighted Boat Parade. Info, www.stocktonsc.org.
December 7 — Santa Cruz YC Lighted Boat Parade in the south harbor, 5:30 p.m. Info, www.scyc.org.
December 7 — Vallejo YC Harbor Lighted Boat Parade. Info, www.vyc.com or (707) 643-1254.
December 7 — Petaluma Lighted Boat Parade from Petaluma Marina through the D Street Bridge to the Petaluma city dock. Starts at 6 p.m. Info, www.petalumayachtclub.com.
December 8 — Monterey Peninsula YC Lighted Boat Parade, 5:30 p.m. Info, www.mpyc.org.
December 8 — San Rafael Lighted Boat Parade, 5 p.m. Info, www.marinyachtclub.com.
December 13 — St. Francis YC Lighted Boat Parade, from Pier 39 to Ft. Mason, 6 p.m. Info, www.stfyc.com.
December 14 — This isn't a lighted boat parade but is a fun holiday celebration at Hyde St. Pier with live music, activities and a visit from the Big Guy himself, 3-4:45 p.m. Kids under 16 free, adults $5. Tour historic vessels from 6-9 p.m. Free, RSVP required. Info, (415) 447-5000.
December 14 — Sausalito Lighted Yacht Parade along the waterfront, 6 p.m. Info, www.sausalitoyachtclub.org.
December 14 — Benicia Marina & YC Lighted Boat Parade, 6 p.m. Info, www.beniciayachtclub.com.
December 20 — Sequoia YC Lighted Boat Parade in the Redwood City Harbor turning basin, 5 p.m. Info, www.sequoiayc.org.
Photographing a lighted boat parade is notoriously difficult, so if you get some nice clear shots, we'd love to see them. Send them to LaDonna at the link above.
The Mini Transat is all about history and broken records. From the classic races of the past to constant technical innovation to the heroes of today achieving their first victories, only one thing is for certain when the Transat starts: anything can happen. Five days after Benoit Marie's improbable win, both the Prototype and Series Class podiums are now nearly complete.
In the 27-boat Proto fleet, Marie's Finot-designed #667 — which also won the 2009 Mini Transat in the hands of Thomas Ruyant — was followed across the line at Pointe-à-Pitre, Guadaloupe less than three hours later by Giancarlo Pedote's scow-bowed Prysmian (#747). Pedote, who led nearly the entire race, was slowed by a broken bowsprit some 300 miles from the finish and then sailed into a light-air hole, allowing Marie to pass him for the victory. Arriving on Tuesday — and rounding out the Proto podium — was this writer's favorite, Rémi Fermin (#741). The Frenchman designed, built and sailed his Mini to a podium finish after dismasting in the second leg of the '11 race and finishing under jury-rig.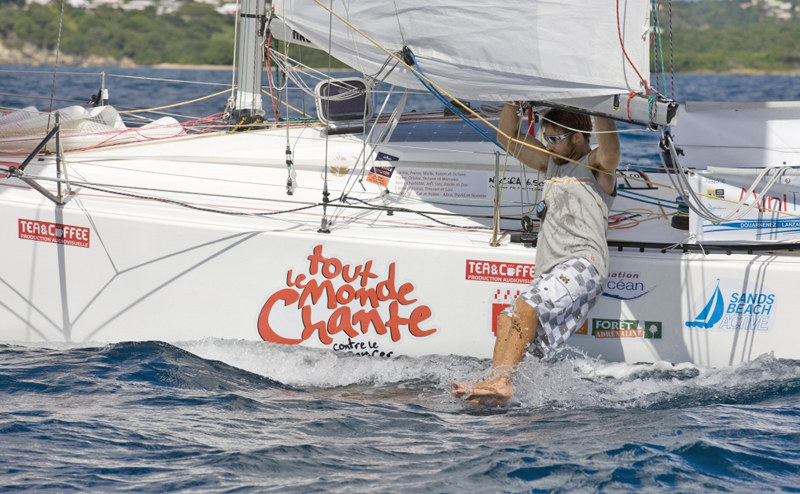 The Series division, which normally sees the closest racing as the boats are often identical, was blown wide open by Aymeric Belloir (#810). Benefitting from the experience of nine Atlantic crossings, the Frenchman navigated confidently and sailed flawlessly to extend out to a 300-mile lead over his nearest rival and finish on Wednesday behind just five prototype boats — the highest a Series boat has finished in nearly three decades.
Even more remarkable was the performance of second-place finisher Justine Mettreaux (#824), who finished today. By finishing in the runner-up position of the 46-boat Series fleet, Mettreaux becomes the highest placing female competitor to ever sail in the Mini Transat, besting both of the Isabelle's in the process (Isabelle Joschke and Isabelle Auttissier, two of the most accomplished female Mini sailors in history).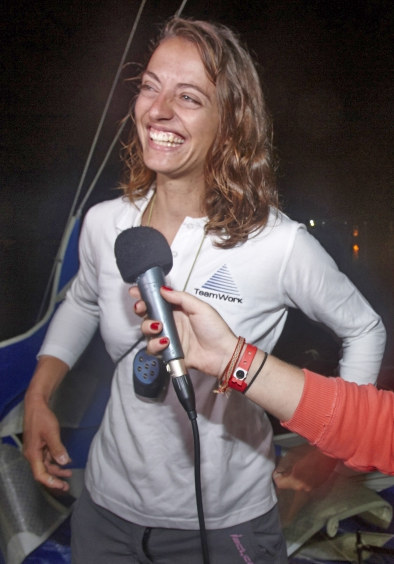 "I haven't had any news since Lanzarote," said an ecstatic Mettreaux. "I knew I was lying third by the Canary Islands and that so far I had sailed well. I was hoping to finish in the top 10 so a second place is absolutely fantastic!"
Simon Koster (#819) is approaching the finish as this article is being uploaded to Latitude's servers. Assuming he maintains that position, the Nacira-designed Series boat will sweep the podium of this year's Transat, establishing it as the new benchmark in production Mini performance.
Even though many bluewater voyagers think of themselves as loners rather than 'joiners', after completing a major passage most are eager to swap tales with like-minded adventurers and hoist a glass to their safe arrival.
Such was the case yesterday in Whangarei, New Zealand. As Irene Bass of the Freemantle-based M&M 52 Kiapa explains, "Whangarei Marine Promotions hosted a meet-and-greet 'do' at the Marsden Cove Marina for those of us who have sailed south to the land of the long white cloud — New Zealand — from Tonga and Fiji, to avoid the cyclone season in the South Pacific.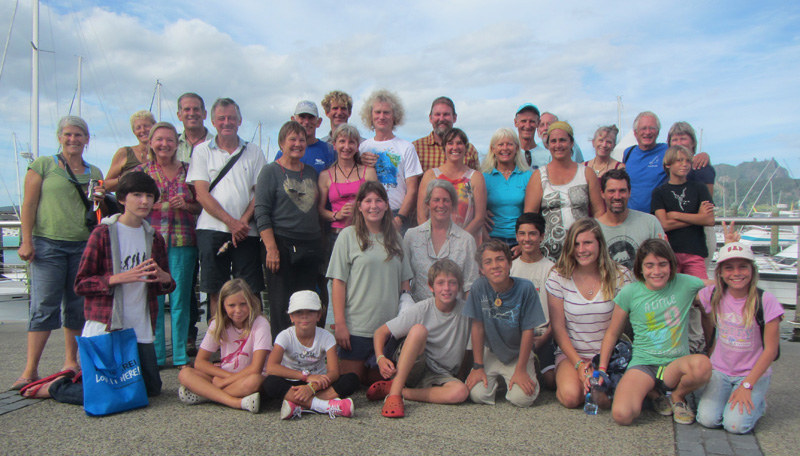 "The affair was well attended by over 100 people, many of whom set sail for the South Pacific as part of the Pacific Puddle Jump from either Panama or Mexico. Passage notes were compared, various tradesmen's contacts were shared, and altogether a lot of convivial BS was bandied about."
As last season's Puddle Jumpers lay over in New Zealand, Australia, Tahiti, Fiji and elsewhere, a new armada of boats is staging all along the West Coast for the 2014 Puddle Jump migration. Free online registration just opened about a week ago, and already there are more than 60 sign-ups. Although the Puddle Jump is a rally in only the loosest terms — participants leave from all along the West Coast of the Americas anytime between February and June — its numbers have swollen to over 200 boats in recent years, making it second in size among offshore sailing rallies only to the ARC.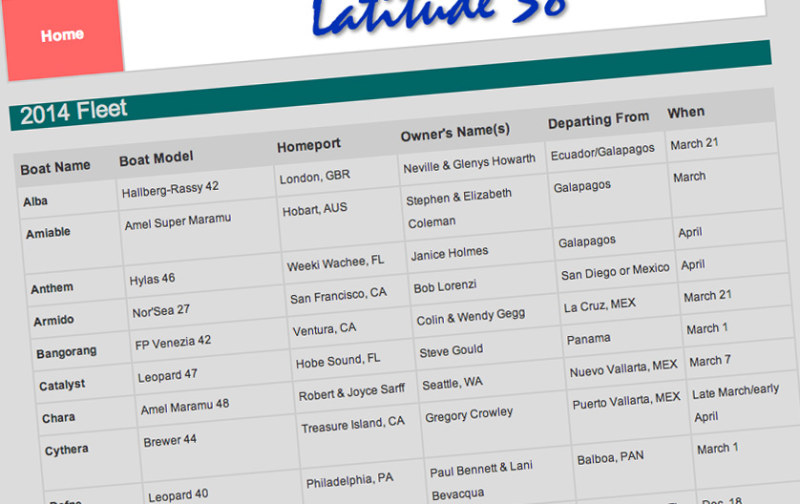 Through an arrangement with Latitude 38, registered Jumpers will be offered a special package again this year by an yacht agency in Tahiti. The 'deal' will include clearance in and out, bond exemptions for crew members, and duty-free fuel certificates for a reasonable price. Dates will soon be announced for Latitude's annual PPJ send-off parties in Mexico and Panama. And at the other end of the 3,000-mile crossing, the annual Tahiti-Moorea Sailing Rendezvous will take place July 3-5, 2014. Stay tuned for more updates, and check out the website for fleet lists and other pertinent info.
PHOTO
Receive emails when 'Lectronic Latitude is updated.
SUBSCRIBE