As you read this, the June issue of Latitude 38 is making its way around the Bay Area and beyond. Pay special attention to the cover, featuring Zamazaan in May's Great Vallejo Race, then turn to page 85 to see the cover we almost ran. Both were taken by Bay Area marine photog Erik Simonson, and both are great, but very different. Tough choice!
We also have a full report on the race itself, a complete break-down on the tragic death of AC sailor Bart Simpson, tips on taking a trip up the Petaluma and an interview with Stan Honey about LiveLine (see the related post below). Of course that's just a tiny portion of what you'll find in the magazine, which is also available as a free download from our site. Grab your copy for a little leisurely weekend reading, then be sure to tell us which cover you liked best!
In the March and other recent issues of Latitude there have been reader complaints about microphone cords falling apart on their otherwise highly regarded Icom radios. Icom had not been as responsible as many of their customers had hoped, but fortunately that has changed.
"We've been in contact with Icom," reports Charles Fort, Director of Consumer Protection at BoatUS, "and they have agreed to replace the cords at no charge, regardless of model or warranty status. Owners will need to fill out a Repair Submission form found
HERE
and send the microphone and cable, along with a copy of the form (keep one for yourself) to: ICOM America, Bellevue Service Center, 2380 116th Ave NE, Bellevue, WA 98004."
We're filing this under 'better late than never'.
We recently had the pleasure of interviewing tech guru and three-time circumnavigator Stan Honey for a June-edition article (out today). In it, you'll learn about how Stan's LiveLine graphics will be superimposed over live video of this summer's Louis Vuitton challenger series, the Red Bull Youth America's Cup and the AC 34 finals.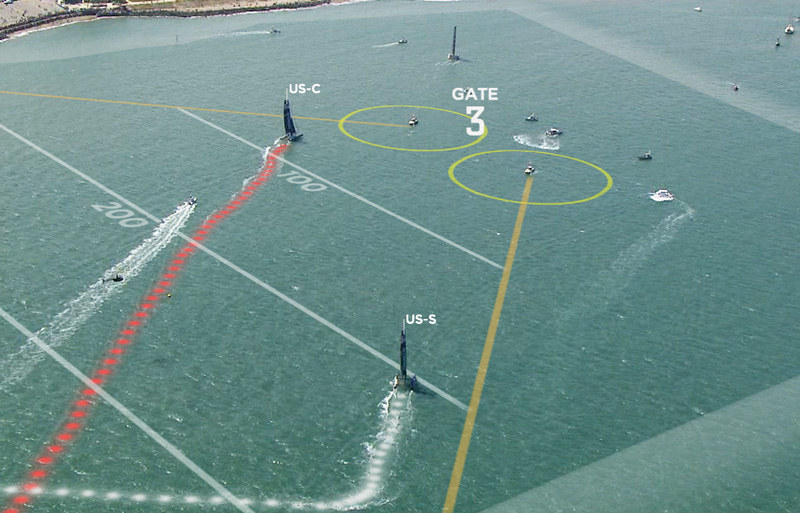 Here's an out-take from our reporter's notebook about some of Stan's team's earlier work that you may find interesting — and may help you settle a bar bet:
Latitude 38 — "This question has been making me scratch my head for years: When a football player is running down the field and crosses the superimposed yellow first down line that your team created, why doesn't the yellow line cross over the player's body? Is there a simple way to explain this, because we assume it's a similar issue with America's Cup boats?"
Stan — "Yeah, we do the same thing here. I'll explain it for football: We measure where the camera is, and we measure the pan, tilt, zoom, focus of the camera, — 30 times a second — so we know exactly what part of the real world is in the frame of video. In the case of football, we know where the yellow line is supposed to be, because we've entered in that it's on the left 48.1 or whatever it is, and we've measured the crown of the field. So then we compute every pixel that we should turn yellow. But before we turn it yellow, we look at the color of every pixel, and we check to see that the color is the appropriate shade of green or brown to be on the field, and that it's not the appropriate shade to be on an athlete.
"Only if that pixel is showing the field, do we turn it yellow. So we draw around the athletes. And the interesting thing is that even if the Niners, with their brown pants, are playing Green Bay, with their green jerseys, the computer and the camera can do a good enough job in telling the slight difference in colors so that we can still draw around the athletes.
"In sailing we do the same thing. It's much harder in sailing because the water has a very rapidly changing color, based on whether there is sun or clouds or shade, or whether there's a puff or a light spot. And some of the boats have sort of gray hulls — the same color as the water in some cases. So it's a lot trickier, but we do the best we can. Occasionally you'll see us screw it up and we'll draw a little bit on one of the boats. But for the most part we're able to do a good enough job to produce the illusion that the graphics are on the water."
Latitude 38 — "Amazing!"
Check the AC website for updated TV coverage, which will include LiveLine graphics. And be aware also that most or all of the races will be available live streaming on the Internet. So if you plan to watch from the water or along the Cityfront, be sure to bring your iPad or other wifi device.
Receive emails when 'Lectronic Latitude is updated.
SUBSCRIBE