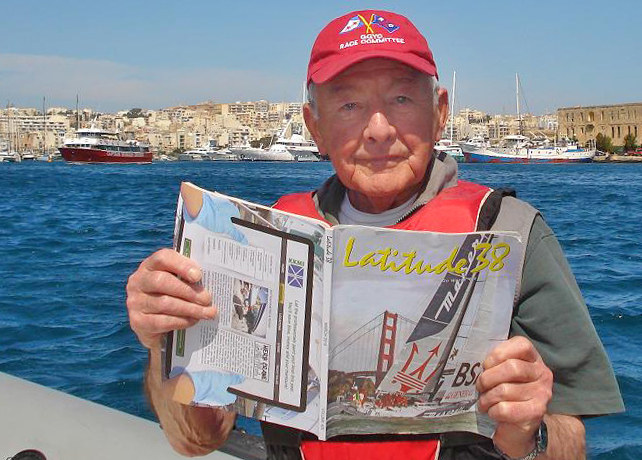 Bay Area sailor Emmanuel Uren sure does get around. The Golden Gate YC member sent us a photo of himself at the AC World Series races in Plymouth, England in September, 2011, and now he's sent this one. "I was on the committee boat, preparing to assist in running a match race in Marsamxett Harbour, Malta on March 31," he writes. "Two guys go out into the Mediterranean in a Zodiac to set the marks and run the races, even when the seas are capping. I've never seen anything like it! I've been on GGYC and SBYC's race committees for several years, and I don't think I've ever seen fewer than five people go out. By the end of my week there, I'd joined the Royal Malta YC!"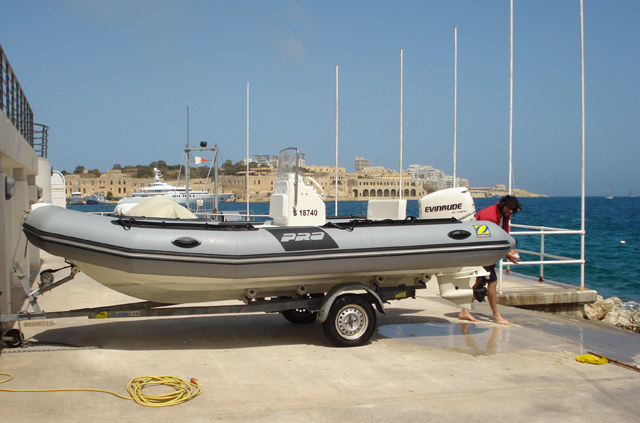 As you might suspect, we get a kick out of seeing sailors reading Latitude in different ports of call around the world. If you have fun shots like Emmanuel's, be sure to send them to us.
It seems common that certain sailboats make an outsized impression on sailors when they're young. Over time, the boats disappear and/or are forgotten. But then without apparent reason, the now-older sailor recalls fond memories of the boat, and wonders whatever happened to her.
Is there such a boat from your youth? If so, briefly tell us what you know about her and why she made an impression on you. Who knows, maybe we'll be able to find some answers.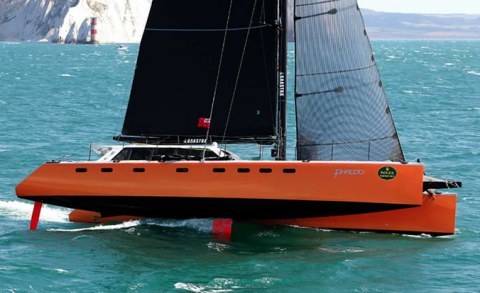 It was only a few years ago that Lloyd Thornburg was attending the prestigious Art Design College in Pasadena and sailing out of Marina del Rey. "I had a small boat, but I would sail her all the time, usually to the end of the Santa Monica Pier and back. I loved it, especially sailing the boat back into her slip."
Lloyd is returning to California — briefly — but with a much larger and more exotic boat. "I ordered a Gunboat 66 catamaran a few years ago when I was 28," he told Latitude. "The Gunboats were being built in South Africa, so I figured I'd fly down, spend a week selecting options, then fly home until she was completed. I soon learned that having a big boat built is a long and complicated process. I ending up living in South Africa for a year until the boat was completed."
The jovial Thornburg, who splits time between homes in Santa Fe and St. Barth, didn't waste any time entering his brightly colored all-carbon Phaedo in major races in the Caribbean and Atlantic. We don't have a list of them all, but they included a couple of Caribbean 600s, a Voiles de St. Barth, some races in Antigua, a TransAtlantic, and England's classic Fastnet Race. To get an idea of what the hard-driven Phaedo looks like under sail, check out this video.
Among those crewing for Thornburg in this year's 600 was Brian Thompson, known to many West Coast sailors from his days running Steve Fossett's 60-ft tri Lakota, and known to many sailors around the world for his circumnavigations and other transoceanic racing exploits. In the 600 video, Thornburg congratulates Peter Aschenbrener, the owner of the Irens-designed 'cruising' trimaran Paradox, for winning the multihull class and nearly breaking the 600 course record. The owner of the detuned ORMA 60 trimaran doesn't seem to want publicity, but our understanding is that he has some kind of connection with Redwood City.
The big Phaedo news is that she left St. Barth on April 13 under the direction of Aussie skipper Paul Hand for the Panama Canal and a delivery up to Newport Beach. If you see her, you'll know it, because she's the only big boat with rust/copper-colored hulls. She'll be hauled in Newport and have her rig pulled in preparation for this summer's TransPac Race from Los Angeles to Hawaii. It's a pity, but her only multihull competition will be a Lagoon 450.
Following the race, Thornburg and Phaedo will continue on around the world — and rather quickly, we suspect. But during a conversation with us on Shell Beach during a Voiles party the other night, Thornburg confessed he sometimes misses those times sailing his smaller and more simple boat ". . . when I didn't need four people to go sailing." That being the case, he's having a Goat Island skiff built in St. Martin. "At just 15 feet, we can store her on Phaedo's cabin top during the circumnavigation."
Incidentally, this year's TransPac is shaping up to be a terrific one, with 63 boats already entered. Visit the TransPac website for a preview. One of the entries is Varuna, a new Ker 51 owned by Jens Kellinghusen of Hamburg, Germany. Like Phaedo, Varuna — currently competing in the Voiles and second in class to the Jim Swartz-owned and Kenny Keefe-managed TP 52 Vesper — will have to quickly find her way to Southern California. After all, the first TransPac start is Monday, July 8.
Receive emails when 'Lectronic Latitude is updated.
SUBSCRIBE