One year after the tragic Low Speed Chase incident during the Full Crew Farallones Race, in which five sailors died, survivor Bryan Chong reflects on that horrific event and the lessons he has taken from it:
"There's nothing in life more absolutely devastating than the loss of a loved one. It creates a sudden vacancy once occupied by a meaningful connection, awakens us to our own mortality, and forces us to evaluate who we are, what we've done and where we're headed. For the family, friends and survivors, the April 14, 2012 Low Speed Chase accident at the Farallones changed our lives forever.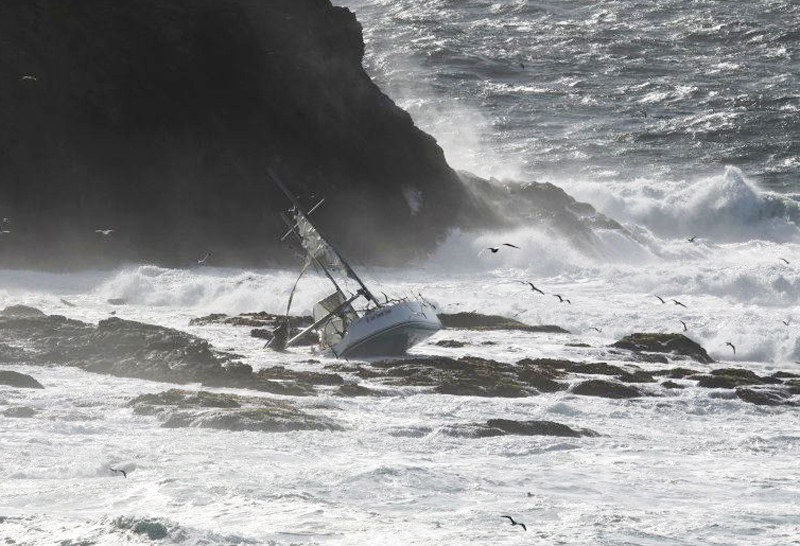 "Alexander Graham Bell said, 'When one door closes another door opens; but we often look so long and so regretfully upon the closed door that we do not see the ones which open for us.'
"The door that opened for me catapulted me out of my old life and into a new one. It made me reflect on the decisions I've made in life and led me to readjust my priorities. It motivated me to stop procrastinating on things I'd do when I had 'enough time.' Instead of returning to work, I went on the road with my wonderful wife and infant son. We spent the summer driving 10,000 miles in our yellow Westy Vanagon around the West Coast visiting friends and places I'd always longed to see — Yellowstone, the Tetons, Glacier, Pikes Peak, Telluride and Mt. Rushmore, just to name a few. I finally saw a concert at Red Rocks and a rodeo in South Dakota.
"Then in September, instead of going home like responsible adults, we flew to Europe and kept adventuring until we ran out of good weather. All journeys eventually end, and in late January we finally came back to Marin. The trip afforded me the priceless chance to spend a year bonding with my wife and son. It also gave me time to reflect on life, the accident and those I'd lost. It was the trip of a lifetime and I wish I could have shared it with all my Low Speed Chase crewmates.
"Not a day passes that I don't think about what went wrong that day at the Farallones and what can be done to prevent something like this from happening again. I was by no means an expert in safety before the accident, but since I've been home numerous sailing groups have invited me to share my thoughts on this topic. I always bring my tether and lifejacket with me to emphasize the basics, but I prefer to focus on the fundamental concept that safety only exists when everyone becomes a leader.
"Safety leadership isn't always easy. It takes a willingness to speak up when others don't. It's choosing the safety of yourself and your crewmates over pride, appearance, comfort, costs or an engraved silver cup. It's leadership by example and can be as simple as showing up early to make sure the safety equipment's primed, double checking a teammate's PFD cartridge and tether, tossing your favorite sailing hat in the water to force an MOB exercise, buying your friend a Spinlock lifejacket for their birthday, or setting the expectation that you'll only crew on boats that take safety seriously. It's investing in yourself by attending training, sharing what you learned with others, and following through when on the water.
"Over the past year, I've learned that sailors aren't the only ones shifting their attention to developing a better safety culture. Tuesday morning, I spoke to the 200 person executive leadership team at PG&E, our local power company. Last year they lost five people to accidents that might have been prevented with the proper use of safety equipment
"I now routinely find myself in safety discussions in which I'm called upon to offer my opinion. I'm still not an expert on all the safety practices, but I do see three areas where we can start focusing.
Resolve to be a leader on safety issues. You don't need to own a boat or be the most experienced sailor. You only need to care about the people aboard.
Take a sailing safety class. I recommend finding an interactive one with a small class size that requires attendees to calculate minimum depths using wave forecasts, set off flares, cut rigging, extinguish fires and enter the water with full gear.
If you're in a leadership position for a yacht club or sailing team, recruit a safety instructor to host a seminar for your people.
"In 2007, Ashley Perrin and Paul Cunningham, who both specialize in preparing boats for offshore sailing, attempted to host an ISAF certified safety training class. Not enough people registered. Fast forward to today. In the 12 months since the Low Speed Chase accident, they've hosted seven classes at the San Francisco Yacht Club, all filled to capacity. Are we evolving as a sailing community? I'd like to believe we are.
"A door has opened for sailors to embrace safety. Many have already walked through that door and taken leadership roles on their boats. I've seen others pulled through by spouses demanding they attend a safety class before their next ocean race.
"This weekend, as we remember those we lost at the Farallones, let's also keep in mind that this is our moment to cement a culture of safety by continuing to invest in training and equipment that will save lives. I truly wish for the memory of Alan, Marc, Jordan, Alexis and Elmer to be the spark that transforms this community of sailors.
"Be safe." — Bryan Chong
As Bay sailors will recall, in the aftermath of the LSC tragedy, the Coast Guard's Captain of the Port of San Francisco Cynthia Stowe took the unprecedented step of temporarily halting permits for all offshore races until a panel of experts could be convened to scrutinize the incident and make recommendations for safer operations in future offshore races.
As explained by author Michael Moradzadeh in the Sightings section of this month's Latitude 38, a permanent advisory group called the Northern California Ocean Racing Council (NorCalORC) evolved from that process. "Improvements include greater consistency in race practices, education and information about core safety issues such as wave formation, gear lists that are practical and effective, and communications methods," reports Moradzadeh. Read MIchael's complete report here.
This year's Full Crew Farallones Race is scheduled for June 15.
Receive emails when 'Lectronic Latitude is updated.
SUBSCRIBE