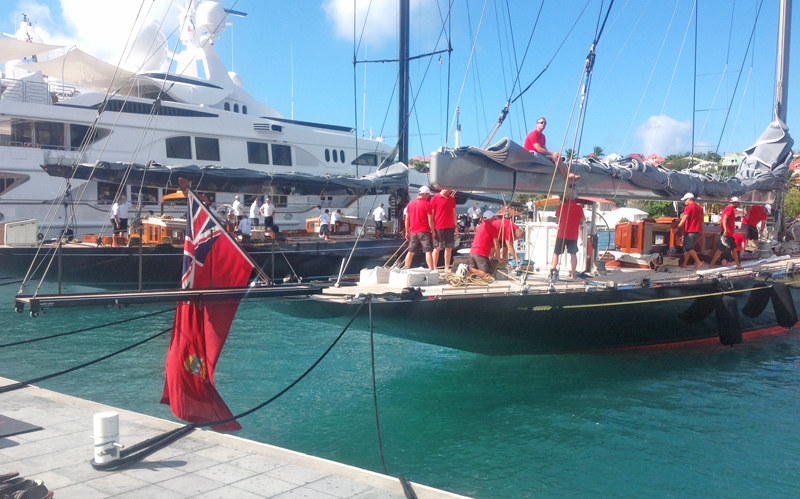 St. Barth has been pretty quiet for the last 10 days or so, but that all changed this morning as the St. Barth Bucket, which we've often referred to as the "greatest spectacle in sailing," starts later this week and the boats and support troops have started to show up. There will be 36 or more entries in the 100- to 300-ft range. This will include five J-Class yachts, approximately 135 feet in length, the greatest grouping of these magnificent yachts ever.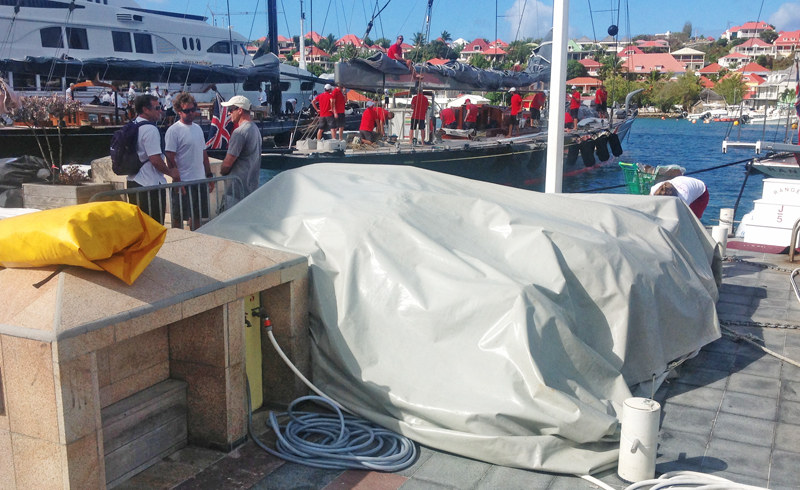 We were down on the docks early this morning, where Ranger, Rainbow and Lionheart were getting ready to go out for a practise session. You can't believe how many people it takes to make such a programs go. As for the amount of money . . . forget it.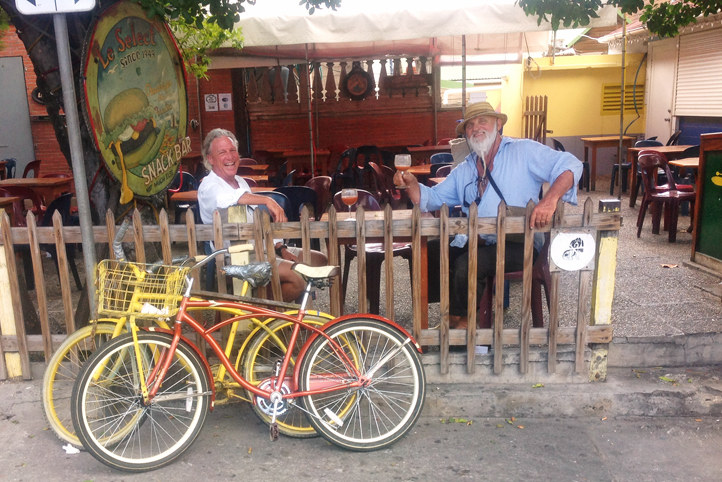 You also can't beliveve the noises coming off these boats. Winches, lines, blocks, all shrieking as they are being tortured by their loads. Meanwhile, the large crews mull around, studiously ignoring the horrible noises. You know what it takes besides skill to crew on a J boat? Cajones. Big ones.
As of this morning, Jeanne Socrates' Najad 380 Nereida was just passing Australia's Cape Leeuwin. For the last few days Socrates has been dealing with 20-ft seas and gale-force winds, causing her a few headaches in the form of a destroyed wind generator, damaged radar mount and displaced windvane rudder. None threaten her safety or her attempt to set a couple of records — the oldest woman to solo circumnavigate nonstop (unofficial) and the first woman to do so starting from North America — but she is working on a solution for the most important: the windvane.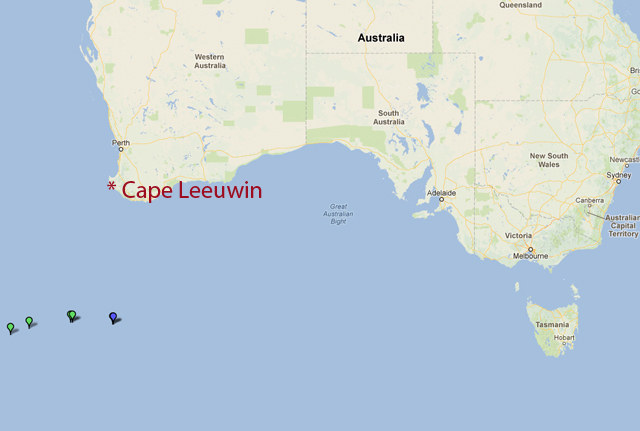 "I want to try to get it back in action because it would save a lot of battery power," she said today. "But it will have to be done in calm seas, possibly at anchor in Tassie (Tasmania)." The good news is that the 70-year-old solo circumnavigator has plenty of fuel aboard to charge her batteries with a generator for the rest of her trip.
For those following along, be aware that her logs are seeing the occasional delay in being posted to her blog. If you click on 'Travels', then 'Where is Nereida', you'll find her daily position report.
As we reported in a special 'Lectronic report on Saturday, there was a starting line collision — with a severe injury — in the second race of the Banderas Bay Regatta Friday. The collision was between the Hunter 54 Camelot, owned by the Shaw family of Portland, and the J/160 Blue, which is based out of La Cruz but owned by Ken and Cheryl Sears of Nashville.
In our special issue of 'Lectronic, we reported that it was our understanding that Camelot had been luffed up by the Varianta 44 Olas Lindas, as Olas Lindas had the right to do. With Camelot having been brought up into the wind, the question was whether or not there was enough room for the 53-ft LOA, 15-ft wide Blue to fit in without being guilty of barging. Barging is when a boat tries to squeeze between a boat to leeward and the committee boat at the start of a race, and there isn't enough room.
While the collision — there might have been two bumps — between the two boats wasn't that severe, somehow sailmaker Mike Danielson fell on Blue, and ended up getting his legs in "just the wrong place." One leg was broken in two places between the knee and the ankle, the other leg was broken just above the ankle. We've been told by several people that Danielson had NOT being trying to use his legs to keep the boats apart, which is one of the first lessons you learn when sailing.
Based on emails from Andy Barrow, Commodore of the Vallarta YC, Randy Hough, the Principle Race Officer, witnesses on three other boats, and the fact that Blue didn't file a protest within the stated time limit, we reported that Blue had been guilty of barging.
We have since been informed that Blue has never admitted fault. In fact, the Searses have asked for additional time to file a protest because Blue is equipped with a masthead GoPro camera that we're told recorded the incident. The Searses believe the video will clear them. Randy Hough agreed to the protest period being extended, as per the racing rules regarding situations such as this.
We have not seen Blue's protest, and thus don't know the nature of it. One possible basis is that they believe or have evidence that Camelot went above head to wind when next to Blue, which would have been illegal. Another possibility is that Blue will protest Camelot under Rule 14, which would be claiming that Camelot didn't do enough to avoid a collision. Even in cases where a boat has the right-of-way, she still has an obligation to make good effort to avoid a collision.
Until the hearing on Wednesday, we'll probably not know the grounds of Blue's protest.
The sponsoring Vallarta YC has organized a three-person jury to listen to the evidence on Wednesday. The head of the jury will be Dan Becker of Newport, who is being flown down for this purpose. Busy holiday flights delayed his getting to Mexico earlier, postponing the protest until Wednesday. Two other sailors, described as experts, will make up the rest of the panel.
No matter what the jury decides, the 'loser' will almost certainly be unhappy. For in cases such as this, the 'facts' are often remembered differently by different people, and perspectives are different — even from cameras. It's possible that any decision could be appealed, dragging this on and on.
Indeed, the terrible incident has the potential to undermine — if not destroy — all 'cruiser racing' in Mexico, to say nothing of 'cruiser racing' on Banderas Bay. For while we have had wonderful races with, and consider ourselves to be good friends with everybody involved — from Ken and Cheryl Sears of Blue, to sailmaker Mike Danielson, to Craig Shaw and other family members on Camelot, to the various eye-witnesses, to Commodore Barrow, to Principle Race Officer Hough — the situation has seemed to deteriorate. There has been talk of lawyers and lawsuits. That's never a good thing.
As someone who long encouraged 'cruiser racing' in Mexico, and has enjoyed countless wonderful races over the years, the idea of cruiser races suddenly doesn't seem like a very good one. Not as a sponsor, not as a participant. We're hoping that this incident doesn't go nuclear and ruin 'cruiser racing' in Mexico, but right now we're not as confident as we wish we were.
Receive emails when 'Lectronic Latitude is updated.
SUBSCRIBE