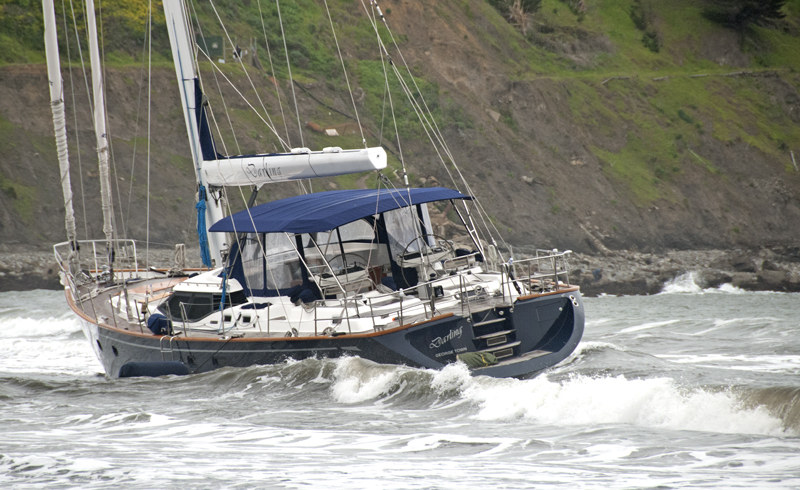 A million bucks. That's the bail amount for the three geniuses who apparently decided stealing a multimillion dollar yacht to go on a drunken joy ride was a good idea. Leslie Gardner, 63, Dario Mira, 54, and Lisa Modawell, 55, were arrested on Monday when the 82-ft Oyster they allegedly stole from Sausalito Yacht Harbor in the middle of the night somehow grounded at Pacifica. John Fruth, Darling's owner, called police after seeing his boat in a news report that morning. Can you imagine?!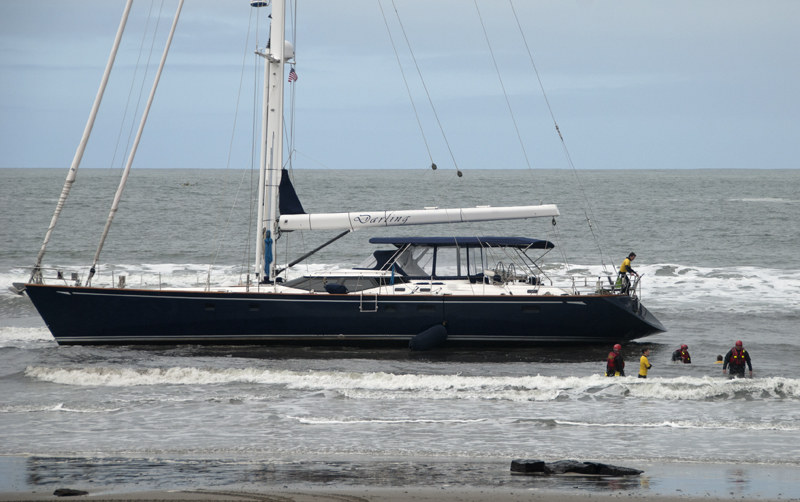 A popular destination for surfers, Pacifica is known for its killer wave action, and that same action really did a number on the immaculate Darling. Sausalito's Parker Diving Service hit the ground running on Monday to salvage the boat. Local diver Tim Sell, who worked with Parker on the recovery, says they worked for 20 hours or so to secure the boat and tow it to Bay Marine Boatworks in Pt. Richmond.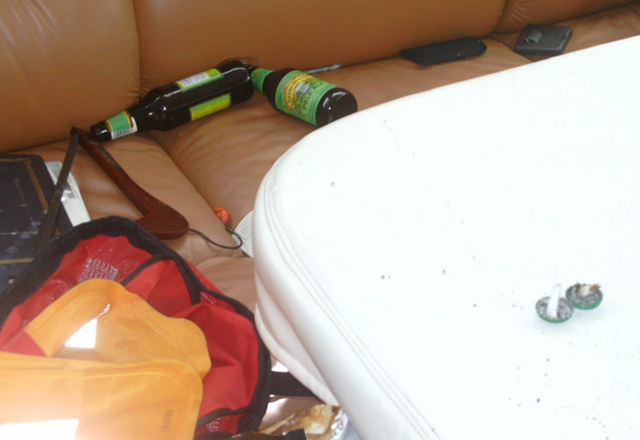 "It looked like they were partying down below," Sell notes. "There were Sierra Nevada beer bottles and pizza boxes everywhere." Sell says what had once been a luxuriously appointed interior was a mess of garbage, water and the contents of many lockers.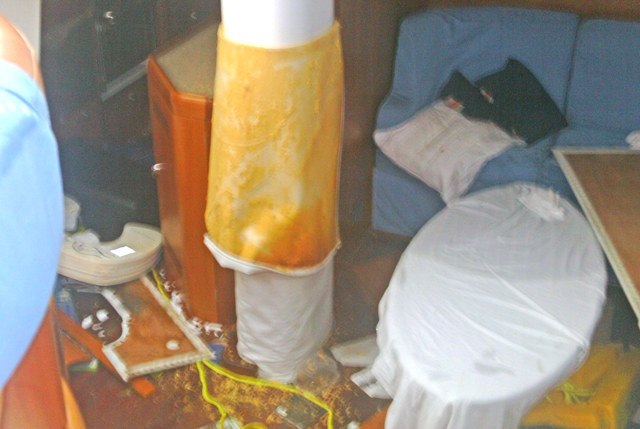 It's too soon to tell what kind of structural damage Darling suffered as she was pounded by the surf, but these photos from George Lythcott show some of her injuries: a cracked keel, a leaking fuel tank and a severely damaged rudder.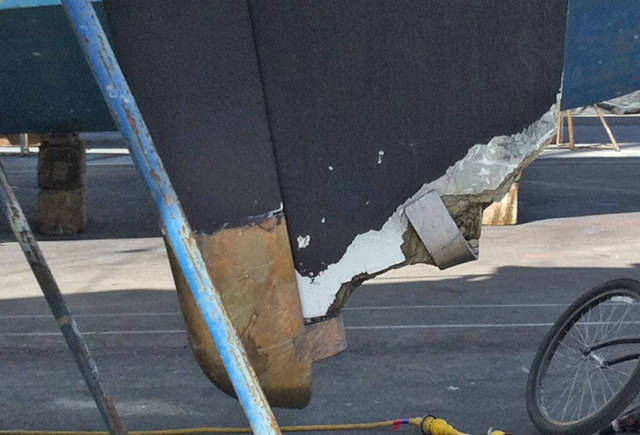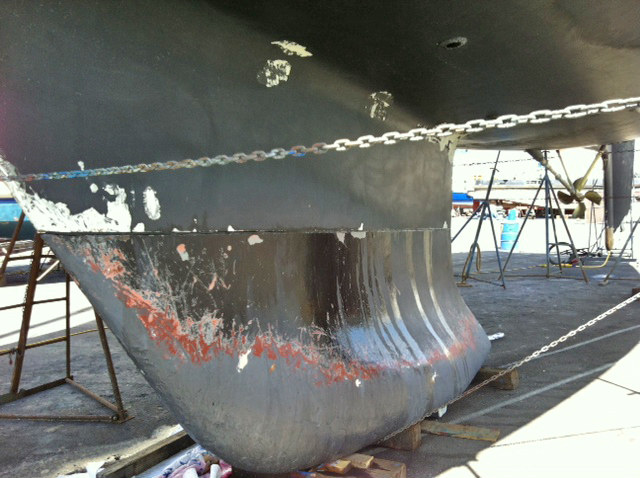 The latest reports say that the those who stole Darling broke into her and found the keys to the engine. Leaving the engine key in the chart table or on a hook near the engine is not an uncommon practice for boat owners, and every time a sailboat is stolen — which, thankfully, is a rare occurrence — we admonish readers to at least take the engine key with them when they leave their boat.
Now we just need to take our own advice.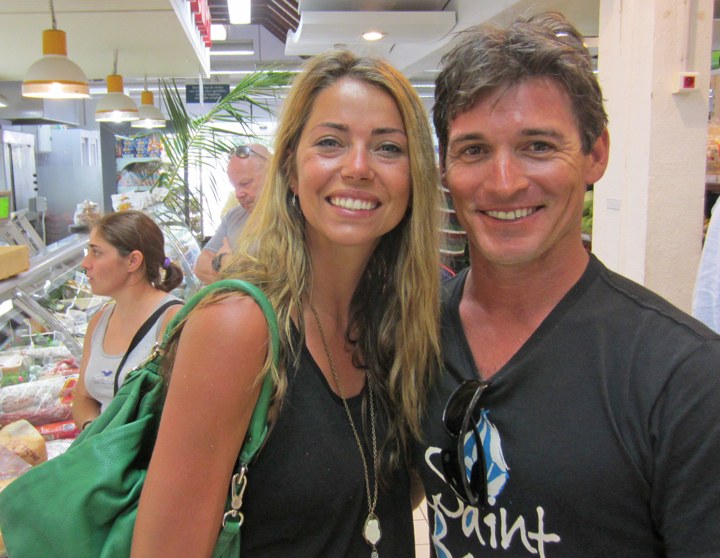 There is a popular saying that goes "The important thing is the journey, not the destination." While this may often be the case, Ross Devlin of California and Missy Rossi of San Diego know it can also be a rubbish sentiment.
Last year Ross made a wild transatlantic trip to St. Barth with his dad aboard a trimaran his dad had purchased in Bonnie, Scotland. He liked St. Barth, so he stayed and did boat work for the Two Swedes Boat Yard, and learned that the young women in St. Barth "walk like cats." But the island got a little small for Ross, so during the summer he traveled to the Northeast to race with boats and crews he'd met in St. Barth. In the fall, he returned to the West Coast to take fourth in class in the Baja 1000 motorcycle race.
Early this year, Ross got a call from Marcus, a South African friend from St. Barth who had gotten the position as captain aboard Heroica, a cold-molded 76-ft German Frers design that had been built in Argentina nine years before — and at one time had apparently been owned out of Santa Barbara. She'd just received an expensive refit at the Newport Shipyard in Rhode Island. Marcus said that while he knew February wasn't the best time to sail from the Northeast to the Caribbean — quite the understatement there — the owner had a place in St. Barth and naturally didn't want to wait for another season to enjoy his newly refit boat off the island's blue waters. So did Ross want to crew on the way down? And did he know anyone else who wanted to crew?
Missy Rossi is lovely, long-limbed, tan, unpretentious and adventurous — the epitome of a semi-mythical 'California Girl'. Ross knew her from the Golden State, and invited her along as crew on the Heroica delivery. Missy crews on a C&C out of Shelter Island, but she hadn't done anything like an 1,800-mile delivery from Newport to the Caribbean before. And certainly not in the middle of winter.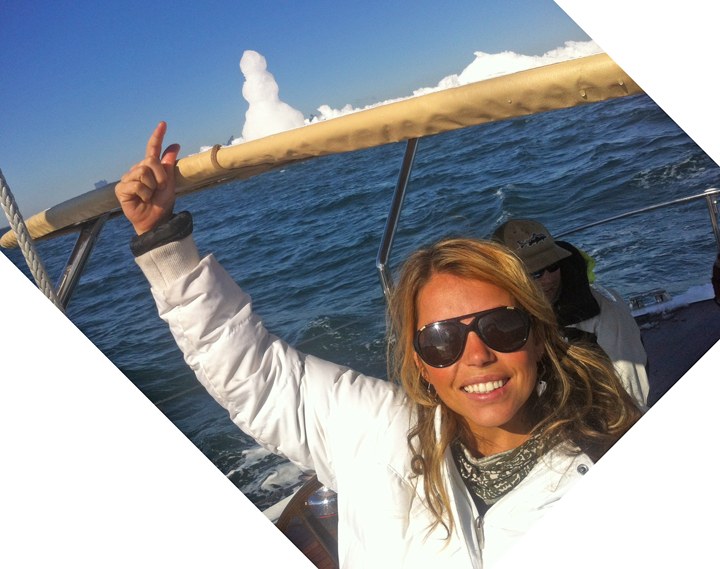 When Ross and Missy got to Newport, Heroica was looking great — were it not for the fact that she was covered in about 18 inches of snow. Being from San Diego, Missy was not used to seeing snowdrifts on sailboats. But like we said, she's game, and as you can see, had a big smile on her face the day Heroica departed Newport, despite the snowman on the boom.
The problem in getting from Newport to the Caribbean is mostly getting to Bermuda. Once there, you can wait for a weather window and have a pretty good run down to the islands. Which Heroica did. But she didn't have as much luck getting to Bermuda.
"We had steady 50-knot winds and gusts to 60, with 20-ft seas and a few to 30 feet," remembers Ross. "Two boats were lost in the storm."
"We had some moderately bad weather," agreed Missy, who must be prone to understatement.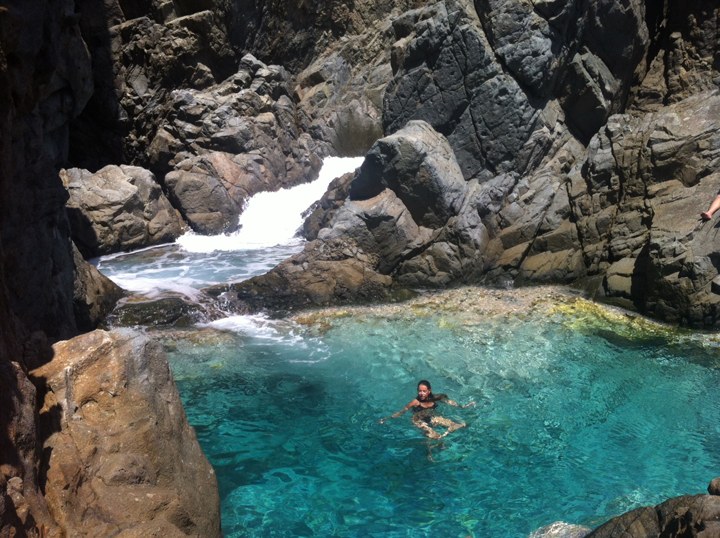 A look at the photo of Missy in the natural pool will give you some idea at how glad Ross and Missy were to arrive in St. Barth and be long gone from the cold of Newport. But here's the rub. Following the conclusion of the long and rough winter passage, Ross and Missy had all of two days in St. Barth before they had to return to California for some obligations.
"You're kidding, aren't you?" we asked.
"No," they both responded glumly. Missy sells ad space for a glossy magazine out of San Deigo, and Ross has been selected to build a house in Montecito.
Ross at least will be back to race aboard Heroica for the Voiles de St. Barth in April. Missy is hoping to find a plane ticket so she can do the same. Having made the nasty winter delivery trip, we think she deserves it.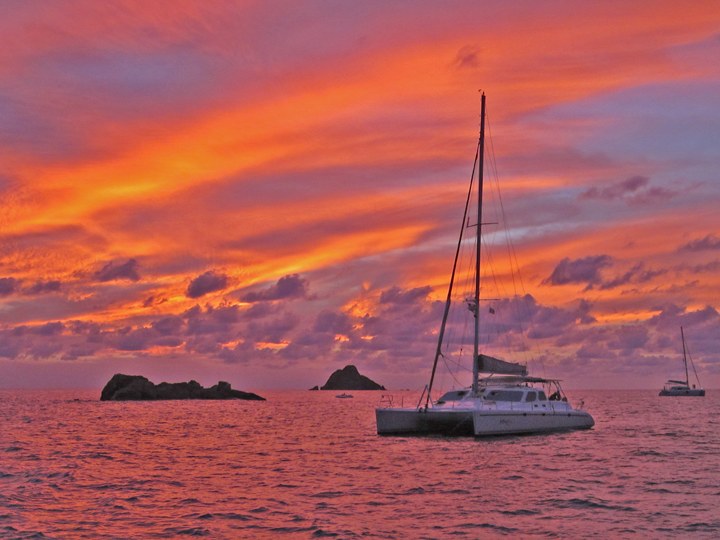 Receive emails when 'Lectronic Latitude is updated.
SUBSCRIBE