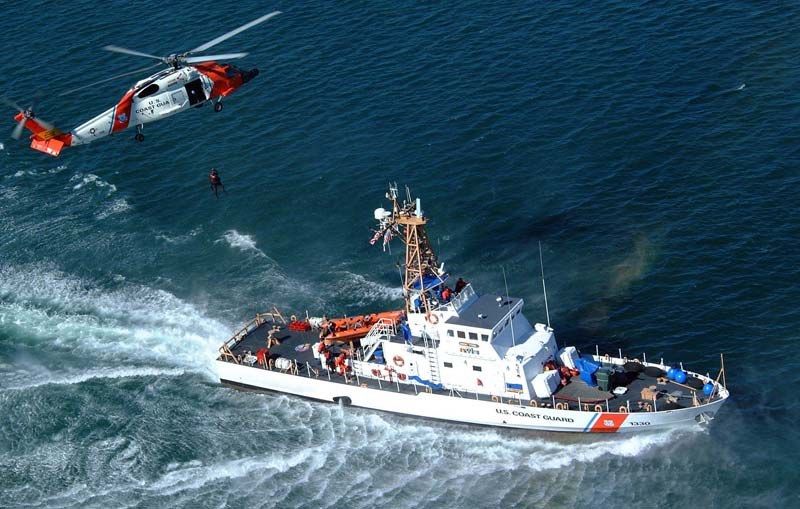 Speculation is running rampant across the country that the distress calls received by the Coast Guard on Sunday, reporting that two adults and two children abandoned ship to a makeshift liferaft as their 29-ft sailboat Charm Blow sank out from under them, was a hoax. The Coast Guard and Air National Guard searched nearly 20,000 square miles before suspending the active search yesterday morning. No sign of bodies or debris was spotted.
"Did you hear the guy's mayday transmission?" wrote one commenter on our Facebook page. "He was so calm, it was like he was ordering a pizza. I think it was a hoax and I hope they find the perp." [Listen to a snippet of one transmission here.]
"The first call was made at 4:20 [a reference to marijuana consumption], and a Charm Blow is a brand of sucker with a bubblegum interior. Hoax!" insisted another.
Other commenters were quick to point out that the Coast Guard received the VHF transmissions — many of them over the course of an hour — via their radio tower on Mt. Umunhum, between San Jose and Santa Cruz. At a height of 3,500 feet, the tower would be able to pick up transmissions from as far as 65 or so miles away.
While Lt. Tim Martin of the SAR Command Center notes that errors are inherent in radio signals, he says adding two degrees to either side of the line of bearing — in this case approximately 227 degrees true — and expanding out in a triangle gives them a starting point for searches. "We search far outside that triangle," he added.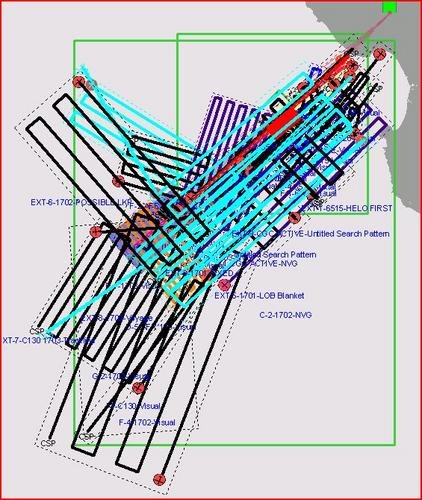 Had Charm Blow's radio signal bounced off a second tower, the Coast Guard would have been able to narrow the search dramatically, but since it was received by just one, they only know the transmissions originated somewhere between shore and 65 miles miles away along that line of bearing.
At this point, no one has filed missing persons reports on any of the four family members — a married couple, their four-year-old son, and his under-eight-year-old cousin — which has stirred up more suspicion that the caller was a fraud. Public Affairs Officer Mike Lutz pointed out the Coast Guard is operating under the assumption that this is still a Search and Rescue operation until they have evidence to the contrary, but they are investigating the possibility that it was a hoax.
Facebook poster Ari Rubenstein perfectly summed up our feelings on the situation: "If this is a hoax, it's the worst karma points ever. The Coasties are out there putting their lives on the line looking for kids and parents. If this isn't a legit mayday, the jokers ought to get a seven-figure bill for the search. At the same time, I'd secretly rather it be a sick joke than four souls lost."
The most amazing and exciting moment in yesterday's US Sailing Rolex Yachtsman and Yachtswoman of the Year awards presentation came when Paralympic silver medalist Jennifer French stood up out of her wheelchair. After wheeling up a ramp to the small stage, she grasped an ordinary walker and stood on her paralyzed legs. Of course, the audience gave her a standing ovation!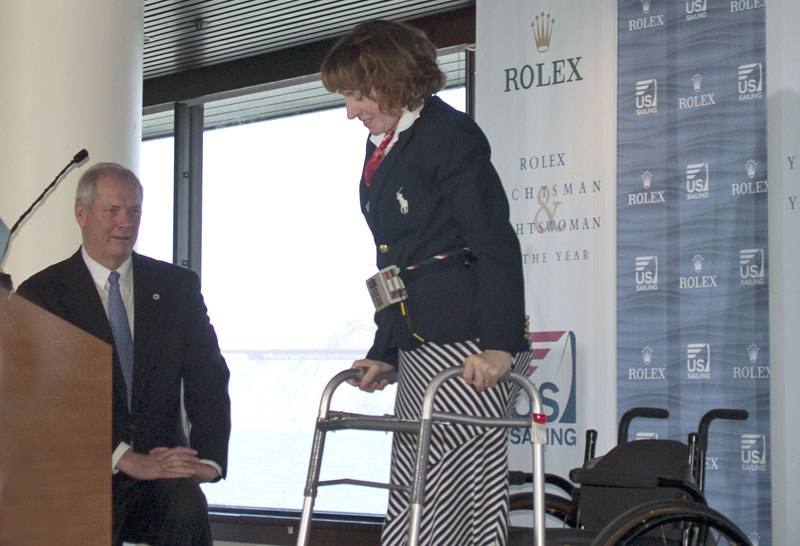 The SKUD-18 skipper, who, with crew J.P Creignou, brought home to the U.S. the only sailing medals from the 2012 Games, has been a self-described guinea pig for neurotechnology researchers who equipped her with a neuro-prosthetic. In her short speech (all the speeches were short and entertaining), French called sailing one of the few sports in which the disabled can compete against the able-bodied. She told her listeners that, "When we're on the water, we don't want you to give us room — and, as a matter of fact, you don't."
Long before Title IX, US Sailing had a Yachtswoman of the Year. As a matter of fact, they've given equal time to women ever since the first year of the awards, 1961. For 51 years, the awards were presented at New York YC in NYC. For the past two years, St. Francis YC has been the host. And the club was thrilled to be honoring their own Johnny Heineken as Rolex Yachtsman of the Year.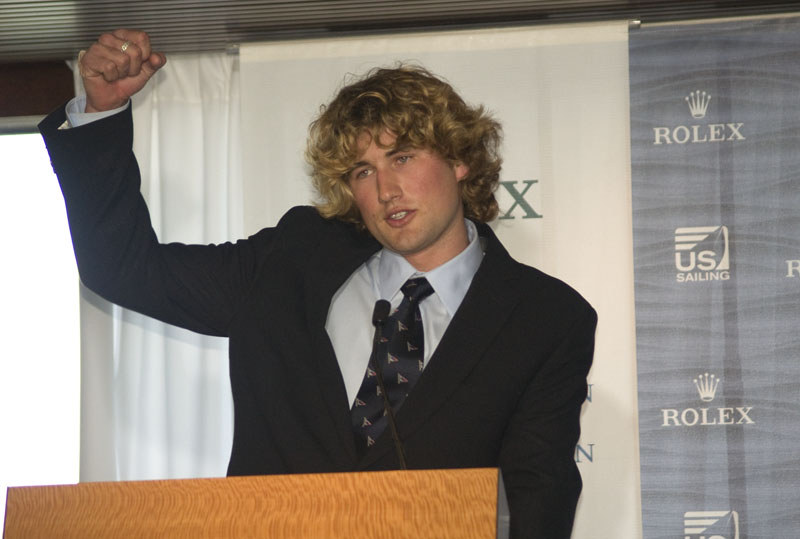 The 24-year old Heineken, a local sailor who took up kiteboarding in 2009, gave StFYC's John Craig and Robbie Dean credit for developing kiteboard course racing locally, all because a few kiters wanted go around windward-leewards. The discussion went something like this:
"But you can't go upwind."
"Well, we'll do it on an ebb tide."
Thursday night kiteboard races are now a staple at StFYC. But is kiteboarding really sailing? Johnny thinks it's the purest form. "You are the boat," he said.
Our hearty congratulations to both recipients. For more, including multimedia, go to http://about.ussailing.org/Awards/Rolex.htm.
For many years Mike Johnson has been cruising to far-flung corners of the Earth with little fanfare. Although his exploits could easily be the focus of a series of a National Geographic features, he travels aboard his 44-ft fiberglass schooner Gitana — and previously aboard his Westsail 32 Aissa — simply for adventure and the personal satisfaction of exploring remote destinations.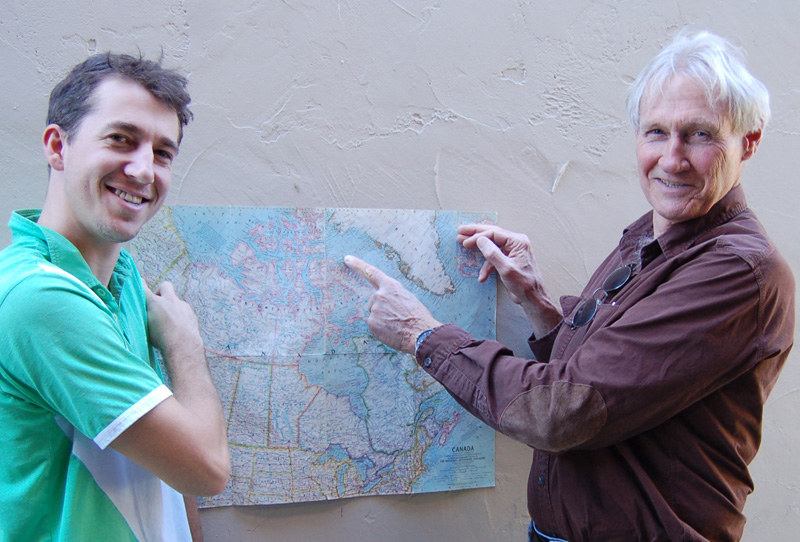 A former Army paratrooper with a Masters in Psychology, he's been around Cape Horn three times, up to Greenland, Iceland, Spitzbergen, and through the Gulf of Aden, experiencing wild, wonderful and sometimes terrifying things along the way. The worst was a 360° rollover in his Westsail in the Southern Ocean (with Californian Becky Walker aboard as his only crew). That made getting hit by a sperm whale — which had happened previously — look tame.
Although Mike, now 68, is not from the West Coast, we've gotten to know him because he recruits paying crew by advertising in Latitude 38's Classy Classifieds. As we described him in an October 2011 interview, he's a "soft-spoken southern gentleman with tousled gray hair and a smile so broad that it makes his eyes squint." Where's he off to next? He dropped by our Mill Valley offices the other day to say hi and show us his planned route, east-to-west, through the Northwest Passage this summer with two crew aboard.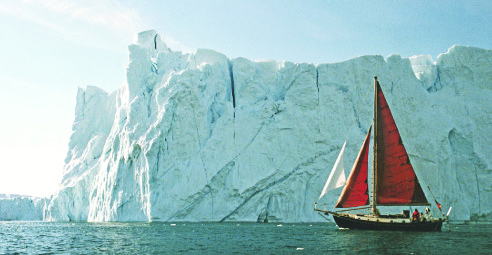 As he pointed out on a chart, the route will take them through a maze of potentially ice-covered waterways, so there's no guaranteeing that they'll make it. As he explained to a potential boatmate, "There are four possibilities: We'll 1) make it all the way; 2) haul out halfway across and winter-over at an Inuit village; 3) turn back; 4) disappear and never be heard from again." We hope to receive updates from Mike and his crew along the way. In the meantime, we'll hope for any outcome other than #4.
Receive emails when 'Lectronic Latitude is updated.
SUBSCRIBE