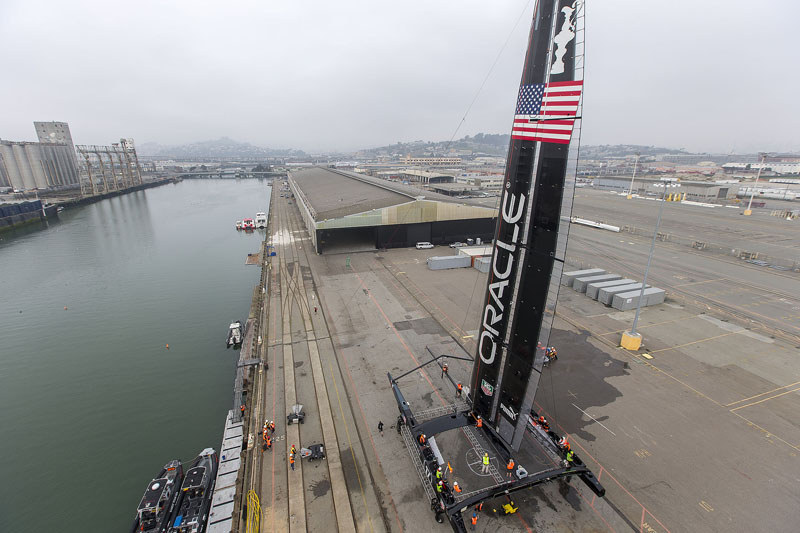 Oracle Team USA members are probably as relieved today as 49er fans are frustrated, because their AC72, 17, was finally relaunched this morning after being fitted with a new wing mast. The original, you'll recall, was ingloriously broken up by ocean swells on October 16 after the powerful cat capsized inside San Francisco Bay and drifted four miles outside the Golden Gate. That was only the team's eighth practice day aboard her.
Although it took three and a half months to construct and refit the new 131-ft wing mast — and repair hull damage — that's actually remarkably fast, as the original build estimate we heard back in October was six months. That would have meant mid-April, leaving relatively little time to prepare for the AC 34 Finals in early September.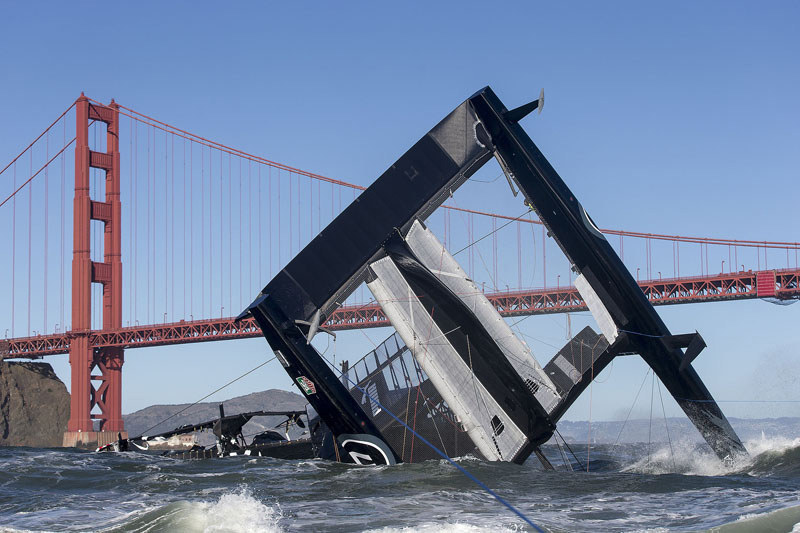 Having now relaunched, we expect to see 17 out practicing on the Bay again very soon. But there are two key questions on our minds now: 1) Will Oracle Team USA's crew be gun-shy about pushing the boat too hard? That's not an attitude that usually brings a team to the winner's circle. 2) And was the October 16 flip a harbinger of similar tragedies yet to come during this summer's Louis Vuitton challenger series and AC 34 Finals? When 17 dug in a bow and turtled she was just completing a bear-away maneuver in about 25 knots of wind — normal mid-summer conditions on the Bay.
One thing seems certain: During the summer events, AC72 helmsmen and their crews will be riding the razor's edge between achieving their boats' maximum speed potential and staying upright. It should be one helluva show because during the contest's 182-year history there has never been a boat design more powerful than these 72s. So mark your calendars: The Louis Vuitton series begins July 4, and the Finals begin September 7.
For an overview of the nightmarish rescue process last fall, check out this video. And see this one for insights into the complexity of the mast's construction process. Stay tuned for AC updates here as the momentum builds.
Receive emails when 'Lectronic Latitude is updated.
SUBSCRIBE