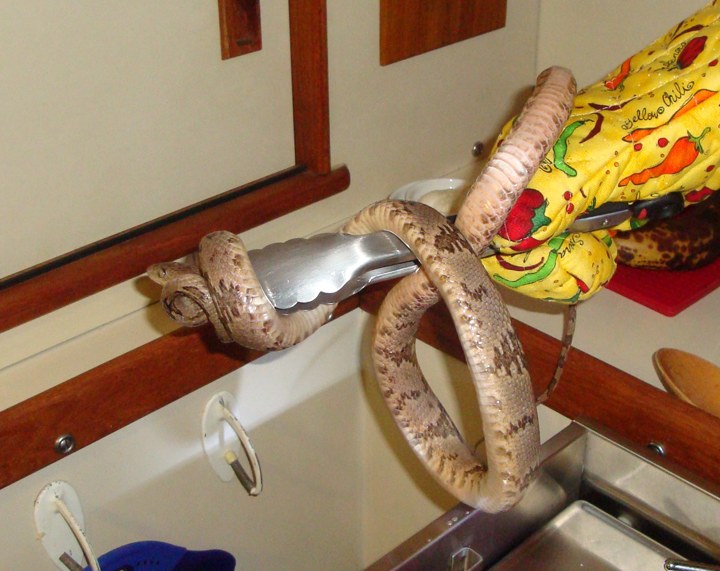 A little while back, Keith Albrecht of the Alamitos Bay-based Columbia 36 Ojo Rojo climbed down the companionway into the dark main salon to grab a cruising guide. He was immediately bit in the foot. It hurt!
The assailant was quickly identified as a snake, which briefly slipped under the stove before being captured.
Keith recovered, but he's been unable to find out what kind of snake bit him. We know it's not the greatest photo, but can any readers help? Email Richard.
The day before the internationally renowned Mavericks surf contest was slated to start, surfers at Ocean Beach, just south of the entrance to San Francisco Bay, enjoyed some killer waves. Filmmaker and kitesurfer Pete Koff caught some impressive surfing action last Saturday, including a high-performance cigarette boat that zipped into the surf zone. It's unclear whether the driver knew what he was getting into, but it's obvious that he got in way over his head. Check out the video below, but be aware there's some colorful surfer language going on in the background.
Not only is this a great opportunity to share a really cool video, but it's also an excellent reminder of what can happen when you're not paying close attention to your surroundings. Take the Potato Patch, for example. Ocean waves, changing tides and wind can all cause tall, breaking waves to stack up very quickly over that shoal area. One minute it's relatively placid, and the next powerful, steep-faced waves appear. So while your first instinct might be to laugh at the foolish cigarette boat driver in the video, think back to the last time your attention strayed and you got caught in a potentially dangerous situation. And the next time you're boating offshore, for heaven's sake, pay attention to where you're going!
It may seem ironic that a mild-mannered Minnesotan would be considered one of the greatest ocean voyagers of our time, but Roger Swanson — who passed away late last month at the age of 81 — was precisely that. He logged nearly 220,000 sea miles during three decades of world exploration aboard his English-built Bowman 57 Cloud Nine, including three circumnavigations. After two previous tries, he became the first American skipper to transit the Northwest Passage in one season in 2007 (east to west).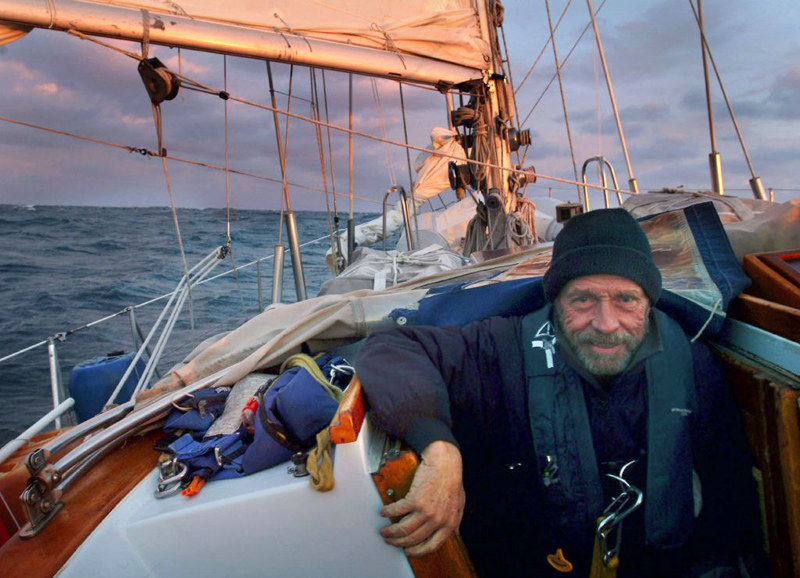 We had the pleasure of spending an afternoon with Roger and his wife Gaynelle (who began sailing with him in the mid-90s) when they passed through the Bay Area in 2001. Humble to a fault, and ever the gentleman, Roger charmed us with tales of adventures in all oceans and extreme latitudes. Born in 1931, he grew up in Minnesota, and it wasn't until he "spent three years in Uncle Sam's Yacht Club" at the end of the Korean War that he began developing a love of the sea. After the war, he went home and bought a pig farm despite his training as an engineer, but also started sailing scows as a hobby on Minnesota lakes.
A few years later, he and a Navy buddy did a sailing trip in the Bahamas in a rented boat, which he says "started it all." In the '70s, when the bareboating industry was just taking shape in the Caribbean, Swanson bought a CSY 44 and kept it in that pioneering company's fleet. For a decade he made frequent forays to the islands to placate his sailing urges, but on his 50th birthday in 1981, he had a revelation. "At the dinner table my daughter suddenly said, 'So Dad, when are you going to sail around the world?' I wasn't feeling too good about turning 50," he recalls, "and I decided that if I was ever going to do anything like that, I'd better get started." Within a matter of months he'd rearranged his priorities, sold the charter boat and purchased Cloud Nine. The next year he, his two sons and two friends took off from Miami on a westward circumnavigation (through both canals), with a side trip to Japan.
Unlike many world cruisers, though, Swanson didn't 'sell the farm' to make the trip. On the contrary, he arranged for employees to keep that business going, as well as several other businesses he owned, while he traveled. That strategy supported his adventures to the end.
Swanson's exploits earned him the Cruising Club of America's Blue Water Medal, the Royal Cruising Club's Tilman Medal, and he was inducted into Cruising World's Hall of Fame. He will surely be missed by those whose lives he touched.
Receive emails when 'Lectronic Latitude is updated.
SUBSCRIBE