Although you may have to wade through hip-deep water to get yours, the December edition of Latitude 38 is being distributed today in the Bay Area and beyond.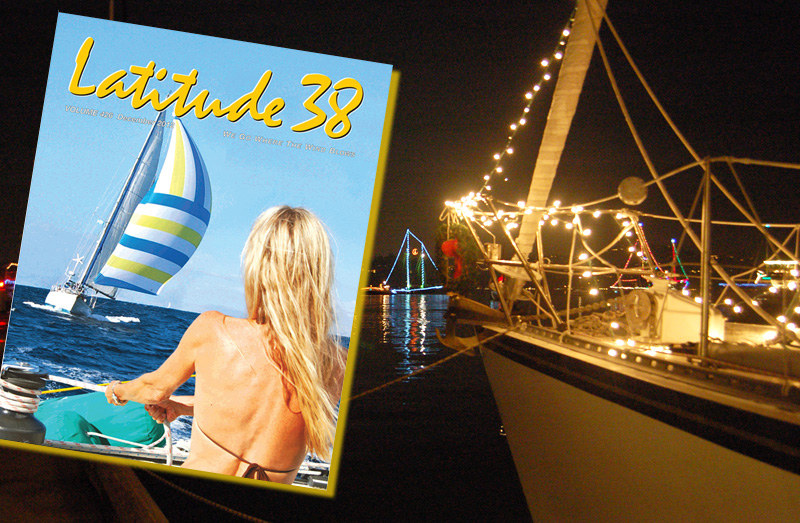 Inside, you'll find our usual mix of racing news, cruising reports, chartering advice and news updates, plus an interview with Webb Chiles, a complete Baja Ha-Ha XIX Recap, and Max Ebb's thoughts on holiday gift-giving. So grab a copy at your favorite marine retailer, or read the electronic eBook version, either by viewing it online or downloading it for free to your own computer (available now!).
Happy Holidays from the entire Latitude 38 staff!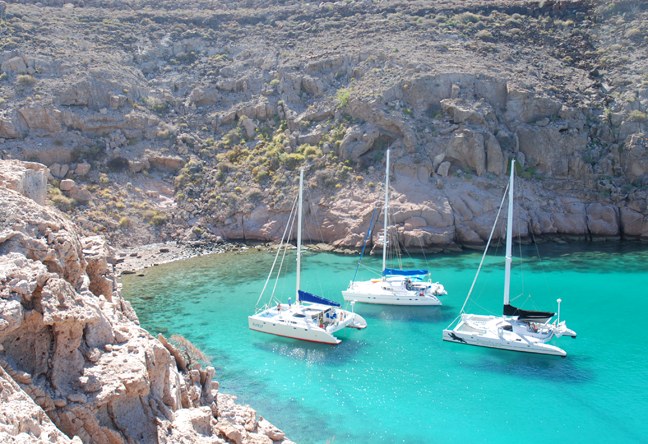 Having now spent a full month of the 2012-13 cruising season in Mexico, our verdict is not 'todo es bien', but rather 'todo es muy, muy bien'. Yes, life is sweet south of the border.
This year's Baja Ha-Ha was a fine one, featuring some nice sailing in mellow conditions, warm air and water, great fishing, and the always wonderful people of Turtle Bay, Bahia Santa Maria and Cabo San Lucas. We sailors on the West Coast are so lucky compared to those on the East Coast because it's so much easier for us to get to the tropics. And our tropics are dirt cheap compared to theirs. For example, we were recently stopped for speeding, driving without our seat belt on, not having a driver's license, and our vehicle having not been registered in the United States or Mexico since '08. The fine was 20% less than a residential parking ticket in San Francisco.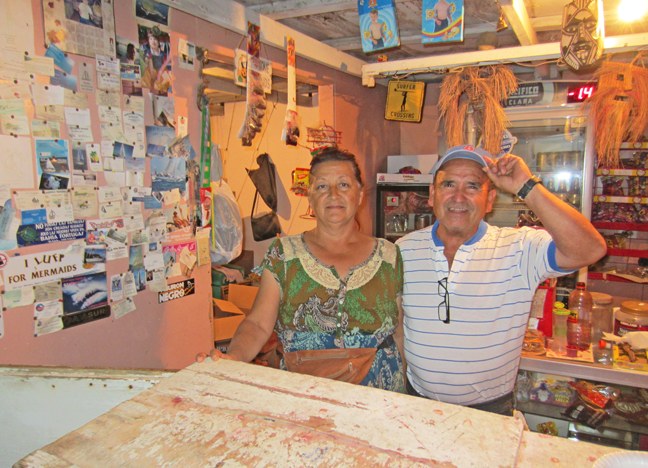 After the Ha-Ha, we made the 285-mile crossing to Punta Mita / Banderas Bay / Puerto Vallarta, which again featured generous portions of delightful sailing under the spinnaker — top speed 14 knots — in mild conditions and even warmer air and water temperatures. In fact, this year that humid late summer weather has extended all the way through November. Fans have been mandatory and air-conditioning would have been a godsend for most cruisers. But last night we even needed half a sheet on Profligate, so it seems the winter weather has finally arrived. That means warm days with endless blue skies and nighttime temperatures in the 70s. Sort of like having died and gone to sailors' weather heaven.
And if you were on your boat in Mexico, there was no way you couldn't have been dazzled by the full moon. Yeah, we know there was a full moon in the States, too, but you can't exactly see it when it's so cold that you have to be indoors. Being on your boat in Mexico is all about being surrounded by nature, from the sea life to the bird life, to the sun, moon and stars. It's more real than what's on televison or the internet.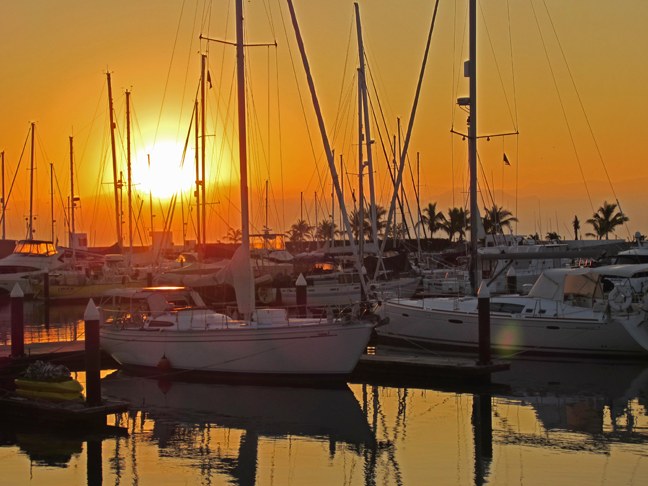 We did our first charity sail with Profligate last weekend, taking out about 30 folks from all over the world and all walks of life. It was great, in true 'pleasure sailing' conditions of eight to 12 knots. November and December winds on Banderas Bay tend to be lighter than those of spring. But it's always flat-water sailing.
Anyway, we got back from the sail just in time to grab an ice cold beer and some killer seafood tostadas — $1.50 each — at the Ikuai Restaurant overlooking the Marina Riviera Nayarit. As we drank and snacked, we got to watch Capt. Cap and the 49ers battle the Saints on numerous flat screen televisions. We enjoyed the second half of the 49er victory at Philo's Music Studio, Bar and Restaurant, where a big rib dinner — with coleslaw and baked potato, plus beverage — comes to all of about $11 USD.
It's impossible to be in Mexico and not have a giggle at how inexpensive so many things are. The other night we joined Chip and Katie Prather of the Dana Point-based Morgan 45 Miss Teak for their 31st anniversary dinner. These folks aren't budget cruisers, but their bill — drinks included — couldn't have been much more than $12. For the two of them. Sure, you can spend $60 a person for dinner at tourist spots all around Banderas Bay if you want to, but it doesn't mean you'll get the best food or the best service. In fact, our theory on Mexico is the less fancy and expensive a place, the better the food tastes.
For a delicious bang for the buck meal at Punta Mita, we recommend Como No?, which is just up the street from the beach at Punta Mita. Last night we heard a table of Four Seasons people tell their host that they'd been in town for a week and this was their third night of dining at Como No? In La Cruz there are too many bargain dining options to list, but the 109 is hard to beat. You get a huge multi-course meals, plus all the tequila you can drink, for less than $10. But careful, it closes really early. Like 7:30 p.m.
How friendly are the people of Mexico? While at a full moon party the other night at the Sky Bar of the Marina Riviera Nayarit, we bumped into Ha-Ha vet Michael Bowe of the Marina del Rey-based Catalina 42 Patanjali. He told us he pulled into Marina El Cid just before Thanksgiving, so Harbormaster Geronimo Cevallas treated him to Thanksgiving dinner at a restaurant! It was so Mexican of Geronimo.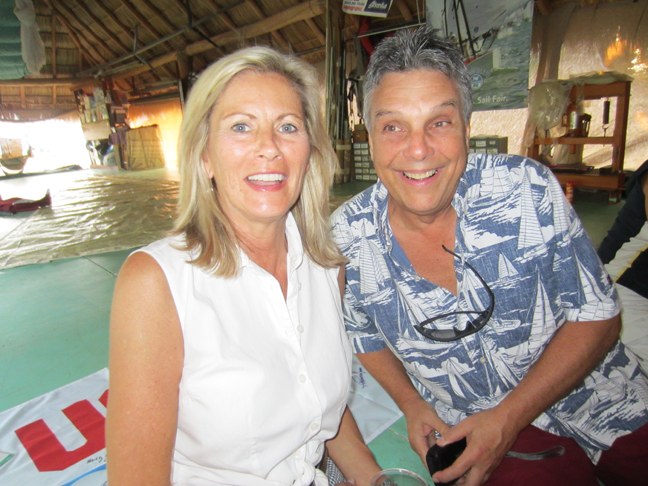 Based on what we've seen, Mexico is in for an unexpectedly good tourist season. We base this on the fact that the Cabo hotels were surprisingly sold out during the weekend the Ha-Ha arrived, the amount of traffic in Puerto Vallarta restaurants, and the dramatic increase in bookings Doña de Mallorca has for her waterfront condos at Punta de Mita. The most humorous indicator of all is our 'Costco Index'. We think the ratio of whites to Hispanics at the Costco store in Puerto Vallarta is now greater than at any of the Costco stores in California.
The only bad news from Mexico so far is that the Vallarta YC's annual Chili Cook-Off, which had raised about $8,000 a year for the Children of the Dump charity program, will not be held this year. We've heard a number of conflicting excuses why, but for whatever reason, it's not happening. That's truly a shame.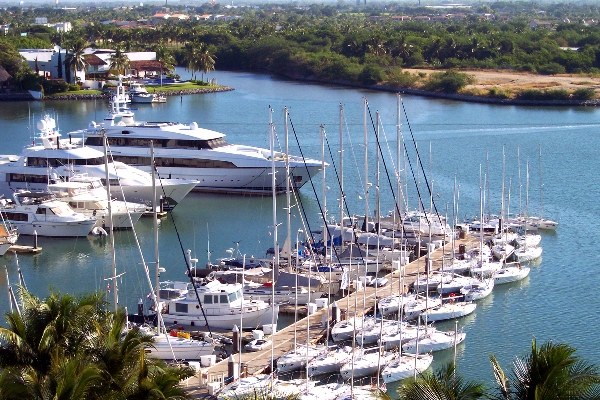 The next big events for cruisers in Mexico are the Riviera Nayarit's Sailors' Splash Welcome for Ha-Ha'ers and Other Cruisers on December 11, as well as the Banderas Bay Blast, on December 12-14. The Splash — which is free — will start at Paradise Village Marina in Nuevo Vallarta on the morning of the 11th, then move on over to the Marina Riviera Nayarit in the afternoon and evening. It's all about the Riviera Nayarit wanting to welcome all sailors and let you know what the area has to offer. There will be free hats and shirts from the Tourism folks, free food from many of the local restaurants, in-the-water volleyball, and who knows what else. You can get the details on VHF 22.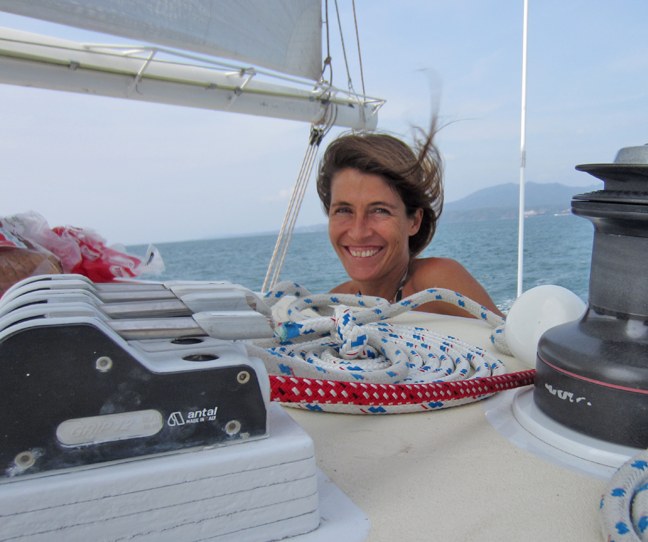 The Banderas Bay Blast is the three-day 'nothing serious' Ha-Ha-type race for cruisers. The courses are short and easy — from Paradise Village Marina or Punta Mita to La Cruz on the first day; from La Cruz to Punta de Mita on the second day; and from Punta de Mita to Paradise Village Marina on the third day, the last day is the Pirates for Pupils Spinnaker Run for Charity. In this race, Profligate and other boats take people on the P for P in return for donations for local schools. Since you can't give to the now non-existent Chili Cookoff this year, give to the P for P. By the way, 100% of Pirates for Pupil money goes to the school programs, with not one cent taken out for expenses, administrative costs or other common charity BS. The Blast is not only free, you get a free night at Paradise Village Marina and at the Marina Nayarit Riviera. And it's much more than just racing, as it includes the annual reopening of the Punta de Mita Yacht & Surf Club. Lifetime membership in the prestigious club is $5, but you must have sailed to Punta Mita, and there is hazing involved — a whack on the ass with a carbon fiber SUP paddle by the lovely Isabelle of St. Barth, the new Commodore.
A lot of boats that will be heading south to Barra and Zihua for the holidays are sticking around to do the Blast and then leaving right afterwards. So don't miss it!
You know what tomorrow is? It's the inauguration of Peña Nieto, the new President of Mexico. There is a lot of good news in Mexico. The middle class is growing rapidly and the economy is growing, too. In fact, Mexico is being seen as such a manufacturing competitor to China that Goldman Sachs predicts by 2020 — just eight years away — Mexico will have moved from the 14th largest economy in the world to the 4th largest. No wonder Mexico is planning to build a big fence along the border . . . to keep Americans out. After all, can you imagine the stampede when Americans discover they can get comprehensive health care for $360 a year?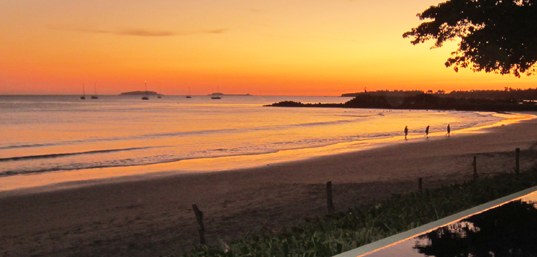 Alas, we have to fly home to California tomorrow. We haven't checked the weather yet, but we're hoping that it's unseasonable warm so we won't need long pants, a jacket or rain gear. After a month of warm sunshine, that would be a bummer.
Editor's note: We didn't have the heart to dash The Wanderer's hopes for sun and warmth.
Receive emails when 'Lectronic Latitude is updated.
SUBSCRIBE