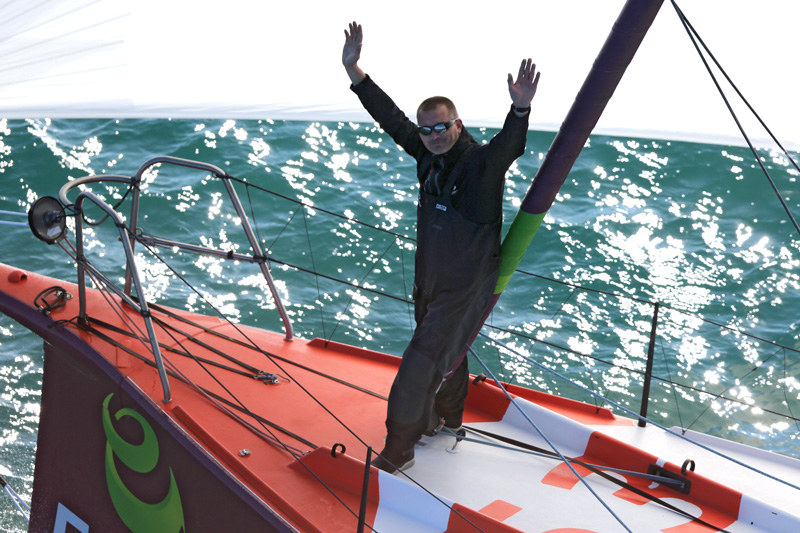 This morning brought the bad news that Zbigniew 'Gutek' Gutkowski on Energa has bowed out of the Vendée Globe. From day one, Gutek has been struggling to overcome problems with his autopilots. Many calls to his shoreside team and many failed efforts at fixing the situation forced him to make the tough decision.
"Having no autopilot means I can't race, and if I can't race, I have to retire," he said in his retirement email to race officials. "I cannot go without an autopilot in the Southern Ocean, that is impossible. I need to keep the boat in one piece I don't want to lose it and maybe my life in the Southern Ocean. Being brave is not only about fighting, it is also about knowing where to stop."
Gutek's retirement follows that of Jérémie Beyou on Maître CoQ, who dropped out late on Monday after failing to find a safe fix for his broken canting keel. "The situation is clear, the way the keel head is tied right now will resist the tide and has allowed me to go find shelter," he told race officials. "But it won't be enough to stand all the pressure and weight throughout the race around the world. I've started the engine. The race is over."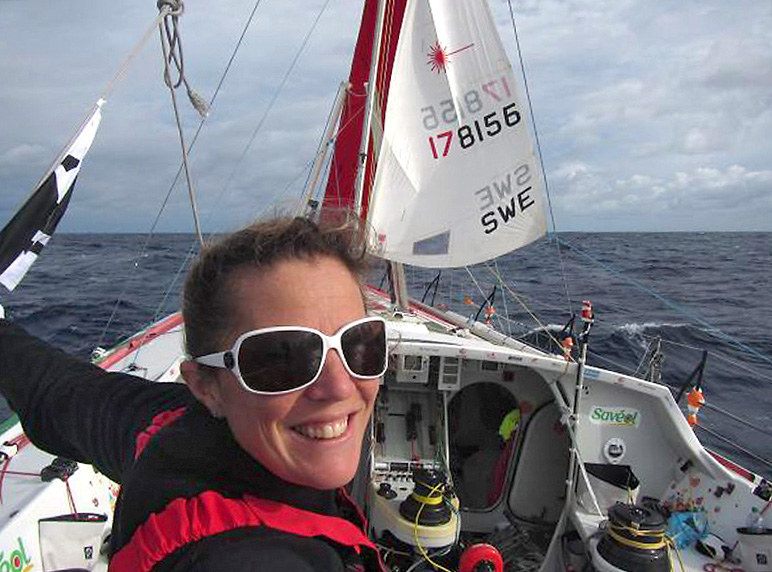 The irrepressible Sam Davies, while still grieving over having to withdraw after her dismasting, cheered up considerably when she and her team were able to set up a jury rig for Savéol for the sail home. Using a donated Laser sail and part of a broken mast, Davies and her boat captain Erwan Lemeilleur are slowly making their way back to France. "The worst thing that can happen is when you abandon a race and you have to get straight on a plane," Davies said. "I think it's going to take us a long time to get Savéol home so that's quite a nice way of gently coming back down to earth."
So that leaves 14 racers to tear their way around the globe. Leading the pack, as he has almost since the beginning, is Armel Le Cléac'h on Banque Populaire. "I've just crossed the equator and I'm drinking champagne, with a toast to Neptune, the boat and the skipper," he said as he cross the line today. "Now going south to Brazil. I'm not too drunk. I'm happy to be ahead, but there's only a very small gap — 40 miles is nothing in the Vendée Globe."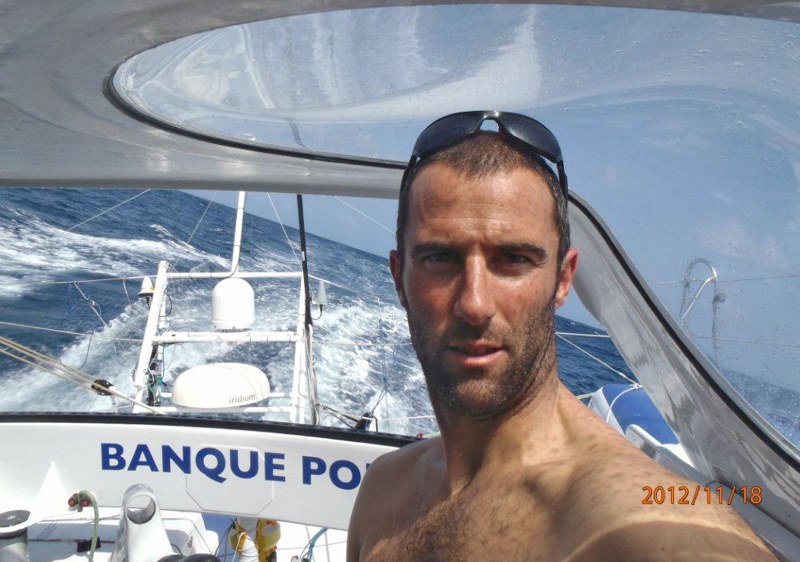 In fact, 40 miles could be just a couple hours worth of sailing on an Open 60, which is exactly the penalty several skippers were hit with after protests by Hugo Boss and the Race Committee taking exception with the way they sailed in or through the Finisterre Traffic Separation Scheme. Jean Le Cam (Synerciel), Dominique Wavre (Mirabaud), Javier Sansó (Acciona), Tanguy De Lamotte (Initiatives Cœur), and Gutek (he withdrew afterward) were penalized two hours, while Mike Golding (Gamesa) took a 30-minute hit and Jean-Pierre Dick (Virbac Paprec 3) was dinged 20 minutes.
Alessandro et les dauphins
by VendeeGlobeTV
Kelly Blythe of Vallejo's CS Marine Constructors, who keeps his Ranger 26 at Treasure Island Marina, sent in a suggestion that those interested in the race join in the Virtual Vendée Regatta. "It's a fabulous way to 'sail' the race in real time with over 340,000 other sailors," he reports. "It's a free race (though you can buy upgrades) and is rather addicting."
Kelly goes on to report that the race is run from France, with twice daily wind updates (around 11 a.m. and p.m. PST), and that they recently teamed with a company to make the site better for English speakers. "Check it out, and don't blame me when you find yourself say over the next three months at 11 and 11, 'Excuse me, but I have to go check my race!'"
Receive emails when 'Lectronic Latitude is updated.
SUBSCRIBE