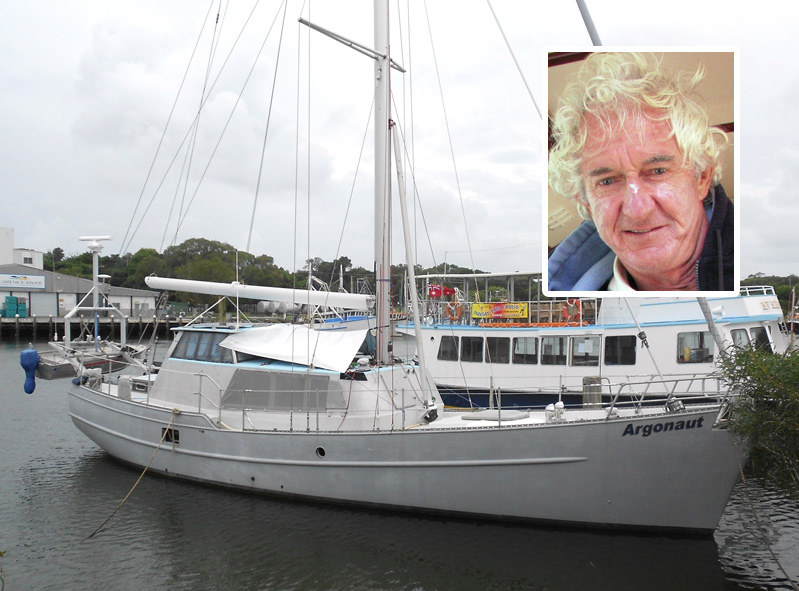 On August 10, John Rice's family received the life-changing news that Rice, a 60-year-old Australian who had lived for many years in Long Beach, had been reported dead while sailing in the Flores Sea in Indonesia. His French Canadian crewmember, Guillaume Gosselin, reported to officials in Kupang that 14 days earlier, he and Rice had been off Pamana Island in rough conditions when the 59-ft steel-hulled Argonaut began filling with water through the head portlight. He said that Rice refused to abandon ship but Gosselin decided to take his chances in the water.
According to his official story, Gosselin watched Argonaut slip beneath the water. The only things that floated to the surface, Gosselin said, were the outboard fuel tank, an oar, a lifejacket and John Rice himself. He says he swam over to Rice, who was unresponsive, and checked his pulse. Finding no pulse, Gosselin tied the floating outboard tank to Rice and began swimming for a nearby buddy boat. According to Gosselin, the mile-distant Nordhavn 46 Kanaloa owned by multi-circumnavigators Heidi and Wolfgang Hass didn't see him so he paddled toward the nearby island, also about a mile or so away. Apparently he didn't make it to the island, as he says he was in the water for two days before a fishing boat rescued him and took him to 350-mile distant Kupang, a trip that took 12 days.
John Rice's daughter, Chelsea Rice-Morris is confused by this account of her father's death. "The story doesn't make any sense," she told us. "My father was a marine engineer and he built Argonaut to be unsinkable. It was one of the best-built vessels many had ever seen and had the best equipment, so it seems impossible that the boat sank in just a couple of short hours."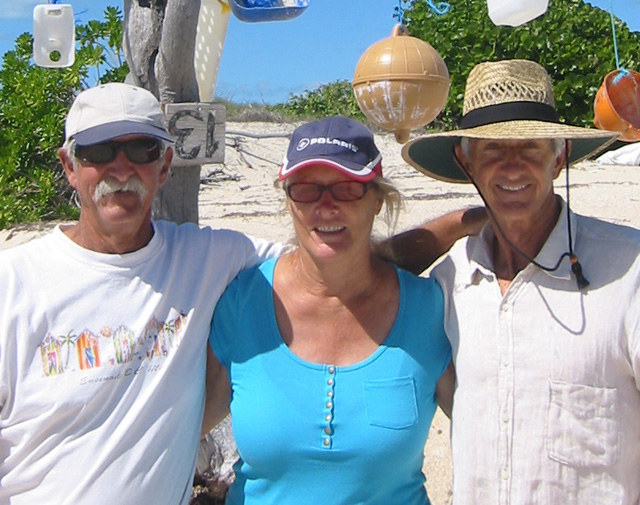 According to Rice-Morris, Argonaut had been sailing in company with Kanaloa since departing Darwin, Australia, on July 14. Rice had spent 18 years perfecting the steel sloop into a stout world cruiser. A very experienced seaman, he was no stranger to rough weather, which Rice-Morris says didn't faze Argonaut in the least. On July 25, the two boats were just a few miles apart near the small island of Pamana in the Flores Sea. In a letter provided by Rice-Morris, Heidi Hass informed the Indonesian investigators that she and Rice were in contact at least twice a day on the VHF. She says her last contact with him was around 2 p.m. "The seas were a bit choppy, with three to four feet and white caps," she wrote. "For Argonaut and Kanaloa, these were just 'lake-like conditions'. No swell or any danger."
Hass went on to say, "Neither of us even considered that the Argonaut could sink, definitely not what I heard Guillaume said happened, which is almost impossible. I am not an expert, but no amount of water could have come through the toilet window on the starboard side to sink the Argonaut."
What further frustrates Rice's family and friends is that, according to Rice-Morris, the Indonesian government searched the wrong area for debris and have yet to question the Hasses about that day. "I really want to know what happened during those 14 days because, as far as we know, the investigators haven't even questioned the crew of the fishing boat. We've been going in circles with them," she said. "It's been nothing but heartbreak and confusion."
Rice-Morris holds out little hope that her father is still alive, but she says what she really wants is to get the full story of what happened that day. She doesn't know if that day will ever come, but she hopes that cruisers will keep an eye out for any boat resembling Argonaut. If you suspect you've seen her since July 25 — or have any pertinent information in the case — get in touch with the family through a website they've set up: argonautismissing.com.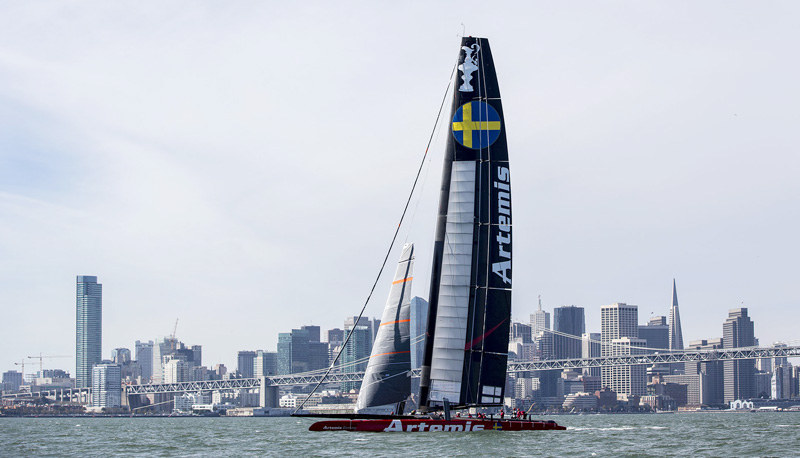 It's a bird. . . It's a plane. . . No, it's Artemis Racing's sleek new AC72 testing the waters of San Francisco Bay. Last week the bright-red speed machine completed two test sails in moderate wind conditions — at some points flying a hull with no apparent difficulties. No doubt the problem-free sessions were a relief to team members after suffering damage to the wing sail on the boat's first outing, followed by structural problems with the platform last month.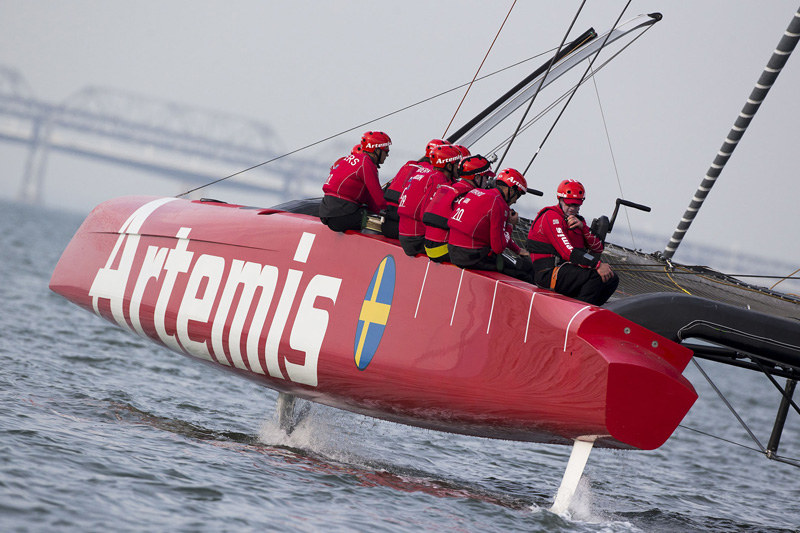 Meanwhile, behind the scenes, Oracle Team USA staffers are working to replace their 72's wing mast, which was destroyed by wind and waves after the big cat capsized last month, and was washed out the Golden Gate before she could be righted. Emirates Team New Zealand's big cat has also been launched, and is currently testing in the Hauraki Gulf. She clocked 43.6 knots recently in 25 knots of wind!
Stay tuned for updates on further America's Cup 34 developments, including coverage of the Red Bull America's Cup Youth Series.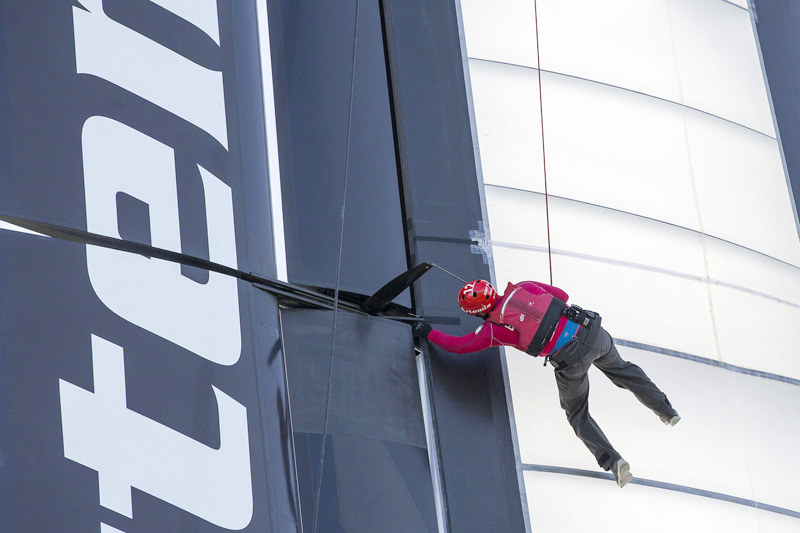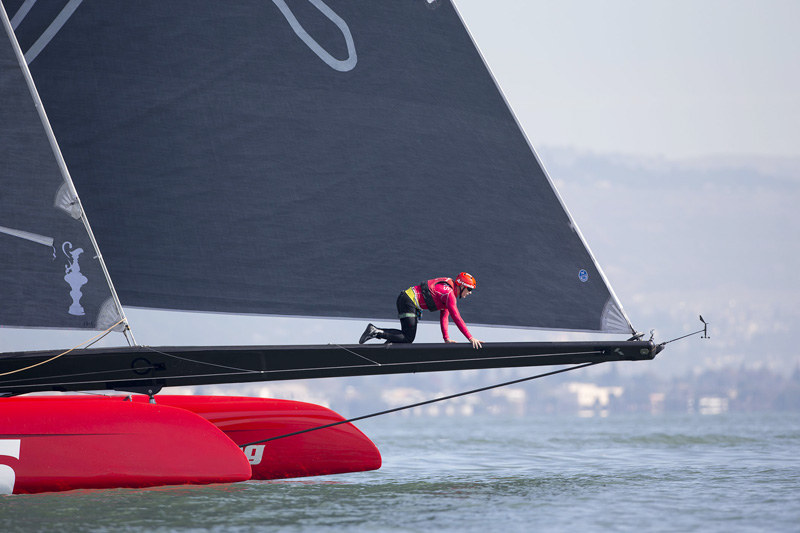 Regular readers will recall our previous posts on the fate of the famous Sausalito-based schooner Lord Jim. Since hitting an unmarked rock off the coast of Brazil in 2007, she and her owners, Holger Kreuzhage and Tracy Brown, have endured an ordeal so complex and twisted that it sounds more like the plot for a novel than reality.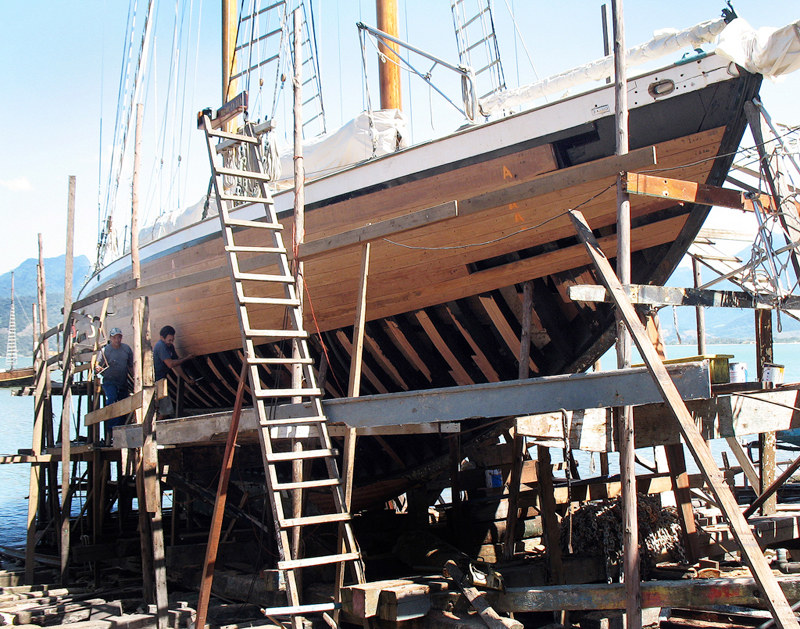 In a nutshell, after laboriously repairing the damaged hull in a remote Brazilian boatyard, the owners were pressured by an extortion attempt before they would be allowed to launch. The fight ended up in court, where Lord Jim's stewards won — both the original case and several appeals. But with no enforcement of the court orders, the boat and her owners remain in a hellish limbo. Needless to say, Holger and Tracy are not the sort of sailors who would give up easily. Already this fight has gone on for several years. But with each passing month, the wooden hull of the 1936 classic — to which they have no easy access — deteriorates further.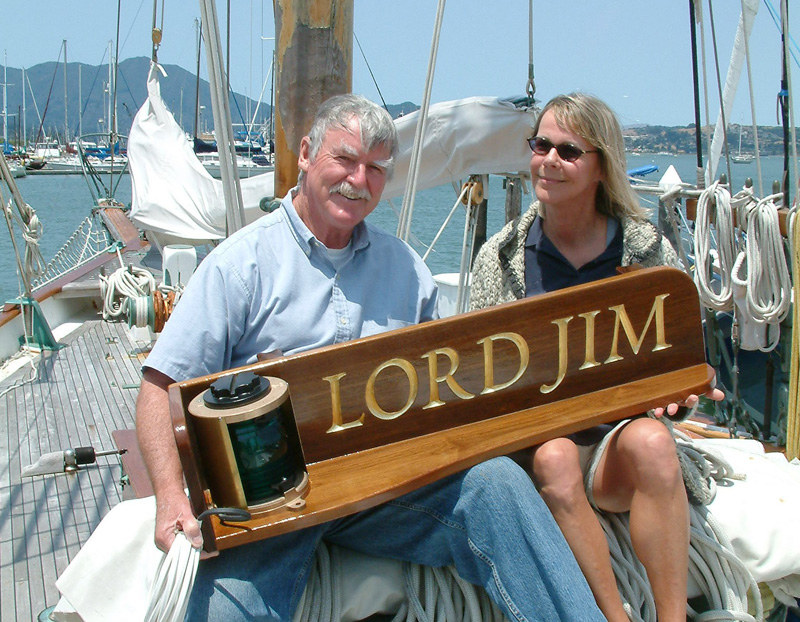 The couple is currently placing high hopes that a widely circulating petition, facilitated by the Avaaz organization, could bring the influence of top government officials to bear on the problem. If you choose to participate in the petition process, these former Bay Area sailors will greatly appreciate your support. For a detailed account of the backstory, check out Holger's recent post here.
Receive emails when 'Lectronic Latitude is updated.
SUBSCRIBE