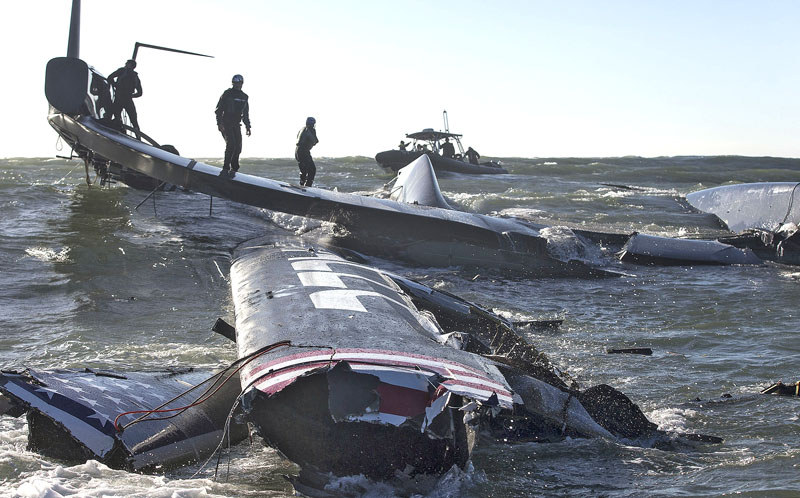 Chronicle staff writer Will Kane reported yesterday that Oracle Team USA is making metaphorical lemonade out of the shattered remains of their 72-ft America's Cup contender USA 17, which pitchpoled last month during training, destroying its $2 million wing sail. The team's Shannon Falcone came up with the hare-brained scheme after watching a video about the Red Bull Flugtag coming up this Saturday. Flugtag is a ridiculous — and we mean that in the best possible way — event in which nerds and wannabes attempt to fly in human-powered 'planes' over McCovey Cove. The contraption that makes it the farthest wins. Fortunately for spectators, most are designed to fail in the most spectacular ways possible.
Which is exactly what Spirit of 17 will do. "We're gonna pitchpole right off the [30-ft] platform," Falcone told Kane. "So everybody will have a replay of what happened when the big boat crashed." Team captain Jimmy Spithill said if he wasn't a judge for the free event, he'd be right alongside Falcone to take the dive.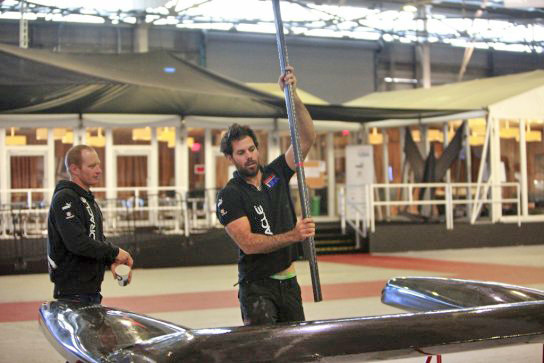 The effort came after the entry deadline so the team will not be competing for the top prize, but 33 other teams will be launching themselves into McCovey Cove on Saturday starting at 1 p.m. (viewing starts at 11 a.m.). First place winners receive a day of sky diving while those who take second get to sail with Oracle Team USA. Guess which prize we'd be competing for!
Receive emails when 'Lectronic Latitude is updated.
SUBSCRIBE