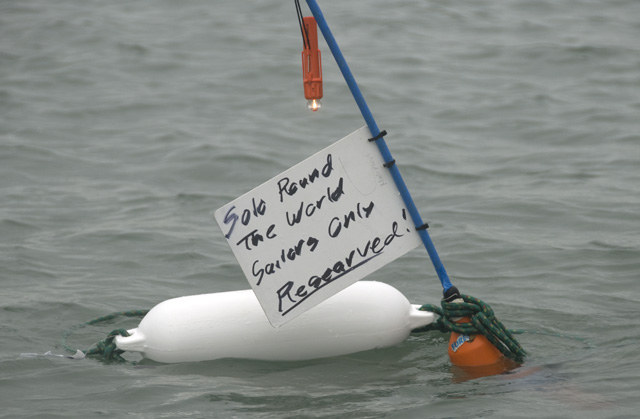 It's unusual for someone who's attempting to set a nonstop solo circumnavigation record to make a pit stop along the way, but that's just what Jeanne Socrates did late last week. Socrates, who set off from Victoria, BC, on October 22 on her third attempt at a nonstop trip around, was off the Oregon coast just a few days after her departure when she noticed that her speed had gone from a solid six knots to three. She popped her head up to find that her liferaft had slid right out of its mount and into the sea, instantly inflating and acting as a very efficient drogue. She had little choice but to cut it free.
After notifying the Coast Guard of the unmanned liferaft, she contacted the World Speed Sailing Record Council — the organization that will ratify her record — for advice. She had no interest in continuing such an arduous journey without a such an important piece of emergency equipment but she didn't want to abandon her attempt, especially so soon after the start. Thankfully the WSSRC agreed and gave her explicit instructions on how she could and could not effect the replacement of the raft. A boat could tie up to her and pass her the equipment but no tools could be offered and no one could come aboard.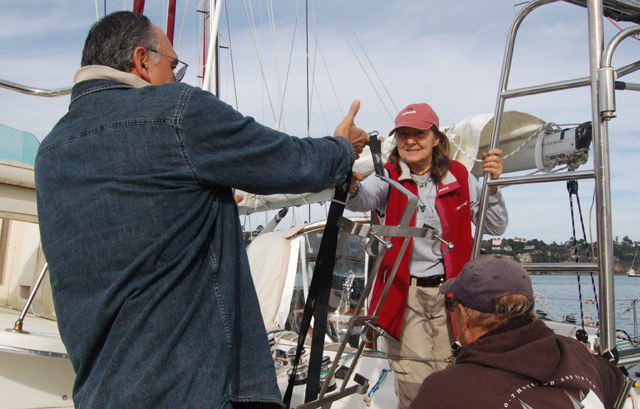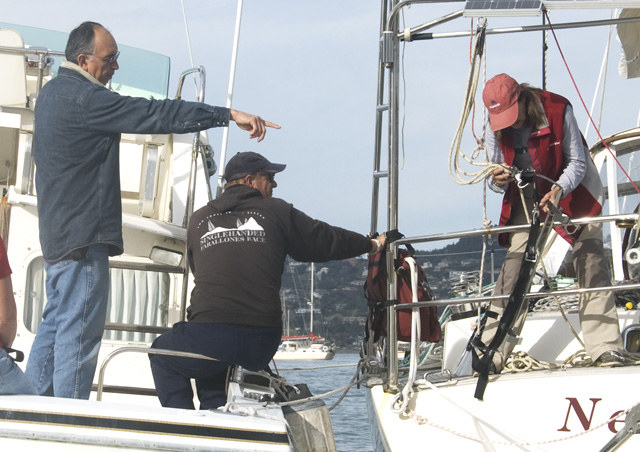 In the wee hours of Thursday morning, Socrates took advantage of a flood tide to take a buoy generously offered by Sausalito YC. Sausalito diver Tim Sell had set up a can't-miss retrieval system so she could not only spot it in the dark, but could easily pull it aboard. Then this writer, her husband, Sal Sanchez of Sal's Inflatables and Sell converged on Socrates' Najad 380 Nereida on Friday afternoon to hand off her new raft.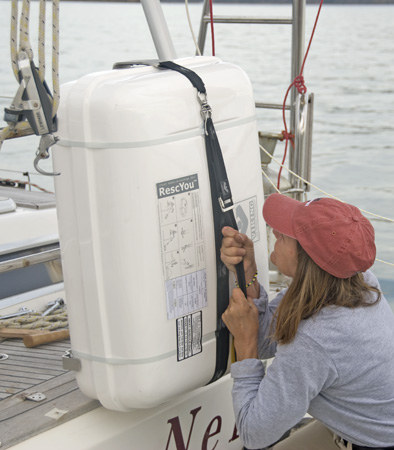 It's difficult enough mounting a raft on a stern rail while at anchor but when a 69-year-old woman who weighs about as much as a wet Yorkie must do so completely unassisted, folks get creative. It wasn't easy and it wasn't quick but eventually Socrates — with lots of advice from the boys — was able to fit the raft into its mount and secure it.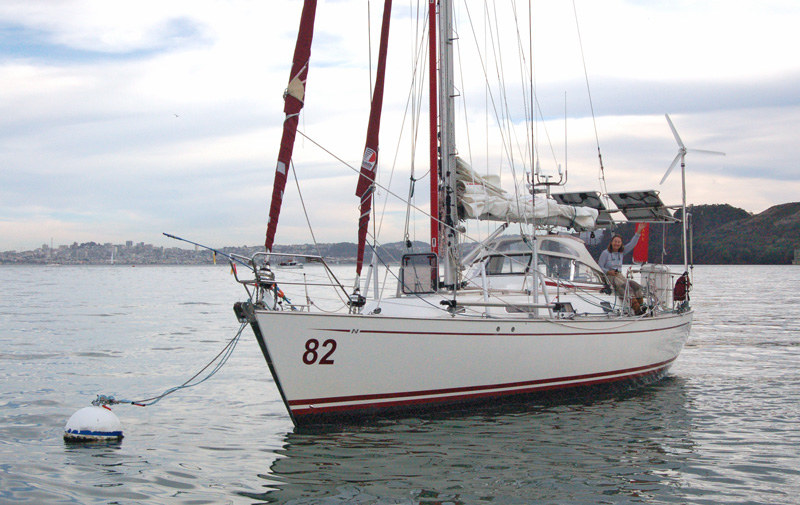 Socrates had hoped to take advantage of the ebb tide that night but light winds forced her to anchor just outside Richardson Bay for the weekend. Several Bay Area sailors dropped by to say hello, which cheered her immensely. "Two offered bottles of wine, which I couldn't accept, unfortunately, but the face-to-face chats were nice because they were the last I'll have before I get back," she said.
At last word, Socrates weighed anchor this morning. Once out the Gate, she'll turn left and chart a very long course for Victoria. Follow her trip at www.svnereida.com.
Receive emails when 'Lectronic Latitude is updated.
SUBSCRIBE