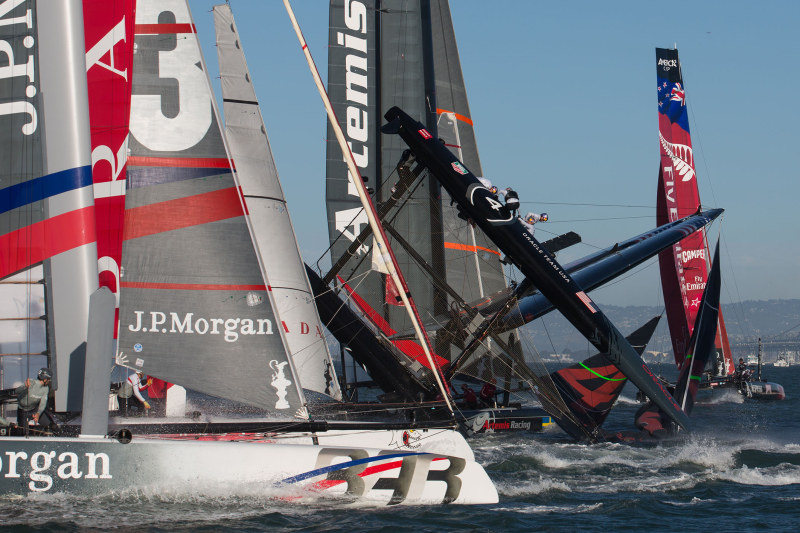 The second round of San Francisco America's Cup World Series events, staged here October 3-7, could not have been more action-packed and fun to watch if they'd been choreographed by a Hollywood designer. The big headline, of course, is that Jimmy Spithill's Oracle Team USA boat came back to win both the match and fleet racing after a heart-stopping nose-dive and capsize during the first fleet race on Saturday.
For decades America's Cup event promoters have been trying to think of ways to make high-end international yacht racing more appealing to the general public. When the AC World Series concept was developed — with super-fast AC45 cats racing in a series of venues around the world — many within the sailing community thought AC organizers had finally come up with a formula that was ready for prime time. And predictably, eye-popping flips such as Spithill's were guaranteed to make it onto evening sports reports all over the world — as do dramatic NASCAR wipeouts.
Luckily, Spithill and crew were not badly injured when their bows bit into the choppy Bay during a downwind leg of Saturday's first fleet race, and despite the fact that they were racing in extremely close quarters, their out-of-control boat was not hit or damaged during the incident.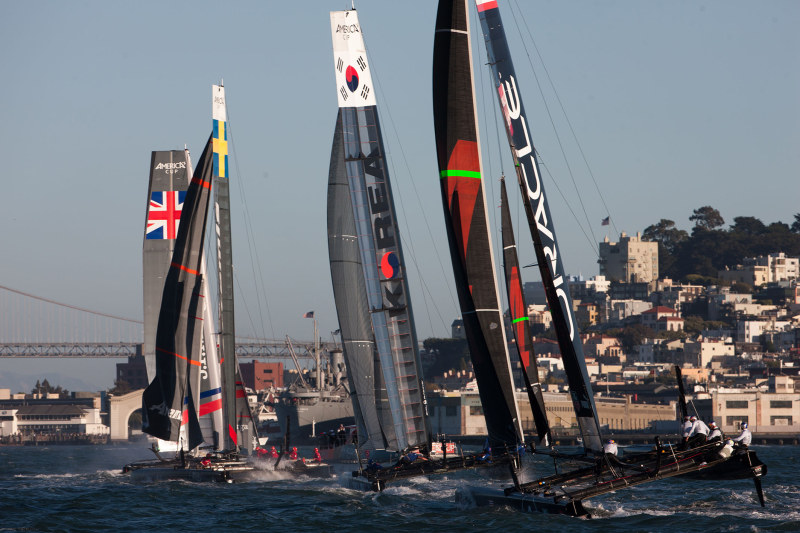 But let's roll back the clock a bit and take a look at the full menu of preliminary match races and fleet racing — arguably one of the most exciting four-day periods of in the City's history for yacht racing fans.
After a battery of match racing quarterfinal races on Thursday and Friday, Saturday's semifinals pitted Terry Hutchinson's Artemis White (Sweden) against Spithill's Oracle Team USA, and in the second race, Dean Barker's Emirates Team New Zealand vs. Nathan Outteridge's Artemis Red (Sweden). Despite both Swedish entries having artfully clawed their way to the semis, though, neither advanced to the final.
The first semifinal showed students of match racing a textbook start, with Hutchinson (the only American skipper) maintaining control over leeward rights — and crossing the starting line a second earlier than Spithill — but Spithill hitting the line with more speed, allowing his team to lead around the first turn and hold on for the win. During the second race, Outteridge kept Barker from getting leeward rights during the pre-start, which allowed Artemis to hit the line higher and faster. Later in the race, Outteridge ran out of wind, allowing Barker to overtake him, and eventually take the win.
During the first fleet race Saturday afternoon, Barker exhibited a fabulous, spot-on start which gave him an early, yet fragile, lead over the other 10 boats. Spithill had come in high and fast, and was poised to chase the Kiwi boat closely around the first mark when Oracle Team USA's leeward bow bit the chop, dug in and over she went in a spectacular ass-over-tea kettle roll. Meanwhile, Barker extended his lead for an easy win by more than 100 yards. Twenty-one-year-old Peter Burling took an impressive second for Team Korea.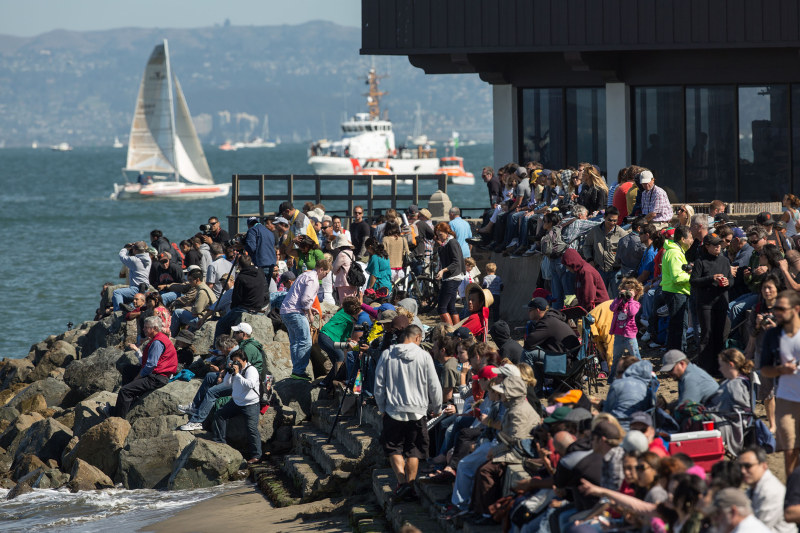 By the time the starting gun sounded for the second fleet race on Saturday, Spithill and crew had recovered and were able to compete, but it was Ben Ainslie of JP Morgan BAR who dominated. His boat was neck-and-neck with Hutchinson's Artemis White going into the first turn, but Ainslie found just enough room to speed around in the lead without fouling his foe. He finished with a huge lead, having come a very long way since August's races, when he performed like the newcomer he was back then. Late in the race, Spithill went outside, where he found better wind and scrambled his way into second.
Later that same afternoon, the match racing final pitted veteran New Zealander Dean Barker of ETNZ against Oracle Team USA's Spithill. As with many match races, the outcome was all but decided during the pre-start, when Spithill dove deep to leeward for rights, then pushed Barker up so far he was forced to tack away before the start. Spithill had a half-minute lead at mark one, but Barker and crew were able to whittle that down to 18 seconds by the finish.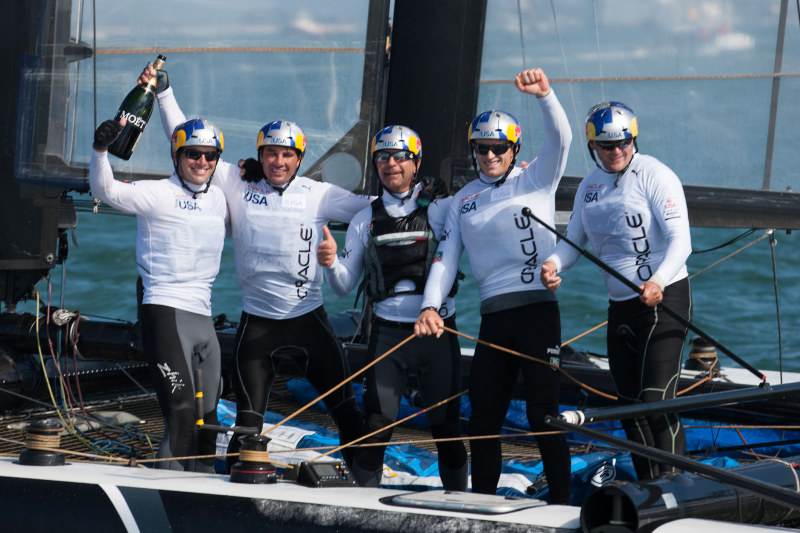 As confusing as it sounds, the Super Sunday Fleet Racing final awarded much higher-than-normal points to winners: 40 for first, 25 for second and 20 for third. The idea being that more boats have a chance to come from behind and earn top honors. Going into that final race, Ainsle's BAR was greatly favored to win (63 points), trailed by Hutchinson's Artemis White (52), Barker's ETNZ (47) and Spithill's Oracle Team USA (39). Amazingly, though, Spithill and crew pulled off a remarkable win, wowing the crowd of thousands both on the water and along the shore. The 40 points they earned tied them with BAR and, having won the final, Spithill and Co. were awarded the tie-breaker (per the rules). See a complete video recap to relive the excitement.
With the ACWS now moving on to Venice, Italy (April 16-21), the stage will soon be set here in the Bay Area to host the big show, the Louis Vuitton Challenge and 34th America's Cup next July. We can hardly wait!
Receive emails when 'Lectronic Latitude is updated.
SUBSCRIBE