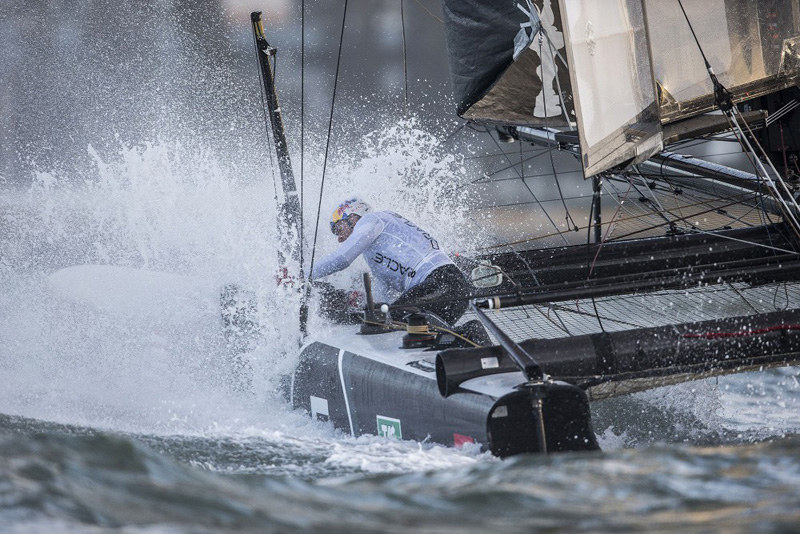 America's Cup World Series racing got off to a booming start Wednesday with more consistent wind than was seen during the entire August series. Twenty knots of breeze combined with a strong ebb set up classic Central Bay chop, which added a new challenge to the already demanding task of racing lightning-fast AC45 cats.
We'll give you a short recap of both Wednesday's and Thursday's action below, but you owe it to yourself to watch the phenomenal video footage available free of charge 24/7 on the AC YouTube channel. And be aware that NBC Bay Area will broadcast today's and tomorrow's races live on its digital channel, California NonStop (channel 186 on Comcast and 11.2 on over-the-air digital). NBC's national network will carry Super Sunday races live beginning at 1:30 p.m. America's Cup guru Gary Jobson is doing a superb job of announcing the blow-by-blow, which is broadcast over loudspeakers in the AC Village (Little Marina Green), all along the Golden Gate YC peninsula, and over VHF 20 — so don't forget your handheld if you plan to watch from out on the water or at the north or south ends of the course. Hearing a real pro explain the subtle nuances of the action will greatly enhance your viewing experience.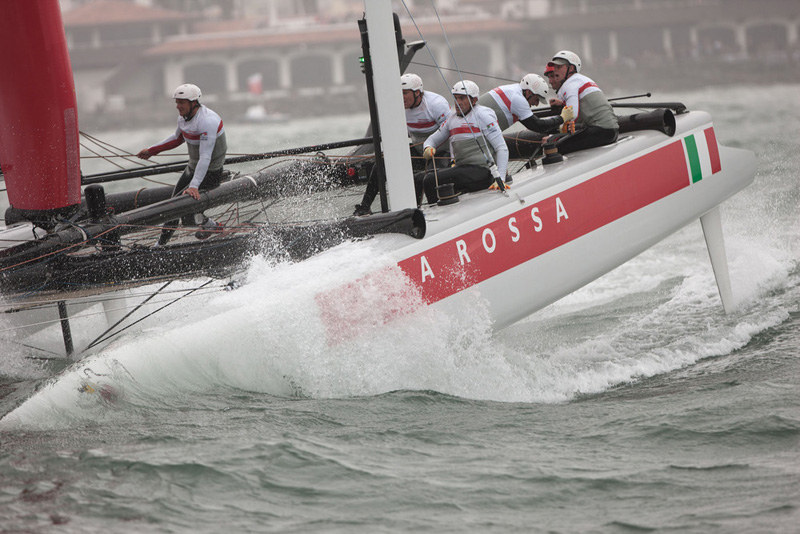 Olympic silver medalist Peter Burling — at 21, the fleet's youngest helmsman — took over as skipper of Team Korea when Nathan Outteridge left to skipper Artemis Racing Red. Despite only a couple of week's practice on these cats, Burling advanced to the quarterfinals Wednesday after three tough races. In perhaps the most exciting finish of the day, Burling and crew squeaked out an exhilarating two-second win over Chris Draper's Luna Rossa Piranha — which had drawn a penalty and also nearly capsized during the race. Artemis Red's Outteridge, 26, advanced to the quarterfinals after Team China's boat, helmed by Phil Robertson, 25, sustained "damage to the frames in their wingsail while jibing."
Emirates Team New Zealand (Dean Barker), Energy Team (Loïck Peyron) and J.P. Morgan BAR (Ben Ainslie) also advanced to Thursday's quarterfinal round.
Conditions were substantially different yesterday, leaving competitors to deal with relatively light (9- to 13-knot), puffy wind, as well as a another strong ebb. Both match and fleet races were staged. In the first two-boat matchup, seasoned pro Terry Hutchinson of Artemis Racing White showed Team Korea's Burling (who is less than half Hutchinson's age) how the big boys play, by controlling the choreography even before the start, and scoring a relatively easy win. The matchup between Emirates Team New Zealand's Dean Barker and Energy Team's Loïck Peyron was a different story. After a textbook-perfect start where both boats crossed the line in unison, the cunning Peyron clawed ahead of Barker with a well-timed sail adjustment that pushed Energy into a slight lead. After splitting tacks upwind, however, Barker was the eventual victor.
The remaining quarterfinal matches will be held today at 4:00 p.m. between Artemis Racing Red (Nathan Outteridge) and Oracle Team USA (Russell Coutts) at 4:05 p.m., with J. P. Morgan BAR (Ben Ainslie) facing off against Oracle Team USA (Jimmy Spithill) at 4:22 p.m.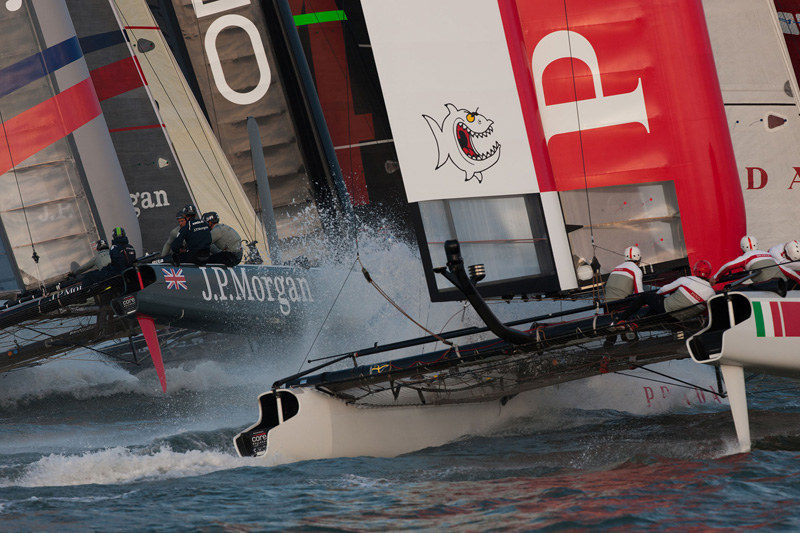 During August's event it was clear that Ben Ainslie of J.P. Morgan BAR hadn't quite figured out the subtleties of AC45 racing — a couple of weeks earlier he'd been busy adding to his collection of Olympic medals. But it's now apparent that he's got it dialed. In Thursday's first fleet race, Ainslie and crew ran a brilliant race despite the efforts of the top-notch sailors who chased them. Emirates took second and Coutts' Oracle boat took third.
In the second race, Jimmy Spithill's Oracle team took the bullet, redeeming their eighth place finish in race one. They were followed to the finish by Hutchinson's Artemis White and Ainslie's JP Morgan BAR. To say the competition is tough would be a massive understatement. Today's fleet racing will run from 4:50 until about 6 p.m. And if you're anywhere near the Village, don't miss the Dock-in Show at 6:15 — it's quite a spectacle.
As we post this, the Village is bustling with activity — including Healthy Ocean Project activities — and the roar of fighter jets can almost be heard in the distance. You see, the Cityfront is also the focus of the Fleet Week Air Show, which will stage practice sessions above the AC race box from 12:30-4:00 p.m. today, with the actual shows taking place during roughly the same time slots both Saturday and Sunday.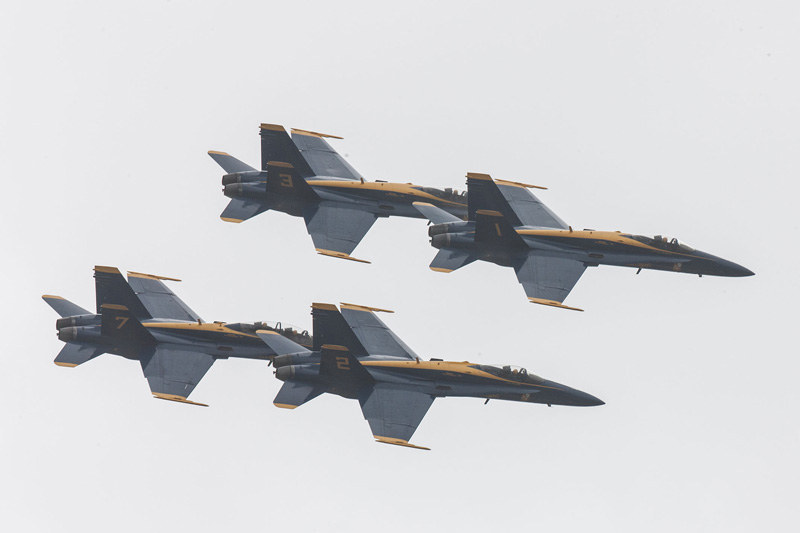 As you probably know, there are also a few other distractions happening in the City by the Bay this weekend, not the least of which are S.F. Giants playoff games both Saturday and Sunday, the ginormous Hardly Strictly Bluegrass festival in Golden Gate Park, several parades, a massive Oracle tech event, and a Niners game on Sunday. Don't be daunted though, you really don't want to miss the AC action up close and personal, at least on one day. But consider arriving by bike, on foot or via public transport — the options of which are spelled out at www.511.org.
Oh, and by the way, as if there won't be enough traffic to keep track of out on the water this weekend, be aware that endangered humpback whales have been seen both inside and adjacent to San Francisco Bay recently. So, as always, be careful out there.
Receive emails when 'Lectronic Latitude is updated.
SUBSCRIBE