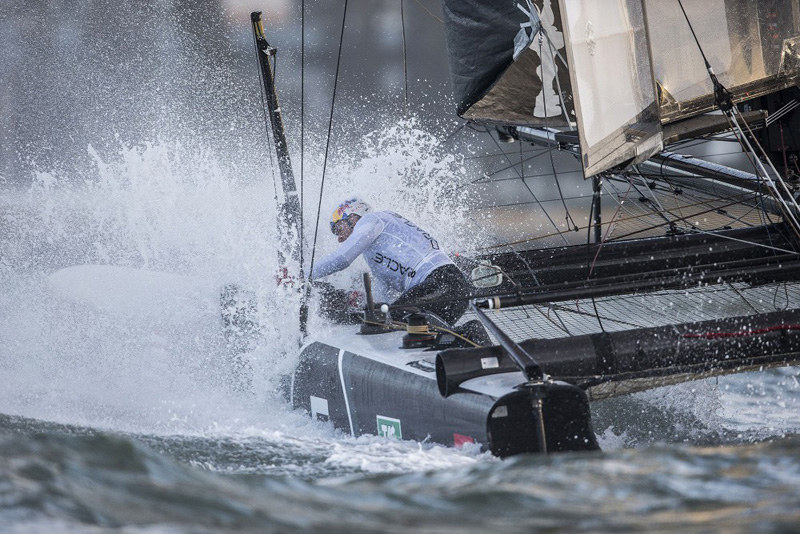 America's Cup World Series racing got off to a booming start Wednesday with more consistent wind than was seen during the entire August series. Twenty knots of breeze combined with a strong ebb set up classic Central Bay chop, which added a new challenge to the already demanding task of racing lightning-fast AC45 cats.
We'll give you a short recap of both Wednesday's and Thursday's action below, but you owe it to yourself to watch the phenomenal video footage available free of charge 24/7 on the AC YouTube channel. And be aware that NBC Bay Area will broadcast today's and tomorrow's races live on its digital channel, California NonStop (channel 186 on Comcast and 11.2 on over-the-air digital). NBC's national network will carry Super Sunday races live beginning at 1:30 p.m. America's Cup guru Gary Jobson is doing a superb job of announcing the blow-by-blow, which is broadcast over loudspeakers in the AC Village (Little Marina Green), all along the Golden Gate YC peninsula, and over VHF 20 — so don't forget your handheld if you plan to watch from out on the water or at the north or south ends of the course. Hearing a real pro explain the subtle nuances of the action will greatly enhance your viewing experience.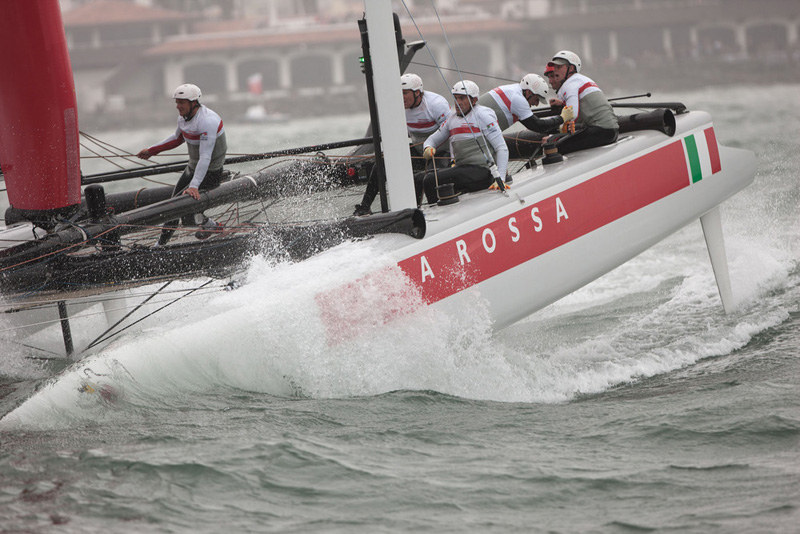 Olympic silver medalist Peter Burling — at 21, the fleet's youngest helmsman — took over as skipper of Team Korea when Nathan Outteridge left to skipper Artemis Racing Red. Despite only a couple of week's practice on these cats, Burling advanced to the quarterfinals Wednesday after three tough races. In perhaps the most exciting finish of the day, Burling and crew squeaked out an exhilarating two-second win over Chris Draper's Luna Rossa Piranha — which had drawn a penalty and also nearly capsized during the race. Artemis Red's Outteridge, 26, advanced to the quarterfinals after Team China's boat, helmed by Phil Robertson, 25, sustained "damage to the frames in their wingsail while jibing."
Emirates Team New Zealand (Dean Barker), Energy Team (Loïck Peyron) and J.P. Morgan BAR (Ben Ainslie) also advanced to Thursday's quarterfinal round.
Conditions were substantially different yesterday, leaving competitors to deal with relatively light (9- to 13-knot), puffy wind, as well as a another strong ebb. Both match and fleet races were staged. In the first two-boat matchup, seasoned pro Terry Hutchinson of Artemis Racing White showed Team Korea's Burling (who is less than half Hutchinson's age) how the big boys play, by controlling the choreography even before the start, and scoring a relatively easy win. The matchup between Emirates Team New Zealand's Dean Barker and Energy Team's Loïck Peyron was a different story. After a textbook-perfect start where both boats crossed the line in unison, the cunning Peyron clawed ahead of Barker with a well-timed sail adjustment that pushed Energy into a slight lead. After splitting tacks upwind, however, Barker was the eventual victor.
The remaining quarterfinal matches will be held today at 4:00 p.m. between Artemis Racing Red (Nathan Outteridge) and Oracle Team USA (Russell Coutts) at 4:05 p.m., with J. P. Morgan BAR (Ben Ainslie) facing off against Oracle Team USA (Jimmy Spithill) at 4:22 p.m.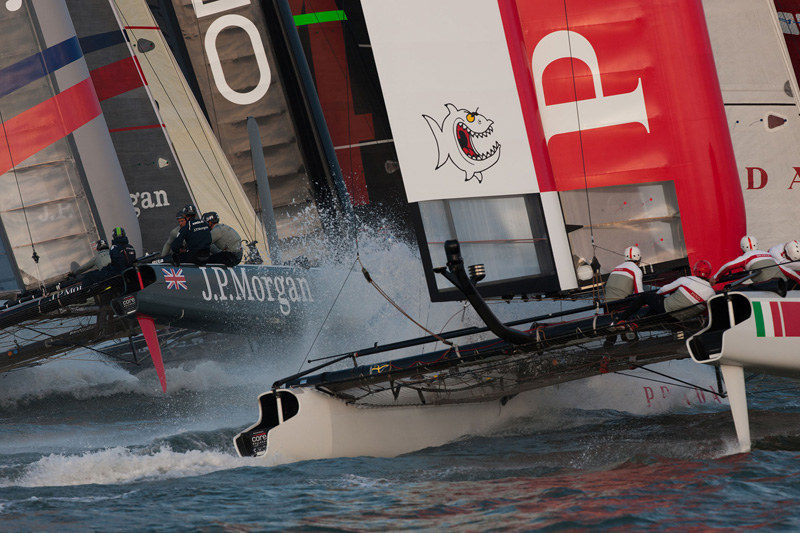 During August's event it was clear that Ben Ainslie of J.P. Morgan BAR hadn't quite figured out the subtleties of AC45 racing — a couple of weeks earlier he'd been busy adding to his collection of Olympic medals. But it's now apparent that he's got it dialed. In Thursday's first fleet race, Ainslie and crew ran a brilliant race despite the efforts of the top-notch sailors who chased them. Emirates took second and Coutts' Oracle boat took third.
In the second race, Jimmy Spithill's Oracle team took the bullet, redeeming their eighth place finish in race one. They were followed to the finish by Hutchinson's Artemis White and Ainslie's JP Morgan BAR. To say the competition is tough would be a massive understatement. Today's fleet racing will run from 4:50 until about 6 p.m. And if you're anywhere near the Village, don't miss the Dock-in Show at 6:15 — it's quite a spectacle.
As we post this, the Village is bustling with activity — including Healthy Ocean Project activities — and the roar of fighter jets can almost be heard in the distance. You see, the Cityfront is also the focus of the Fleet Week Air Show, which will stage practice sessions above the AC race box from 12:30-4:00 p.m. today, with the actual shows taking place during roughly the same time slots both Saturday and Sunday.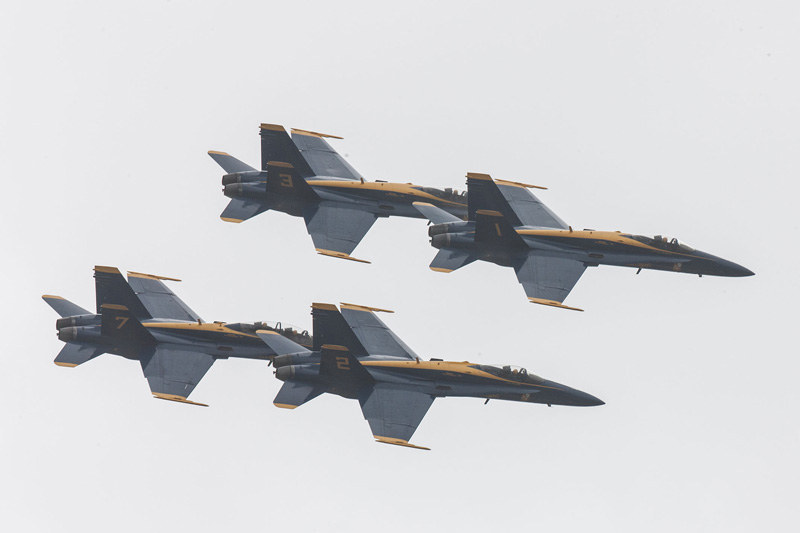 As you probably know, there are also a few other distractions happening in the City by the Bay this weekend, not the least of which are S.F. Giants playoff games both Saturday and Sunday, the ginormous Hardly Strictly Bluegrass festival in Golden Gate Park, several parades, a massive Oracle tech event, and a Niners game on Sunday. Don't be daunted though, you really don't want to miss the AC action up close and personal, at least on one day. But consider arriving by bike, on foot or via public transport — the options of which are spelled out at www.511.org.
Oh, and by the way, as if there won't be enough traffic to keep track of out on the water this weekend, be aware that endangered humpback whales have been seen both inside and adjacent to San Francisco Bay recently. So, as always, be careful out there.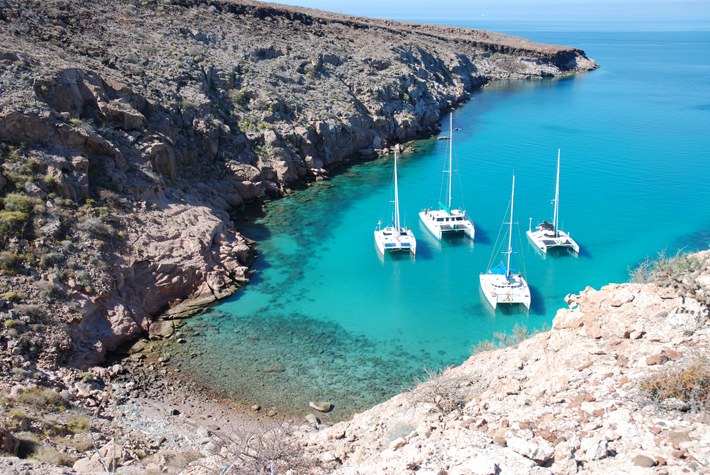 We want to let everyone know that Latitude 38 is aware that Mexico has published new immigration rules, some of which apply to boats carrying passengers for hire, some of which may apply to regular old cruising boats and many of which would appear to be impractical, if not impossible, to implement.
This is not uncommon. In the past, workable modifications to proposed and new rules have been made with the help of the Mexican Marina Owners Association. In addition, some unworkable new rules have simply been ignored by officials on site.
Among other things, under the new rules Mexico apparently wants boats arriving from foreign countries to alert officials in their proposed ports of entry 24 hours in advance by electronic means. How mariners are to do this and who they are supposed to contact is not specified. Because of the confusing wording of the rules, this may only apply to vessels carrying passengers for hire. In addition, the new rules say that crewmembers won't be allowed off boats until the boats have been inspected by Immigration. This has actually been the letter of the law forever, but never enforced.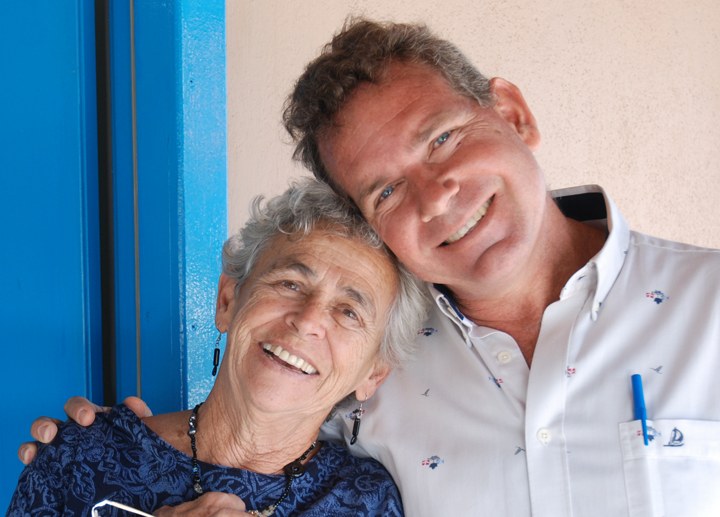 The new immigration rules state that manuals for implementing the procedures have yet to be written or distributed to officials, which makes enforcement unlikely. Indeed, we're told there haven't been any changes from last year. One would also expect that Mexico would make some attempt to inform those affected in advance of implementation.
Our purpose in writing this is not to freak anyone out, as stuff like this has happened before, and it's all turned out fine. We just want to assure everyone that we're in contact with government officials and marine industry honchos to keep abreast of the situation. Indeed, we're racing to Ensenada today, in part to meet with the Port Captain and Immigration officials there.
So stay tuned, but keep smiling.
Last night we showed up at the Southwestern YC's pre-Little Ensenada Race (San Diego to Ensenada) dinner expecting to enjoy nothing more than a cocktail and some chow. We got both of those, but we also got one of the biggest legends in sailing introducing one of the previous generation's biggest legends in sailing.
The presenter was Dennis Conner, who needs no introduction to sailors. Even at 70 years of age Dennis is still a terrific sailor. We were interested in how Dennis would come across in front of a crowd, because he's got a new-to-him S&S 44 sloop near Profligate at Driscoll's Boat Yard, and he's been talking some trash around us lately. For instance, when we congratulated him on winning a recent 12 Metre event a couple of weeks ago in Newport, RI, he dismissed it with a wave of his hand. "It was nothing. They're just a bunch of rich guys who don't know how to sail their boats." And when Doña de Mallorca complimented Dennis on the new color — periwinkle — he had chosen for the top of the house of his new boat, Dennis sarcastically said something to the effect of that was nice coming from someone who owned a big, fast catamaran while everybody else like him only had little monohulls. We're never sure if Dennis is trying to be funny or not, but he really makes us laugh.
If Dennis' trash-talking around us cracked us up, his introduction of the main speaker at the Southwestern YC was absolutely hilarious. Dennis easily went on for about 15 minutes of off-the-cuff remarks, dropping a million names of both the famous and the unknown, telling great stories, and displaying a surprisingly fine sense of dry humor.
Jim Kilroy of Los Angeles is the legend that Dennis introduced. Now 90, the slim and trim Kilroy may not be known by a lot of younger sailors, but he was a pioneer boatowner like no other. It was in the late '60s and even more so in the '70s that Kilroy invented the concept of taking one's maxi boat around the world to take on the best competition and smashing records. And with all amateur crew.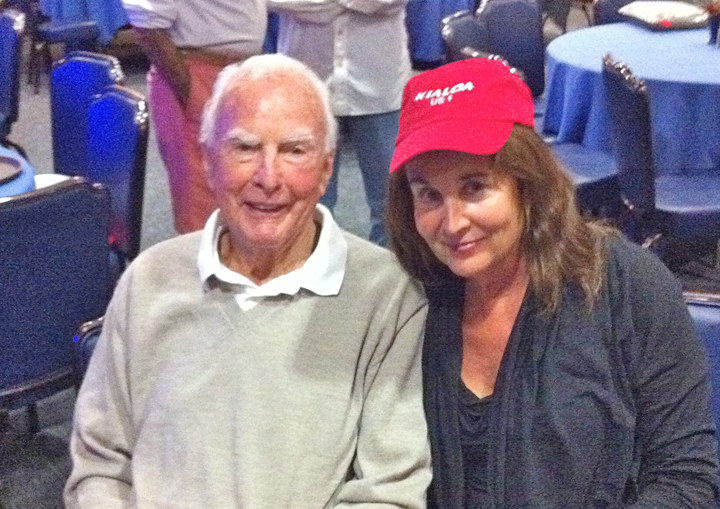 Although Kilroy would eventually own five Kialoas — three of them maxis — his favorite was always the aluminum S&S 79 Kialoa III. She was a boat he campaigned rentlessly all over the world — including at a number of St. Francis YC Big Boat Series — and owned for 30 years before donating her to the Orange Coast School of Sailing & Seamanship. Kilroy set the Sydney to Hobart record with Kialoa II, a S&S 72 ketch later owned and sailed around the world by Frank Robben of Berkeley. Kilroy returned to Australia to smash the record with Kialoa III, a record that stood for a remarkable 21 years. Kilroy told the Southwestern YC crowd that after a few years, the Aussies put together an ever increasing reward for any boat that could break the record. The bounty got up to $300,000 before Russell Coutts beat it with a much more modern maxi. In the mid-'70s, Kialoa III set a series of international records and finishes that Kilroy believes has never been bettered. He even asks anyone who thinks differently to contact his website so he can correct it if not true.
When asked which races were his favorites — Kilroy's done them all — he pulled out two surprises. Not the Fastnet Race, not any of the SORC races, not Antigua, not the Transpac, not the Transatlantic, but the seemingly never-ending Los Angeles to Acapulco Race, which tended to feature very light air for the last hundreds of miles. Kilroy said he developed some non-rhumbline strategy that enabled him to do well. He really liked that. Then he mentioned the largely unknown and rarely held Tasman Sea Race, from Hobart to New Zealand.
When we asked Kilroy who his biggest rivals were, he quickly mentioned Ted Turner and then Dennis Conner.
Kilroy was doing the presentation in support of Kialoa, a book he and associates took three years to write. It's a fat one, and all the proceeds go to a foundation that supports both youth sailing and teaching kids the science that goes with sailing.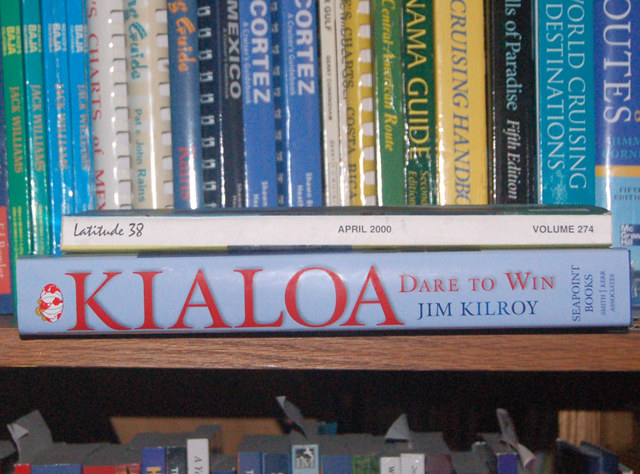 Kilroy will be making a Yachtsmen's Luncheon presentation at the St. Francis YC on October 24. We recommend that you try to make it. And if Dennis — who was headed up to San Francisco to do pre- and post-race commentary on this week's America's Cup World Series — happens to be there to introduce him, so much the better.
Before wrapping up his remarks, Kilroy mused that perhaps he never should have sold Kialoa III. She's currently for sale in Southern California, so you never know.
Receive emails when 'Lectronic Latitude is updated.
SUBSCRIBE