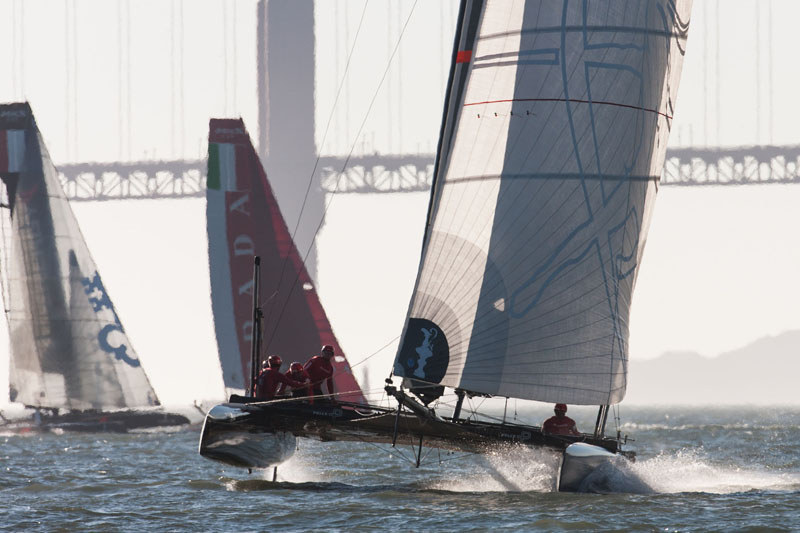 Unless you've been working in your bilge for weeks with earplugs in you already know that the second round of San Francisco America's Cup World Series races begin today. Although similar in format to the first round in August, the scheduling will be much different due to the overlap of Fleet Week Air Show flights. Competition within the 11-boat fleet begins at 4 p.m. today off the Cityfront with match race qualifiers until 6 p.m. The AC Village on Little Marina Green will be open 10 a.m.-7 p.m. today through Sunday.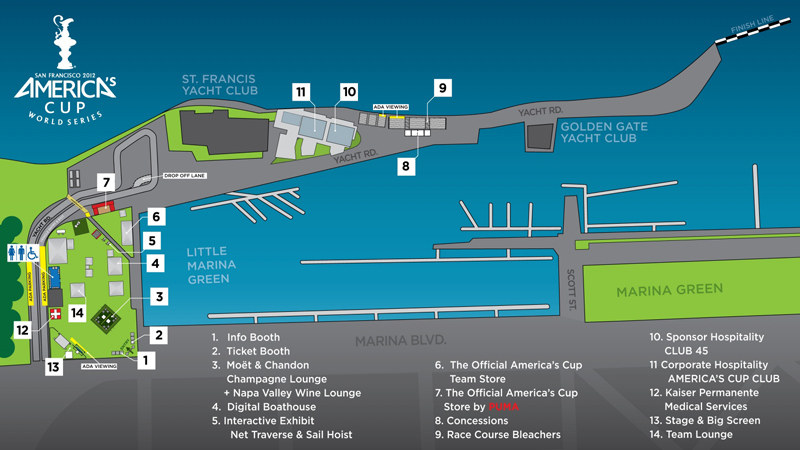 Match racing quarterfinals will be staged tomorrow shortly after mid-day, followed by Air Show practice, then two fleet races from 5-6:15 p.m. On Friday and Saturday, match and fleet racing will take place from 4-6 p.m. The Blue Angels (and other aerial acrobats) will practice from 12:30-4 p.m. on Friday, with their full-blown show occupying the same slot on Saturday and Sunday. The ACWS Fleet Racing Championship will be staged Sunday from 1:55-2:25 p.m. (before the air show), which will be broadcast live nationwide on NBC TV. Our understanding is that this is the only race that will not be available for live streaming Internet viewing. However, the AC's regional partner, NBC Bay Area, will broadcast Thursday-Saturday races on its digital channel California NonStop (Comcast 186 or 11.2 on over-the-air digital). See the ACWS YouTube channel to view archived races.
One advantage of hanging in the AC Village is that you can watch the show on large video screens and hear live blow-by-blow commentary by sailing luminary Gary Jobson (assisted by Todd Harris). Make note that you can also hear these announcers on VHF 20. So be sure to tune in if you'll be out on the water, or carry your handheld if you plan to watch from elsewhere on shore. Without the vocal play-by-play, it's often very hard to pick up the subtle nuances of what's going on — especially during match races.
There'll be lots of side events happening in and around the AC Village also, so be sure to check out the full schedule.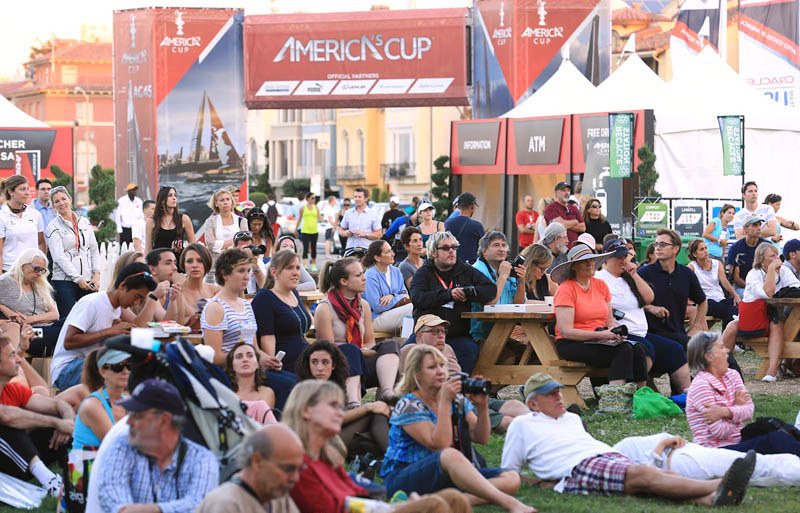 Going into this second round of the 2012-13 World Series tour, the home team, Oracle Team USA's Jimmy Spithill campaign holds the top ranking on the fleet racing leader board with 86 points, just ahead of Luna Rosa's Piranha Team (85 points). Next are Team Korea (65) and France's Energy Team (55). In August's match racing final, Oracle Team USA's grand master Russell Coutts used his cunning and experience to beat Spithill and crew. That put Coutts' team at the top of the match race rankings, with Spithill's second, Artemis White third, followed by Emirates Team New Zealand.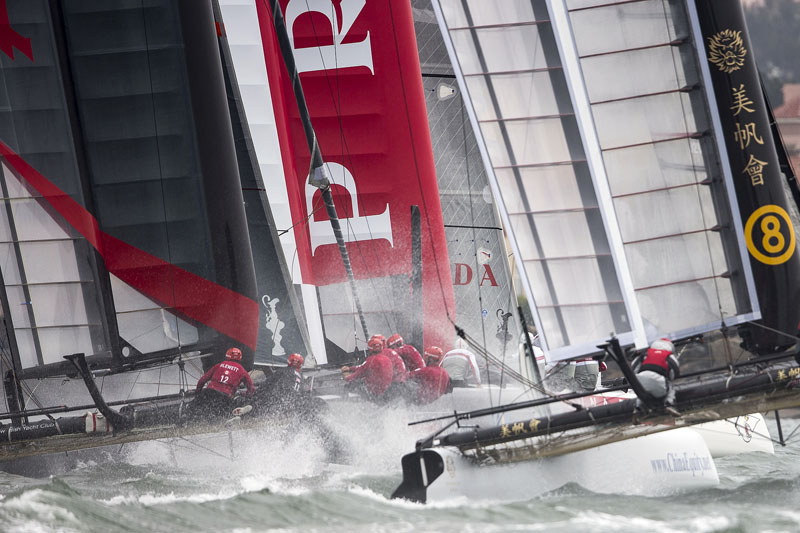 As every racing aficionado knows, the flag emblazoned on the wing of each entry has little to do with the nationality of its crew, and the challenge of understanding who's who — and who's racing where — just got more complicated. Although Olympic medalist Ben Ainslie (who is expected to race with Oracle Team USA next summer in the big show) is still skippering J.P. Morgan BAR, several other key players have swapped allegances or been added: Twenty-one-year-old Kiwi Peter Burling will be at the helm of Team Korea, which did well in the last series with Australian Nathan Outteridge driving in August. He's now joined Artemis Racing Red — with the Bay Area's beloved homey Paul Cayard calling tactics. Spain's Iker Martinez is now helming Luna Rosa Swordfish.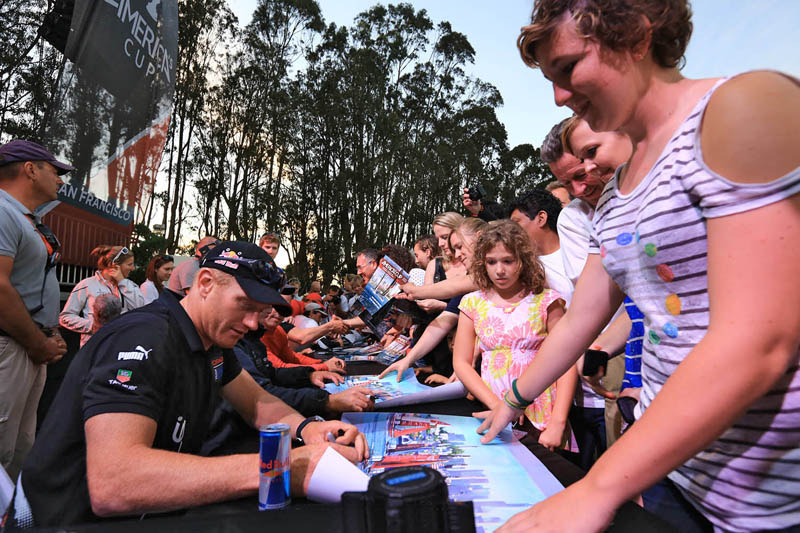 With the weather cooling, winds may increase as the series progresses, but regardless of wind speeds, it will be one heck of a show. You don't want to miss it! And although the AC races next summer aboard revolutionary AC72 cats promise to be phenomenal, there'll be nothing like the ferociously intense 11-boat fleet racing happening this week. Trust us, there's nothing like it.
Receive emails when 'Lectronic Latitude is updated.
SUBSCRIBE