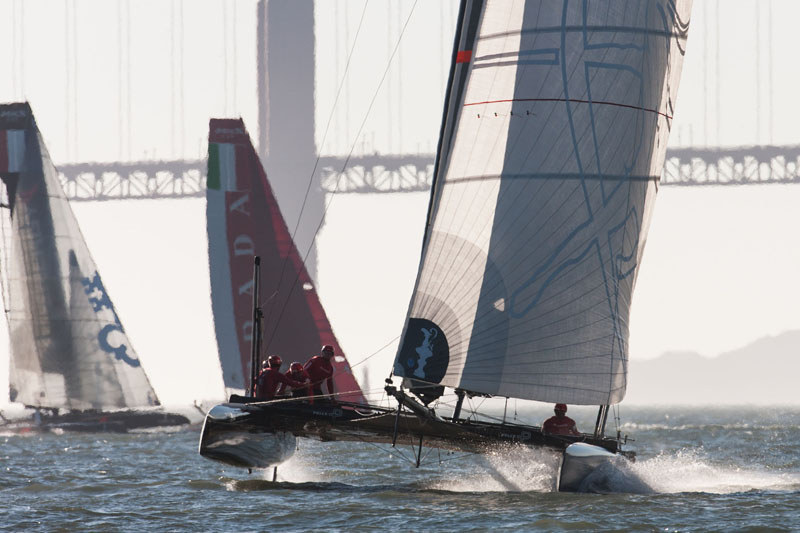 Unless you've been working in your bilge for weeks with earplugs in you already know that the second round of San Francisco America's Cup World Series races begin today. Although similar in format to the first round in August, the scheduling will be much different due to the overlap of Fleet Week Air Show flights. Competition within the 11-boat fleet begins at 4 p.m. today off the Cityfront with match race qualifiers until 6 p.m. The AC Village on Little Marina Green will be open 10 a.m.-7 p.m. today through Sunday.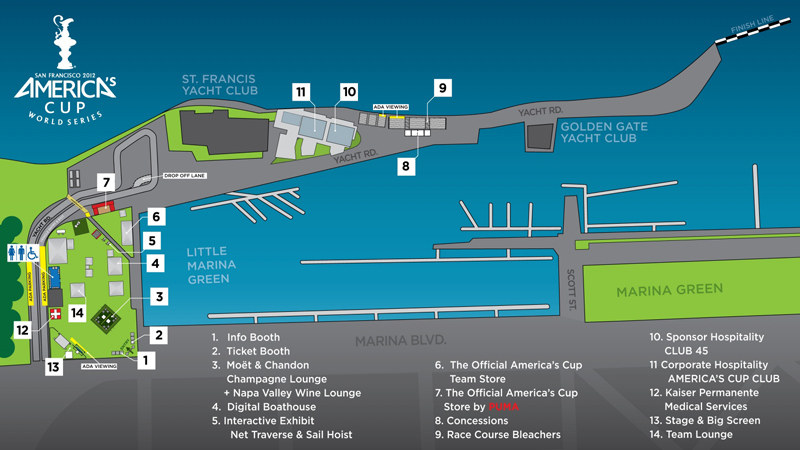 Match racing quarterfinals will be staged tomorrow shortly after mid-day, followed by Air Show practice, then two fleet races from 5-6:15 p.m. On Friday and Saturday, match and fleet racing will take place from 4-6 p.m. The Blue Angels (and other aerial acrobats) will practice from 12:30-4 p.m. on Friday, with their full-blown show occupying the same slot on Saturday and Sunday. The ACWS Fleet Racing Championship will be staged Sunday from 1:55-2:25 p.m. (before the air show), which will be broadcast live nationwide on NBC TV. Our understanding is that this is the only race that will not be available for live streaming Internet viewing. However, the AC's regional partner, NBC Bay Area, will broadcast Thursday-Saturday races on its digital channel California NonStop (Comcast 186 or 11.2 on over-the-air digital). See the ACWS YouTube channel to view archived races.
One advantage of hanging in the AC Village is that you can watch the show on large video screens and hear live blow-by-blow commentary by sailing luminary Gary Jobson (assisted by Todd Harris). Make note that you can also hear these announcers on VHF 20. So be sure to tune in if you'll be out on the water, or carry your handheld if you plan to watch from elsewhere on shore. Without the vocal play-by-play, it's often very hard to pick up the subtle nuances of what's going on — especially during match races.
There'll be lots of side events happening in and around the AC Village also, so be sure to check out the full schedule.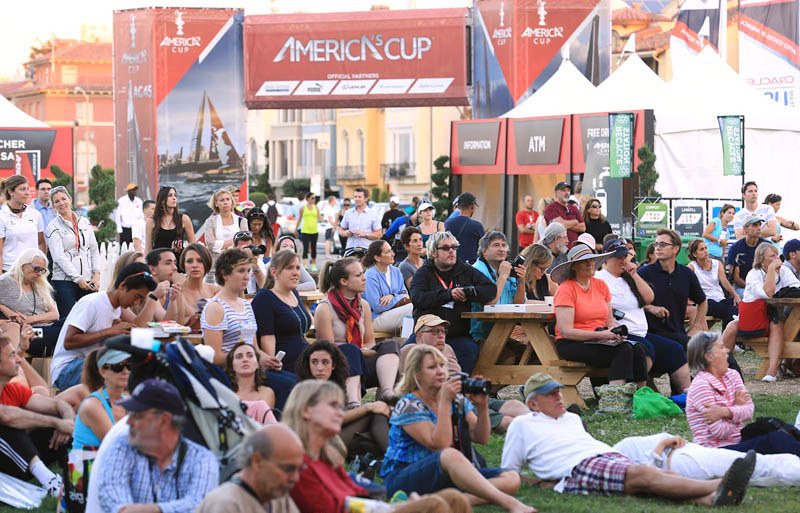 Going into this second round of the 2012-13 World Series tour, the home team, Oracle Team USA's Jimmy Spithill campaign holds the top ranking on the fleet racing leader board with 86 points, just ahead of Luna Rosa's Piranha Team (85 points). Next are Team Korea (65) and France's Energy Team (55). In August's match racing final, Oracle Team USA's grand master Russell Coutts used his cunning and experience to beat Spithill and crew. That put Coutts' team at the top of the match race rankings, with Spithill's second, Artemis White third, followed by Emirates Team New Zealand.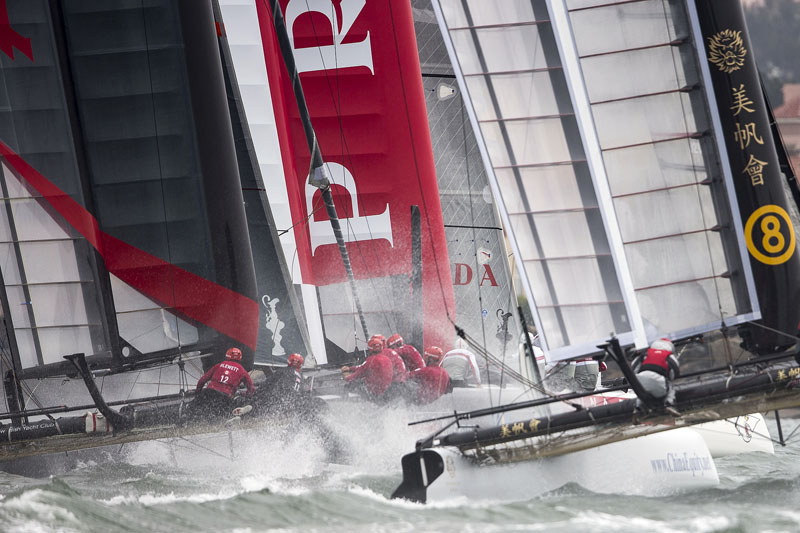 As every racing aficionado knows, the flag emblazoned on the wing of each entry has little to do with the nationality of its crew, and the challenge of understanding who's who — and who's racing where — just got more complicated. Although Olympic medalist Ben Ainslie (who is expected to race with Oracle Team USA next summer in the big show) is still skippering J.P. Morgan BAR, several other key players have swapped allegances or been added: Twenty-one-year-old Kiwi Peter Burling will be at the helm of Team Korea, which did well in the last series with Australian Nathan Outteridge driving in August. He's now joined Artemis Racing Red — with the Bay Area's beloved homey Paul Cayard calling tactics. Spain's Iker Martinez is now helming Luna Rosa Swordfish.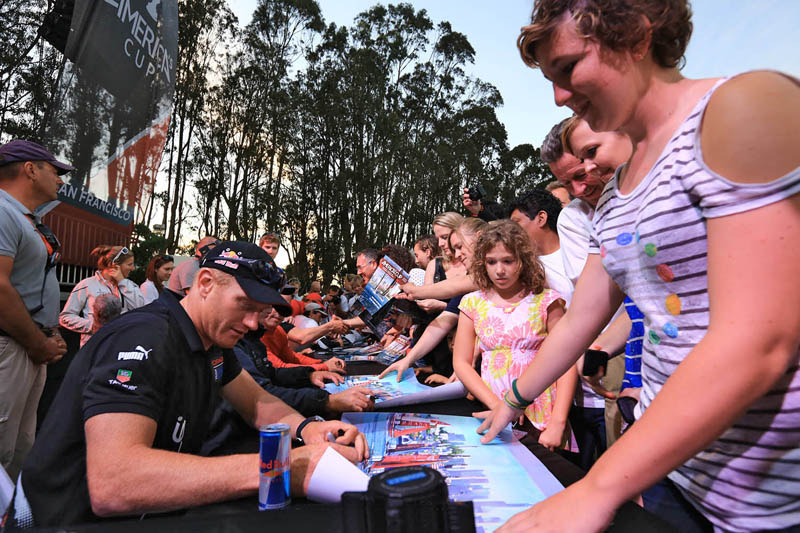 With the weather cooling, winds may increase as the series progresses, but regardless of wind speeds, it will be one heck of a show. You don't want to miss it! And although the AC races next summer aboard revolutionary AC72 cats promise to be phenomenal, there'll be nothing like the ferociously intense 11-boat fleet racing happening this week. Trust us, there's nothing like it.
If you're a first-time cruiser who is about to head to Mexico and/or the South Pacific, it's likely that you've purchased an HF radio with SSB and Ham capability. In fact, it probably will have been an Icom M802, widely considered to be the best and easest for mariners to use.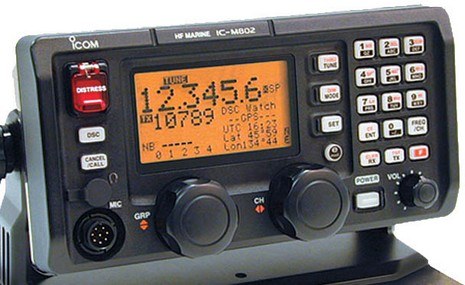 If you've tried to install or use your HF radio, you've no doubt come to the realization that it's a lot more difficult than installing or using a VHF radio, particularly if you don't have the frequencies pre-installed as channels. Then there is the matter of using a Pactor modem with which to use your radio to send and receive emails — and GRIB weather files — via SailMail or Winlink.
If you tried to find help along the West Coast, you may have discovered that marine radio techs with SailMail experience are anything but ubiquitous. In fact, when it comes to installation and instruction on such radios, San Diego's Shea Weston of Offshore Outfitters is one of the major players. A veteran cruiser and nice guy, Shea sells and installs the radios, modems and antennas.
To help this year's cruising fleet become comfortable with their SSB radios, Pactor modems, and SailMail, Shea and circumnavigator/electronic wizard Jim Corenman, formerly of San Francisco and the Schumacher 50 Heart of Gold, will be putting on a seminar just prior to the start of the Ha-Ha. You might consider Jim to be an expert on SailMail because he created and operates the system with the even more well-known electronics wizard Stan Honey.
Shea and Jim will be presenting their Intermediate and Advanced Email Seminar on October 18 from 8:30 a.m at the Pt. Loma Assembly Hall in San Diego, which is near Shelter Island. The cost is $50/person or $75/couple, cash or check at the door. Reservations via email are highly recommended.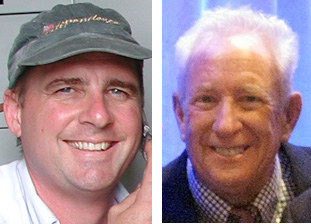 The following day Shea and Gordon 'Gordo' West, who has taught more West Coast sailors how to use Ham radio than anyone, will be presenting their Using Your SSB Seminar on Friday, October 19, at Downwind Marine in San Diego, a short distance from Shelter Island. It will run from 5:30 to 9:30 p.m., and is $25/person or $30/couple. Reservations are again recommended via email. The class will cover SSB radio operation and troubleshooting, with a focus on using Icom's iconic M802 SSB.
For those migrating down to San Diego for the HF radio seminars — and to join the 145-boat Ha-Ha fleet on October 28 — a stop at Oceanside and the Oceanside YC October 12 -14 might be in order. While it's not an official Ha-Ha event, the super hospitable folks at the Oceanside YC are putting on a Baja Bound Cruisers Rendezvous for all southbound sailors for the second year in a row. Included in the $95 fee are three nights of berthing at the yacht club, free dinner for the skipper and first mate on Saturday night, free rides to West Marine and Smart & Final, plus a Boarding Pass good for discounts at most harbor businesses, including hotels, restaurants and even the boatyard. There will also be seminars, including one on PFDs and offshore safety given by Harbor Patrolman Jonathan Hoover and Captain Les George, and another by Chuck Skewes of Ullman Sails, who will be talking about storm sails and reefing systems. Folks who attended last year said it was great fun.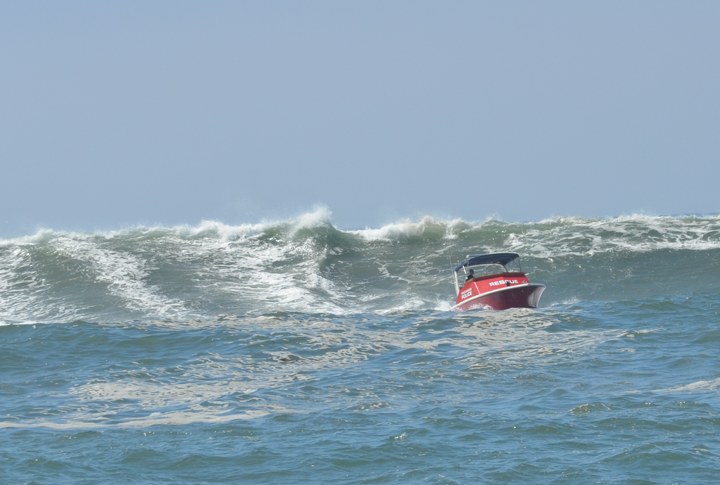 For more details, contact Oceanside YC's friendly port captain Dave Albert at at (760) 822-7403 or (760) 722-5751.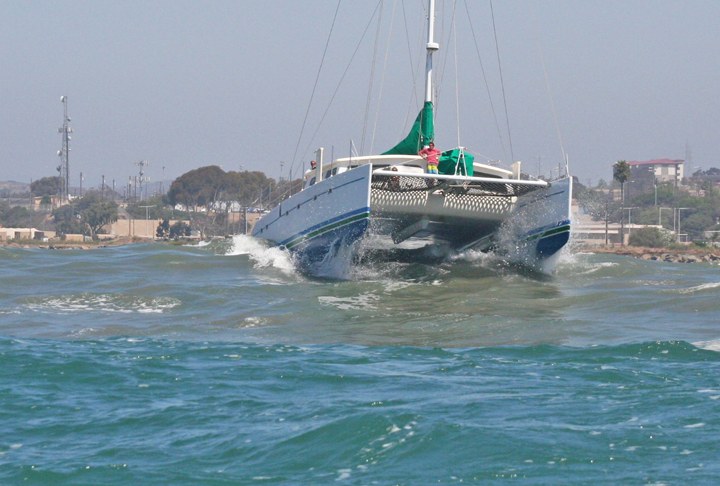 Which is stronger, 3/8-inch Spectra line or 1/2-inch stainless steel? We're not sure, but we've got some interesting data.
A couple of weeks ago we were anchored on Harbor Reef, all by our lonesome, banging away on the keyboard, when we noticed a 60-ft powerboat approaching bow-to-bow. This wasn't entirely shocking, as people often come close to say hello. But in this instance, the powerboat didn't stop, and before long there was the crunching of fiberglass and the severing of our 'forward traveller', which runs from bow to bow to adjust the location of the spinnaker tack.
(It turns out that the powerboat, having had normal work done on the engines, had suddenly run out of fuel after crossing from the mainland, and had drifted down on us, bow to bow.)
As we later looked at the damage, it was kind of interesting, because the 1/2-inch turnbuckle, which we use to tighten the 3/8-inch Spectra traveller line, had given way first, at least in the sense that it had bent. But before the stainless rod broke completely, the Spectra line snapped — and with a big bang.
Receive emails when 'Lectronic Latitude is updated.
SUBSCRIBE