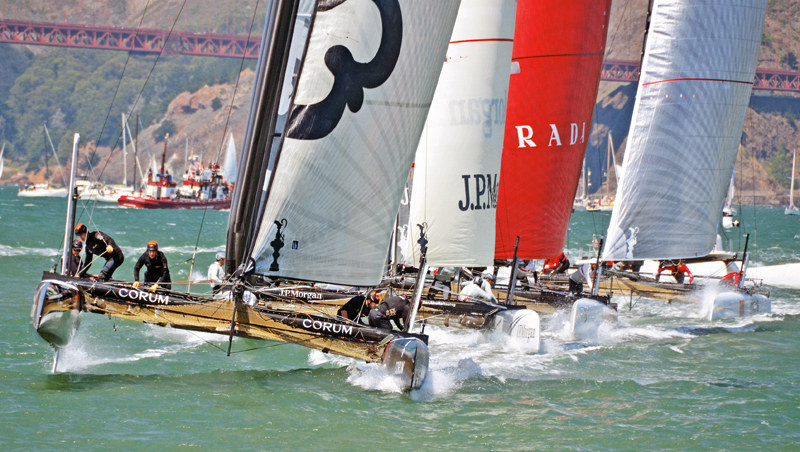 If you're a sailing fanatic, this week would be an ideal time to take a vacation from your workaday grind — or call in sick, starting tomorrow morning. That's when the second round of the America's Cup World Series will crank up on San Francisco Bay, accompanied by the region's annual Fleet Week celebrations beginning on Thursday.
If you missed the heart-pounding action of ACWS Season Two's round one in August, you owe it to yourself to spend as much time as possible soaking in the excitement of both fleet and match racing between the world's best sailors. And as promoters often point out, America's Cup racing has never before been staged at a more viewer-accessible venue than along the San Francisco Cityfront.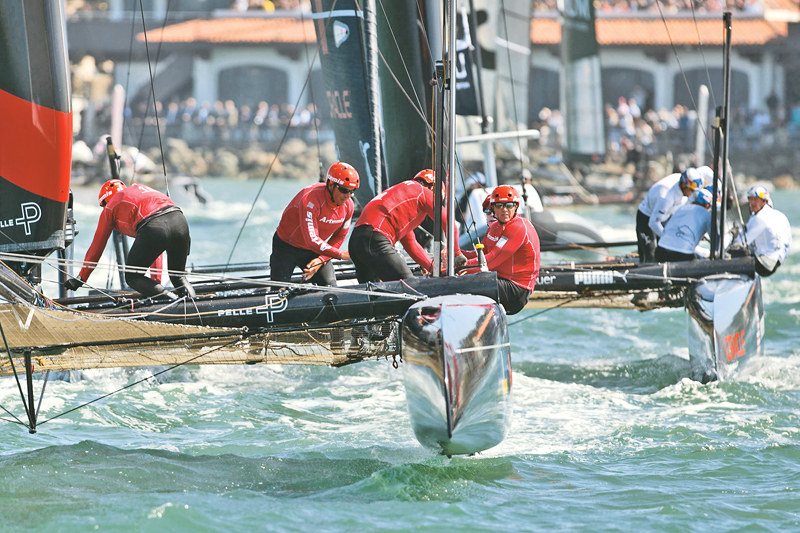 Via land, sea or TV? Having witnessed the August races from both the water and the shoreline — and watched live on the tube and Internet — we can tell you there are arguments for each option: Due to the constraints of the racing 'box' you'll be a lot closer to the action when watching from the specially erected bleachers on shore (midweek tickets still available), out on the spit adjacent to the sponsoring Golden Gate YC, or along the shoreline just west of the St. Francis YC (windward marks). But there is definitely something magical about watching from the deck of a spectator boat, semi-chaotic as that scene may be. As with watching an NFL game, the very best view of the action is probably watching at home on your TV (and, in this case also streaming live on the Internet). But there's no substitute for being there in person, where the excitement and exhilaration are palpable.
The AC45 action runs tomorrow (Tuesday) through Sunday. Needless to say, mid-week crowds will be much smaller in the must-see AC Village, where loudspeakers explain the subtle nuances of this lightning-fast, adrenalin-fueled sport, and huge video monitors show live action, augmented by state-of-the-art graphics of course boundaries, lay lines, wind angles and more. The video crews do a phenomenal job, not to mention the footage that's constantly streaming in from onboard pod cams.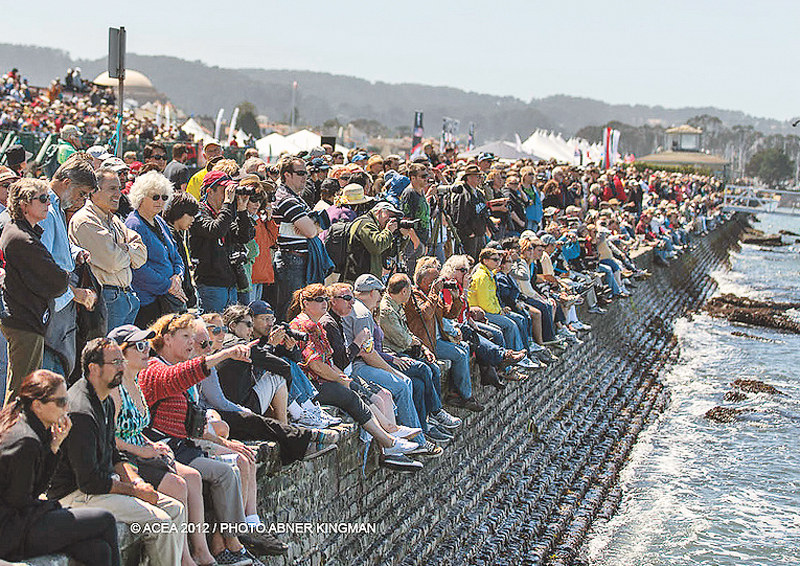 Practice racing begins tomorrow, 4:00-6:00 p.m., with a specatator-accessible skipper debriefing afterward. Match-racing qualifiers occupy the same time slot Wednesday. On Thursday, the U.S. Navy's Blue Angels will hold an afternoon practice session, bracketed by AC45 Match Race Quarterfinal beforehand (12:20-1:00 p.m.), and Fleet racing afterward, beginning at 5:10.
Air and sky activities will follow roughly the same schedule Friday and Saturday (along with many additional shoreside activities), but Sunday's schedule will vary, highlighted by the Super Sunday Fleet Race at 1:30 p.m. immediately followed by yet another Fleet Week Air Show. Yeah, it's complicated choreography, so be sure to study the online event schedule, and don't miss the TV broadcast schedule here. Be aware also, that all races — with the exception of the finals, which can be viewed live on NBC — will be viewable in real time via an Internet streaming broadband site.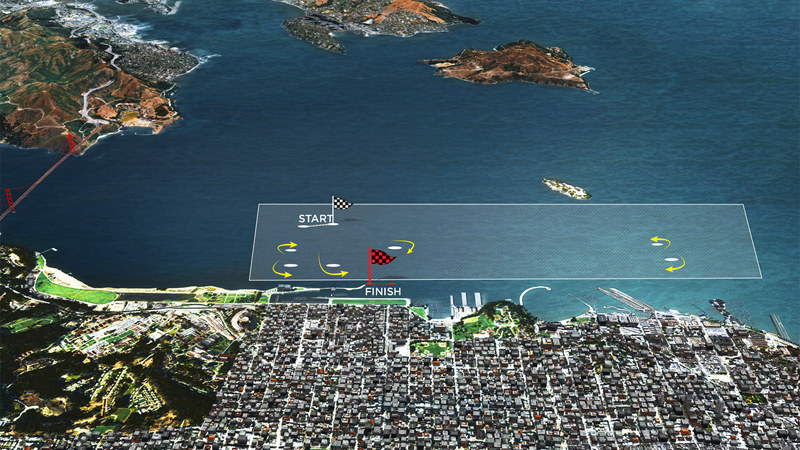 Fleet Week runs Wednesday, October 3 through Tuesday, October 9, when the ships depart. In addition to the Blue Angels' shows, activities include the arrival of the 847-ft USS Makin Island carrier, ship tours (age 8 minimum), and the Parade of Ships (eastward from the Golden Gate Bridge) at 11:00 a.m. Saturday.
As we said, it's going to be a very busy week. And if all this water-focused action wasn't enough excitement, the Hardly Strictly Bluegrass event (which draws 3/4 of a million spectators) will take place Friday to Sunday, the S.F. Giants will be in playoff games at AT&T Park both Saturday and Sunday, plus there'll be a Niners game Sunday, too. So if there was ever a time to take advantage of the Bay Area's public transportation network, this is it. See 511.org for a complete overview.
Receive emails when 'Lectronic Latitude is updated.
SUBSCRIBE