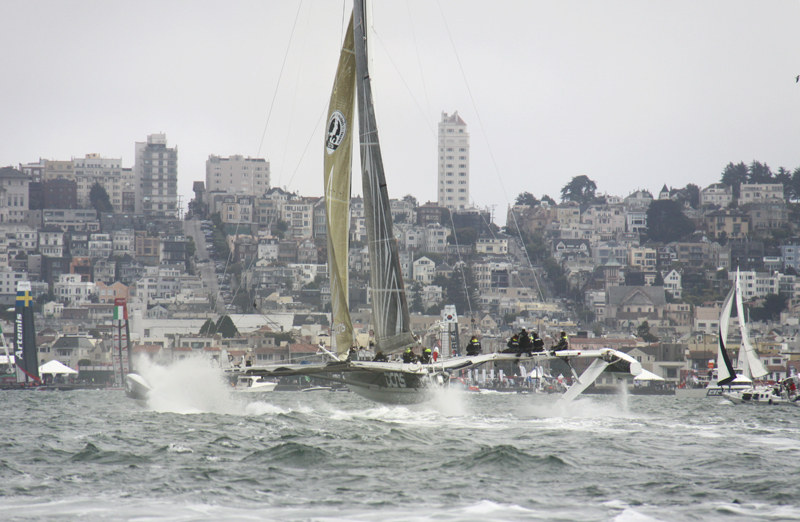 Thirty-three knots is the fastest we'd ever sailed on a boat — until yesterday. The old record was in the Bay aboard Frenchman Bruno Peyron's then 86-ft catamaran Commodore Explorer shortly after she'd established a Japan-to-San Francisco record. The new record is 35 knots aboard Frenchman Alain Thébault's magnificent 60-ft l'Hydroptère DCNS. The French have a passion for speed under sail. We surely would have gone much faster yesterday, but l'Hydroptère was limited by winds that topped out at about 20 knots. Unlike most boats, she thrives in 30 to 35 knots of wind. Indeed, that's what it was blowing when she hit her record speed of 64.8 mph. Yes, that's 64.8 mph. Had she been on a freeway, the CHP would have thought about pulling her over. For the record, she capsized almost immediately after setting the record.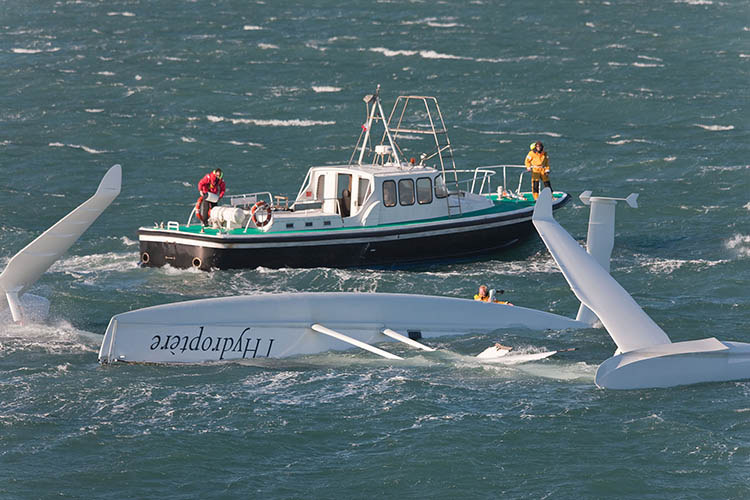 l'Hydroptère is unlike any sailboat boat we've ever seen. In fact, Thébault thinks of her as half boat, half airplane. At rest, she sort of looks like a trimaran, in that she has a main hull and two tiny amas. But these three hulls are only in the water at rest. Give her 12 to 15 knots of wind, and she's up on her foils — and accelerating like crazy. Raw power, raw speed! The thing that surprised us was how smooth she is at speed. Of course, it probably wasn't that nice when the crew sailed her from Long Beach to San Francisco last week in typical northwesterly winds. When sailing l'Hydroptère you must be out in the open, and the apparent wind quickly becomes ferocious. It's said the crew arrived cold. We bet.
We boarded l'Hydroptère near Yellow Bluff yesterday afternoon about 3:30, and were shown a wild time zipping back and forth across the Bay. Once the boat begins to pick up speed, she gets on her foils until the windward side is about 10 to 15 feet in the air. And she just keeps going straight and true. And she passes all other boats like they are standing still. It's stunning. Check out the terrific video Jeremy Leonard of Surf City Racing shot during our ride.
Thébault drove the boat using a wheel looking forward in a sitting position — almost as if he were driving a tractor. He says he dreamed of such a foiler since he was a little boy. He got started in '75 with one-third size models in conjunction with French sailing legend Eric Taberly. The evolution of l'Hydroptère has not been short or easy. There have been four catastrophic failures since the boat was launched in '94. But Thébault has kept plugging away. But even after all these years, the 50-year-old welcomes guests and drives the boat with a childlike enthusiasm and delight. It's a wonderful thing to see.
l'Hydroptère did not come to San Francisco Bay to steal thunder from the America's Cup World Series. She'd been brought to Los Angeles with an aim of establishing a new Los Angeles-to-Hawaii TransPac record. Less than four days, anyone? But the winds haven't been right, so she was brought to the Bay — until TransPac winds are right — to show her off. We're told she was a show stealer from the World Series yesterday afternoon. We don't know about that, because we were too busy hanging on for dear life and thrilling at a truly unique sailing craft.
l'Hydroptère is expected to be on the Bay sailing for the next several days. You can't miss her. She's the only one with all three hulls high out of the water.
Receive emails when 'Lectronic Latitude is updated.
SUBSCRIBE