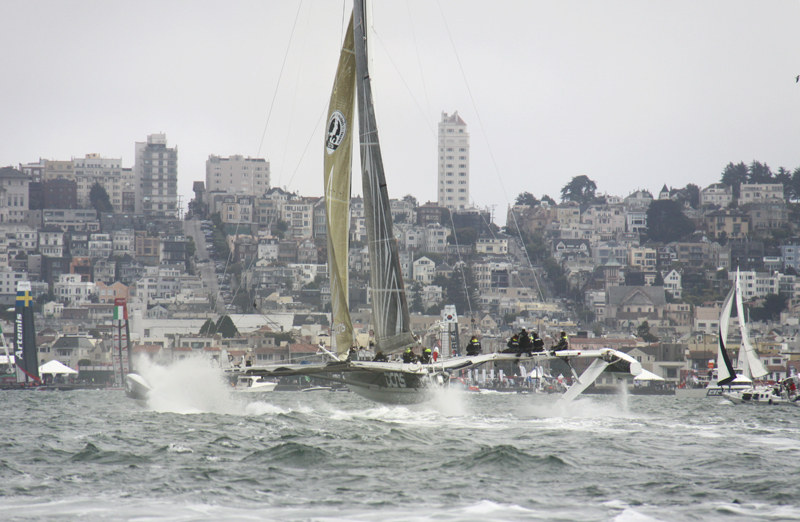 Thirty-three knots is the fastest we'd ever sailed on a boat — until yesterday. The old record was in the Bay aboard Frenchman Bruno Peyron's then 86-ft catamaran Commodore Explorer shortly after she'd established a Japan-to-San Francisco record. The new record is 35 knots aboard Frenchman Alain Thébault's magnificent 60-ft l'Hydroptère DCNS. The French have a passion for speed under sail. We surely would have gone much faster yesterday, but l'Hydroptère was limited by winds that topped out at about 20 knots. Unlike most boats, she thrives in 30 to 35 knots of wind. Indeed, that's what it was blowing when she hit her record speed of 64.8 mph. Yes, that's 64.8 mph. Had she been on a freeway, the CHP would have thought about pulling her over. For the record, she capsized almost immediately after setting the record.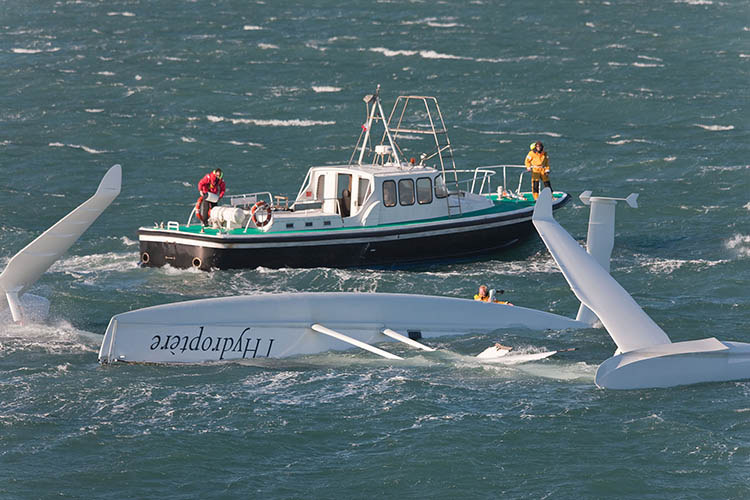 l'Hydroptère is unlike any sailboat boat we've ever seen. In fact, Thébault thinks of her as half boat, half airplane. At rest, she sort of looks like a trimaran, in that she has a main hull and two tiny amas. But these three hulls are only in the water at rest. Give her 12 to 15 knots of wind, and she's up on her foils — and accelerating like crazy. Raw power, raw speed! The thing that surprised us was how smooth she is at speed. Of course, it probably wasn't that nice when the crew sailed her from Long Beach to San Francisco last week in typical northwesterly winds. When sailing l'Hydroptère you must be out in the open, and the apparent wind quickly becomes ferocious. It's said the crew arrived cold. We bet.
We boarded l'Hydroptère near Yellow Bluff yesterday afternoon about 3:30, and were shown a wild time zipping back and forth across the Bay. Once the boat begins to pick up speed, she gets on her foils until the windward side is about 10 to 15 feet in the air. And she just keeps going straight and true. And she passes all other boats like they are standing still. It's stunning. Check out the terrific video Jeremy Leonard of Surf City Racing shot during our ride.
Thébault drove the boat using a wheel looking forward in a sitting position — almost as if he were driving a tractor. He says he dreamed of such a foiler since he was a little boy. He got started in '75 with one-third size models in conjunction with French sailing legend Eric Taberly. The evolution of l'Hydroptère has not been short or easy. There have been four catastrophic failures since the boat was launched in '94. But Thébault has kept plugging away. But even after all these years, the 50-year-old welcomes guests and drives the boat with a childlike enthusiasm and delight. It's a wonderful thing to see.
l'Hydroptère did not come to San Francisco Bay to steal thunder from the America's Cup World Series. She'd been brought to Los Angeles with an aim of establishing a new Los Angeles-to-Hawaii TransPac record. Less than four days, anyone? But the winds haven't been right, so she was brought to the Bay — until TransPac winds are right — to show her off. We're told she was a show stealer from the World Series yesterday afternoon. We don't know about that, because we were too busy hanging on for dear life and thrilling at a truly unique sailing craft.
l'Hydroptère is expected to be on the Bay sailing for the next several days. You can't miss her. She's the only one with all three hulls high out of the water.
"This racing is awesome. It's the best I've ever done in any boat." That's how Olympic medalitst Santiago Lange of Artemis Racing summed up yesterday's America's Cup World Series action off the San Francisco Cityfront. Competition continues today with match racing quarterfinals at 2:05 p.m. and 2:22 p.m., followed by fleet races at 2:50 and 3:25.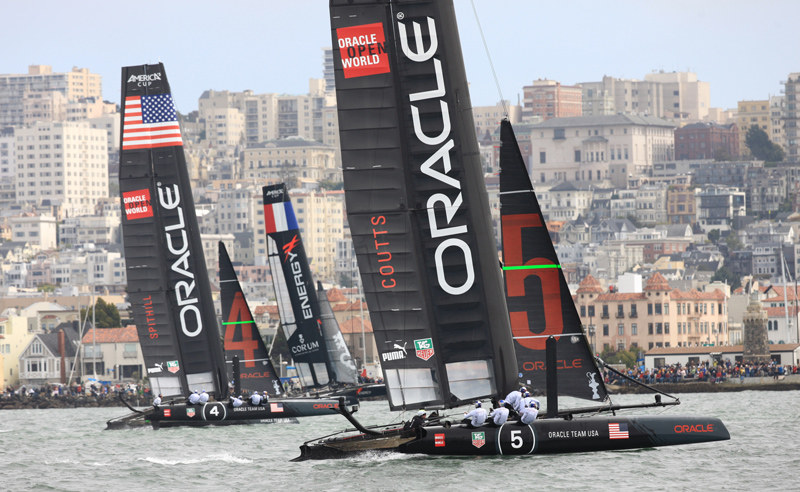 Much to the pleasure of hometown fans, the two S.F.-based Oracle Team USA boats placed first and second in the first race yesterday after Russell Coutts pulled off a phenomenal start. Team USA's Jimmy Spitthill won the second race, with Coutts' sixth place finish strong enough to put both S.F. boats at the top of the fleet race rankings, followed by the two Artemis cats. See the Series' website for a full recap.
Three cheers for the folks who put together the America's Cup World Series — which lasts through Sunday — because they've created a great viewer experience. The sailing is up close and personal from the Golden Gate YC to Fort Mason, and it's been exciting, particularly in the fleet races, where boat bumping hasn't been unusual. The only downside is that the wind hasn't really blown over 20 knots yet. But that may change today, as the forecast is for up to 25 this afternoon.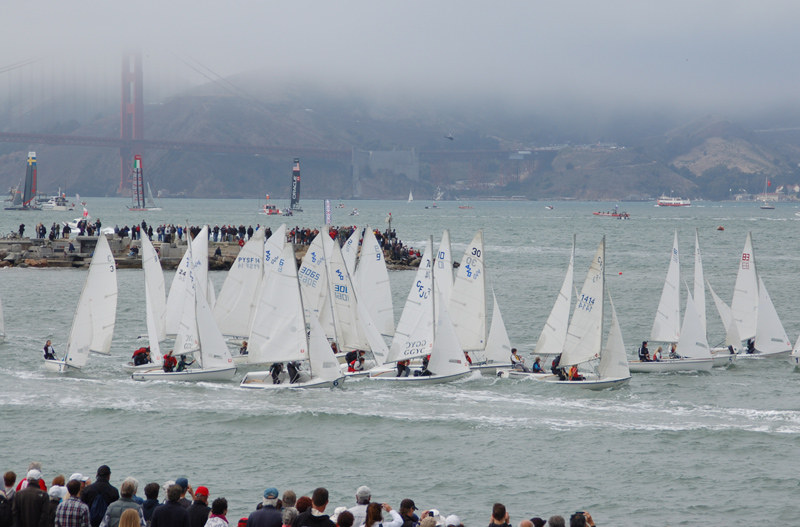 Viewer central is right there on the Marina Green, where they have live — and often humorous — commentary, all the AC45s moored right out front, an AC45 on dry land for your inspection, all kinds of things to see and do, and when the racing is over the competitors are brought right through the crowd to the stage area. It's all been really nicely set up and managed.
There are food and beverage concessions, which were able to handle the crowd on Wednesday and Thursday. The only store overwhelmed was the logowear store. But we've got an idea all concessions will be taxed to the maximum during the weekend.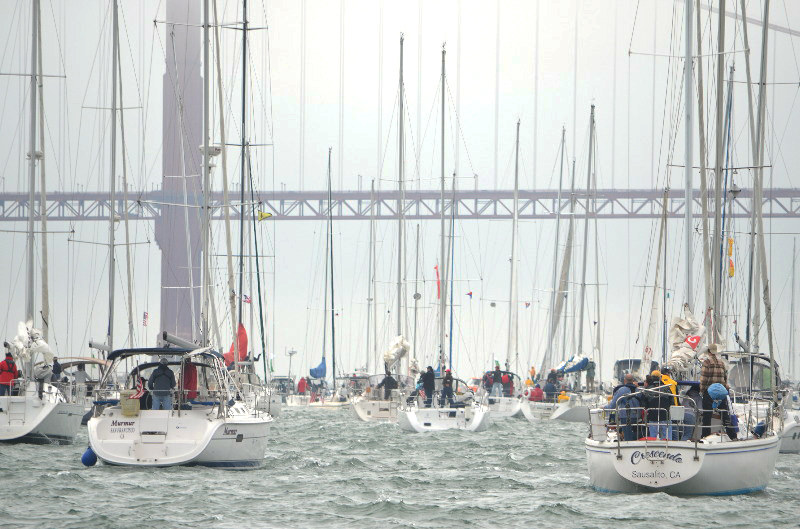 There was a good crowd on Wednesday, a much bigger crowd yesterday, and we can only expect they are going to be much, much bigger crowds today, tomorrow and Sunday. That being the case, some might think that watching from their boats is the way to go. Maybe, but we've had reports that it's hard to get a front row position, and you've constantly got to monitor all the other boats around you. We think viewing from land — and being part of the crowd — is going to be the most fun, particularly on Saturday and Sunday. But parking and getting to Marina Green are going to take some effort. (Check out 511.org for San Francisco's transportation options.)
Bottom line? You really don't want to miss this, as it's great sailing fun. And if you go once, we think you'll be going for a second or third day. Hope to see you there!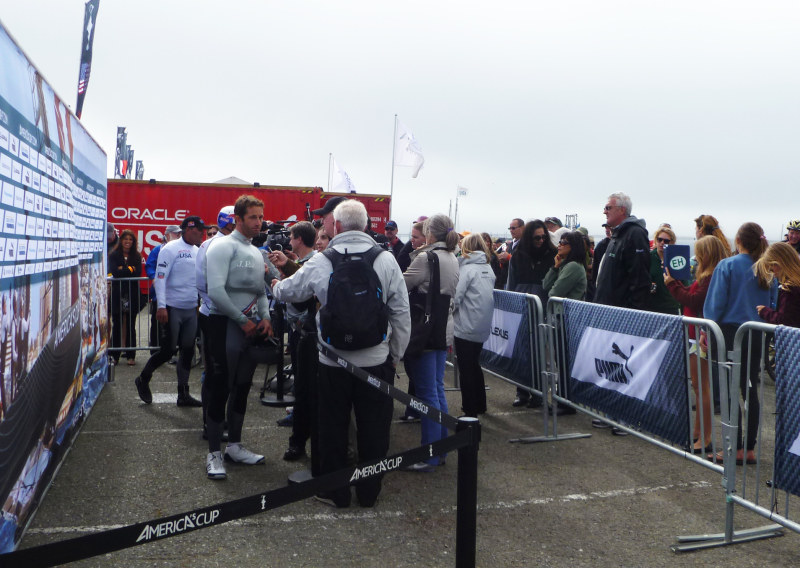 Today and Saturday racing starts at 2 p.m.; Sunday at 11:30 a.m. All will be broadcast live around the world on the America's Cup YouTube channel. In the Bay Area, TV coverage Friday and Saturday can be seen on NBC Bay Area 11.2 and on Comcast Sportsnet California. The Super Sunday finale will be broadcast live, coast to coast, on NBC from 11:30 am PDT.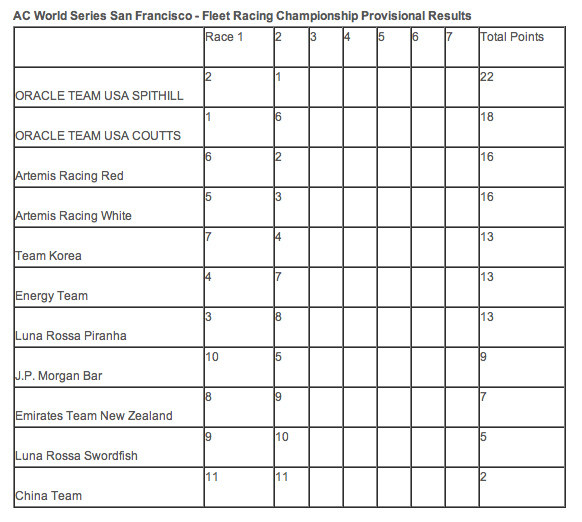 If you missed Liz Clark at the California Academy of Sciences last night, the young woman with the Santa Barbara Cal 40 Swell who has been singlehanding around Central America and French Polynesia for the last bunch of years, and who has been a frequent contributor Latitude, will be presenting her Voyage to the Source show at the San Francisco Patagonia Store at 770 North Point at 7:30 p.m. tonight. She free show is all about the year she just spent in the Tuamotus and Marquesas, living as close to nature as possible. We say check it out!
Receive emails when 'Lectronic Latitude is updated.
SUBSCRIBE