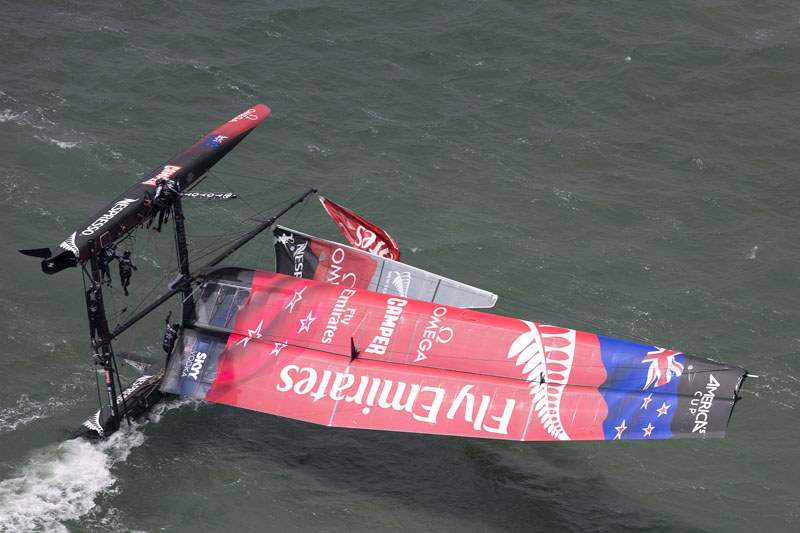 If you're ever going to play hookey from work or school in order to follow your passion for sailing, this is the week to do it — assuming, of course, that you're here in the San Francisco Bay Area. Light winds this morning are expected to kick up into the 20- to 25-knot range by the time the America's Cup World Series match racing qualifier schedule begins at 2:05 p.m. today off the Cityfront (through 3:30 p.m.).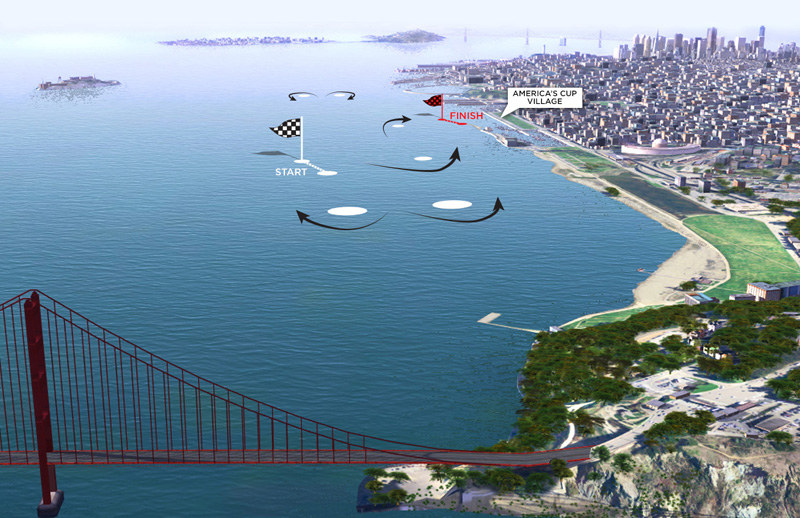 Where's the best place to watch the action? There are many options, including viewing from your own boat outside the perimeter of the racing box; booking a spot on a day charter boat; and watching from the inshore side of the course, anywhere from Crissy Field to the Aquatic Park breakwater/pier. (We're told bleacher tickets are still available for today and tomorrow, but not after.) The heart of spectator excitement will be in the ACWS Village, at the east end of the Marina Green, where you can take in the blow-by-blow action on a huge video screen and hear live commentary (also available on VHF 20). If you love those superimposed first down lines on football broadcasts, you'll be thrilled to see the cutting-edge graphical enhancements developed for the AC by the Bay Area's Stan Honey and others. See Friday's report for complete TV and streaming Internet video notes.
Yesterday Latitude staffers were both out on the water — where we witnessed Emirates Team New Zealand and China Team boats capsize — and in the village, where we and the rest of the crowd were introduced to all eleven skippers.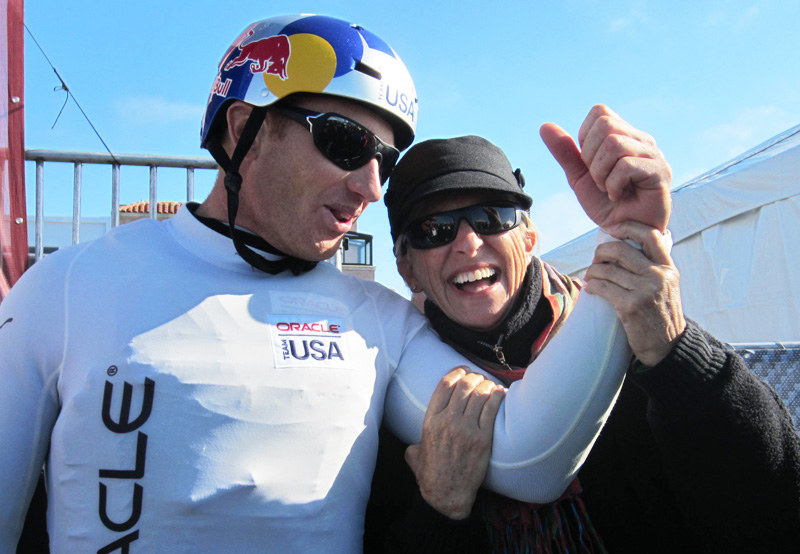 AC organizers have gone to great lengths to make these contests accessible and exciting for the general (non-sailing) public, as well as to hardcore sailing addicts — with the ultimate goal of making next summer's America's Cup events ready for prime time, in terms of broad-based audience enthusiasm. And as we've noted before, San Francisco is being touted by organizers as the most audience-accessible AC venue ever.
The Bay's typical conditions should provide a greater challenge than almost anywhere else, as noted in many skipper comments yesterday morning: "There couldn't be a better place to be sailing than San Francisco Bay," said Phil Robertson of China Team. "The wind is fantastic and the boats are extremely exciting to sail in that much pressure; they're a handful." Ben Ainslie of J.P. Morgan BAR added: "It'll be slightly chaotic on the start line in 20 knots with 11 boats; I'm sure we're going to see an amazing spectacle." "We've never sailed so much in such strong wind," said Max Sirena of Luna Rossa Swordfish. "It's going to be tough because the AC45 is a really powerful boat and with the wing you can't depower it that much."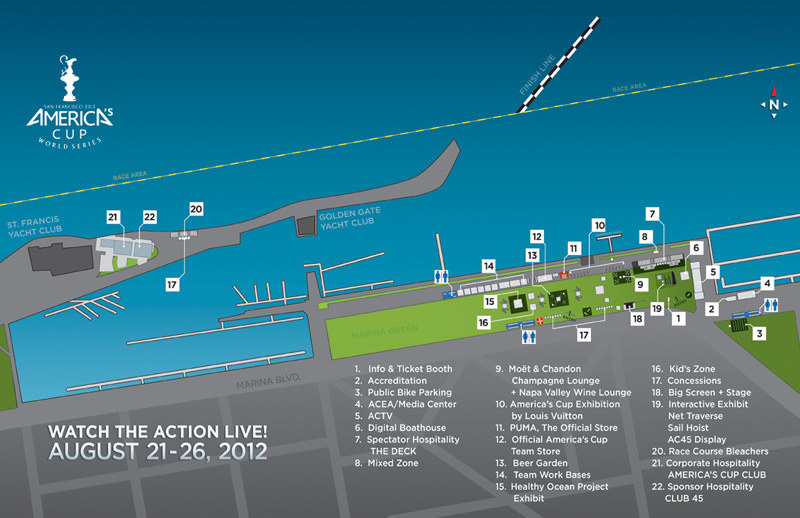 Racing continues Thursday with two pairs of the match racing quarterfinals and the first two fleet races. That's also America's Cup World Series Youth Day, a special effort by PG&E and the local sailing industry organization SailSFBay to promote and expand youth sailing. Free of charge and open to all, its activites run from 10 a.m. to 6 p.m. tomorrow on the Marina Green. From 2:30-3 p.m. there'll be a high school sailing demo with students sailing up to 20 FJs and 420s.
View the racing lineup at ACWS San Francisco Regatta Format and additional event information at the ACWS San Francisco event page.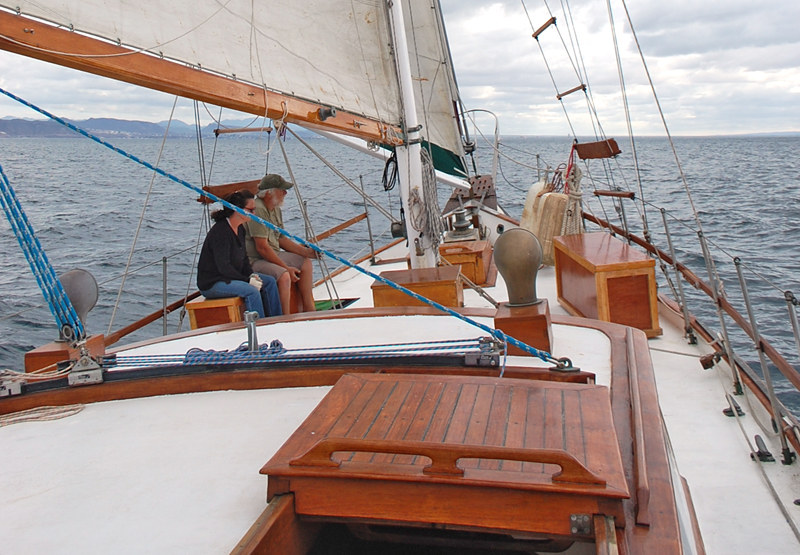 Mike and Shannon Scott of Florida report that their Formosa 51 ketch Halcyon, which had been left on a mooring in Zihua Bay for hurricane season, went up on a reef last week and has been badly damaged. The couple purchased the boat in La Paz about 18 months ago, and had spent a lot of time preparing her for the trip through the Panama Canal and to the East Coast.
According a Facebook page report by Shannon, the couple arrived in Zihua in May, with their money and visas running out, but with the boat needing to be hauled and have the motor mounts and shaft replaced before they could continue on. Knowing it would be risky, but feeling they had no choice, the couple decided to leave Halcyon on a mooring while they returned to the States to work until January. They purchased a mooring from an individual known to have made a lot of moorings, but unfortunately didn't get to see it before it was put into use. They also hired somebody to watch over their boat.
For reasons unknown, Halcyon broke loose of her mooring last week, drifted onto a reef, and took a pounding. A hole in the hull the size of fist was the least of the damage, as there was also a length-wise crack in the integral keel, and so much water had gotten into the boat that it covered the engine.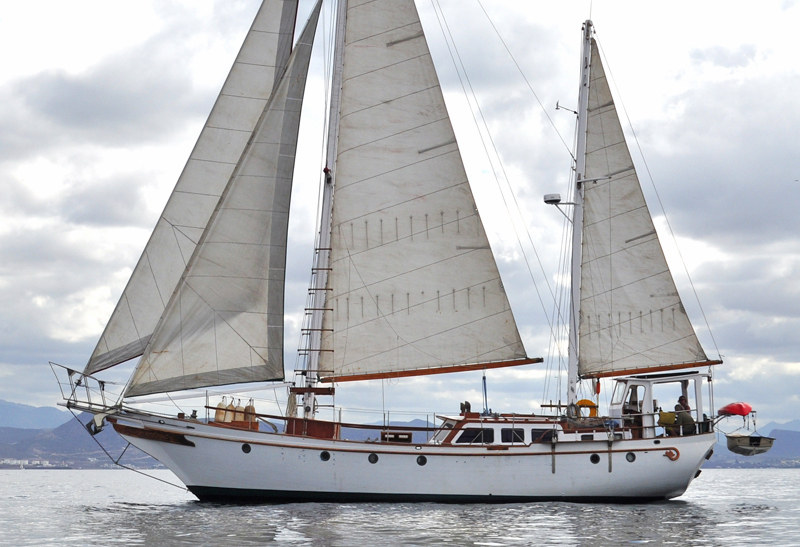 When Michael arrived in Zihua on Friday, he was inundated by a number of people who demanded $2,000 to $3,000 for the work they had done to save the boat. Michael was also told it would cost $6,000 to have the boat, which had already been pulled off the reef, towed to the yard at Ixtapa.
Shannon says that they were unsure if Michael might be held in Mexico until claims against the boat were satisfied, so they consulted a lawyer in La Paz. The lawyer's recommendation was for Michael to leave Mexico immediately — which he has — and to deal with the situation from a distance.
If you haven't been out catching the practice sessions for the AC Worlds this week, you may have missed more than just the AC45s flitting — and flipping — around San Francisco Bay. The 60-ft French foiling tri l'Hydroptere DCNS sailed under the Golden Gate Bridge in the wee hours of Wednesday morning to spend a little time in a place where they might actually find some wind. Skipper Alain Thébault and his crew have been frustrated by a lack of the blowy stuff in L.A. as they wait for a weather window to make their attempt on the L.A.-to-Honolulu TransPac record.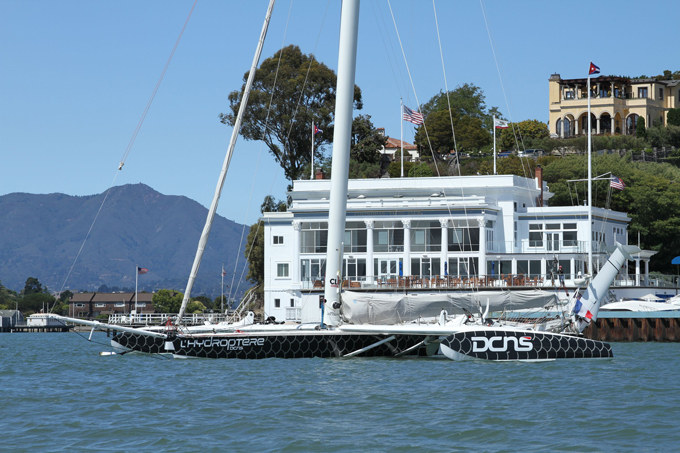 "Deprived of wind so far in our bid to take off for Hawaii, we needed to trial the boat during a delivery spanning several days and it was the perfect moment to head up to San Francisco," said Thébault. "You can picture yourself flying under Golden Gate Bridge and it's a bit of a childhood dream come true here. As we await the awaking of the wind god on the route to Hawaii, we'll endeavor to create some very fine images here."
Jacques Vincent, the boat's co-skipper, reported that the delivery north was a typical summer bash. "We left Long Beach under in very sunny conditions and almost no wind. When we entered North California, the weather changed radically with up to 30 knots of wind and tough sea conditions, we were battling upwind for two days, the boat proved again its seaworthiness." The crew spent the time testing everything onboard, including the complex technical systems, in preparation for their record assault.
During her stay on the Bay, l'Hydroptere will be hosted by Corinthian YC, but don't expect this miracle of modern technology to hang around too long. As Vincent pointed out, "at the slightest hint of a favorable weather window to Honolulu, we'll drop back down to position ourselves at Long Beach."
Receive emails when 'Lectronic Latitude is updated.
SUBSCRIBE