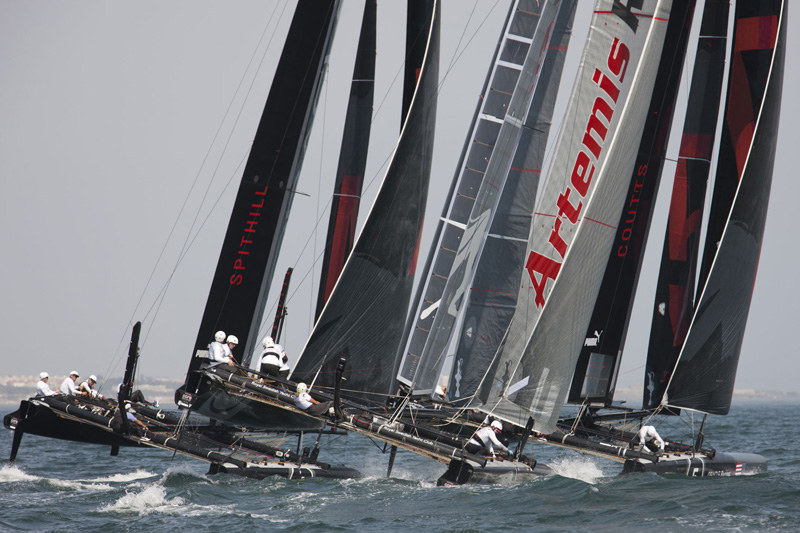 Sometimes America's Cup details change as swiftly as one of their cats screaming across the Slot. Since our August issue, there have been some schedule changes. That's good. Think TV coverage. We hereby offer the latest details for viewing the America's Cup World Series, August 21-26. Full information at www.americascup.com. (NOTE: This is updated from today's original post.)
Schedule changes
As originally posted, there's a full afternoon of practice racing on Tuesday, but it is longer, and a tighter afternoon of match racing qualifiers on Wednesday. The AC Village closes 6 p.m. each day.
Now each day Wednesday through Saturday, the morning show starts 11 a.m., "dock-out" show at noon, and racing starts at 2:05 p.m.
Starting Thursday, there is match racing every day, followed by two fleet races (one on Sunday).
Match racing finals have been moved to Sunday, to precede the championship fleet race and overlap the national broadcast window. The pro-am regatta has been cancelled.
We're also proud to help youth sailing get some TV attention Thursday. Through SailSFBay.org, we'll have high school sailors doing laps off Marina Green between the match and fleet racing.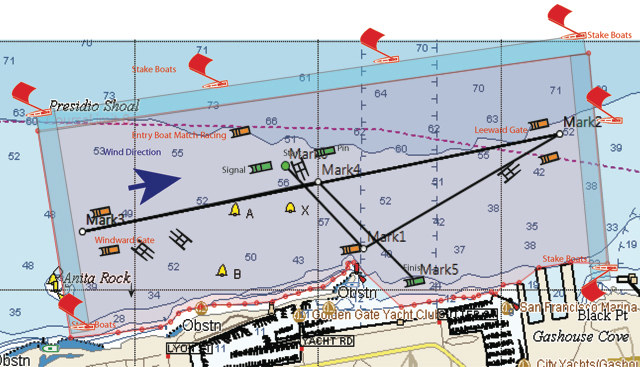 Final, final schedule for August 21-26
• Tuesday, August 21 — Morning show 11 a.m. Full practice race 1-4 p.m. Opening ceremony and chance to meet the teams 4:30-6:30 p.m.
• Wednesday, August 22 — Morning show 11 a.m., focus on AC History. Match racing qualifiers 2:05-3:34 p.m. Dock-in show 4 p.m.
• Thursday-Saturday, August 23-25 — Morning show 11 a.m. (Thursday youth sailing, Friday healthy oceans, Saturday special guest). Match racing quarterfinals 2:05-2:22 p.m. Fleet races 2:50-3:25 p.m. Dock-in show 4 p.m. (5 p.m. on Saturday during Dr. Dog concert.) Also on Saturday, there's a 12:45 p.m. "fly-by" of AT&T Park, and Oracle Team USA skipper Jimmy Spithill will throw the SF Giants opening pitch.
• Super Sunday, August 26 — Dock-out show 11 a.m. Pre-recorded broadcast of match racing 11:30 a.m. to 12:15 p.m. Match racing finals 11:45 a.m. Championship fleet race for series points 12:15-12:45 p.m. Series prize giving at 3 p.m.
Viewing
• The USCG regulated racing area is bigger than the boundaries for the actual course in use. The larger area gives race management some flexibility when setting marks. Buffer zones allow space for rescue and medic boats.
• Eight to 16 large sailboats (40-ft or greater) flying 20-ft by 10-ft bright red America's Cup forestay banners will be stake boats, forming the perimeter of the actual course area in use. Spectators are allowed around the perimeter, but do not stray inside the course area!
• The regulated area will be enforced each day from one hour prior to racing (as early as noon on Tuesday, 1 p.m. Wednesday-Saturday, as early as 10:45 a.m. Sunday) to the end of racing. Contact the USCG Patrol Commander on VHF Ch. 23 for permission to enter the course area.
• Follow the directions of smaller Zodiac-style boats flying A-Cup marshal flags and, of course, any Coast Guard or law enforcement vessels. Move swiftly if they say to do so. Those cats go fast.
• Spectator boats will find space between Anita Rock and the Golden Gate South Tower, in deeper water north of the stake boats, and off Hyde Street Pier east of the finish line.
• Shoreside, view races from Crissy Field (windward mark), the Marina Green (leeward and finish), and elsewhere along the waterfront. All the bleacher ticketed options are sold out. Passes to the swanky America's Cup Club for Thursday-Sunday are still available at $1500 per person (two days), $3,000 (four days) or for the truly generous, $26,000 for 10 friends for all four days
• Official live on-the-water commentary is accessible via VHF Ch. 20.
• Most racing will be live streamed and archived via www.americascup.com or directly from www.youtube.com/americascup.
• Comcast Sportsnet will air selected races:
August 23: 2–4 p.m. (live); 9–11 p.m. (taped)
August 24: 2–4 p.m. (live); 9–11 p.m. (taped)
August 25: 2–4 p.m. (live); 9:30–11:30 p.m. (taped)
August 26: 11:30 a.m.–1 p.m. (live); 6:30–8 p.m. (taped)
NBC nat'l pre-recorded broadcast Aug. 26, 11:30 a.m. to 1 p.m.
• Don't miss the ability to livestream user-controllable 3D animations of racing from Virtual Eye via americascup.com.
• If you see any porpoise, dolphin or whales while you are out, email Golden Gate Cetacean Research biologist Isidore Szczepaniak.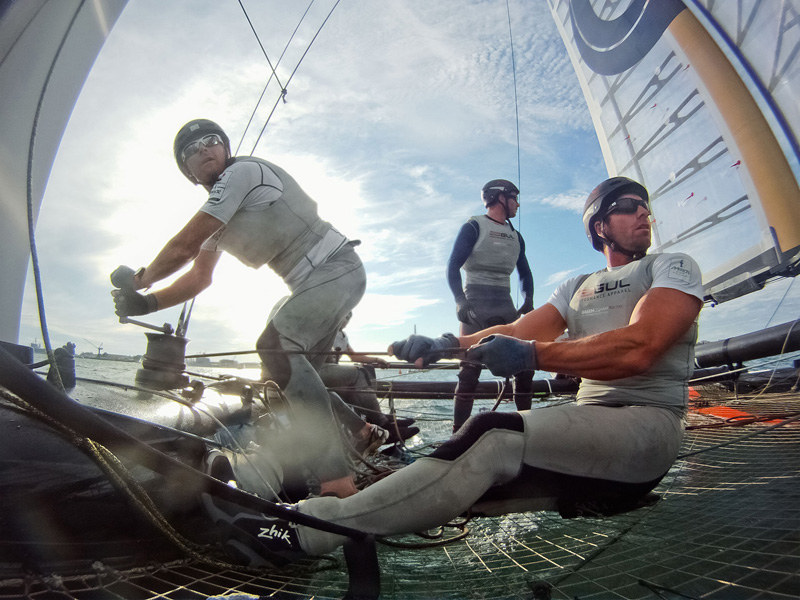 Normally, post-ocean-race repositioning trips are a lot less dramatic than the race itself. But not always. Last Sunday, following Friday's Kauai Channel Race (from Oahu's Kaneohe Yacht Club to Nawiliwili, Kauai), Mark Denzer's Sonoma 30 Cowabunga sank while her crew was delivering her home upwind.
Thanks to a textbook response from Coast Guard resources in both Oahu and Kauai, all seven crewmembers aboard were picked up out of the water without injury, including Denzer's son Zack. All were wearing lifejackets. The owner himself was not aboard.
We have not been able to reach Denzer for details, but according to Hawaiian newspaper reports the sloop began taking on water at about 12:40 a.m. After receiving an EPIRB signal from the sinking vessel, the Coast Guard dispatched a helicopter from Oahu, whose rescue swimmer assisted four of the crews to safety aloft at approximately 1:50 a.m. The three remaining crew waited in a CG-supplied liferaft with the rescue swimmer for less than an hour before a 47-ft motor lifeboat, out of Kauai arrived to retrieve them.
Designed by the late Carl Schumacher, Sonoma 30s were built in Petaluma (Sonoma County) many years ago, hence the name. Sources tell us this is the same boat that lost its rudder in the very windy 2005 Lahaina Return and is a veteran of many ocean races.
Laura Dekker, the Dutch 16-year-old who became the world's youngest solo circumnavigator (with stops) in January, has spent the last several months enjoying the the lush life in the South Pacific aboard her Jeanneau Gin Fizz Guppy, and is now bound for her birth country of New Zealand. Dekker and a crewmember left Tahiti on Sunday on a direct route to Whangarei.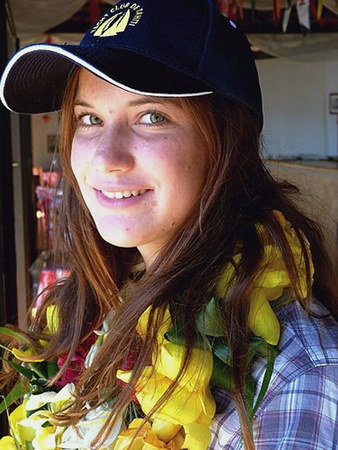 Dekker was born in Whangarei during her parents' seven-year cruise, and now disenchanted with the treatment she received by The Netherland's government prior to her departure, she plans to make the port her new home. But it appears leaving the fabled isles was a little more difficult for her than she'd anticipated. "It feels kind of strange now to leave these Pacific islands that I've come to know so well and try to settle in the place where I was born," she wrote in her blog. "It's a place I know in my heart but just haven't really seen with the eyes I'm looking with now. After these years sailing all over the world, I'm on my final trip to New Zealand. It's strange but I'm also really looking forward to it."
Receive emails when 'Lectronic Latitude is updated.
SUBSCRIBE