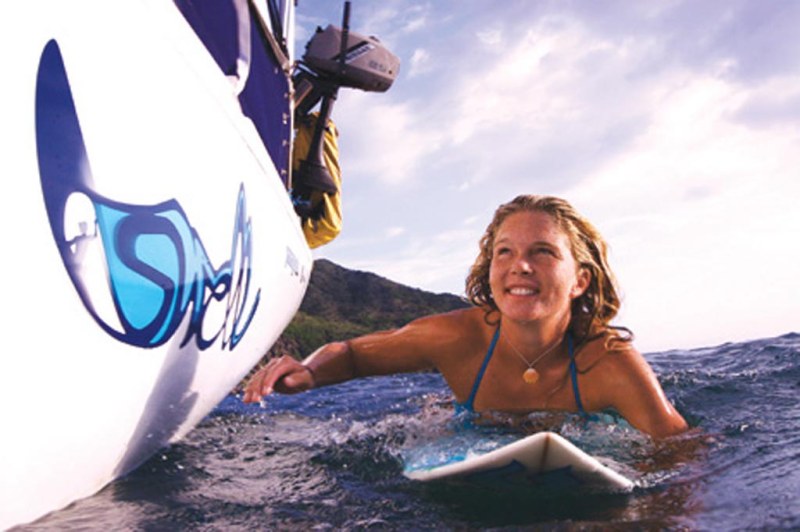 Liz Clark, who took off cruising, mostly singlehanded, aboard her Santa Barbara-based Cal 40 Swell at a young age, will be making two appearances in San Francisco later this month. The surfer/sailor/naturalist has been a frequent contributor to Latitude over the years.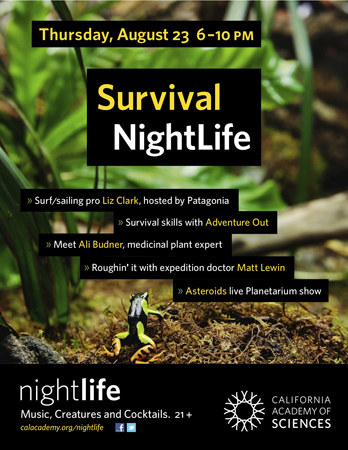 She'll be at the California Academy of Sciences NightLife event on August 23, where she'll be talking for about 20 minutes and giving demonstrations, along with others, on the theme of 'Survival'. As in surviving if you get stranded on a tropical island. "It looks as if it will be a fun time, with live music and cocktails, too!"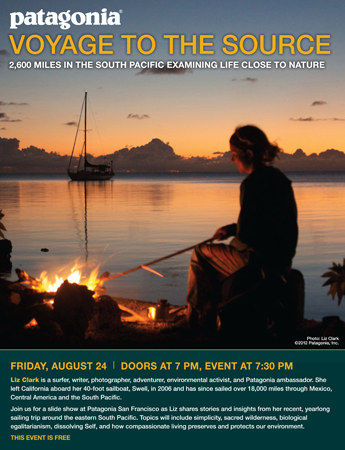 The following night Liz will be speaking for about 50 minutes at the Patagonia store at 770 North Point in San Francisco. At the free event, she'll be talking about what she's been up to for the last couple of years, which has mainly been getting into an ever-more natural and simple way of life. We recommend you check it out!
Every event can benefit from a theme, so we're giving next month's SoCal Ta-Ta — the week-long Southern California version of the Baja Ha-Ha from Santa Barbara to Two Harbors — a 'Reggae on the Ocean' theme. What's the connection? We can think of three. First, boats are sort of islands, as is Jamaica, the home of reggae. Second, we love reggae music, and reggae is the soundtrack of the Rastafari movement, certain parts of which strike a chord with us. Specifically, a love of all things natural, plus an emphasis on depending on one's self rather than government. But third and most importantly, having a 'Reggae on the Ocean' theme will give all participants an excuse to talk in silly white-boy rasta-ese (instead of that tired old pirate crap), wear mock dreadlocks wigs and other crazy outfits, and dine on rasta pasta. No, no, no, not that kind of rasta pasta!
Anyway, here's the update on what's going on for the September 9-16 event:
Sunday, September 9 — The mandatory Skipper's Meeting — and swag hand-out and opening Reggae Party — will be downstairs in our own private room at the Harbor Restaurant on Stearn's Wharf on Sunday afternoon. We decided that this was a better way to go for the opening bit than an outdoor potluck. The restaurant is a nice walk from the marina, and the late afternoon view is killer. Anchor-outs can also tie up to the base of the wharf.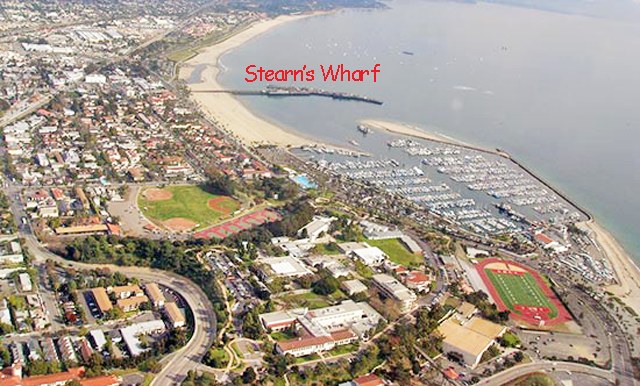 We want to remind everyone that berths in Santa Barbara are going to be on a first-come, first-served basis, and that you sign up with the Harbormaster's Office in Santa Barbara when you get there, not with the Ta-Ta. As we've cautioned, there may not be room for everyone, so some boats might have to anchor out. By the way, Santa Barbara is a spectacular town with much to see, so coming a few days early is not a bad idea.

Monday, September 10 — The fleet sails out to Santa Cruz Island starting at noon, which is when the wind usually comes up. It's typically a nice 20+-mile reach to the east end of the island, where, given the normal weather, we expect to be anchoring. There will be sundowners on Profligate for one-third of the fleet's skippers and first mates.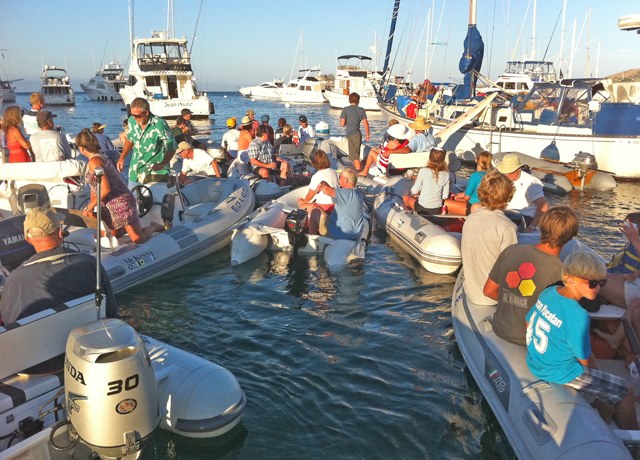 Tuesday, September 11 — This is enjoy Santa Cruz Island day! You can do it diving, surfing, hiking, or just hanging on your boat with new friends. A couple of cautions. If there is a swell running, beach landings on Santa Cruz Island can be very dangerous. The decision to attempt to take a dinghy ashore is the responsibility of each person. By the way, it's illegal to bring dogs ashore at Santa Cruz Island. Long about sundown, we hope to have a dinghy parade and reggae sing-a-long through the fleet. Jah! In the evening there will be a second sundowner event for another third of the skippers and first mates.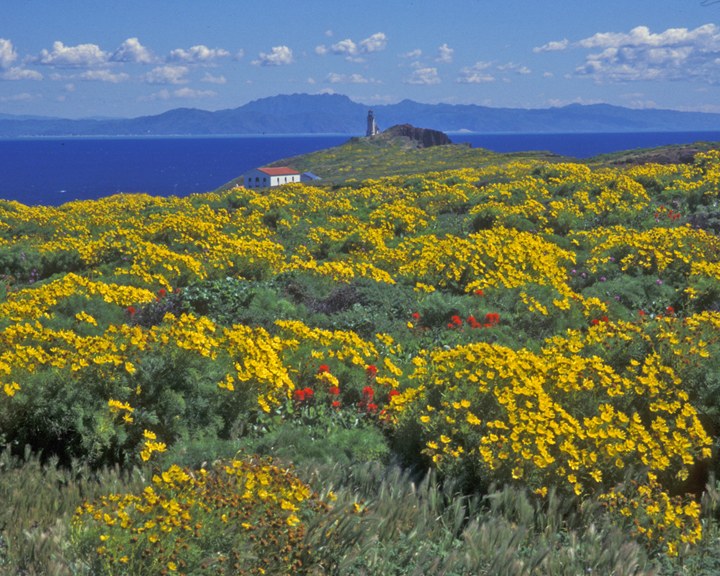 Wednesday, September 12 — Starting at about 11 a.m., we'll have a staggered start for 38-mile distant Paradise Cove. Generally this leg offers fabulous downwind sailing. Unless there is no surf at all, we'll recommend that people not try to take dinghies ashore. There's nothing ashore anyway. For sundowners we'll have the final third of the skippers and mates aboard Profligate.

Thursday, September 13 — Starting about 11 a.m., we'll sail the third leg of the Ta-Ta which, as the crow flies, will be 20+ miles to Redondo Beach's King Harbor. For Profligate and other large boats, there will be an option for a slightly longer course, which is to continue into Santa Monica Bay to Malibu, and scare a few surfers before gybing to the rhumbline for King Harbor. It's a few more miles, but it provides a hotter angle toward the finish.As much as the great folks at the King Harbor YC would love to offer docking for the Ta-Ta fleet, it's the last night of their beer can series, so that's not possible. They will, however, be providing dinghy space for our fleet, as well as offering a spaghetti feed and beverage service in their downstairs picnic area. Rasta!


King Harbor as seen from the air. The Ta-Ta fleet has permission to anchor up to 50 boats inside the outer breakwater. It may be possible to get a berth at one of the local marinas. The King Harbor YC is at the extreme left, and had graciously offered dinghy raft-up space and will be offering a dinner and beverages at their outdoor patio.

© Webb Logg

So what are the berthing options? We on Profligate will be anchoring out — it's calm behind the breakwater, but local regulations require a stern anchor, too. And to keep things compact, we expect to be the center boat in a fairly large raft-up. Participants can also see if there are any berths open at the following King Harbor/Redondo Beach marinas: King Harbor Marina (310) 376-6926, Port Royal Marina (310) 376-0431, Portofino Marina (310) 372-1202 or Redondo Beach Marina (310) 374-3481. But please, do not call the great folks at the yacht club and ask for a berthing reservation.

If you have a dog, you can bring him/her ashore, but dogs are not allowed to stay on the club grounds. Please respect the host's rules. By this time some folks on smaller boats may have run short on provisions. Fortunately, there are several stores within walking distance.


Friday, September 14 — Having had enough of civilization again, at 11 a.m., the fleet will set sail across the Catalina Channel to 23-mile distant Two Harbors, the less-is-more settlement that is the polar opposite of Avalon. While we can't guarantee it, we expect that all boats will be able to get a mooring. Anchoring right off Two Harbors is possible — assuming you have a lot of chain, because it's about 100 feet deep. Anchoring at Cat Harbor on the backside of the island is easy and free.The Ta-Ta has reserved the main bandstand at Two Harbors for a big potluck. Remember the 'Potluck Rules': Always bring more food than you're going to eat, and bring your own dining weapons, plates, napkins, wine and so forth. We'll have reggae music and hopefully a bunch of photos from the fleet in constant rotation on the big screen to a reggae soundtrack. A campfire on the beach, too. And as always, there will be dancing on the bar patio later on.

Saturday, September 15 — This is Two Harbor's Day. This is a great place for hiking, with trails as challenging as you want. Two Harbors also has a bar and restaurant. Plus, it just happens that it will also be the annual Beer Fest Weekend. It's free Ta-Ta time until 5 p.m., at which time the Ta-Ta Potluck II will begin at the grandstand. More socializing, more reggae music, and hopefully a showing of the classic reggae film The Harder they Come, starring Jimmy Cliff. We've invited Jimmy to join us, but don't expect him to make it. So we'll be going with the spirit of Bob.
There are currently 37 boats signed up for the Ta-Ta, which is a perfect number for this first time around, but we can accept as many as 50. But we're looking for quality, not quantity. People who sail safely, enjoy helping others, know when to say when, and above all, don't whine. As Bob Marley said, "If you get down and quarrel everyday, you're saying prayers to the devil." Jah, mon!
For entry information, see www.socaltata.com.
1) AHA / Fountaine-Pajot Tobago 35 / Dana Point / Bruce & Marlene Beal
2) Big Sweetie / Hunter 450 Passage / Channel Islands / Carolyn & Charles Moyer
3) Boomerang / Corsair UC31 / Lake Havasu City, AZ / Chuck & Elaine VanderBoom
4) Carmela / Cal 2-27 / Madera / Jean Mondeau
5) Dariana Ruth / Custom 46 / Channel Is. Harbor / Michael Alfred
6) Dulcinea / Downeast Cutter 38 / Long Beach / John & Janice Barker
7) Ebenezer III / Catalina 36 / Sausalito / Richard Schaper
8) Escapade / Ericson 38 / Los Alamitos / Darrell Sausser
9) Family Circus / Fountaine-Pajot Athena 38 / San Francisco / Chris Tzortzis
10) Grace / Traveller 32 / Alameda / Robert Walker
11) Green Flash / Beneteau 323 / Sausalito / Stephen Yingst & Christina Barasch
12) Indulgence / Beneteau First 435 / Santa Barbara / Andrew Beath & Joseph Blackburn
13) Jubilee / Catalina 36 MkII / Treasure Island / Al Fricke
14) Kailani / Catalina 400 MkII / Nawiliwili, HI / Cary & Michele Hansen
15) Mean Kitty / Catalina 42 / Ventura / Bill Walters
16) Moira / Beneteau 351 / Ventura / Scott Stephens
17) Moontide / Lagoon 470 / USA / Bill Lilly
18) Natiki / Catalina 320 / San Diego / Nathaniel & Bonnie Antler
19) Ojo Rojo / Columbia 36 / Alamitos Bay / Keith & Terry Albrecht
20) Orange / Contour 34 / Ventura / Paul Martson
21) Oso Loco / Kettenburg 32 / Santa Barbara / David Turpin
22) Quiddity / Hunter 33 / Santa Barbara / Steve & Bobby Young
23) St. Somewhere / Beneteau 440 / Alamitos Bay / Pat McCormick
24) Scout / Lagoon 400 / Jackson, WY / David & Christine Eggleston
25) Sea Monkey / Coronado 27 / Santa Barbara / Brandon & Devani Priest
26) Seagate / Hans Christian 38 / Chula Vista / Charles Braffett
27) Shadow 2 / Islander 36 / Ventura / Greg & Kathy Kircher
28) Skewed / S2 35 / San Diego / Thom & Tyler Smith
29) Someday / Hunter 34 / Channel Islands / Don McNeil
30) Spray / Islander Freeport 36 / Channel Islands / Charles & LeeAnne Clark
31) Talion / Gulfstar 50 / La Paz, BCS / Patsy Verhoeven
32) Tempest / Jeanneau 46.5 / Alamitos Bay / Steve Moffett
33) Thalassa / Beneteau 49 / Redondo Beach / Jim Anderson
34) Tilligo / Union Polaris 36 / Coyote Point / Andy Smith
35) Toucan / Tanton 43 cat ketch / San Francisco / Kevin Belcastro
36) Triagan / Corsair F-31 / Leucadia / Hans Millenaar
37) Wayward Wind / Catalina 42 / Marina del Rey / William & Kathryn Gaffaney
Receive emails when 'Lectronic Latitude is updated.
SUBSCRIBE