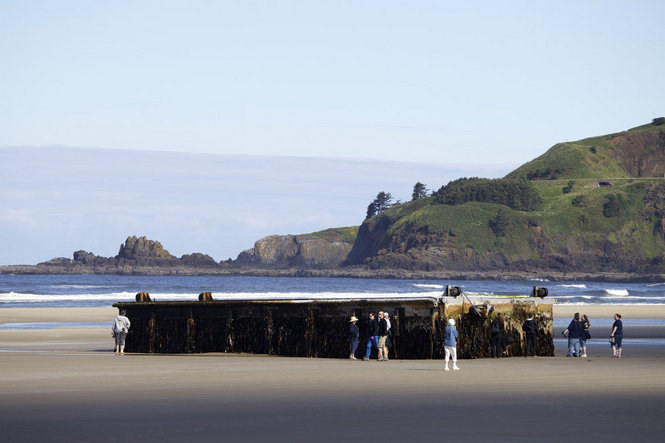 While we're not inclined to buy into the mainstream media's hysteria over the debris field set adrift after the Japanese tsunami in March 2011, the recent groundings of large — and very hard — objects can't help but send a shiver down the spines of anyone who plans to sail home from Hawaii this summer. The most recent addition to the growing list of flotsam discovered along the West Coast is an enormous dock that washed ashore at Newport, Oregon's Agate Beach earlier in the week. Measuring 66 feet long by 19 feet wide by 7 feet tall, the dock was one of four that broke free during the tsunami. Another was found on an island near where it had originally been moored, which leaves two unaccounted for.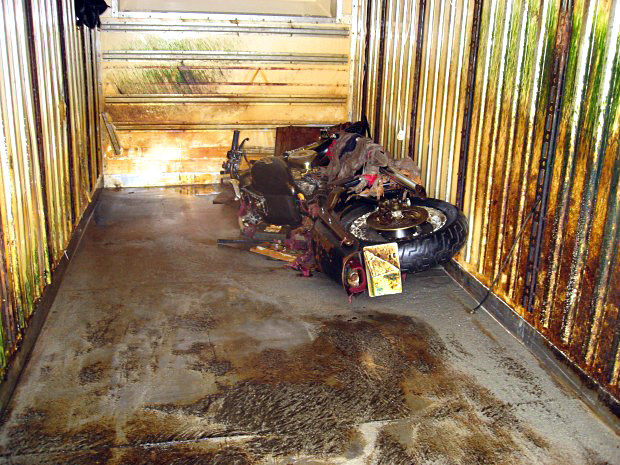 The other two notable pieces of debris which found their way west were a 164-ft ghost ship that was sunk in April by the Coast Guard 180 miles off the coast of Southeast Alaska, and a container — which contained a pricey Harley — that washed ashore on B.C.'s Graham Island in April. Much of what Pacific Cup and Singlehanded TransPac racers will undoubtedly sail through on the way home from the Islands will probably be small, buoyant items. But these recent discoveries should serve as a warning that those sailing home should keep an extra-vigilant eye out — and maybe leave their radars on.
A decade ago, June 8 was designated as World Oceans Day, "a chance to celebrate and honor the body of water that links everything on the planet," as Andrew Sharpless of the international environmental organization Oceana puts it. "We rely on the oceans for so much — food, oxygen, inspiration — and it's vital that we continue striving for healthier and more abundant oceans."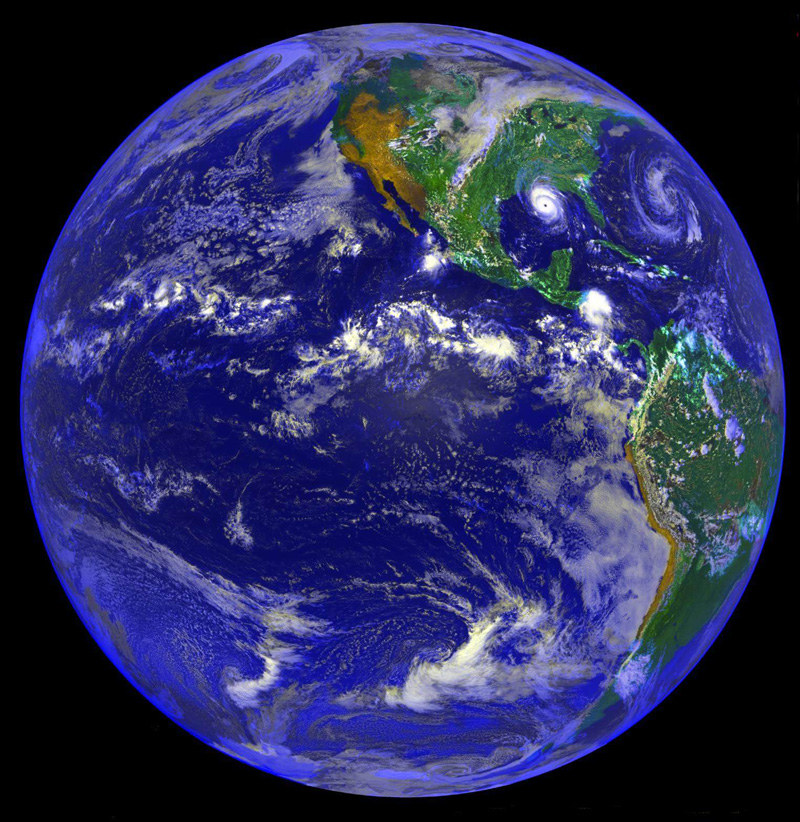 Although Sharpless' organization is intimately familiar with the grave challenges that face our oceans, scientists are optimistic about the potential to reverse current negative trends. A new report released by Oceana this week explains how "smart ocean management can help to feed the world's hungry." Read it and you'll learn that 25 nations control more than 75% of the world's fish stocks. (The U.S. is among them, of course.) Oceana advocates that those countries implement measures that reduce overfishing, protect habitat, and limit bycatch. By doing so, the organization claims that fish stocks could increase to the point that wild seafood could sustainably feed 700 million people a day.
It's projected that by the year 2050, Earth will be home to 9 billion people. The prospect of trying to feed them all is truly staggering.
We're hungry for Mexico despite the fact that, thanks to mildly funky weather along the Baja Coast, we haven't even done the Bash back to California with Profligate yet. What's the weather like in Banderas Bay and along the Riviera Nayarit at this time of year? Marvelous. It's warm, but not too hot. However, as Mike and Robin Stout of the Redondo Beach-based Aluetian 51 Mermaid told us, they're glad they installed an air conditioner just before they headed south last year. Mike gave us a scientific explanation of why it's more humid at night, which we promptly forgot, but the evening humidity is a fact. It's been dry, with the rainy season not due to start for another month or so. We can't mention the importance of having access to a pool for additional comfort. More on that in a future 'Lectronic.
Yesterday we were scheduled to have a 1 p.m. meeting with Richard Zarkin, Manager of Public Relations for the Riviera Nayarit Convention and Visitors Bureau. We, along with the folks at Marina Riviera Nayarit in La Cruz, Paradise Marina in Nuevo Vallarta and other businesses, are in the process of cooking up a grand Riviera Nayarit welcome for members of this year's Ha-Ha fleet as well as a reunion for previous Ha-Ha participants, to be held in conjunction with the Banderas Bay Blast in mid-December. It's gonna be . . . well, a real blast. More details later.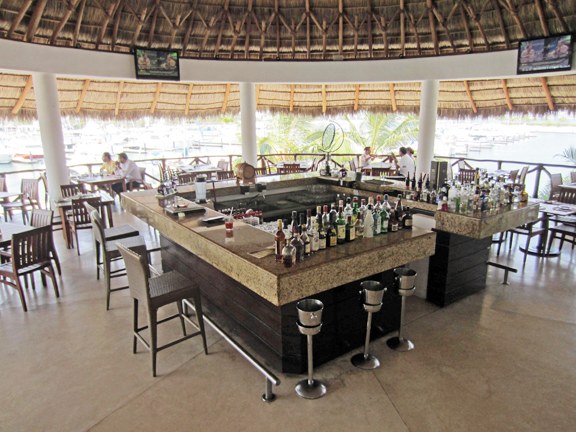 Zarkin was delayed a couple of hours, so we decided to have lunch at Ikuai, the Marival-run restaurant overlooking the Marina Riviera Nayarit, the jungle hills, and the blue waters of Banderas Bay. The following are some of the photos of our meal. Examine them closely, because we are having a contest. Whoever comes closest to guessing the total price for the meal, wins a similar meal for two during December's festivities. We're assuming an exchange rate of 14 to 1, which is what a friend got from an ATM machine the other day. The entry deadline is Monday. Good luck and bon provecho.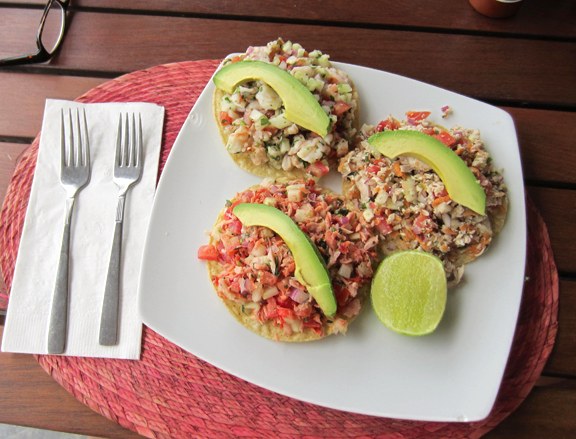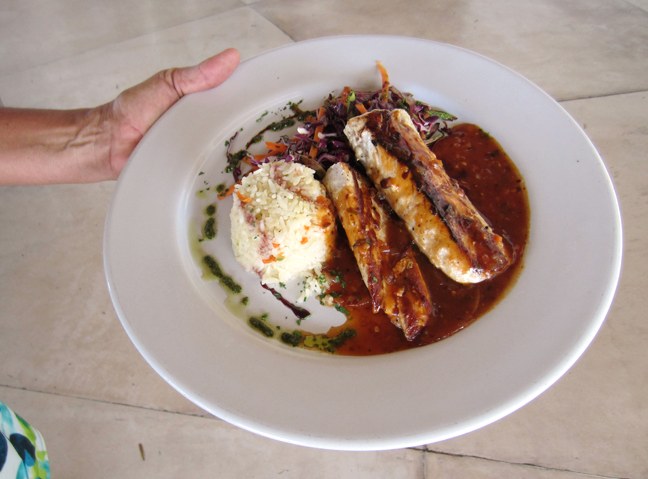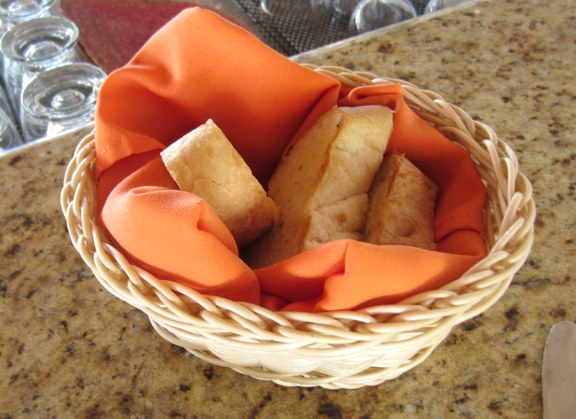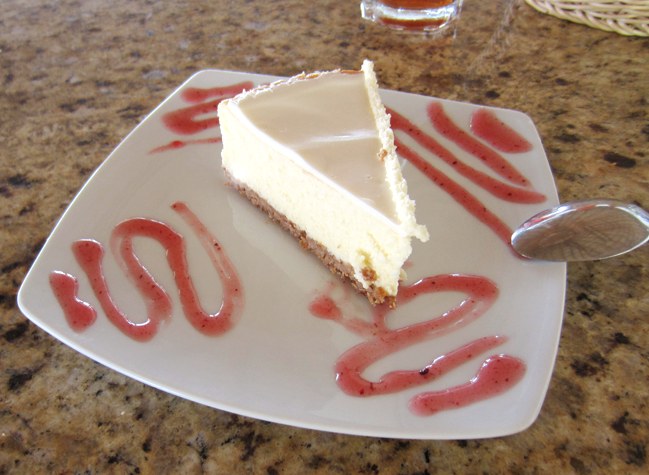 Everyone gets garlic bread and either iced tea or fresh lemonade with the lunch special. For starters, we had a couple of shrimp tostadas topped with avocado, while Doña de Mallorca opted for a bowl of killer vegetable soup. We both went for the fresh dorado entrees, with Doña going for the diablo sauce while we chose the garlic sauce. Yum. Rice and veggies came with both. We didn't need it, but we were then both served a generous portion of cheesecake topped with raspberry sauce.
This lunch special was good until 4 p.m. and served by friendly and attentive waiters who clearly enjoyed their job. So it's time for you to guess, what was the price per person for the lunch special? Send your guess to Richard.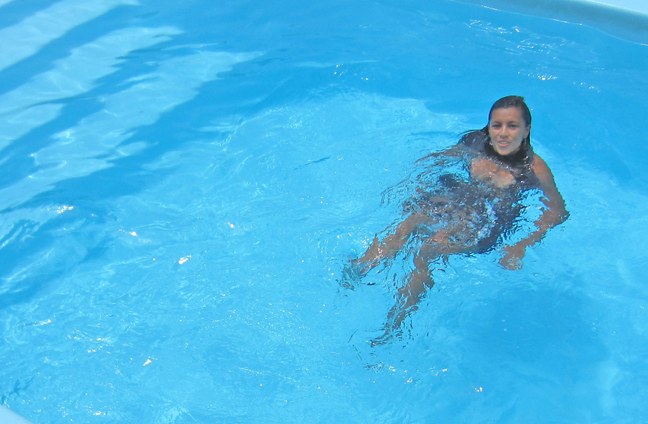 Receive emails when 'Lectronic Latitude is updated.
SUBSCRIBE