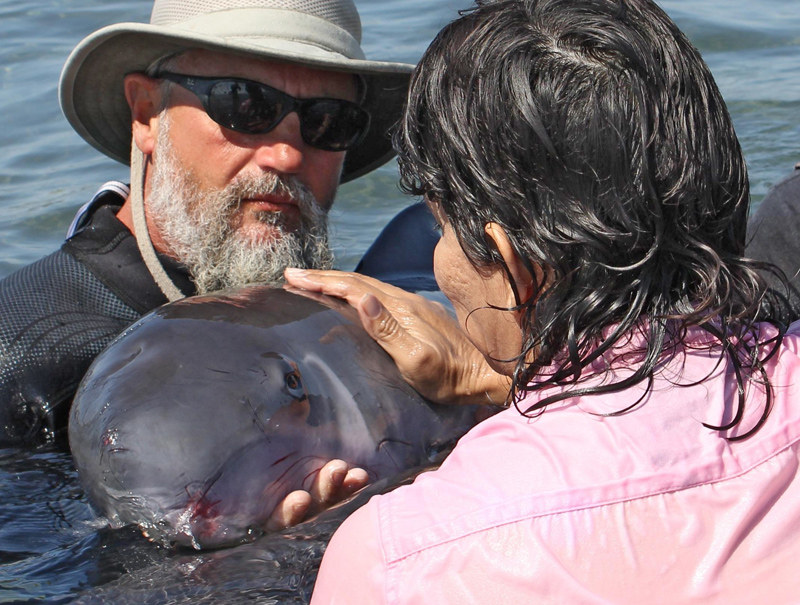 At first sight they looked like dolphins at play but my girlfriend, Maru Sanchez, soon realized they were in trouble, maybe trapped in a net. On the deck of our custom racing cruiser Final Escape, at anchor in the channel at La Paz, Maru was enjoying her first coffee on May 29 as sea mammals made their usual rounds. They couldn't be whales, could they?
Calling other cruisers to help, I heard myself saying on the VHF, "My girlfriend keeps telling me they're whales, but they have to be dolphins because of their size." What I didn't know is that sperm whales don't have to be as big as a house — rarely they also come in small packages, known as the Dwarf and Pygmy species. Virtually never sighted at sea, these miniatures are only found occasionally when stranded in shallow water, usually dead already.
At the scene I was joined by Pitt, William and Eran, the captains of Karma Seas, Prana and Patient Pariah. Sure enough there were two Dwarf sperm whales in extreme distress but there was no net, just confusion. Mom was 7'6" long and her baby was only 4 feet. In every way except their size they were the same as their huge cousins, with a lighter, lower coloring like a waterline on a boat.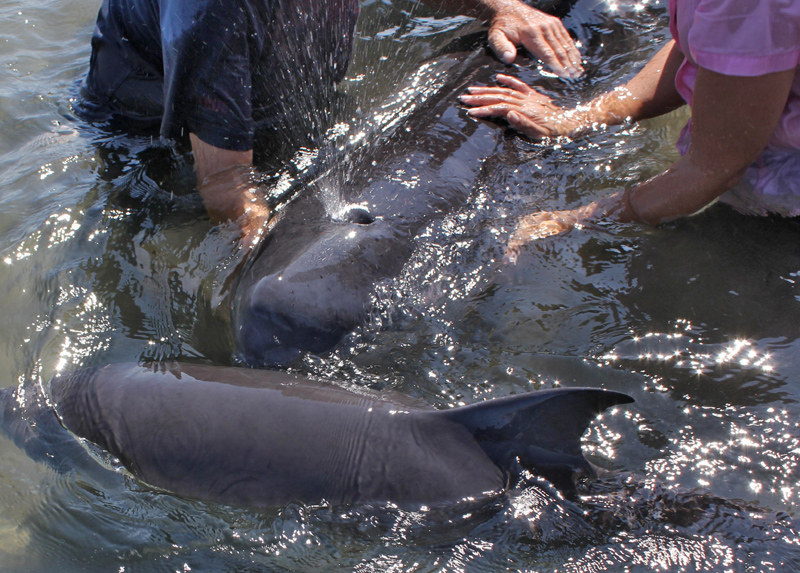 Were they injured? Certainly there appeared to be plenty of blood. Three times a huge cloud of red filled the sea as the mother thrashed her flipper. But we found no damage in her hind portion so we assumed this was afterbirth being released. Later we discovered that this unusual animal keeps a sack of red ink in its tail, ready to squirt out as a distraction to its enemies, like the black ink of a squid.
Hugging and stroking the whales calmed them down, and there was no more ink. They had wide cuts elsewhere though, sustained from the sharp rocks where the mother insisted on dragging her baby. For two hours we coaxed them to deeper waters, but each time the mother pulled us back to the beach again, presumably because her GPS was telling her to head north and the sand banks of El Mogote weren't marked on her chartplotter.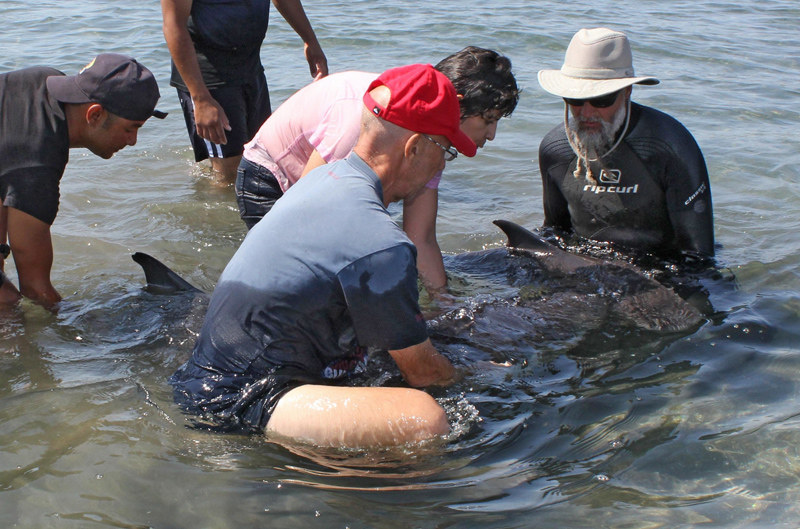 It was clear that we needed specialist help and, through Marina de La Paz, it came in the form of the Association for Investigation and Conservation of Marine Mammals in their Habitat. Their enthusiastic team examined the whales and sent me to find towels to act as makeshift slings. All eventually handled by the Mexican Navy and other relevant official bodies, nearly four hours after the initial sighting, both mother and baby were released in deep water outside of La Paz Bay. Since Dwarf sperm whales don't breach the surface of the sea like their big brothers do, we don't expect to receive any postcards, but at least they're swimming in the right direction now.
Due to the enormous size of the San Francisco Bay sailing community, the occasional arrival of a brand new boat is to be expected. But when more than a half dozen identical sisterships arrive in unison directly from a European factory, that's pretty big news.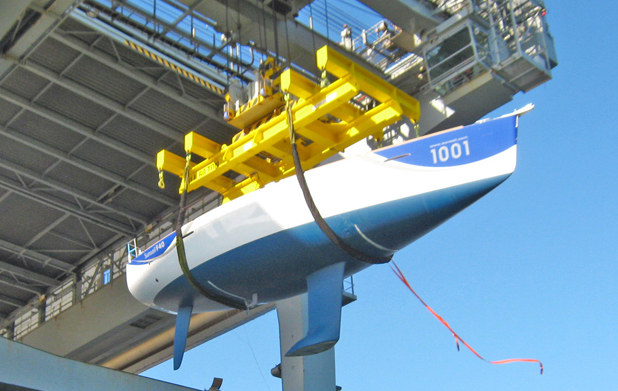 Early last week, eight Sunsail First 40s (built by Beneteau) were off-loaded at a San Francisco wharf, then were taken to Svendsen's Boat Works in Alameda for commissioning. According the yard's Ray Ronquillo, the process of fitting them out with masts, rigging, electronics and other creature comforts will take a couple more weeks. Once commissioning is complete, the fleet will sail out of a new Sunsail base at Sausalito Yacht Harbor — the worldwide firm's first foothold on the West Coast of the U.S.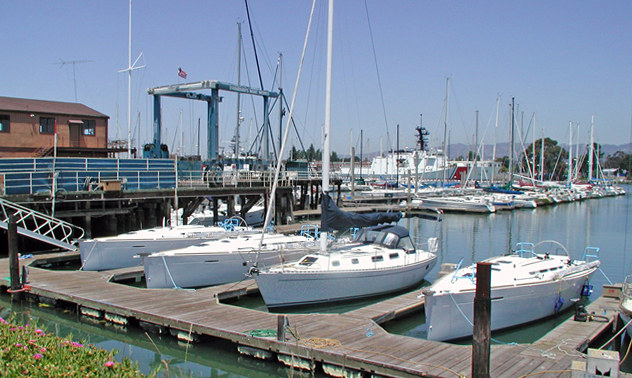 Although Sunsail's fleet will undoubtedly compete for bareboat charter rentals with existing sailing clubs and schools, the company will also offer racing packages and ASA sailing courses, as well as corporate offerings such as team-building and leadership programs.
The comments of Sean Svendsen, V.P. of Svendsen's Boat Works echo the assumption of many that the decision to set up a fleet here was strongly influenced by current and future America's Cup activities. "We are very pleased to be partnering with Sunsail on this expansion of their business. The arrival of the fleet is a strong indicator of the positive effect America's Cup is already having on the Bay Area maritime industry."
We're told that West Coast sailors are a major element of Sunsail's worldwide charter market, so many Bay sailors are undoubtedly familiar with the quality of their boats. Thus, the amenities of these new Sunsail 40s won't be altogether unfamiliar. They feature three-cabin, one-head layouts; large wheels; and chart plotters. But there's one big difference: these come with built-in heating systems! For more info call (800) 797-5907 or see the company's San Francisco web page.
Receive emails when 'Lectronic Latitude is updated.
SUBSCRIBE