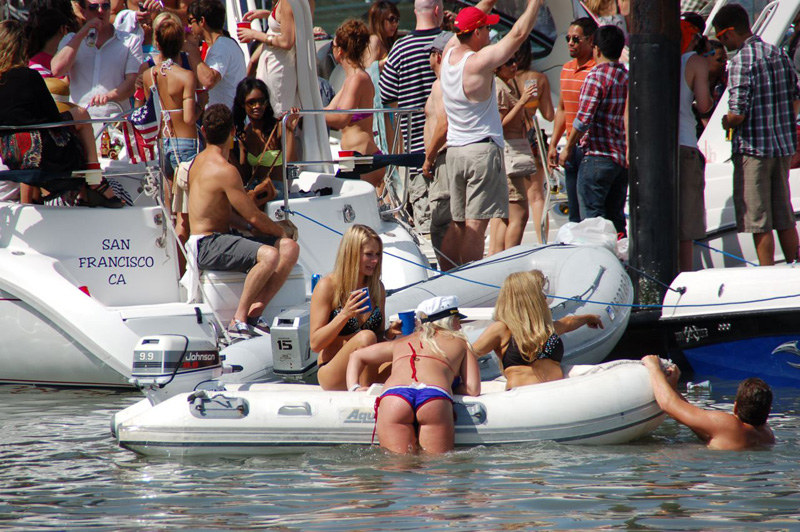 When foreign vacationers arrive in California for the first time, many are surprised to learn that the whole coastline is not blessed with the hot, sunny weather they've seen on Bay Watch. Sadly, here in the Bay Area, typical conditions are more likely to inspire you to wear two layers of fleece, than a skimpy bikini. But there are exceptions. And with any luck, this weekend will be one of them — Saturday is supposed to be particularly sunny, with clear skies and zero chance of precipitation.
With moderate winds predicted for the Saturday and Sunday, we suggest you load up the cooler, shanghai a crew of close friends, and get out on the water to offset the stresses of your work week. We'll see you out there!
Anyone who says sailing is a young man's — or young woman's — game hasn't met Cornelia Spanier, who turns 97 on July 26. "My aunt Connie is an amazing lady," writes Greg Clausen, who keeps his Santana 30 Wisdom in Sausalito. "She's living life like it's supposed to be lived — to the fullest. But we're a family of lifelong sailors and it keeps us young.
"Connie lived in San Francisco for 37 years, then moved to Moraga on October 16, 1989. We know what happened the next day (the Loma Prieta earthquake). After two miserable years in the 'burbs, she moved back to the Marina District, saying she didn't care if The City fell down around her, she wasn't going to live anywhere else. After another 22 years of city life, Connie recently decided to move to Hawaii to live near her son Barry. Opening Day on April 29 aboard our friend Scott Leishman's Beneteau Oceanis 47 was her last grand tour of the Bay. She moved two days later.

"My aunt loves sailing on her namesake, Cornelia, a Westsail 42 in Lahaina. There will be lots of voyages yet to come until the really big party three years from now!"
While some of us were enjoying a slow race to Vallejo last weekend, the 70-ft Volvo Ocean Race boats were mimicking the same conditions only on a much larger scale. Once out of Itajaí, Brazil, and on the way to Miami, Ken Read's Puma got out in front and never looked back. Actually they looked back often with Camper and Telefónica biting at their heels the whole way. Several times the boats were within sight of each other.
The conditions varied from nice reaching drag races to slow agonizing holes. "It's been a high risk game of chess," said Camper skipper Chris Nicholson. Tom Addis on Puma added, "If someone gets a squall and picks up some wind for a few hours that could turn the fleet inside out. That makes it more tense on board, no question." The fleet also had to negotiate some Caribbean Islands that were in their way and one final hole before the finish. Puma finished first at 14:14:00 Miami time on Wednesday, 17 days after leaving from Itajaí, with Camper about an hour behind to take second.
The only boat that did not start was Sanya, which had to be shipped from New Zealand after being damaged two legs earlier. Her crew plans on a short shake-down sail from Savannah, Georgia, where they've been fixing her, to Miami for the in-port race on May 19, followed by the start of leg 7 to Lisbon, Portugal, on May 20.
The leader of the back was a disappointed Abu Dhabi, and while a debate is going on about the Farr design lacking in speed, skipper Ian Walker chose to bring less food to save weight on this leg, resulting in some hungry crew as they finally finished in Miami on Thursday. If that happened in our Vallejo Race most crews would jump ship.
Receive emails when 'Lectronic Latitude is updated.
SUBSCRIBE