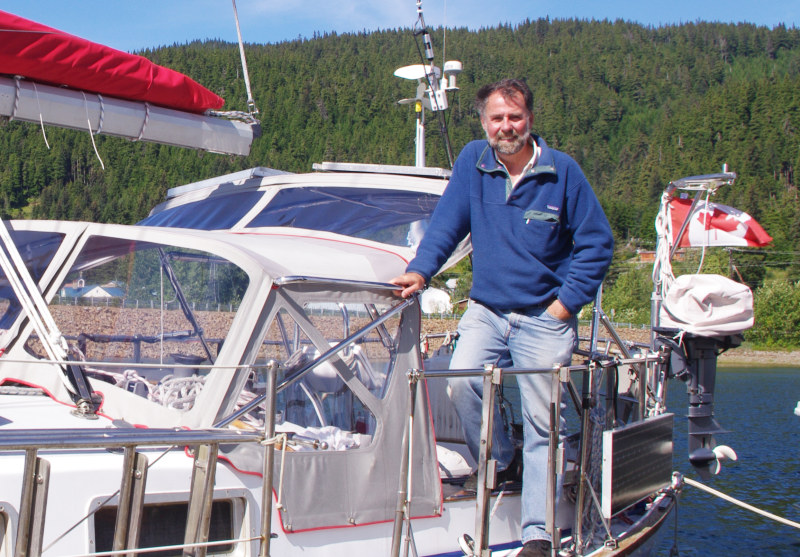 The 1,500-mile-long nation of Japan has undoubtedly been circumnavigated before. But as far as Canadian sailor Kirk Patterson can tell, that feat has never been accomplished by a gaijin (foreigner), so he intends to be the first. And he'll do it singlehanded.
But before he can begin that ambitious cruise Patterson, 58, faces a substantial hurdle: solo sailing from his Victoria, B.C. home port roughly 6,000 miles across the North Pacific via Hawaii.
Don't assume that Patterson is a wide-eyed dreamer with unreal expectations, though. Not only has he lived and worked in Japan for 25 years, but he has tried to prepare himself thoroughly for this epic voyage since learning to sail a decade ago.
"The idea of exploring the world in a sailboat has been in the back of my mind since I was a kid," he explains, "but I guess I thought you had to be rich and grow up in sailing family to do such things."
A vacation to the Marquesas years ago rekindled his childhood fantasies, and afterward he began devouring all the sailing literature he could find — including well-worn copies of Latitude that he'd often come across in a Japanese Starbucks.
Since buying Silk Purse, a custom steel-hulled 40-footer, four years ago, Patterson has logged 8,000 sea miles exploring northwest waters, including a cruise to Alaska, Haida Gwaii (Queen Charlotte Islands) and around Vancouver Island. The 2,200-mile trip from the Northwest to Honolulu — which he'll begin this week — may prove to be a cakewalk compared to the 4,200 miles from there to Hokkaido, Japan. "I'll do my best to avoid typhoon tracks along the way," he says, "as well as the 270 unmanned fishing boats that are apparently still floating around out there after the 2011 tsunami."
Patterson's circumnavigation will be supported by the Japan Hydrographic Association, the Japan Sailing Federation, and the Institute for Global Maritime Studies. We hope to carry updates of his travels here, and in the pages of Latitude 38. In the meantime, we wish this brave adventurer the very best of luck.
Receive emails when 'Lectronic Latitude is updated.
SUBSCRIBE