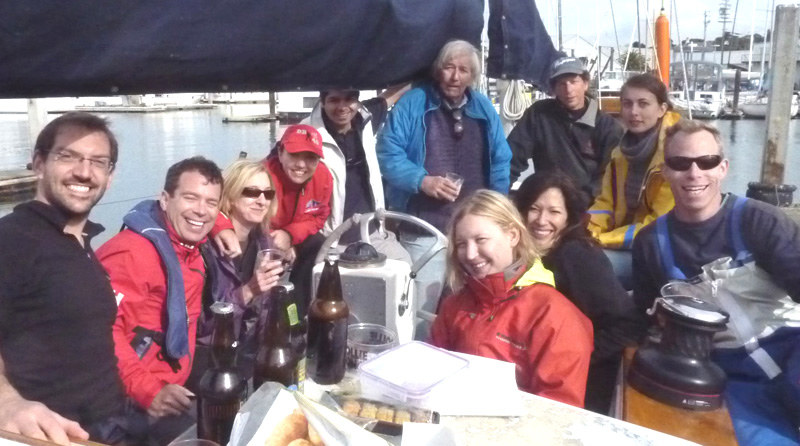 "Thank you for hosting the Latitude 38 Spring Crew List Party on March 7 at Golden Gate YC," write Barry Stompe & Sylvia Stewart of the Sausalito-based Hughes 48 Iolani. "The party yielded us a great bunch of race crew recruits. Seven of the sailors in this photo are contacts we made at the Crew Party. Four of the individuals just moved to the Bay Area — and are learning that we sail with PFDs and foulies around here. So thanks to Latitude for hosting the great event.
"This photo was taken after a good day of spinnaker practice, which was followed by an awesome potluck lunch behind Angel Island, featuring many homemade treats. After a brisk sail back to Sausalito, we hosted a little dock party and beer tasting of some micro brew created by one of our crew. The Chipotle Amber Ale was voted the favorite."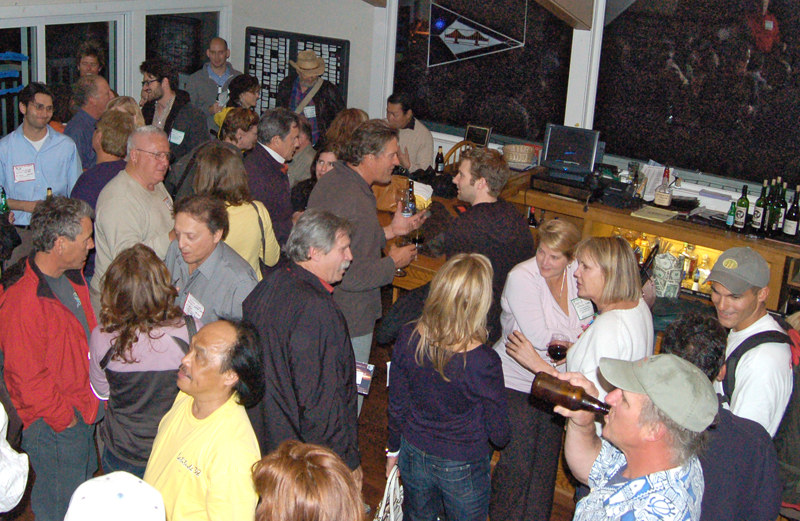 This year's Crew List Party was one of the biggest ever, with more than 300 people getting to know each other. If you missed out, no worries, you can still find skippers or crew by check out our online Crew List. It's free!
As a way of honoring Marc Kasanin, Alexis Busch, Jordan Fromm, Elmer Morrissey, and Alan Cahill — the five crew of Low Speed Chase who perished in last weekend's Full Crew Farallones Race — friends and fellow San Francisco YC members are organizing a memorial flotilla tomorrow evening (Saturday, April 19). All sailors are encouraged to join the fleet.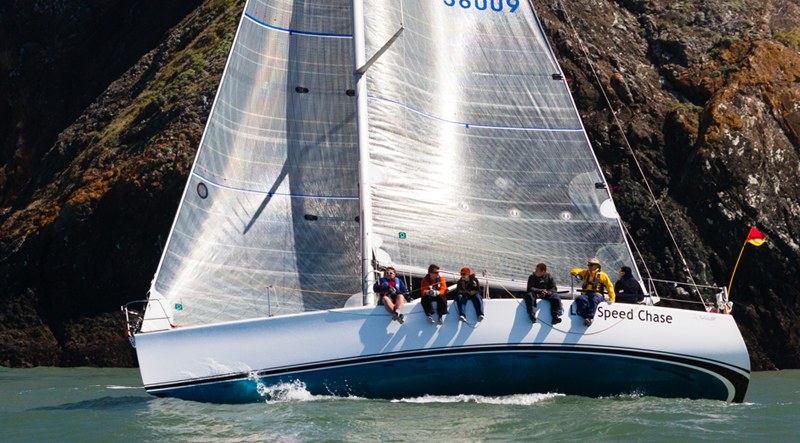 The timetable will be as follows:
• At 7:25 p.m. a bagpiper will play for five minutes aboard the Protector Farallones, which will be anchored between Belvedere and Angel Island
• 7:30 p.m. — One minute of silence for each crew member
• 7:35 p.m. — Bagpipe will play for five minutes
• 7:40 p.m. — 8 Bells at 30 seconds per ring
• 7:45 p.m. — Boaters are asked to lay wreathes and flowers on the Bay as the bagpipe plays
• 7:55 p.m. — Dusk
For info see the special memorial website.
As if the cruise ship industry hasn't taken enough of a public relations beating recently following the Costa Concordia tragedy off Italy and Carnival Splendor losing all power with 4,500 passengers off Mexico, there are now allegations that the crew and/or captain of Carnival's Star Princess ignored three bird-watcher passengers who alerted them to the fact that three fishermen were desperately signalling for help after their boat broke down off the coast of Panama on March 10. Carnival is the largest cruise ship line in the world, and the Star Princess is a 981-footer with four pools, a nine-hole putting green, a casino, and cabins for some 2,000 passengers.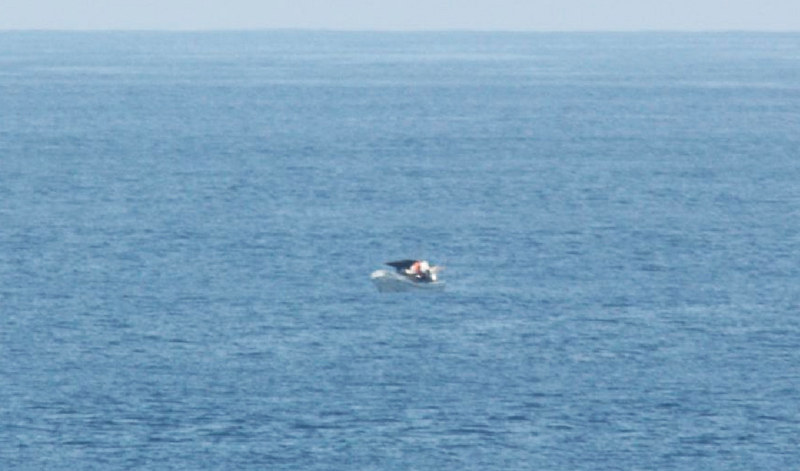 According to 18-year-old Adrian Vasquez, who was found barely alive near the Galapagos after drifting for 28 days without food or water, his friend Oropeces Betancourt, 24, died the day after the cruise ship failed to respond, and his other friend Fernando Osario, 16, died five days later. The fishermen had been spotted by three birdwatchers on the cruise ship, two from Oregon and one from Ireland. After alerting the crew, the birdwatchers assumed that the captain would do what was required to help the helpless fishermen.
Once they got home, they made inquires to find out what happened. They not only learned nothing had been done, they also learned about the deaths of the two fishermen. International maritime law requires ships that come upon other vessels in distress to render assistance, as long as they can do so without endangering themselves. An on-going investigation by Carnival has concluded that word of the stranded fishermen never made it to the captain of Star Princess — they cite a "breakdown in communication" that's still being investigated.
Receive emails when 'Lectronic Latitude is updated.
SUBSCRIBE