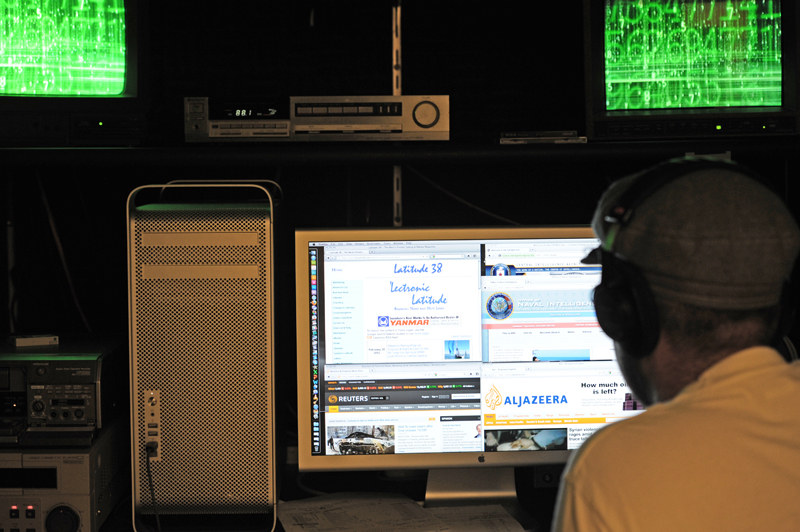 Avid 'Lectronic readers may recall Cap'n Ted, the too-smart-for-his-own-good sailor who loves to supply us with juicy stories and photos — all of which cleverly avoid giving away his real identity. While we haven't had a report from Cap'n Ted since August 2010, he's certainly been keeping tabs on us.
"I'm not at liberty to say which branch of the government I work in," said the ever-secretive sailor, "but I can tell you I was surprised to find that Latitude 38 is in the intelligence biz. I was reviewing a top secret document and it named your publication as one of its sources. So who's the CI (confidential informant) in your outfit?"
Okay, so most of that conversation was embellished but he really did alert us to our status as an intelligence source. As it turns out, the "top secret document" Cap'n Ted was referring to was none other than the Office of Naval Intelligence's Piracy Analysis and Warning Weekly (PAWW) report on Somalia, which is — somewhat disappointingly — available for the public to download. The last page of the report lists sources, and nestled among such news giants as the Associated Press, BBC News and Reuters is lil' ol' Latitude38.com.
Maybe we should ask Ted where his agency shops for trench coats and dark sunglasses . . . .
"The normally staid VHF cruisers' net for Banderas Bay came alive at 8:30 a.m. on Tuesday, February 21, when it was announced that Marina Riviera Nayarit at La Cruz de Huanacaxtle would start to charge a daily fee of $5 USD for the use of its dinghy dock for all those boats anchored outside the marina's breakwater," reports Mark Schneider of the Portland-based Norseman 447 Wendaway. "Bloggers started to blog away. The VHF crackled with anger. Everybody had an opinion.
"A cruiser who gave his name as 'JJ' on Ocean Echo reported that he had kayaked into the marina to visit his friends on Bravo, but was told that he would have to pay the $5 fee even to tie up at Bravo's side. 'They [the marina] are going to cause a lot of anger,' JJ said.
"It was reminiscent of the situation four years ago when Latitude 38 reported that extremely high dinghy dock fees had become 'a substantial source of friction' between the then new Marina Riviera Nayarit and cruisers on anchored out boats. The uproar only settled down when the fee was removed, and its dinghy dock has remained free since then. So it was something of a surprise that the marina seemed to be heading 'back to the future'.
"Later in the day, a group of 20 cruisers and local business representatives met with Pedro Fernandez, founder of the marina, and Rafael Alcantara, the dockmaster. Cruisers came armed with examples of fees at other Mexican marinas along the Pacific coast, most notably, at Marina de La Paz, which charges $1.50 per day for dinghy docking, and includes free water (from its own desalinization plant) and garbage disposal.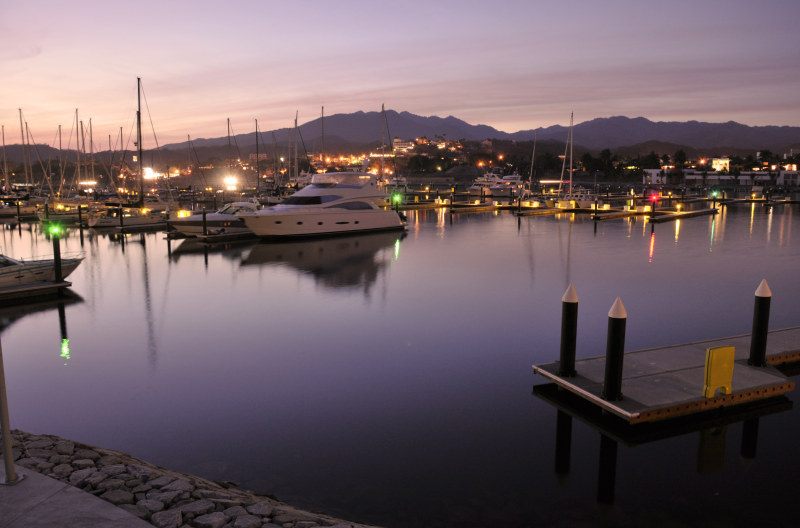 "Emotions were running like a hot engine, but cooled rather quickly when the marina explained its side of the story. Fernandez said that some of the anchor-outs were leaving garbage and used oil around, and that there had been reports of some marina property stolen. The odiferous issue of sewage being dumped by cruisers at anchor floated to the surface once again. The owners of the marina explained that they felt that their generosity in regard to the free use of the dinghy dock was not being reciprocated. They felt that it deserved not just some financial return for its service, but also respect for the marina environment.
"It was a message that resonated with the cruisers. Geoff Scott Anderson, who had organized the meeting, reported later that nearly everybody attending agreed that a modest fee was warranted. A number of issues were discussed. What about people who were coming into the marina to buy supplies at the small marina tienda? And was it fair to charge cruisers who were using the dock only to check in with the government port captain?
"Local businesses also talked about the negative impact high fees would impose, since it was clear that it would discourage trips into town. In the last couple of years, many new businesses have been established to serve the sailing community. And it was clear that the marina management heard that message, too.
"The tone the next morning was radically different, as a resolution was announced by Geoff on the cruisers' net. The $5 fee had been reduced to a more palatable 20 pesos (approximately $1.60 USD). On a monthly basis, it would be 400 pesos or $31 USD, and boats with kids aboard would get 25% off that. Shopping trips to the marina store will be free. And what will be very welcome for many, the dinghy dock will be moving to a more central location in the marina, with better security.
"As Geoff reported the bare bones of the agreement, it started to get interesting. Philo Hayward of the popular cruiser hangout, Philo's Bar, came on the net and announced that he would pick up the dinghy fee for patrons of his business. Mike Danielson at PV Sails came up with the same offer. There was a mutual understanding, it appeared, that a healthy and happy community was much preferable to a cranky one.
"There are still a handful of issues to be sorted out, and as Rafael noted, the deal will be tried for one month to see how it works. He'll be looking for respect and a cleaner environment. As Geoff pointed out when he finished up reporting on the meeting, 'everyone left with smiles on their faces.'"
Having spent quite a bit of time at the Marina Riviera Nayarit, we at Latitude are glad that a compromise has been worked out, and we hope it sticks. It's our belief that most of the anchor-outs and the marina are very good for each other, but the relationship shouldn't be abusive on either side.
We think the fact that boats can anchor out encourages them to check in to the marina from time to time, and when they do, they often stay a few days longer than they intended. And they use the restaurant and fuel dock. And when guests come to visit, they often eat at the 'Yacht Club' restaurant, which offers some great bargains. Furthermore, we think the fact that there are lots of boats anchored out has done much to promote the La Cruz area, which has been beneficial to the marina.
Do we think a dinghy docking fee for anchor-outs is appropriate? We certainly do. For one thing, the marina offers nice toilet facilities that are used by many anchor-outs. And it's no secret that some anchor-outs sneak in for free showers from time to time. In addition, the marina hosts many activities, and has generously allowed heavy use of the 'yacht club' and Sky Bar without limiting it to slipholders. When the marina first opened, they wanted to charge $10 every time an anchored-out boat's dinghy came to their dock. That was way too much. But $1.60 a day or $31 a month for dinghy dock privileges? We think that's a bargain. And those who don't want to pay it can always land their dinghies in the sheltered beach just outside the marina.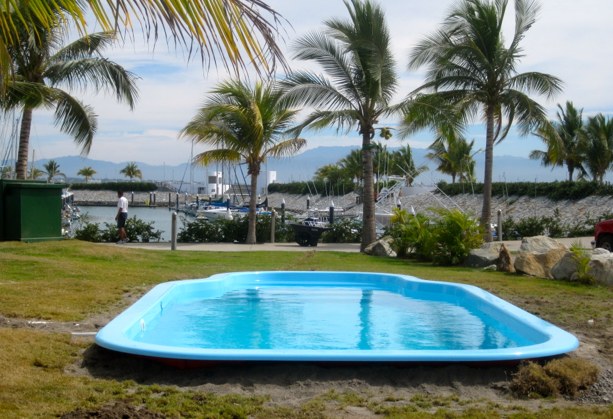 We also want to note that, as promised, the Marina Riviera Nayarit has — after listening to the complaints of many cruisers, ourselves included — installed a small pool near the beach. "It took one day to dig the hole and pour a concrete slab," reports Sarah Powell Erickson of the San Francisco-based Tayana 47 El Tiburon. "Another day to drop the fiberglass form in and shovel dirt in around the base of the pool. And on the third day a filtration system was added. Today we were told that the pool is now open, although I haven't seen anyone in it. Maybe the weather has been a little too cool and breezy for a proper christening. But God, I love it down here!"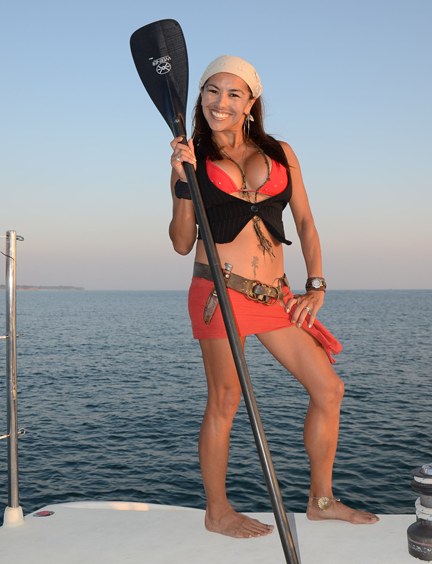 We were dismayed when one cruiser derogatorily referred to the pool as a "sitz bath." To put things in perspective, the marina really wanted to hold off on a pool until the hotel gets built — who knows when that will be? — on the point. But they bit the money bullet and put the admittedly small pool in. How small? Let's put it this way, they're not going to hold the Olympics in it. On the other hand, it's bigger than most of the pools at the $20,000/week villas in St. Barth. What we always wanted in a pool at the marina was something we could jump into after a salty, sweaty day of sailing in the tropics to rinse off, or to just sit in on the hotter and more humid days of summer. As such, it will suit our essential needs — especially if you can order the unbelievable Wednesday and Friday Happy Hour deals on killer seafood tostadoes and Coronas from the Yacht Club upstairs. For those who need more and better swimming facilities, there is always the ocean, or better yet, Paradise Marina, which has three of them.
Receive emails when 'Lectronic Latitude is updated.
SUBSCRIBE