Whether the right to a berth in highly desirable public marinas or mooring fields ought to go with a boat has been a hot topic of discussion on the West Coast from time to time. In many public marinas, slips do not go with a boat. But in some marinas — Santa Barbara is a prime example — and mooring areas — Newport Beach and Avalon — the right to a berth can be worth tens, if not hundreds, of thousands of dollars. And those rights do get 'sold', sometimes outright and sometimes wrapped up in an inflated boat price.
The 'slip with a boat question' is now big news in San Francisco, where along with renovating the 300+ berth West Marina in San Francisco — the one next to the Marina Green — city officials say they intend to 'renovate' some of the rules. A couple of the changes are, well, 'San Franciscan'. Such as the one to require "proper attire," which in San Francisco, where naked people have no problem riding buses or sitting down in restaurants, seems hilarious to us. Or the one to require that people under the age of 18, including world class youth sailors, have "adult supervision." A more important one is that berthholders would have to inform the marina when they would be out of their slip for more than 24 hours, the idea being that the marina can then rent the slip out. This is a common practice in many public marinas and mooring areas and, as you'll later see, has the potential to be as popular with the City as with slipholders.
But the real biggie is whether or not a boat can go with a slip. It's hard not to feel for someone who paid double the real value of a boat just to get a slip just a few yards from the prime sailing area on San Francisco Bay. The loss could be tens of thousands of dollars. And in the case of larger slips in prime locations, maybe hundreds of thousands of dollars. Besides, the business about San Francisco Marina boats getting sold for highly inflated prices in order to profit from the berth rights has been a well-known, if not official, policy for decades.
In some places where alternative berthing is not available — such as Santa Barbara — not being able to sell the boat with the slip could make it very hard to sell a boat. That's not the case in the immediate Bay Area.
It seems to us that there are three negative aspects of the 'slip goes with the boat' policy. First, the sometimes huge fee just for the right to the slip all but prices out even middle-income people from being able to own a boat. Second, it's hard to argue that it's in the public interest for private individuals to reap financial windfalls based on the increased value of public property. And third, such a policy encourages berth holders to hold onto their berths even if they don't use their boats, particularly in public marinas where berth rates are well below market, as they have been in San Francisco and in Santa Barbara for many years, and where the value of berths continues to increase, as they generally have in San Francisco and Santa Barbara. This limits public access to the Bay and ocean.
Northern California is lucky to have a real expert on the 'boat with a slip' and similar issues. He is Steve Scheiblauer, who has been the Harbormaster at Monterey since '95, and had previously been the Harbormaster at Santa Cruz from '78 to '95. Much respected by his peers, Scheiblauer has been closely involved with issue for 35 years. In an interview about a year ago with Latitude that never ran, he said that he had been fortunate to arrive at Monterey at a time when he was able to, with the approval of the city council, institute a plan that he describes as a "middle ground," and one that offers benefits to all parties.
"When I went to work in Santa Cruz in '75, the Santa Cruz Port District had been the subject of a grand jury investigation because of the freewheeling way berths were being transferred," says Scheiblauer. "The situation was that there were all kinds of phony partnerships, leases, terms sales, and outright sales of berths, despite a stated policy that slips couldn't go with boats. The result was that nobody on the waiting list ever got a slip. When I was appointed Harbormaster in '78, I was charged with fixing the system."
Scheiblauer came up with series of "extensive regulations" to deal with partnerships, purchase contracts, leases, and the like. But he views it as having been an flawed solution for several reasons. "First, there is the fact that the regulations are very complicated. Second, if someone was sneaky or committed enough, they can still get around them. Third, all kinds of people, including some innocent ones, were investigated and dragged before the Port Commission to explain their deals."
The cost of enforcing the complicated regulations meant that the cost of being on the waiting list went from $10 a year to $85 year. "It also meant that if somebody put their name on the waiting list at age 50, their name wouldn't come up until they were age 70. In other words, only old people were getting slips in Santa Cruz."
"It was an imperfect system, so when I became the Harbormaster at Monterey, I was asked to try to come up with one that was more representative of the public interest. I worked on it for a long time, but unless I'm delusional, for the last 15 years we've had a flexible system in Monterey that I think offers a nice balance, and on the whole is good for just about everyone. Furthermore, the increased value of the slips doesn't go with the individual who has the right to the slip, but rather to the general public."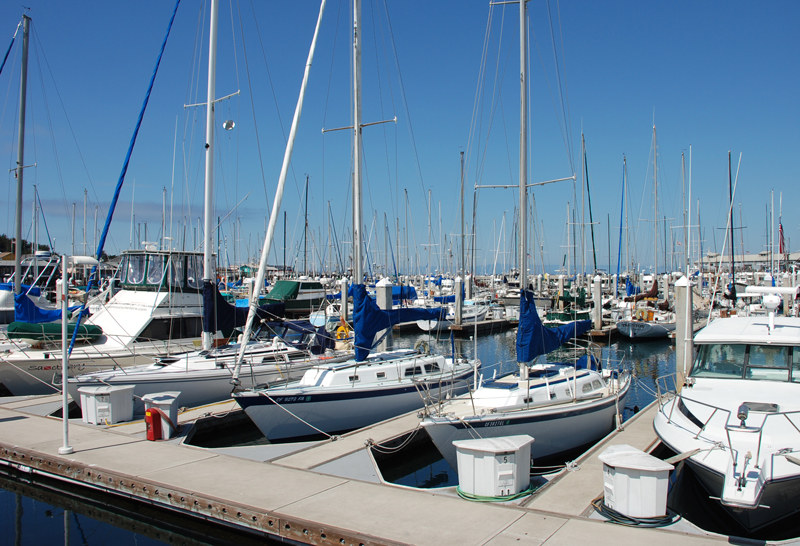 The system in Monterey is a combination of both a waiting list system, and a market rate system that also allows for people to pay extra money to jump ahead in line. But unlike in Santa Barbara, Newport and Avalon, the extra money to get a slip right away doesn't go to the individual who currently has the right to the slip, but to the benefit of the public in general.
There are about 1,000 people on the waiting list for slips in Monterey. Those waiting for 25-ft slips can expect to wait about three years. Those waiting for longer slips will more likely have to wait 15 years. However, there is a way for somebody who is not at the top of the waiting list, or not on the waiting list at all, to buy a boat in the marina and retain the slip. That 'way' is for them to pay 1.5 times the normal berth rate until their name comes to the top of the waiting list.
So if a person was near the top of the list, they might have to pay that 50% higher rate — which is the local market rate — for just a year or two. But if they hadn't been on the list at all, they'd have to get on this list and might have to pay the higher rate for 15 years.
Scheiblauer didn't have the exact figure, but says the number of people paying 50% more than the normal rate brings the marina more than $100,000 in extra income a year. The money has been used to reduce the fee for parking stickers from $35 to $10, to put in a laundry facility, and make other improvements to the benefit of all slipholders. So instead of the former slipholder profiting by the value of the slip, everyone in the marina does.
Historically, about 10% of the slips in Monterey get turned over each year. Scheiblauer says about half of them go to people on the waiting list, about half of them go to people willing to pay the 50% higher rate.
There are other requirements for a slip going with a sold boat. In addition to the normal stuff of the boat having to be seaworthy, the new owner can't replace the boat in the slip with another for 2.5 years. That prevents money from totally ruling in Monterey. The only exception applies to commercial fishing boats, which are important to the culture of Monterey. "If there is ample evidence of active commercial fishing, the boat can be replaced with another," says Scheiblauer.
Monterey has a couple of other interesting policies. For example, if you're willing to give up your berth because you're not going to have a boat for awhile, or because you're going to go cruising for six months or almost any number of years, you can retain the right to go back to the top of the waiting list by paying half of one month's rent each year. This turns out to generate extra money for the marina, because Scheiblauer says history has shown that once somebody gives up their slip, there's only about a 10% chance they'll ever want it again. "It not only brings us some money from these people for a few years, but it also frees up slips — if people didn't have this option, they'd be too afraid to give up their slips because they know they'd never have the chance to get one again."
Scheiblauer originally proposed a feature — such as is being proposed in San Francisco — where slipholders had to inform the harbor office when they were leaving their slip for more than 24 hours. That would allow the marina to rent the slip out and get additional income. The slipholder would get nothing. The slipholders didn't like this at all, and would do things like leave a leaky dinghy or something in the slip so it couldn't be used. So the plan was modified. "When a slipholder's slip is rented out while they are gone, they now get half of any slip fees paid by others." As you can imagine, slipholders are now quick to report when they are going to haul their boat out for a few days or even do an overnight trip to Santa Cruz. "One of the results is that we almost always have transient slips available."
Scheiblauer's 'middle ground' plan sounds like a very good one to us. But he's the first to admit that it probably wouldn't be practical to institute such a program in San Francisco or Santa Barbara. "So many people have already paid huge amounts of money for the right to sell the slip with their boat, that everybody would hire lawyers," says Scheiblauer. "Correcting the problem, as I see it, would be something that would have to be done gradually, over a period of 20 years or so. It was because I didn't want to have such a problem at Monterey that I worked so hard to prevent it in the first place. It would be similarly hard to change what's in place now in Santa Cruz, because so many people are so heavily invested in the waiting list, and because slips are sublet for up to double the real rate."
We don't know if the City of San Francisco has discussed their situation with Scheiblauer, but given his wealth of knowledge about the issue from all angles, and what seems to be his successful plan in Monterey, we think it would be a great idea.
Receive emails when 'Lectronic Latitude is updated.
SUBSCRIBE