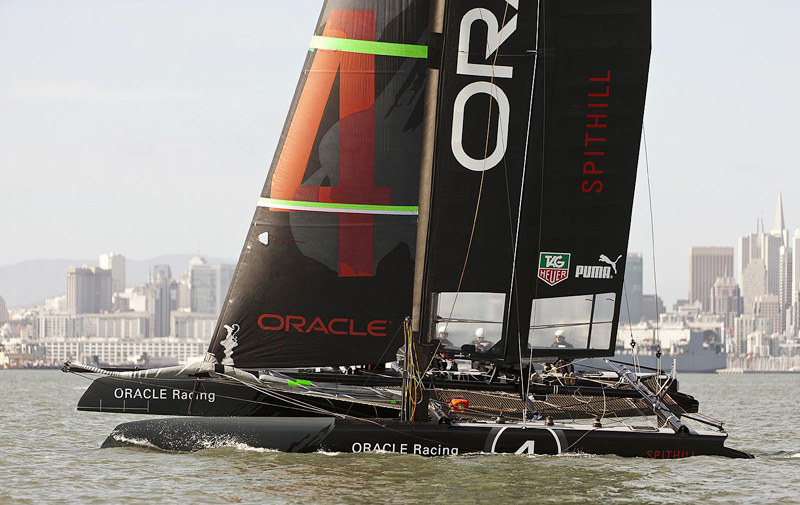 With two AC45 wingsail cats seen blasting across San Francisco Bay yesterday, we were reminded of Paul Newman's famous line during his role as Butch Cassidy: "Who are those guys?" No doubt that's precisely what many non-sailors were asking as they watched the ultralight cats blast across the Central Bay at double the speed of typical daysailers.
"It's good to be back in town and get back into sailing," said Oracle Racing skipper Jimmy Spithill. He and his teammates will be putting their twin cats through their paces for training purposes through Friday, February 24. And a second two-week session is also being planned as a lead-up to the America's Cup World Series event slated to take place on the Bay August 11-19, 2012. (The Louis Vuitton Challenger Series and America's Cup 34 will hit Bay waters in the summer of 2013 aboard revolutionary 72-ft cats.)
The team celebrated their return to the Bay Area by holding a little celebration at the Hi Dive in The City. As an incentive to get folks to join them, Russell Coutts announced on his Facebook page that the first person to ask him for a ride on an AC 45 would get one. It was an offer one Bay sailor took very seriously.
Tom Watson owns the bright pink Pearson Triton Darwind, and is the man behind the popular Pink Boat Regatta that was held at CYC in October. Watson is planning a circumnavigation aboard Darwind and hopes to raise at least $1 million for the Breast Cancer Research Foundation while doing it. When he caught wind of Coutts's offer, he immediately camped out in front of the Hi Dive so he could be first in line to meet Coutts — 30 hours before the event!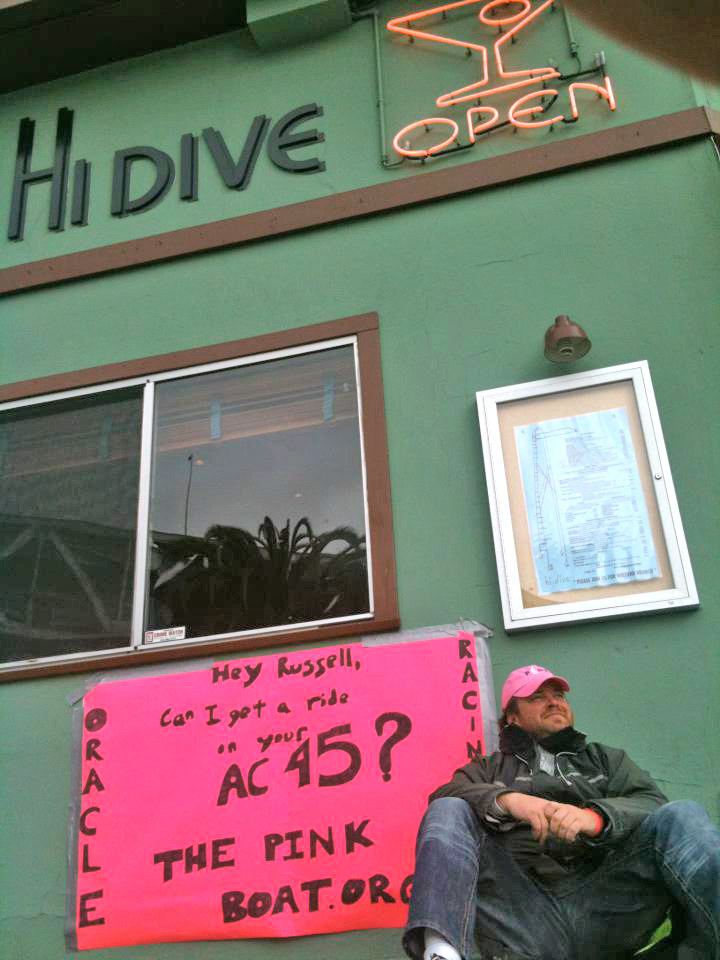 Watson documented the entire 30 hours — plus the goings-on during the party — on his own Facebook page. "It was a fantastic event," he told us today. "Oracle Racing really knows how to throw a party. Everyone was there and they're really approachable — it proves that sailors are the best people!"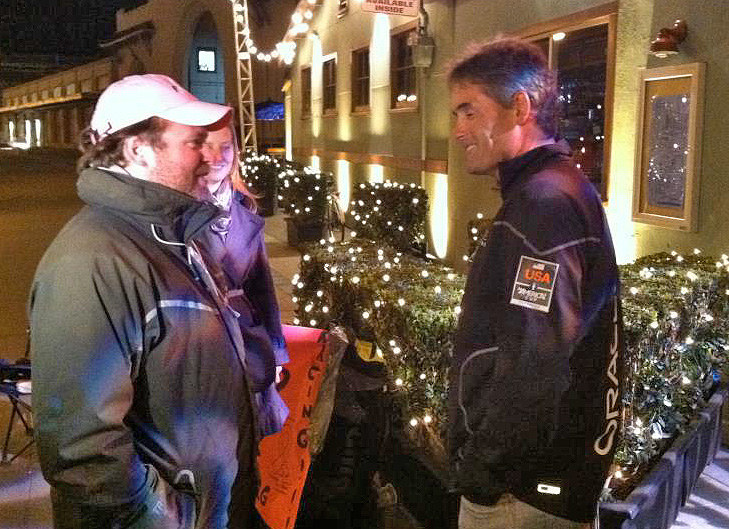 While the details are still being worked out between Watson and Oracle Racing, Watson's goal in braving 30 hours on the streets of San Francisco — including when a crazy lady screamed and farted at him when he wished her a good morning — was to ultimately auction off the AC 45 ride to raise funds for the Breast Cancer Research Foundation. We'll bring you those details as soon as they're available, but in the meantime you can find out more about Watson's efforts at www.thepinkboat.org.
"Did you know that there are 48 Islands in San Francisco Bay?" asks photojournalist James Martin. "Each one has a distinct flavor complete with unique wildlife and views." If that subject peaks your interest, we suggest you attend Martin's slide show and lecture tonight at the Tiburon's Corinthian YC (doors 6:30 p.m.; show at 7).
A pro photojournalist and adventure traveler for more than 20 years, Martin's insights are drawn from his background in forestry, geology and environmental studies. The club requests RSVPs to (415) 435-4771. In addition to conventional retailers, you can oder the book at Martin's website.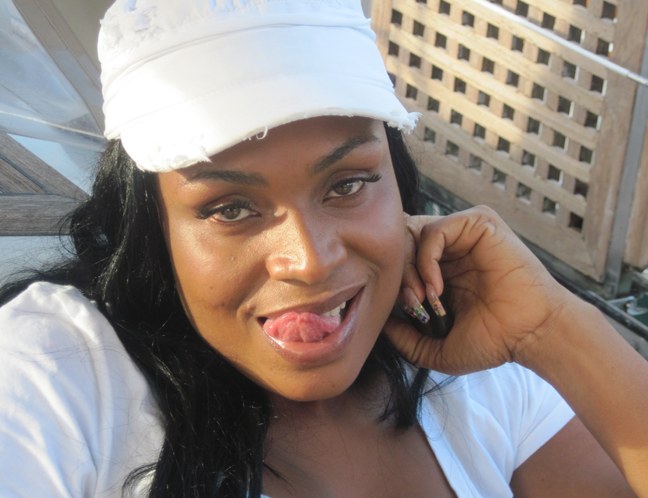 Well, we're rarely at a loss for words, but we just can't put our finger on the correct adjective for this woman's expression. Maybe you readers can help.
The photo was taken by Rick Meyerhoff of the Sausalito-based LaFitte 44 Maya, who recently completed a trip from Panama to the Eastern Caribbean, which meant he was battling trades for about 1,500 miles across the Caribbean Sea. He went via Jamaica, where he stopped at Port Antonio's Errol Flynn Marina. That's where he met Tanya. He describes her as "awesome," but didn't explain exactly what he meant. We assume that he meant she was just a really friendly, funny and playful person in a way that only some laughter-loving Jamaicans can be.
We know a few readers might have a fit about the woman's expression, but down in the Caribbean, where people aren't as uptight as they are in the States, sex is joked about a lot. That is, almost constantly.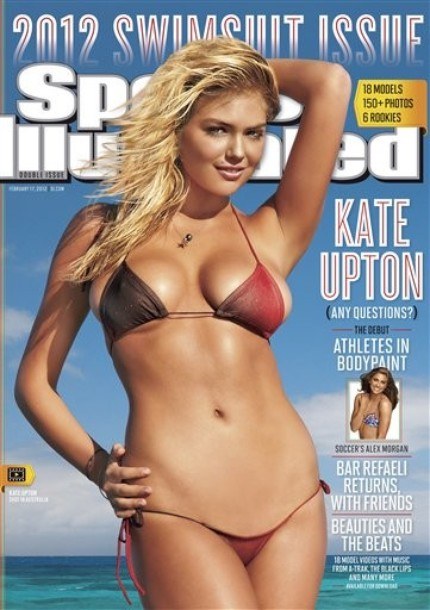 To our mind, what's really filthy is the cover of this year's Sports Illustrated 'Swimsuit Issue'. While it's obvious Tania was joking around, Time/Life is presenting cover girl Kate Upton — her 19-year-old breasts pouring out of her top and her pubic area just barely covered, while she's smiling like the nice girl next door — as a serious role model of health and vitality that young girls and women should aspire to. Right. If you're a photographer, you'll notice that the shot was taken, as many recent swimsuit issues photos have been, at crotch level, forcing the viewer to focus attention on the young woman's pubic area. Very slick, very subtle — and we think extremely nasty in a subversive way.
Receive emails when 'Lectronic Latitude is updated.
SUBSCRIBE