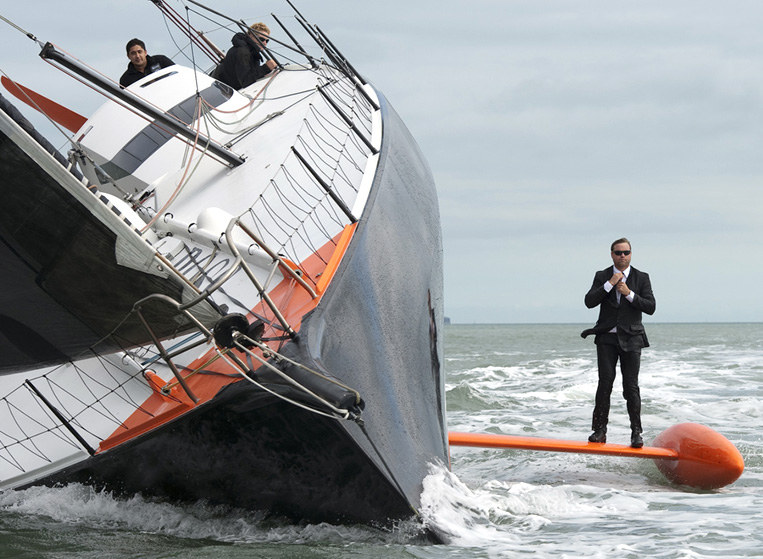 After photos of British round-the-worlder Alex Thomson performing a 'keel walk' were released in 2009, skeptics called foul, insisting that the suited sailor had been Photoshopped onto the keel of his IMOCA Open 60 Hugo Boss. To prove his derring do, Thomson invited a film crew to document his latest attempt at a keel walk this week.
As you can imagine, conditions on the Solent had to be absolutely perfect — 18 knots of breeze with flat seas — for the stunt. Thomson was sewn into a specially made and super-reinforced suit, then zipped over to the keel on a Jet Ski, while Ross Daniel did a masterful job of keeping the boat at a 45-degree heel. The rest is just pure, unadulterated bad-assedness. If you haven't seen this video yet, settle in — we bet you can't watch it just once.
Ad: NorthStar Marine Insurance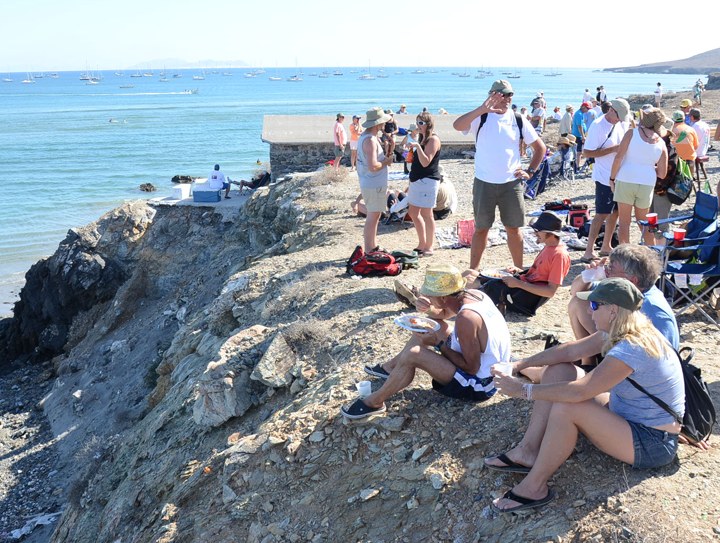 It's hard to believe, but the November 1 through April 30 cruising season in Mexico is halfway over! Time really does fly when you're having fun. And when it's cruising fun, it flies in a jet, not some crummy little prop plane. The post-Baja Ha-Ha cruising fleet, in addition to the returning fleet of cruisers from previous years, are spread along the several-thousand-mile length of the Pacific Coast of Mexico. Folks are up in the Sea of Cortez, down in Huatulco, and everywhere in between.
With the season half over, the notoriously mutable cruiser plans are being made, albeit in sand. Before too long, big groups will be taking off on the Pacific Puddle Jump to the South Pacific or the El Salvador Rally. Others who planned to go farther south or do the Jump have reconsidered. "It's been so great here in Mexico," say Verdo and Gabriella Verdon, Aussies who flew to Alameda last summer to buy the Catalina 42 Larakin and sail it across the Pacific, "that we're going to stay through another winter season." Many of the stay-overs will be heading to the fabulous Sea of Cortez, where the water begins to warm in mid-April. So many great choices. Others still will put their boats in storage, either on the hard or in the water, until they return next fall. The final bunch will, God bless their souls, be heading back north to the so-called 'Unreal World'.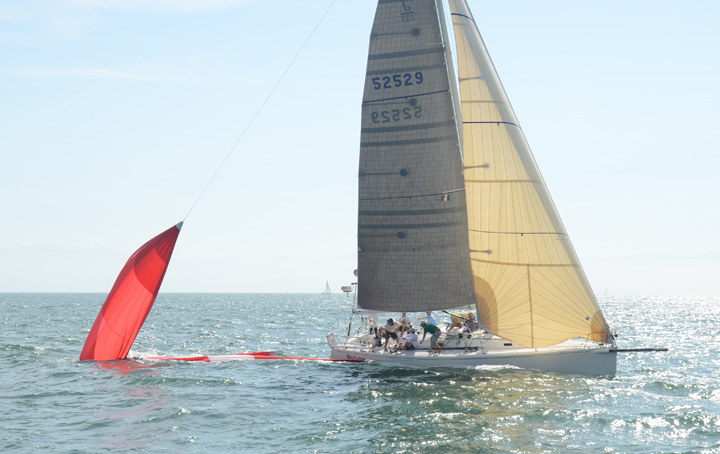 From all the reports we've received, it's been a fabulous cruising season, other than for a few dinghies being pinched. Making it all the more enjoyable has been the great dollar-to-peso exchange rate, although it's been easing back a little in the last few weeks. A couple willing to anchor out could not merely survive, but absolutely thrive for anywhere from $750 to $1,500 a month. As for newly-made friends, no matter where they were in Mexico, if they didn't establish strong personal boundaries, the 'problem' would be having too active of a social life.
After three months of cruising 1,000 miles of the Pacific Coast of Mexico — 750 miles of it during the Ha-Ha — it's our lot as the Cruising Editor of Latitude 38 to have to head to the Caribbean for a couple of months to cover all the sailing adventures there. (If you're so inclined, this is the time for you to pause and shed a tear for us.) We're going to miss Mexico — meaning the other cruisers, the locals, the great sailing, the motorcycle rides through the jungle, and countless other adventures — like you can't believe.
As we'll be trading tropical Mexico for the tropical French Islands, there are going to be major differences. First, the people. While there are many wonderful French and West Indians, there are also too many who are abrupt, snotty, angry and/or who delight in trying to make life as difficult as possible for you. A lot of them, unfortunately, are people who inexplicably work at Customs and Immigration. That is all going to be a shock to us, because the people of Mexico are almost unimaginably warm-hearted and friendly. It's part of their DNA.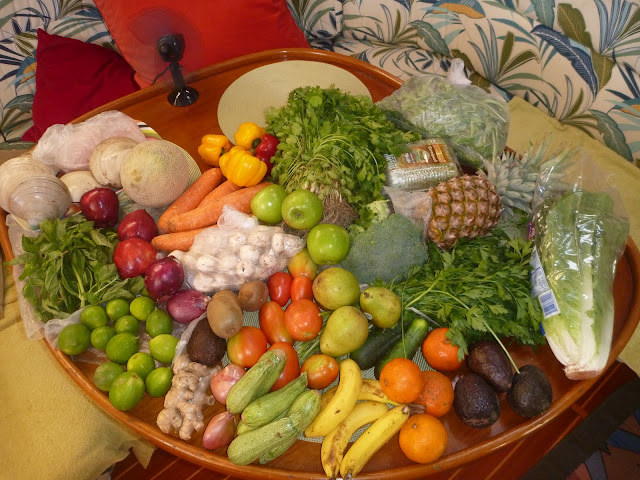 Second, the French West Indies — as well as the rest of the Caribbean — are much, much more expensive than Mexico. For what we'll have to pay for an appetizer in Iles des Saintes or St. Barth, we could buy delicious sit-down fish dinners at countless places in Mexico — and have brought our own wine for free. Store, mercado, bodega or pick-up truck-bought food in Mexico is also ridiculously less expensive than in the Caribbean. Previously mentioned Gabriella Verdon visited the 5 de Deciembre market off Calle Brasiliain in central Puerto Vallarta the other day and spent $32. For that sum, she reports buying "two weeks worth of fruit and vegetables, plus some great Pismo clams and over two pounds of swordfish." Try that in the French West Indies, where most of the food has to be flown in and the choices are extremely limited. Or try that in a market in California. "The folks at the mercado were lovely, and it's open seven days a week. If we asked for something they didn't have on the shelves, they seemed to have it upstairs in their extra storage area."
Third, Mexico has a much greater percentage of cruisers than does the Caribbean. As countless cruisers have written, perhaps the greatest reward of cruising is the tremendous friendships you develop with other cruisers. And there is nowhere in the world where you'll find a more concentrated or more social group of cruisers than in Mexico. We've made so many great new friends in Mexico this season, be they rich, poor, young, old, male, female. Fantastic! It's like plugging back into humanity. True, there are a lot of really great cruising folks in the Caribbean, too. But they are greatly outnumbered by charter yachts and businesses catering to charter yacht guests and crews, as well as fly-in tourists, that it's hard to find them. And in many cases there are language barriers, as you cross paths with lots of French and German cruisers.
So why would anybody want to go to the Caribbean? For us, there are three reasons. First, the general sailing conditions are more vigorous and consistent than in Mexico. Fifteen knots is sort of the base level. Second, the warm waters of the Caribbean are clearer than those of the Pacific Coast of Mexico. Third, as Ashton Kutcher recently discovered, variety seems to be the spice of life. And there's cruising variety in the Caribbean unlike anywhere in the world.
For instance, it now looks as if we'll be picking up the Olson 30 memorial vessel La Gamelle in Martinique, after which we plan to singlehand the autopilot-less ultralight 240 miles to St. Barth. Yes, it's a pretty stupid idea, but we're thinking of it as our 'Senior Thesis'. In that 240 miles — about the same distance as from San Francisco to Pt. Conception or Pt. Conception to Ensenada or Turtle Bay to Bahia Santa Maria — we'll be sailing in the lees of Martinique, Dominica, Guadeloupe, and Antigua & Barbuda. That's four islands, three cultures and two languages — not counting the various forms of creole. Oddly enough, despite not being more than 30 miles from each other, these islands have very little trade or even contact with each other.
So as we look forward to our adventures in the Caribbean, we want to say 'thank you' to the countless cruisers who have made our season in Mexico so special. And a big thanks to the literally hundreds who crewed aboard Profligate during her Saturday sails on Banderas Bay. You were terrific. As the last sail was filmed by a five-person crew from some big Canadian television show, we should have some laughs watching it when it comes on the air this fall.
So everyone please be safe, have fun — and don't forget to write!
Receive emails when 'Lectronic Latitude is updated.
SUBSCRIBE