Writing about violent crime along the Pacific Coast of Mexico is always tricky.
On the one hand, we firmly believe it's our responsibility and obligation to report on serious crime, violent and otherwise, that occurs in areas that cruisers are likely to frequent. Thus in the last year we've reported on cruisers being attacked, sometimes violently, in places such as Fiji, Samoa, St. Vincent & the Grenadines and St. Martin. And in recent years, we've reported on cruisers who were killed in the Arabian Sea, Guatemala and Roatan. While the chance of cruisers being robbed, attacked or murdered is small, it's nonetheless real.
That said, we cringe that people who don't know Mexico will tend to blow things out of proportion or make ridiculous associations from crime reports. For example, last week one of the Google headline stories was about Puerto Vallarta officials supposedly downplaying the significance of two recent murders of foreigners. Despite the clear implication of the headline, the murders didn't take place anywhere near Puerto Vallarta, which is considered to be very safe.
First was the murder of 67-year-old retired Canadian mechanic Robin Wood of Saltspring Island, B.C., who was shot and killed by thieves when he challenged the invasion of his friend's home in a residential area of Melaque in early January. Melaque is 120 miles south of Puerto Vallarta. In the other incident, 39-year-old Spanish student Ximena Osegueda of the University of British Columbia was found dead on the beach of the tourist town of Huatulco with her Mexican boyfriend early this year. She, her boyfriend, and their car had been missing since the middle of December. Because of how they were killed — stabbed in the neck — and where the bodies were found, it's believed they probably were murdered by narcos. Huatulco is about 800 miles south of Puerto Vallarta.
The murders of these people were tragic and terrible. On the other hand, it was like the news reporting that Mill Valley police were downplaying negative inferences about the safety of their town because of murders that took place in Monterey and in San Diego. And that's troubling.
(According to the Vancouver Sun, the number of Canadians visiting Mexico jumped from 1 million to 1.6 million between '06 and '10. During that time, 15 Canadians died under suspicious circumstances. During that same period of time, there were 414 homicides in British Colombia alone. We're just reporting these facts, not drawing any conclusions from them.)
Despite the fact that neither of the two Canadian murder victims were cruisers, we mention the incidents because they were both foreigners and because the murders took place on coastal Mexico. Melaque shares the same bay as does the cruising center of Barra Navidad, and Huatulco is a tourist area with a marina. Based on responses from longtime foreign residents in those areas, both crimes were anomalies. But you can Google the comments and evaluate them for yourselves.
While we haven't done extensive research, to our knowledge these are the only two murders of foreigners on the Pacific Coast of Mexico this season.
Closer to home for most cruisers was a disturbing incident that happened Saturday night not far from Philo's Music Studio and Bar in La Cruz, one of the biggest, if not the biggest, cruiser centers in Mexico. La Cruz is a town of thousands, where countless cruisers have been walking the darkest and most remote streets at all hours without fear, a town so peaceful that it doesn't even have a police station.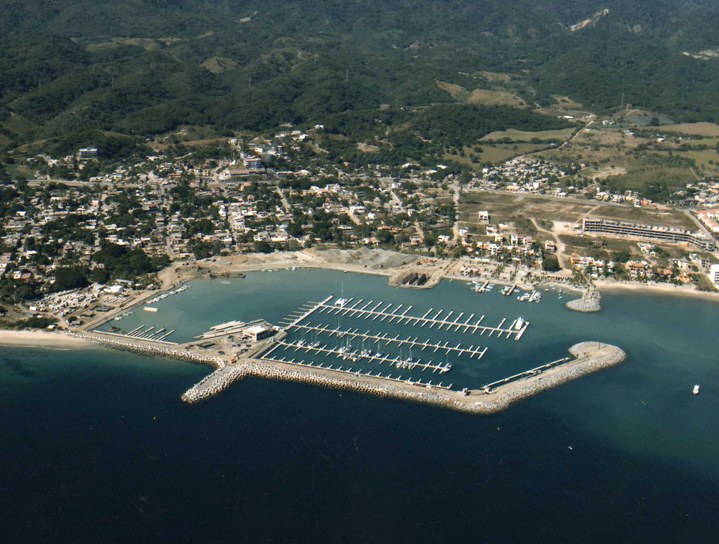 What happened is that a fellow from Montana — we've done a number of Sunday morning motorcycle rides to Sayulita with him — left Philo's at 11:30 p.m. with his wife to go up the street and around the corner to get into the nice pickup they use to pull their fifth-wheel from Montana every winter. After he let his wife into the car and went over to the driver's side, he was attacked by a young Mexican male and three older Mexican males. Attacked as in hit over the head with a gun, pistol-whipped, and pummeled. As he struggled with the assailants, his wife managed to get out of the car and run back to Philo's to get help. Half past 11 is late in the world of cruising, so there were only about 20 patrons left. By the time they ran up and around the corner to the scene of the crime, the fellow was off to the side of the street, and the thieves were roaring toward the highway in his pick-up and the one they'd driven into town with. Various law enforcement agencies responded quickly, but the thieves got away. Friends drove the man and his wife back to their fifth-wheel.
During breakfast Sunday morning, Philo told us it was the first time in his 11 years in peaceful La Cruz that anything like that had happened. He speculated that the men, who were probably from out of the area, identified the man's nice truck with foreign plates as ideal for stealing and waited for him in a truck parked in front of his. Newer model trucks sell for from $30 to $50K in Mexico, and are common high-value targets for thieves. That said, we can't tell you how many cruisers, ex-cruisers, and ex-pats bring nice vehicles to Mexico, and have no trouble on the way down or while they have them in Mexico. It's not uncommon for people to drive back and forth to the States several times a year.
We suppose everyone will react to the Philo's incident in their own way. Philo mentioned that he's going to convene both the local and ex-pat community to petition for a full-time police presence, and maybe even voluntary patrols at night. Given the importance of tourism in Mexico, and the boom in extremely popular La Cruz and along the Nayarit Riviera, we can't imagine they won't get results.
As for ourselves, we'll be in La Cruz tonight so Doña de Mallorca can watch her favorite drummer play at Anna Banana's. And we'll be going to Octopus' Garden, Philo's, the Black Forest, Bahia de Tortuga, Tacos on the Street, Red Chair tacos, and all the rest, just as we always have. The only changes in our behavior we plan to make is that we might go home a little earlier, be more aware of our surroundings, and walk back to the boat as part of a group of six to eight — as has been commonly done already, although for social rather than safety purposes. But frankly, if you don't have a valuable vehicle or flash jewelry — in order words, if you look like a typical cruiser — you're not a very attractive target.
Everyone hopes that the La Cruz incident was a one-time occurrence, and community responses to it will prevent anything like it from happening again. If it isn't a one-time thing, Latitude will, for better or worse, be the first to let you know.
(In good crime news, the murder and other serious crime statistics in most major U.S. cities has been plummeting. Los Angeles, for god's sake, now has a murder rate lower than it did in '57, back when it had 1.5 million fewer people! There are all kinds of explanations. We think the two most likely are the really bad guys are already in jail and there aren't as many young males as there used to be.)
In other crime news in Mexico, Rob Sanderson and Kai Wallin of the Port Townsend-based Ingrid 38 Vella Vella report that the two dinghies stolen at Matenchen Bay near San Blas last week had both been locked to the back of boats. "The thieves cut our cable sometime during the night while we were onboard. It was one of the few nights that we didn't ship the engine. We've contacted all the authorities and made flyers in English and Spanish with a photo, and have distributed them near and far. We're offering a $500 reward, but no luck yet. Ours is a Achilles 8-ft RIB with an old Johnson 8-hp outboard."
The thing we can't figure out is what Mexican would want a dinghy and outboard like that? It would stand out like a sore thumb, and also be of little use to them. Strange.
According to cruisers we've talked with, controversial San Blas legend Norm Goldie has been warning cruisers that it's dangerous in San Blas because, according to Norm, of unspecified bad things cruisers have done. Nobody we've talked to seems to be buying this revenge motive. In fact, despite having had their dinghy stolen, Rob and Kai have nothing but good things to say about San Blas. "It's an amazing place that we recommend visiting — despite the banter from some." Assuming, of course, that you ship your dinghy and outboard. As there was an attempted break-in of a boat in the estuary earlier in the season, we recommend anchoring together in Mantanchen Bay or berthing in the marina rather than anchoring in the estuary.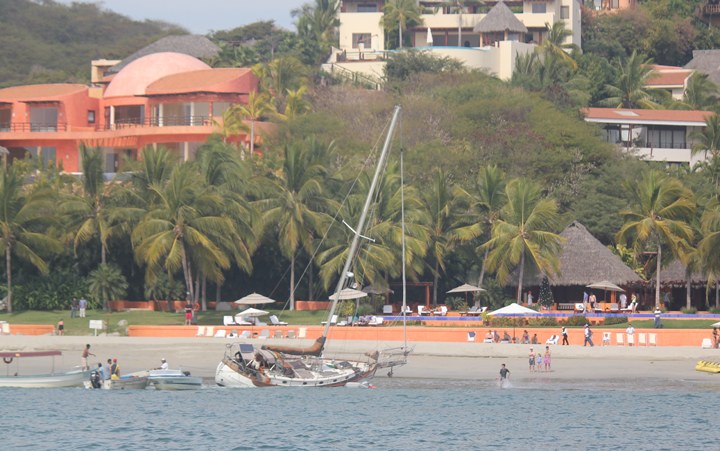 In other Mexican action — it never stops down here! — we noticed a boat mast arcing wildly around the corner by Real del Mar when leaving the Nayarit Riviera Marina last Friday. It could only mean a boat was aground. Rushing to the scene with Profligate, we found that the Hans Christian 38 Sparviera from San Diego was on the sandy beach, jib up, with three pangas and a Mexican Coast Guard boat trying to get them off. The pangas pulled without success until the Coast Guard boat started tugging a spinnaker halyard to one side, reducing the draft of the vessel. We still don't know why she went up, but she seemed to be relatively undamaged after being pulled off.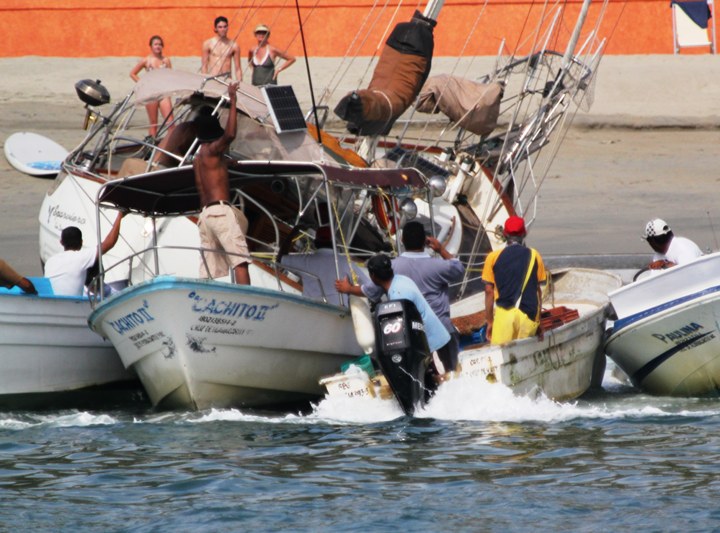 Last but not least, the first race of the Vallarta Cup was held on Saturday. The quality of the turnout was better than the quantity, and the sailing was terrific, with the Banderas Bay classics of tropical temperatures, a nice breeze and flat water. We even got old Profligate up over 12 knots a couple of times in not much more than 13 knots of wind. There's nothing like close reaching with a big screecher.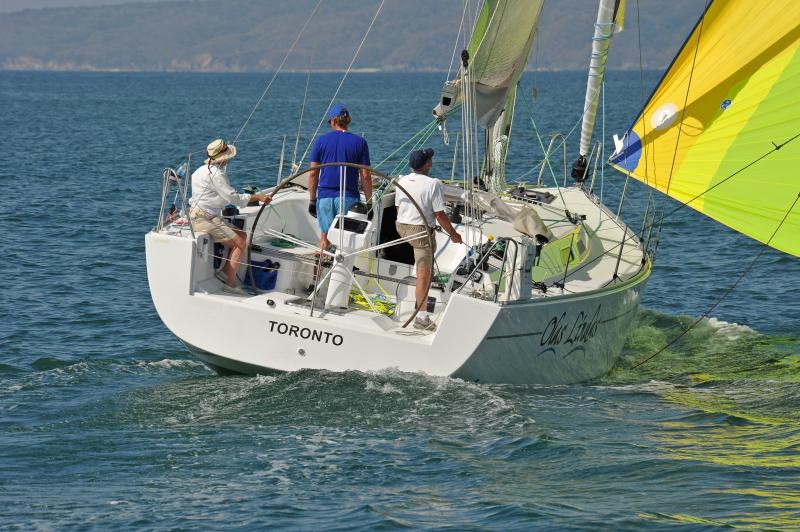 But the two hottest-looking boats were the new ones on the bay. They being Olas Lindas, a brand new Varianta 44, owned by Linda and Patrick Sweets, and Paladin, a J/133 owned and sailed by Kevin and Sandy Reath. Kevin and Sandy are gearing up to campaign Paladin during the MEXORC regatta on Banderas Bay in March, which is going to be a huge event with the President of Mexico and all. Sailmaker Mike Danielson took time off from the J/160 Blue to mentor aboard Paladin, while Linda and Patrick are taking advantage of the advice from renowned sailor Hans Fogh, who is one of the most successful competitive sailors in history, with dozens of national and international championships and in many different classes, including two Olympic medals. Ken and Cheryl Sears's Blue, back in action after a visit to the reefs by La Lancha and therefore a visit to the boatyard, had Wayne Zittel and the J/World crew aboard. Blue took line honors while Paladin snagged corrected time honors. The Cup continues every Saturday in January, and everything from America's Cup boats to Westsail 32s are encouraged to participate.
Receive emails when 'Lectronic Latitude is updated.
SUBSCRIBE