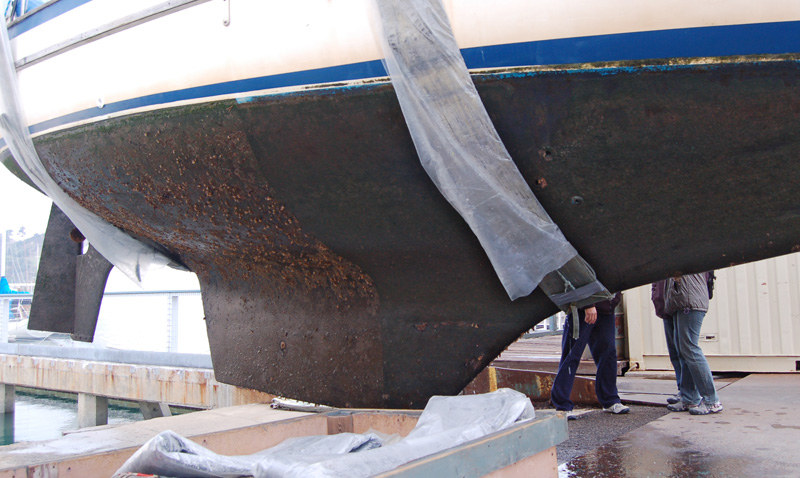 It's hard to believe that four years have gone by since this writer and her husband joined a study to test the efficacy of bottom paints using the biocide Econea. But all good things must come to an end, and our final check-up occurred on December 12 at KKMI's Richmond facility.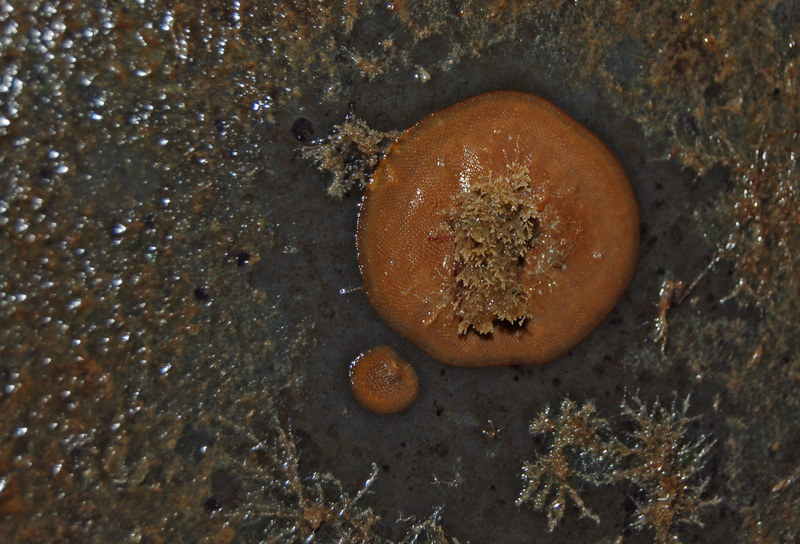 What study coordinator Jack Hickey found during his inspection suprised him. "There are quite a few encrusting bryozoans," he mumbled as he scratched at one the dozens of pancake-shaped growths dotting the solvent-based test paint and copper-based control paint. He went on to determine that most of both of those paints were also covered with hydroids, a spiderweb-like growth. Our darling water-based paint, on the other hand, was free of both growths, and had only a thin layer of algae covering it. Happily, no barnacles were to be found on any of the paints, but the results couldn't have been more clear: the water-based paint was far superior in almost every way to the other paints.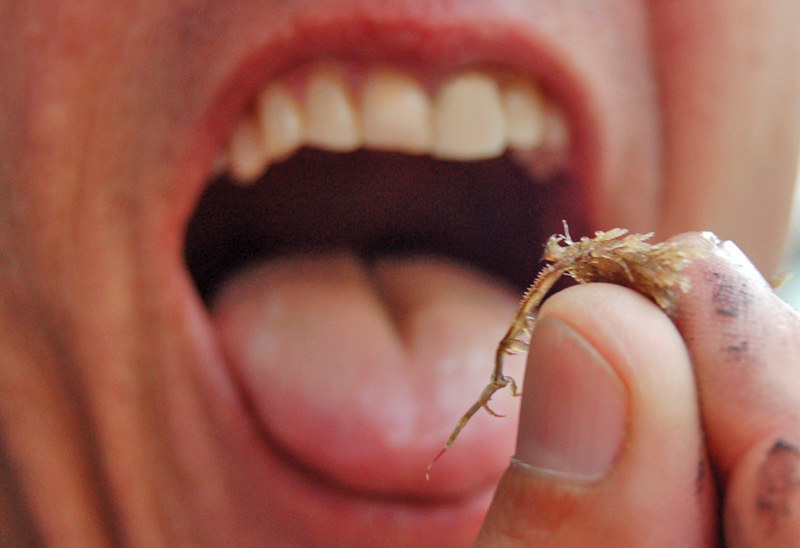 That was when Jack broke the bad news: the company that had produced the paint had not registered it with the EPA and most likely won't in the future. This being our final haulout, and our boat's being in desperate need of a fresh bottom job, we were faced with a choice. Take a chance on one of the three Econea paints currently on the market — Interlux Pacifica Plus, Pettit Ultimate Eco and Seahawk Smart Solution — without knowing if they'll perform any better than the solvent-based test paints that disappointed us, or go with what we know?
Find out what our decision was in the January edition of Latitude 38, which hits all the usual places — including the ebook version available for free on our website — on Friday, just in time for the New Year's weekend!
Those who sail offshore know that you see seemingly inexplicable things at night. It's true with even the most experienced sailors. Take the report of Brit Brian Thompson, who a dozen or so years ago was stationed in Sausalito taking care of and crewing aboard Steve Fossett's 60-ft trimaran Lakota, but who now has 220,000 ocean miles under his belt, and is currently crewing aboard the magnificent 131-ft French trimaran Banque Populaire V in pursuit of a new Jules Verne Around The World Record.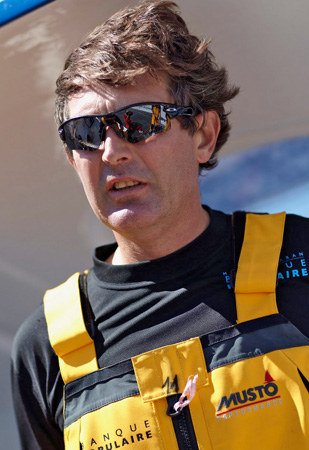 "There was a most bizarre light in the sky Christmas Day night," blogged Thompson. "It was like one of the searchlights outside a nightclub, shining up into the sky from the south. It went from the horizon vertically up to about 25-30 degrees, so not as high as those searchlights, but had that same kind of narrow, white beam. It was really odd and stayed up there all night, so everyone saw it and had a different opinion on what it might be. It did not spin around like the stars, it stayed vertical. The only thing that could be agreed upon is that nobody, in all our miles at sea, had seen anything like it. Yvon, in his usual humorous way, suggested that it was an alien landing staircase. Fred thought it might be a solar reflection effect of Antarctica. It looked something like a giant comet to me, but not spinning in the sky put paid to my theory. Part of the great charm of being at sea is to view unusual things."
If you've seen any mysterious things at sea at night, we'd love to hear about them. Even ones that had obvious explanations come the light of day.
It's been years since we've seen Brian, but we remember him as one of the most mellow and competent sailors we've known. If Banque Populaire makes it across the finish line nonstop, it will be Brian's fourth nonstop trip around the world. To date he's set 27 sailing records, and this would be yet another new one.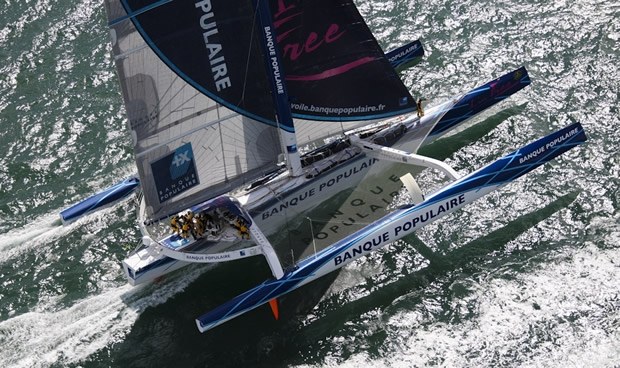 Banque Populaire is currently racing up the east coast of South America off Rio, with a reasonable buffer to break the record set in March of '10 by Franck Cammas and crew aboard the 103-ft trimaran Groupama. You'll remember that record of 48 days and seven hours was set in part because of the navigation expertise of Northern Californian Stan Honey.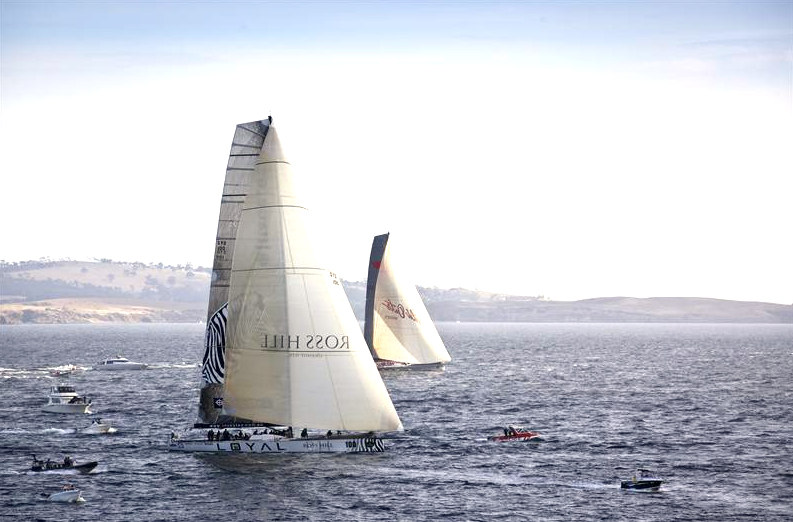 The Bay's Stan Honey may have added another impressive honor to his lengthy resume: elapsed-time honors in the Rolex Sydney Hobart Yacht Race. Honey navigated Anthony Bell's Greg Elliot-designed 100-footer Investec Loyal to a 3m, 8s margin of victory over Bob Oatley's R/P 100 Wild Oats XI, which has taken line honors five times in the 630-mile race. After a race-long battle between the two boats in what was a largely upwind contest, they matched each other jibe for jibe up the Derwent River to the finish in Hobart. But upon finishing, Investec Loyal was notified of a protest by the Race Committee that contends the winners received outside assistance in the form of information about Wild Oats XI's sail selection on the first morning of the race. According to Wild Oats skipper Mark Richards, "Those guys won on the water, we came second. That's how we think about it. They deserve to win."
Close finishes seem to be all the rage in offshore yacht racing, as Iker Martínez' Telefónica won the first segment of Leg Two of the Volvo Ocean Race by a scant 1m, 57s over Chris Nicholson's Camper after a 24-hour match race to the finish. Ken Read's Puma came in third, with Franck Cammas' Groupama 4 and Ian Walker's Abu Dhabi Racing in fourth and fifth respectively. All five of the remaining boats — Mike Sanderson's Team Sanya is going to meet up with the fleet on Leg 3 — have been loaded aboard an armed transport ship bound for the Sharjah Coast in the Persian Gulf where they'll be relaunched for a day's sprint to the Leg Two finish.
As noted in the previous story, Loïck Peyron's 131-ft Monster Tri Banque Populaire V has been off to the races over the past few days, increasing their lead over the '10 record pace of Franck Cammas' 105-ft tri Groupama 3. After having led by over 2,000 miles, the blue and white goliath had seen its margin slip to under 600 miles at one point in the Southern Ocean as her crew dodged icebergs and ridges. But with just 4,200 miles left to go, the 14 men have seen their lead increase to just over 1,000 miles. Although the North Atlantic looks a little unfavorable, their margin should be sufficient to lower the 48d, 7h, 44m time currently marking the Jules Verne record.
Receive emails when 'Lectronic Latitude is updated.
SUBSCRIBE