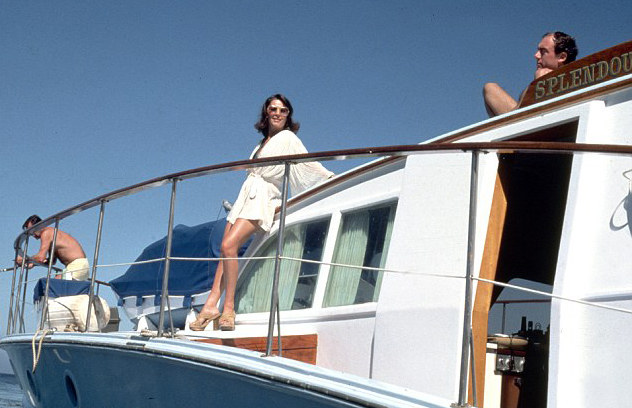 If you've ever watched the television show 48 Hours, you know that if a murder isn't solved within 48 hours, chances rapidly go downhill that it will be ever solved. So it came as something of a surprise last week when the the L.A. County Sheriff's Office announced that it was going to the trouble of reopening their investigation into the death of Natalie Wood back in '81. After all, this is nearly 30 years more than 48 hours after the actress' body was found floating face down off Catalina.
For you younger folks, the petite, dark-eyed Wood had been quite the babe in her youth, winning Academy Award nominations three times before she was 25. Check her out in West Side Story, a true U.S. film classic. Although Wood was 43 when she died in '81, she was still an unusually attractive woman. She was also in her second marriage to actor Robert Wagner, a classically handsome guy.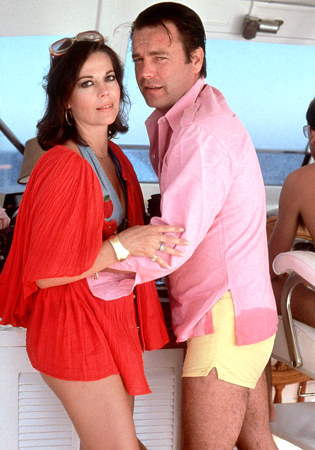 On the weekend of November 27-28, Wagner and Wood, along with actor Christopher Walken, Wood's co-star in Brainstorm, went to the Isthmus at Catalina. They went aboard the Wagners' motoryacht Splendour, along with Dennis Davern, the boat's longtime captain.
Built of wood — which is sort of ironic — the 55-ft Splendour is currently berthed in Honolulu's Kewalo Basin. She looks to be in good condition but, as is typical for boats of that era, looks shockingly plain and lacking in even basic luxuries. A big sportfishing boat with an enclosed flybridge, Splendour is a bit of an unusual design in that there's a salo in the center of the boat, then there's an the aft cabin that Wood and Wagner stayed in, and then there is a traditional big aft cockpit to fish from. In other words, everybody in the front half of the boat either has to go around the side of the house or through the master cabin to get to the big aft cockpit.
Not unusual for a weekend at the Isthmus, there was lots of drinking ashore and on Splendour — drinking like people drank in the '70s and '80s, when 'three martini lunches' were common. There was reportedly tension among the three actors, too. Wood apparently got so mad that she spent the first night ashore at what's been described as "a hotel." We presume this means Banning House, the only hotel-like place at Two Harbors.
The next day there was more drinking, and Walken and Wood had lunch ashore while Wagner and Capt. Davern stayed on the boat. After drinking with dinner that night, there was even more drinking on Splendour. Some time after midnight, Wagner smashed a bottle of wine on a salon table, and apparently accused Walken of wanting to bonk his wife. At that point Walken went to his cabin up forward, and curiously, wouldn't learn of Wood's death until the following morning. Wagner and Wood returned to their cabin aft, and Capt. Davern says he stayed in the salon and turned the music up so he wouldn't hear Wagner and Wood argue.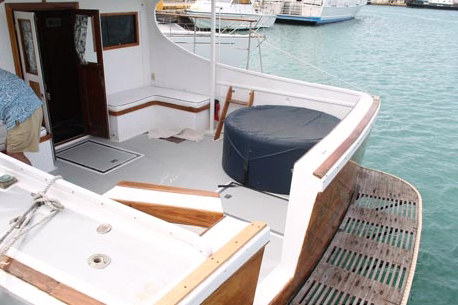 At some point Wood disappeared. There is speculation that she fell over in a drunken stupor, was pushed over, slipped when retying the dinghy to keep it from banging against the hull, and what have you. It seems clear that she wasn't dragged out of her cabin unwillingly because she was wearing a coat. Wagner and Capt. Davern have conflicting memories of what their responses were to Wood having disappeared, something not surprising when you're talking about individuals who had been admittedly smashed.
As often happens in Hollywood, a new witness has suddenly turned up, in this case an self-described "earwitness." Marilyn Wayne says she was a guest on a boat 90-ft away from Splendour, and for 15 minutes heard someone holler that she was drowning and needed help. She claims Harbor Patrol didn't answer her calls, and that the police promised to respond but didn't. She says that she heard a man's voice say, "Hold on, we're coming to get you," and thought the situation had been resolved.
Duane Rasure, the L.A. County Sheriff detective who originally investigated the case, says he believed Wagner was innocent, and still believes it. "If I have ever had the slightest inkling there was a murder, something suspicious," says Rasure, "I would have worked it. I did not cover for anybody and I wouldn't cover for anybody. I don't care about their celebrity status. They were people."
In an recent autobiography, Wagner wrote that he blames himself — indirectly — for Wood's death. Through a spokesperson, he adds that he supports any further investigation — and by the way, would be happy to send you a free CD answering any questions you might have about reverse mortgages he now flogs.
As for Capt. Dennis Davern, he now says that Wagner was responsible, although perhaps not directly, for Wood's death because he didn't start an aggressive enough search. If that was true, it raises the question of what stopped Davern, presumably the most experienced and competent seaman on the boat, from taking the situation into his own hands. Davern admits that he'd consumed a lot of Scotch and wine in the hours prior to Wood's disappearance and, despite doing nothing to try to find Wood, has a clear memory of everything that happened. Yeah, sure.

In a striking Hollywood coincidence, Capt. Davern has a book out about Wood's death. Retired dectective Duane Rasure says that Capt. Davern is not only not telling the whole truth, he's just trying to make money out of Wood's death. In another shocking Hollywood coincidence, Vanity Fair magazine is about to publish a big 30th anniversary story about Wood's death.
In announcing the fact that they were reopening the investigation, the L.A. County Sheriff's Office was careful to note that Wagner, now 81, seemingly the only person who could be a suspect, was not a suspect. As a result, everyone seems confused why the Sheriff's Office was going to the trouble. One prominent theory is that they are using a celebrity death to take the public and press's mind off the bad publicity they've been getting lately on a number of fronts. In any event, they seem about a quarter of a million hours too late to solve this crime.
As for us, we think alcohol abuse was the cause of Wood's death, and Walken, Wagner, Wood and Davern all had a hand in it. Please drink responsibly, folks, particularly when operating a motor vehicle or on a boat.
Receive emails when 'Lectronic Latitude is updated.
SUBSCRIBE