We know this sounds too ridiculous and horrific to be true, but the mainstream media is reporting that Stefan Ramin, 40, a German cruiser and uber waterspsorts athlete from Hamburg, was murdered recently, and may have been eaten by a cannibal or cannibals on the Marquesan island of Nuku Hiva. According to sources in Papeete, however, local citizens and police are not even entertaining the cannibalism theory, which was apparently started by a sensationalist German tabloid.
In any case, for more than a week now a squad of 22 police officers on the island, backed by French military and the family of the suspected attacker, have been searching for Henri Haiti, a young local guide who took Ramin on a traditional goat hunt October 9 in the rugged mountains of Nuku Hiva. After setting off on the hunt, Haiti returned to tell Ramin's girlfriend, Heike Dorsch, 37, that there had been an accident, and that Ramin had been injured. But Dorsch says that when she and Haiti went to help Ramin, Haiti chained her to a tree, sexually assaulted her, then fled. She was able to free herself, after which she returned to the boat and alerted police.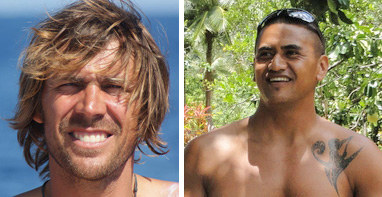 After nearly a week of searching, authorities found charred human remains, clothes, and what are believed to be melted dental fillings near a campfire site in a remote valley on the very rugged island. It's not clear what evidence the authorities have, but they believe that Ramin was "hacked into pieces and burned." The remains are being tested in Paris to determine if they are indeed that of Ramin.
According to various news reports, the couple arrived in the Marquesas on their Easton 46 aluminium catamaran named Bayu on September 16, planning to spend several months adventuring in French Polynesia. That the athletic Ramin — who listed his favorite activities on his Facebook page as "travelling, blue-water sailing, kiting, kitesurfing, surfing, diving" — would go on a goat hunt is completely in character.
Deborah Kimitete, the deputy mayor of Nuku Hiva, told the local news website Les Nouvelles that the whole country is shocked and can't believe that it happened. "This has never happened here before; this is the first time; it's horrible," she said, apparently refering to the suspected murder, not to the notion of canibalism. Actually, eating 'long pig' was practiced in the days of Herman Melville on Nuku Hiva, but the idea seems absolutely ridiculous in this day and age.
While Nuku Hiva, which has a population of about 3,000, is "wild and remote," it is certainly not wild and remote in the way that tribal areas of New Guinea are. Indeed, Nuku Hiva is not only the largest island in the Marquesas, it's one of two ports of entry where all cruisers must stop after crossing over from the west coast of the Americas. As such, it's not at all unusual for 30 or more cruising boats to be anchored there during the season. Relations between cruisers and locals have always been extremely good. And thanks to French subsidies, the locals live with modern amenities and infrastructure.
If you were planning on doing the Pacific Puddle Jump and are now worried about personal safety in Nuku Hiva, our opinion is that this murder falls in the ranks of incredible aberrations. In fact, it reminds us of the case earlier this year when a young French woman on ultra-safe St. Barth inexplicably stabbed a harmless 57-year-old Haitian housekeeper to death on the main road into town on a Sunday evening. Apparently even the most serene and peaceful places are not immune to occasional mayhem.
Receive emails when 'Lectronic Latitude is updated.
SUBSCRIBE