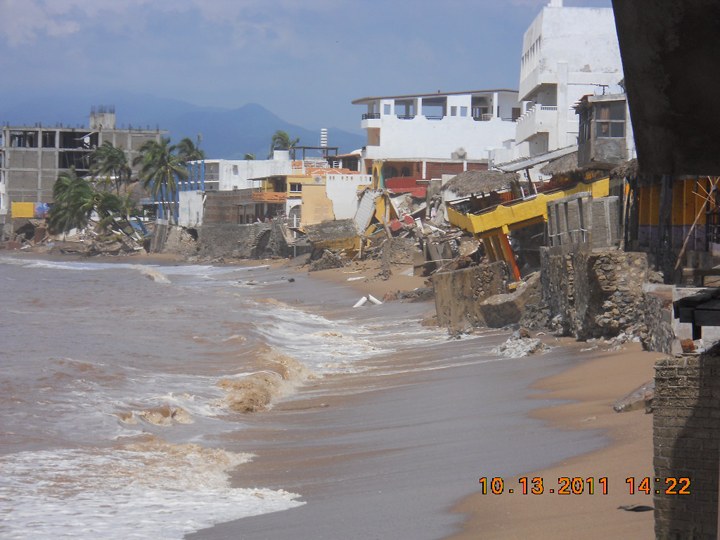 Several readers felt we downplayed the effects of hurricane Jova on Mexico's Gold Coast in our 'Lectronic report on Wednesday. They passed along the accompanying photos of Barra de Navidad to support their opinion.
If we seemed insensitive, we apologize. Maybe we've become a little callous from reporting on hurricanes for so long, but the damage seen in the photos seems consistent with what was forecast and what we expected from a Category 2 hurricane making landfall.
According to Dr. Tim Doggett of AIR Worldwide, which does catastrope modeling, "Because Jova was a small, and weakened to tropical storm strength within 12 hours of landfall; damage from wind was limited. In summary, the storm hit a relatively sparsely populated region of the coast, and strongest winds from the storm were highly confined. Furthermore, rainfall accumulations were moderate, but not extreme, in the more populated regions of Jalisco where there are higher concentrations of exposure."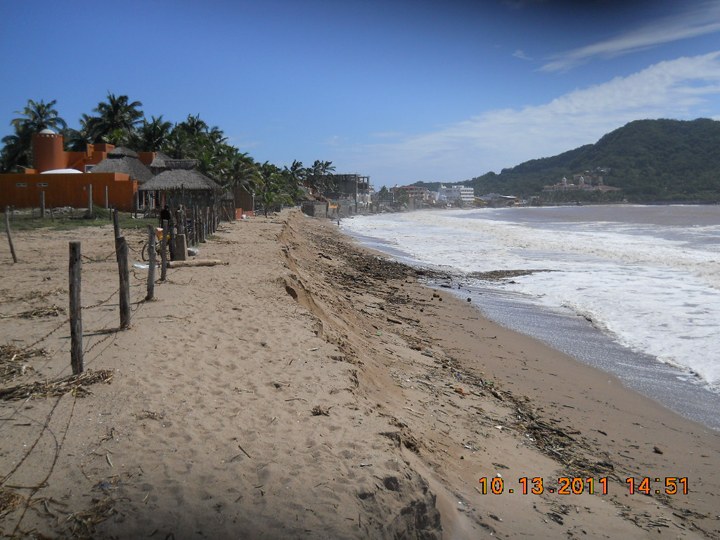 To better understand our reporting, Latitude is 'sailboat centric', meaning our hurricane coverage focuses on the effects on sailing interests rather than the general population. Because nobody cruises the Gold Coast during the summer, and because there are many more boats and marinas in Banderas Bay, we concentrated our coverage on Jova's threat to that area — which fortunately escaped with relatively minor flooding. Indeed, the 28-country Pan American Games are to begin tomorrow, including sailing out of the Vallarta YC and volleyball competition on the beach in downtown Puerto Vallarta.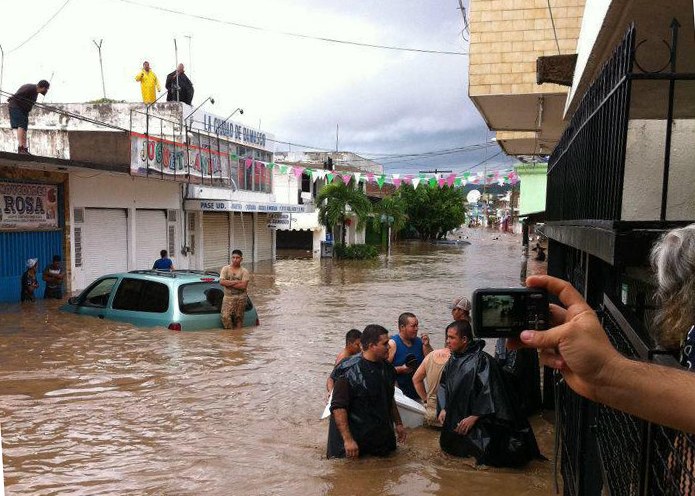 As is not uncommon with hurricanes making landfall on the Pacific Coast of Mexico, the biggest danger and biggest damage came from flooding and mudslides — not wind. For example, if you look at the accompanying photos, you'll see that there are still leaves on the trees and other vegetation. And that thatched roofs weren't blown away. If a very powerful hurricane hits an area, vegetation is denuded and many trees are simply blown over. Thatched roofs land a couple of miles away. Jova was unusual in that her eye was thankfully only about 15 miles in diameter, which is quite small.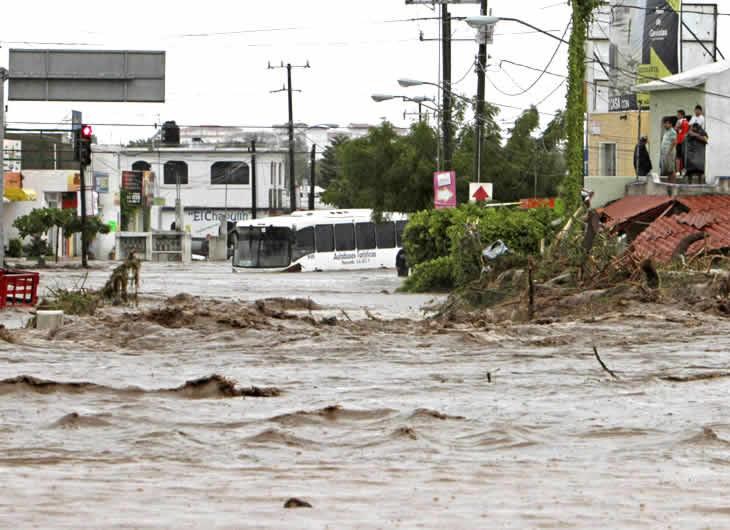 We're told that 11 inches of rain fell in the Barra and Manzanillo areas, and the tremendous damage caused by flooding and mudflows is obvious from the photos. But to put things in perspective, two years ago some 24 inches of rain fell in the Puerto Vallarta area in 24 hours, bringing down huge hillsides, filling in valleys, and toppling the bridge for the main road into Puerto Vallarta. Nonetheless, it was just a matter of days before traffic was rerouted, and in weeks most of the mud was removed. When the sunny tourism season started less than two months later, visitors were none the wiser.
As for the marinas, they only suffered minor damage from Jova. We've been unable to reach the marina at Barra, but would be willing to bet that they are in good shape despite Jova, and will be ready to receive visitors in just a few weeks.
PHOTO
Again, we don't want to underplay the damage done by Jova. Our hearts go out to everyone who suffered. The effects of flooding and mud can be devastating, and they may have been even worse at Chemela and Careyes, closer to where the eye of Jova is reported to have come ashore. However, the visit by Jova is certainly not going to interfere with our plans to cruise the Gold Coast in January, and we hope it won't interfere with yours. We're confident that the Gold Coast is going to be as good, if not better, than ever, and the wonderful folks who live along the coast will certainly need the business.
Receive emails when 'Lectronic Latitude is updated.
SUBSCRIBE