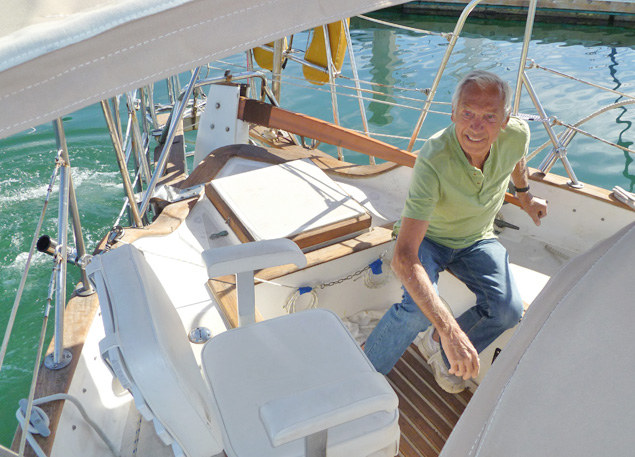 There's no end to the fascinating people you meet when you take the time to walk the docks. As the Wanderer was making the rounds in San Diego, he met 84-year-old Tom Corogin, who left yesterday aboard his Westsail 32 TLC on his sixth attempt to round Cape Horn. You'll find a fascinating in-depth interview with Corogin in the November 1 issue of Latitude 38, but in the meantime, here's a short excerpt:
38: It's our understanding that you're 84 years old and are about to set sail singhlehanded for Cape Horn? Have you done much sailing before, singlehanded or otherwise?
TC: I do have quite a bit of sailing experience. I singlehanded my Brewer 44 TLC to Europe and back in '87, and did it again with my Westsail 32 TLC in '97. And this will be my sixth attempt to sail around Cape Horn. The closest I got was a little more than a year ago when I made it to three days past the Galapagos. But yes, I am 84, and yes, I am sailing to Cape Horn.
38: You look terrific for 84. What's the secret for staying healthy and having so much vitality?
TC: I eat dandelions. I drink well water. And I sleep with my head pointed north.
38: (Muted laughter) You're not pulling our leg, are you?
TC: I'm not. (Said with no umbrage at our stifled laughter.)
38: Are you on some kind of health regimen, and how many dandelions do you eat?
TC: I eat as many dandelions as I can get. I started eating a plant called lambsquarters, one of the most nutritious plants there is. Dandelions are the second best. I eat them raw, and I eat the whole thing — blossom, stem and root. But no, I'm not on some specific health plan.
38: Do you get them from a nursery or what?
TC: I get them from my lawn. Unfortunately, you can't save them because they wilt. There's a big grocery chain in the Midwest that is starting to carry dandelions, but only the tops. If you go to the internet, you'll find that there is quite a bit of info on eating dandelions.
38: What are your plans for this trip?
TC: When I attempted this trip last year, I was three days out of the Galapagos when my knee collapsed. But I was making so much leeway because of the Humboldt Current that I was getting driven toward Pitcairn Island. So this time I plan to sail to the Horn from Salinas, Ecuador, because I'll have about a 400-mile edge on beating the current. But the Humboldt Current is vicious, running at up to four knots.
I originally figured that I would get to Ecuador in October, Easter Island in November, and Cape Horn in December, which is summertime down there. But I've been prevented from starting by all these hurricanes off Mexico — there have been five in October. So I'll be about three weeks to a month later than my original plan. And instead of one long passage to get south, I'll be doing some shorter ones and checking the weather. But I'll be leaving San Diego tomorrow.
Yesterday, we accompanied Tom Corogin on his boat to the fuel dock at Shelter Island to get ice, during which time he told us that prior to buying the marina he's owned for 35 years in the little town of Port Clinton, he'd been a lawyer there. Near the end of his career, he got what he said was the supreme compliment from a lawyer in the next town. "Tom is about the only lawyer who can find his ass, even with two hands," he said.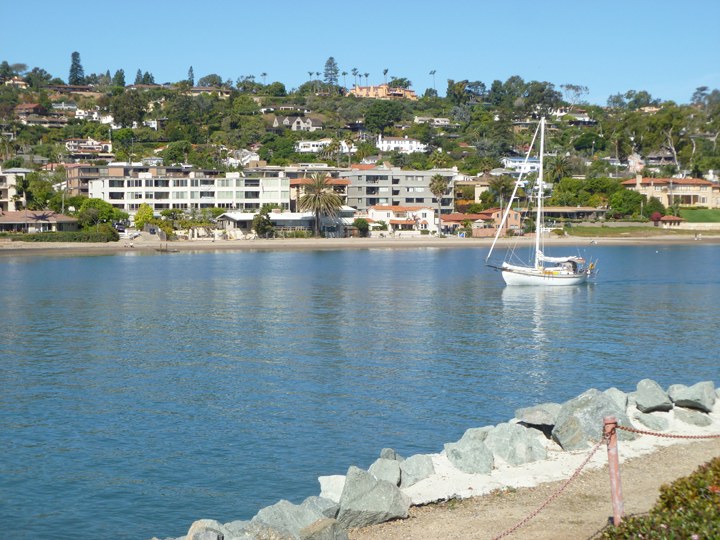 Receive emails when 'Lectronic Latitude is updated.
SUBSCRIBE