Though no one knows for sure what the long-term effects of the Cosco Busan oil spill on San Francisco Bay will be, it appears the recent $44.4 million civil settlement between local, state and federal officials and Fleet Management Ltd, the owners of the ill-fated oil tanker, has brought the legal wrangling to a close. On November 7, 2007, Bay Pilot John Cota sideswiped the Bay Bridge, tearing a 150-ft x 12-ft hole in the side of the ship and causing 53,000 gallons of fuel oil to spill into the Bay. An estimated 6,849 birds died, while countless others were sickened, the winter herring run was off by 29%, 3,367 acres of shoreline were polluted, and more than a million "recreational user days" were lost.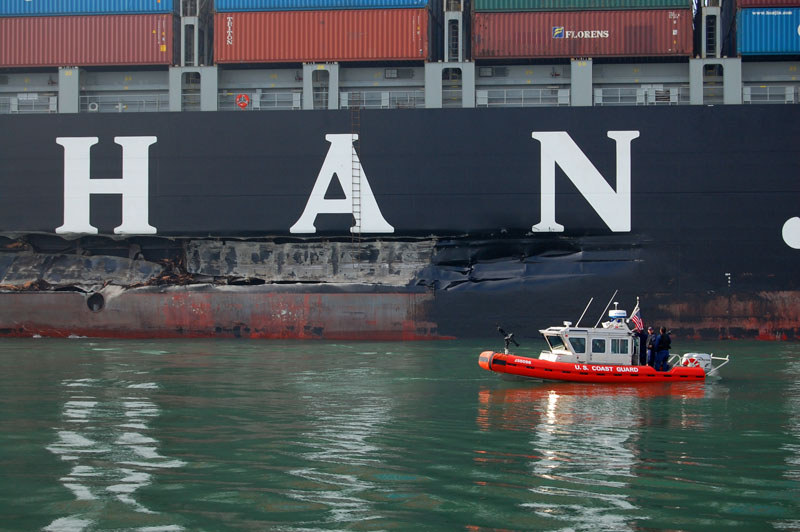 The civil settlement is the largest since the enactment of the Oil Pollution Act of 1990 — a direct result of the devastating Exxon Valdez spill — and is added to $10 million in criminal fines against the company for its role in the spill and obstructing the investigation by submitting falsified and forged documents. Cota served 10 months in prison and is currently serving one year of supervised release for his role in the spill.
With $36.8 million earmarked for assessing and remediating damage — the remainder is to be paid to the state — and $2 million of the criminal fine dedicated to fund environmental projects on San Francisco Bay, perhaps some good will come from the disaster — we just hope it's not too little, too late.
Ad: Catalina Island's Two Harbors
Two Harbors, Catalina Island, is a truly unique island destination. With just the right mix of dining, activities and amenities, this rustic resort village is a true boater's paradise.
Call (877) 778-8606 or visit www.visitcatalinaisland.com/twoHarbors/index.php.
While moored at Catalina's Cherry Cove a weekend ago, the crews of Miss Teak, Destiny and Serendipity — all of whom spent the last winter cruising Mexico as far south as Zihua and as far north as Puerto Escondido — got into a conversation with three gentlemen in a large inflatable who reported they were going to do this year's FUBAR (Fleet Underway To Baja Rally). The FUBAR is a powerboat variation of the Ha-Ha that is held every other year, the third running of which will be this year. It will start a short time after the Ha-Ha and cover a similar course except for the fact that it will end in La Paz. We wish them all a wonderful voyage!
The Mexico sailing vets were gobsmacked to hear that the men, one or more of whom apparently owns a large powerboat, have arranged to pick up two armed guards in Ensenada to insure their safety while on the FUBAR. As one of the shocked female Mexico vets said, "They were serious, too!" Another said, "They asked us if we hadn't been scared." Uh no, they had not been the least bit scared while cruising the Pacific Coast of Mexico. The crew of Destiny can't wait to cross into Mexican waters again in just one month, and the crews of Serendipity and Miss Teak would do the same if their lives permitted.
Upon noting this exchange in Monday's 'Lectronic, we received responses from Ed Cox, co-chair of the FUBAR, and Pat Rains, who has done the first two and will be doing this year's also — and who we know from cruising Mexico in the late '70s! Both said they weren't aware that anyone planned on taking armed guards but, if true, that it was a terrible idea, primarily because guns aren't needed, and in any event, if they came across drug smugglers, the drug smugglers would no doubt have more and better weapons.
At this point, we'd like to remind everyone that despite the millions of tons of pot, coke, meth and fake Viagra that's been smuggled from Mexico into California, we don't know of one incident in which smugglers had any kind of interaction with cruisers. You see, the thing is that smugglers want to avoid attention, not attract it. Furthermore, it's a matter of fact that all of Baja south of Ensenada has been almost entirely free of narco violence. It's not to say it's not a major drug route, but rather that there just isn't competition between cartels, and therefore there hasn't been major violence.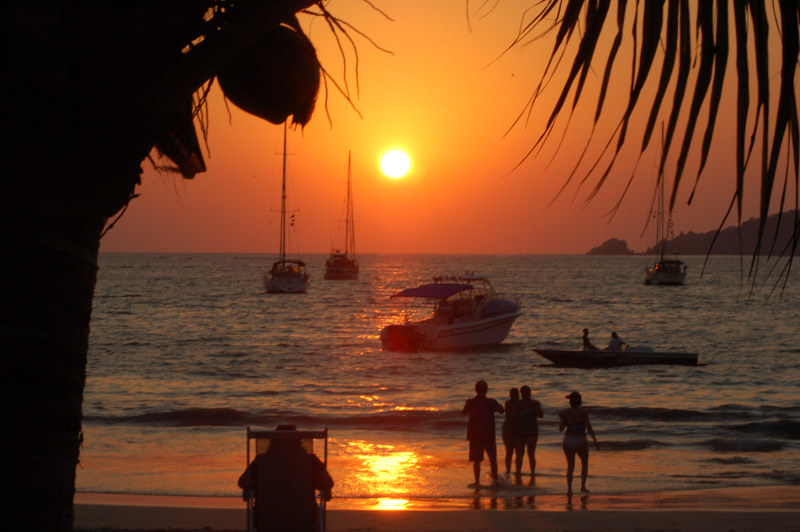 Anyway, in Monday's 'Lectronic we asked Mexico vets what they thought of taking armed guards to Mexico. Here are some responses:
"We recently cruised Mexico for two years. We spent two seasons in the Sea of Cortez and one on the Gold Coast as far south as Zihua. Although we take personal safety very seriously, we were actually more worried that we might hit a turtle or ingest some red tide into the watermaker intake."
— John and Bridget Wilson, Sailsoon, Sabre 34
"This will be my sixth winter season sailing on the Pacific Coast of Mexico, most of it being in the Sea of Cortez. The only time I could have used two armed guards on my boat was when I needed to make a sail change in the middle of the night."
— Leonard Bisgrove, Vallee Cachee, Endeavour 40
"Unbelieveable! As vets of two Ha-Ha's and one Puddle Jump, we cannot imagine where we would have needed armed guards less. Ensenada to Cabo? ¡No comprende! No! No! Wait a minute. They are Mexican guards right? Then their friendly company would for sure be appreciated! It is indeed hard to find a more friendly populace than in Mexico."
— Rod & Elisabeth Lambert, Proximity, Swan 41
"Stay home!!! It's completely unsafe down here. We are running low on ammo and don't know how much longer we can hold out. Ensenada Blanca is crawling with pirates."
— Steve & Lulu Yoder, Siempre Sabado, Westsail 28
"Stupid!"
— Mary Abercrombie

"If you take all of North America, including Canada and Central America, my guess would be that the most dangerous places to travel would be places like East Oakland, Washington D.C., Detroit, and a number of other U.S. cities. I once noticed on a European travel website that the U.S. was on the list of most dangerous countries on earth to travel, but Mexico was not. We have been in Mexico a year, and have not seen anything that would hint at any danger. The problem here seems to be a war between drug lords and also between drug lords and the military. So unless you are involved in drugs in some way, you are probably safer in Mexico than you are in the pistol-toting USA. A Mexican citizen recently told me that the drug lords do not want to see the tourists hurt in any way, as drug lords see tourists as potential customers. He went on to say that if a Mexican does something untoward toward a tourist, he had better hope it is the Mexican police that catch him and not the drug lords. If the drug lords caught him, he'd never been seen again."
— Will Imanse, Shaman One, Sceptre 36
"Would these paranoid folks hire guards to drive around Oakland?"
— Greg Snead
"I cruised to Mazatlan in '82. These folks are so stupid and frightened they should not be sailing at all."
— John Stein
"Don't need no stinking armed guards. They got no badges. I think a better use of funds would be to have a bidet installed in the boat's head. But neither the bidet nor the armed guards are really needed at sea."
— Capt. Sandy Golden, Sweet Angel, Catalina 42
"Armed guards for cruising in Mexico? Give me a break. These people should be more worried about L.A. and San Diego. I left L.A. in '04 on my boat SolMate. Although I sold my boat in '07, I have lived in Mexico full time for seven years this November. The armed guard idea is so ludicrous that it doesn't warrant comment — unless the FUBAR were going through Juarez."
— Stan Burnett
"I did the '07 Ha-Ha and currently keep my boat at Hotel Coral and Marina in Ensenada. I regularly drive from our home in Phoenix, cross the border at Tecate, and continue on to Ensenada. I have always felt safe. But I do travel during daylight hours and would never be near the border at night. I feel 100% safe in and around Ensenada, and have found the people of Mexico to always be friendly."
— Tom Van Loo, In Cahoots, Beneteau 49
"That is about the worst notion I've ever heard! If one is so frightened, it would be better not to go at all than to subject yourself to fears and nightmares."
— Martin Goldsmith, ex-Gold Eagle
"What a preposterous idea! We're going down to P.V. over Thanksgiving and feel no need for weapons. It would be another matter if we were going to parts of San Diego."
— Anneke Dury, M/V Paramour (formerly Freedom), Offshore 54
"After the '08 Ha-Ha, my crew Jo and I — both females, both north of our 40s — spent a few days wandering around Cabo looking for parts to fix the roller furling. We both have gray hair and don't look very scary. We never felt uncomfortable, even walking around the back streets. Later we and our buddyboat Nirvana made it to Mag Bay. They had fuel issues and we decided to stick with them for as long as it took. It took three weeks, during which time we asked the help of a bunch of guys on a shrimp boat, the Port Captain, Gregorio, shops in the city of San Carlos, and spent many days ashore hanging out with the local kids and walking around. They were all so nice and helpful. Jo and I stopped in several other places along the Baja, including Turtle Bay and Ensenada. In both towns we walked around looking for groceries, tacos, WiFi, margaritas and beer. We never once felt unsafe, uncomfortable or nervous. When Bob and Sherry made it to Ensenada with Nirvana, they went looking for tamales for their Christmas Eve dinner. They later told us they were in the grocery store and tried in their poor Spanish to ask where tamales could be purchased. A lady ahead of them begged them to wait outside the market, then she hurried down the street. A few minutes later, she returned not with a gun, but with a dozen hot homemade tamales. She gave them to Sherry. When she and Bob dug around for their pesos, the woman absolutely refused, saying 'Feliz Navidad'. That's the Mexico we know."
— Holly Scott, Mahalo, Cal 40 (now the co-owner of Charlies' Charts)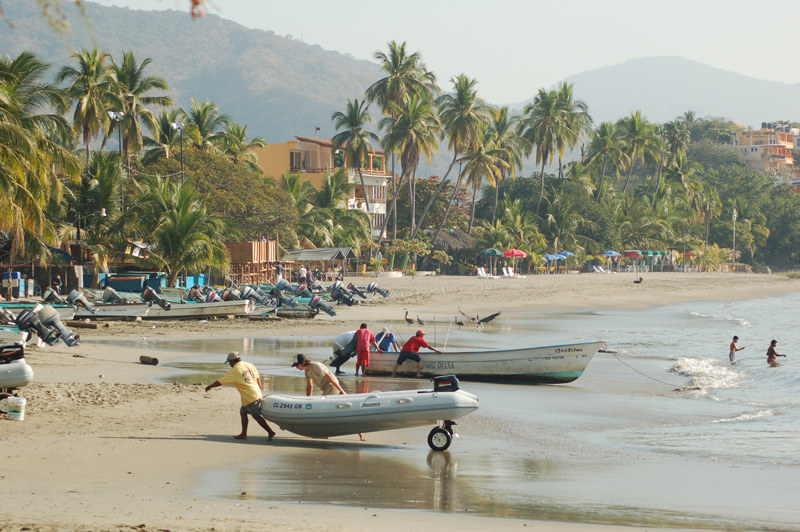 For the record, we didn't receive a single response in support of either armed guards or of the notion that cruisers have any reason to feel unsafe in Mexico. But we did get a letter from a fellow named Dave who, noting that a bunch of bodies had been dumped in the street in Vera Cruz, which is on the Caribbean Sea, wrote the following:
"You have got to get honest about going to Mexico. My buddy just cancelled his trip because his friend down there said it was just too dangerous. I know your publisher doesn't want to admit it but he is very wrong!"
Our response:
For about the 10 years we've spent about four months a year on the Pacific Coast of Mexico. Prior to that, we averaged a month or two on the Pacific Coast for about 25 years. We have never once felt threatened in Mexico — except by a drunk asshole American powerboat owner with a pitbull at a marina in La Paz — and can't wait to return next month, where our kids will join us. If we're going to be honest, we'd have to report that statistically our personal safety would be in much greater jeopardy late at night on Buccaneer Day on Catalina than on the Pacific Coast of Mexico. And we sure feel safer walking around the streets of Mexican cities at night than we do when we visit our son who lives near the Staples Center in downtown L.A.
Yes, we know all about the horrible drug violence in Mexico. We dare say we're a hell of a lot more knowledgeable about where it happens and who the victims are than are you. That's why we're going back to the Pacific Coast.
Here's something you may want to ponder. Juarez has the highest murder rate in Mexico, yet it's lower than that of tiny St. Thomas in the U.S. Virgins — "America's Paradise" — where all the cruise ships pull in. Curious that you never see that reported in USA Today, isn't it?
Don't get us wrong, if we didn't know any more about violence in Mexico than what we read in the headlines, we'd feel exactly the way you do. And as they say in financial circles, "Past increases in stock prices don't mean you won't lose all your money in the future," so yeah, it's possible the situation on the Pacific Coast of Mexico could change. If it does, we'll be the first to let you know — and get our own asses out of there. But for now, we absolutely can't wait to get back to Mexico, for as much as many Americans wouldn't want to accept it, in many ways the quality of life down there is superior to that in the United States. But don't take our word for it, just ask someone else who has cruised there. And if you still feel uneasy, well, you can always skip Mexico and book that cruise to beautiful St. Thomas.
Receive emails when 'Lectronic Latitude is updated.
SUBSCRIBE